Panang Curry Red Lentil Soup uses simple red lentil soup as the base and builds complexity with inspiration from Thai flavors.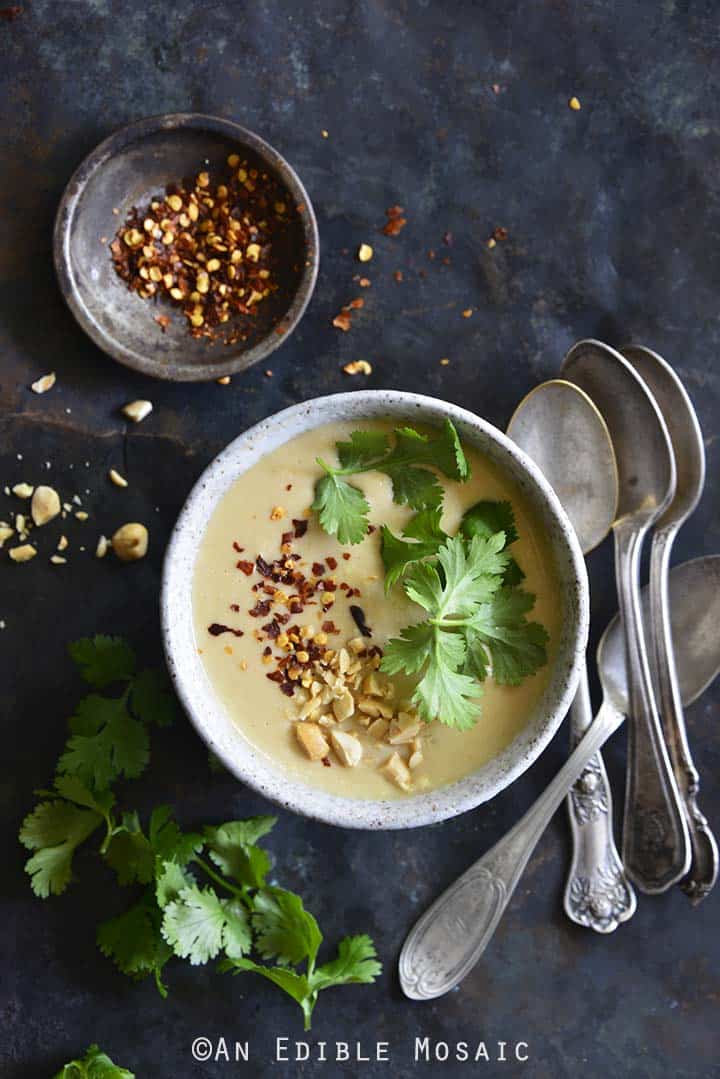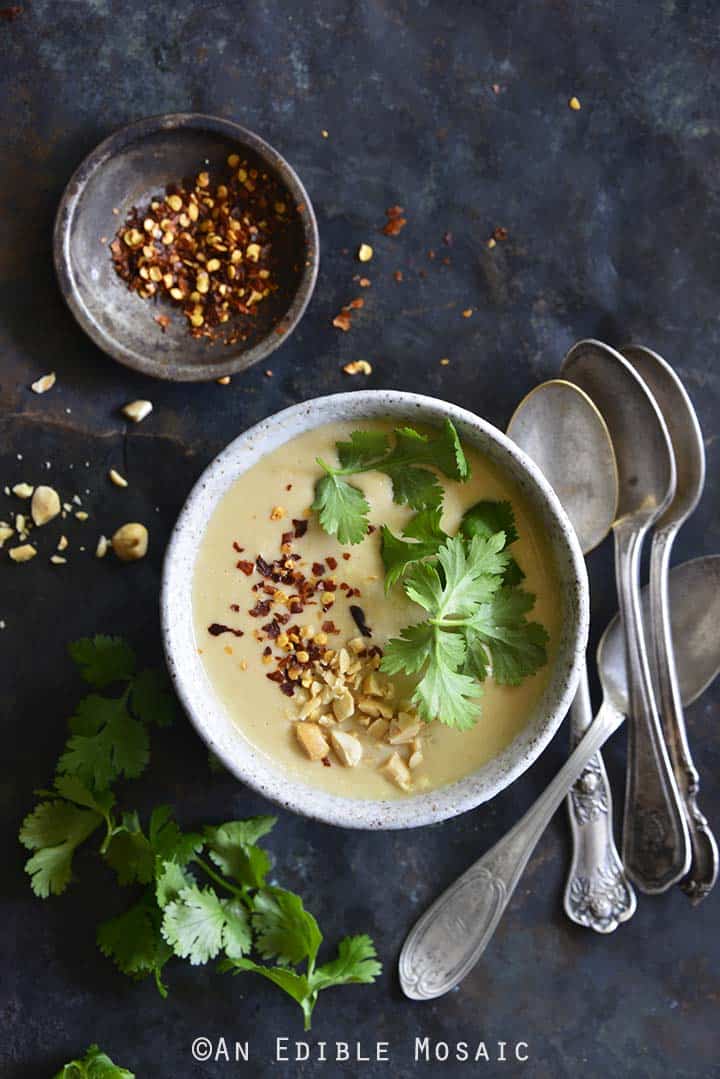 I don't make fusion dishes nearly often enough. It's easy to get caught up in the grind of day to day life, and in the throes of it, familiar food often takes precedence over creative, artistic dishes.
I recently moved. Not too far from where I was; 57 miles, to be exact, which technically qualifies as a long distance move because it's over 50 miles, and the movers definitely charged me as such, lol! But back to the point. In a last-ditch attempt to have to move less stuff (side note: how on earth do I accumulate so much stuff/junk so fast?!), I wanted to use up pantry items as much as I could.
I opened up the burgeoning kitchen cupboard, and starting right at me in the face was a half-full bag of red lentils, the bottom of a bag of coconut sugar, a can of coconut milk, and a handful of gluten-free soy sauce samples. Ahhhh, yes, this I can work with, I thought.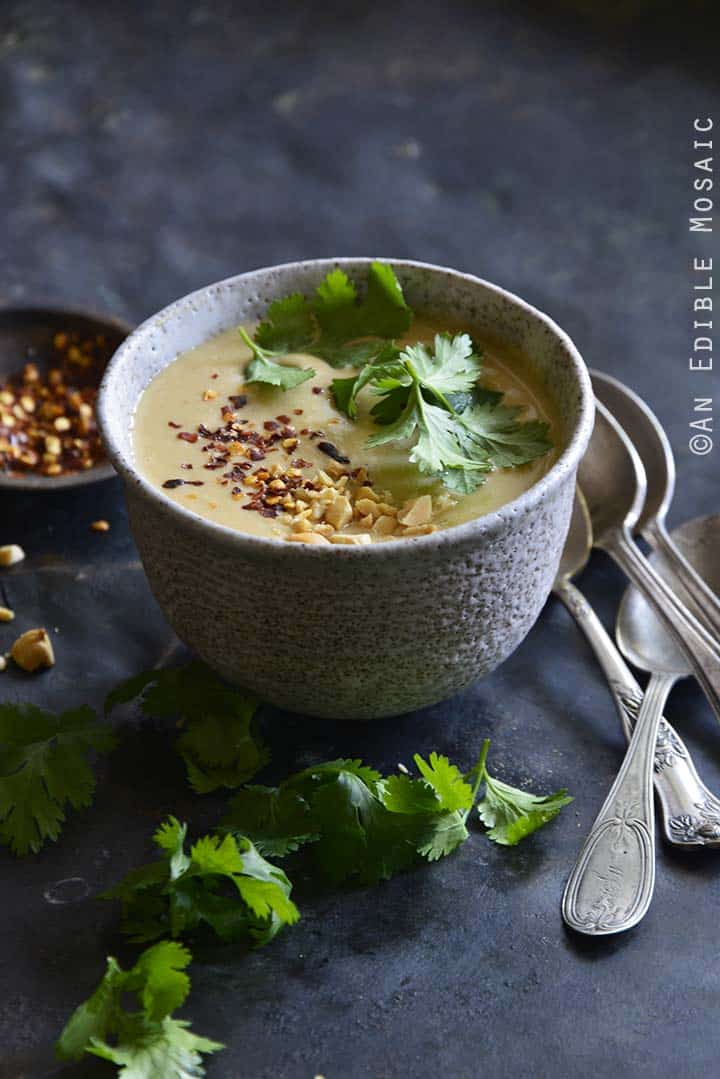 I've always loved red lentil soup. The most basic version of it that I make, the version I learned to cook in the Middle East for Ramadan, is in my cookbook, and it's perfect in its simplicity. This soup, which uses creamy red lentil soup as a base also takes a cue from Thai flavors, and is a balance of sweet, sour, salty, spicy, and umami.
If you have vegetables in the fridge to use up, by all means add them. Carrots, celery, zucchini, squash would all be delicious. Just be mindful of cooking times, and if it's something that needs to cook a while (for example, butternut squash) either make sure you add it to the soup early enough so it cooks through, or pre-cook it and add it later. You could also add leftover chicken to bump up the protein.
For me, fusion food doesn't just mean combing the food of multiple cultures; it can also mean combining two (or more) different dishes into one cohesive dish, like these...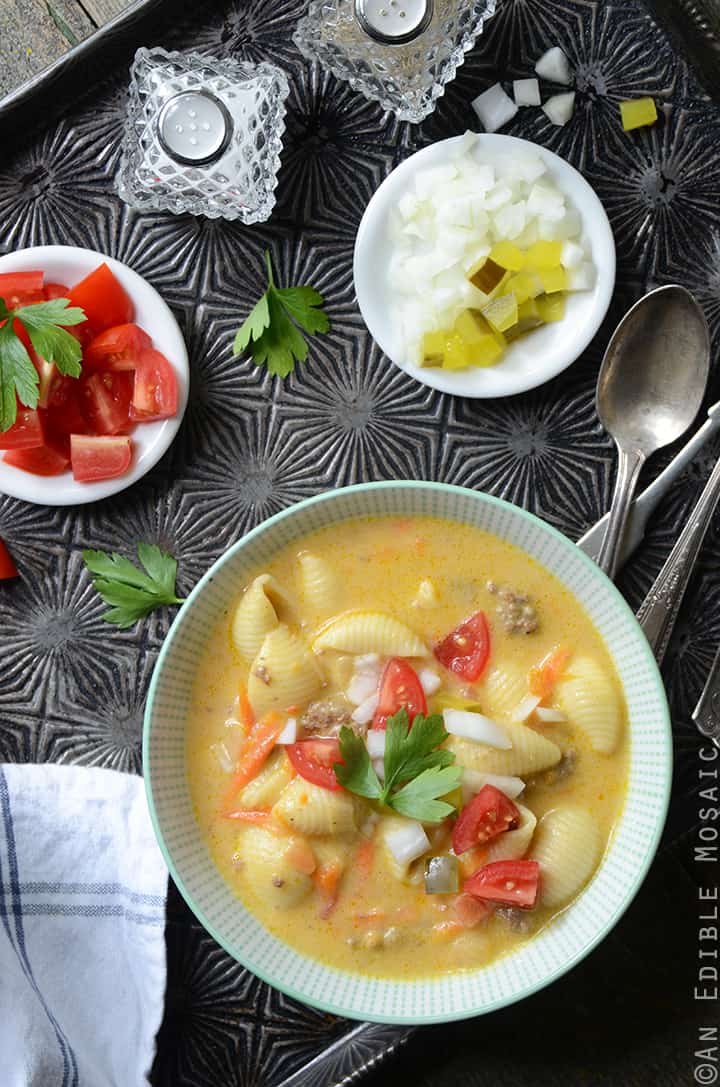 Macaroni and Cheeseburger Vegetable Soup. Mac and cheese + burgers in soup form = pure comfort food.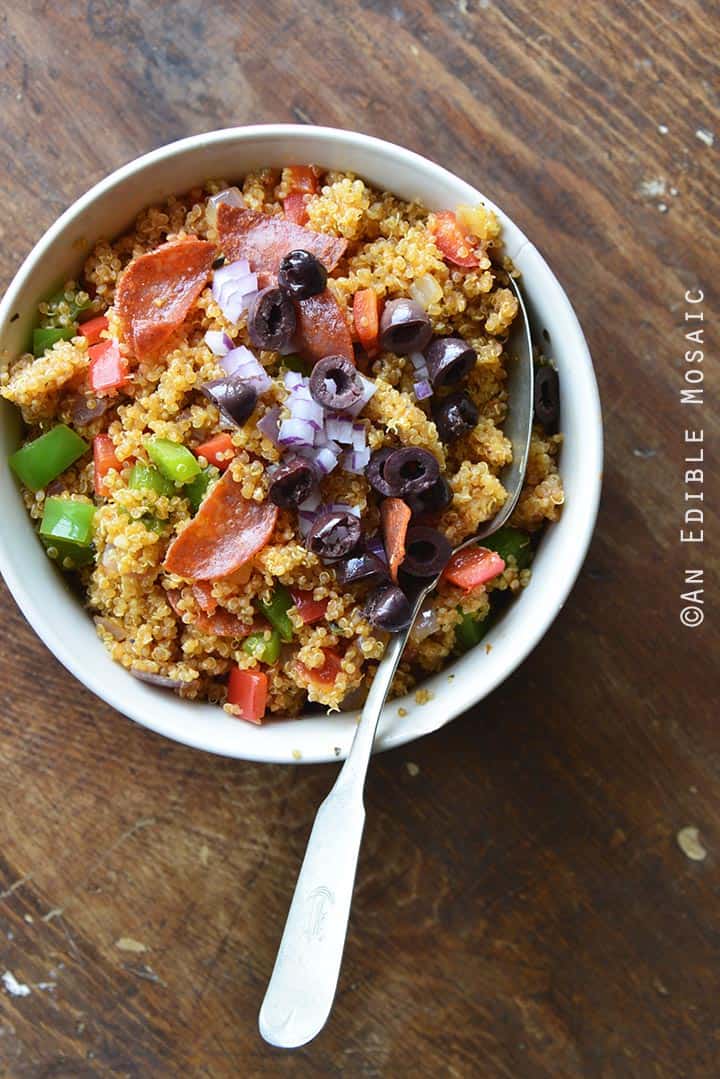 Pizza-Flavored Quinoa Fried "Rice". Two takeout favorites, pizza and Chinese food, get a healthy twist.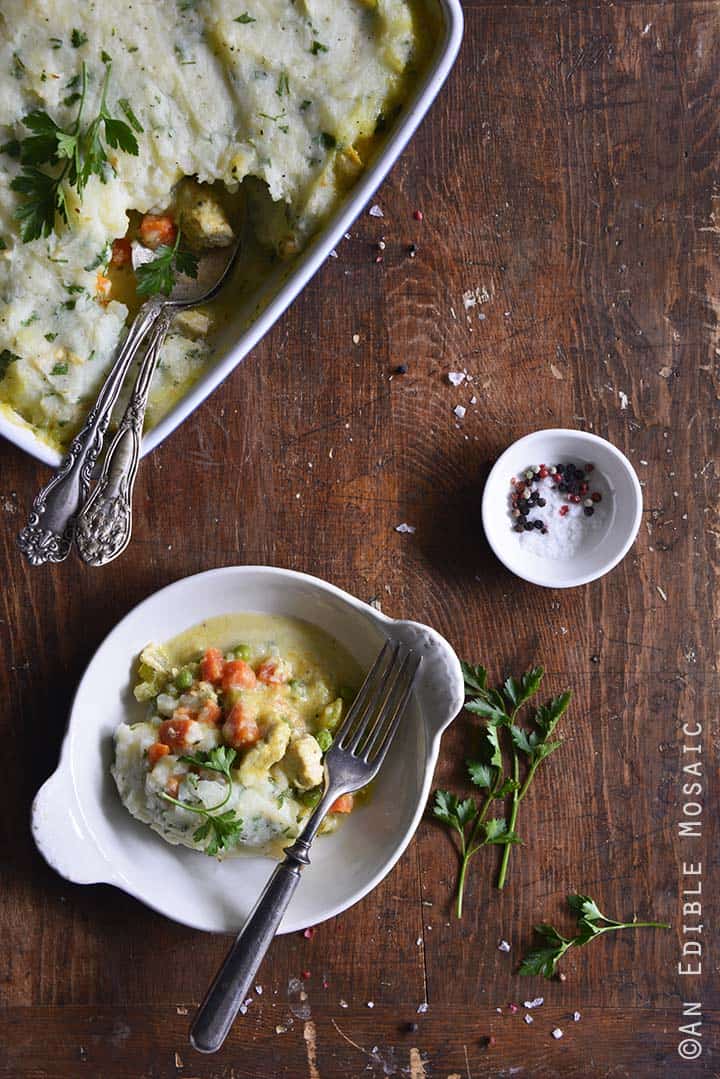 Chicken Pot Pie Topped with Garlic and Herb Potato Mash. It's like a Shepard's Pie version of pot pie.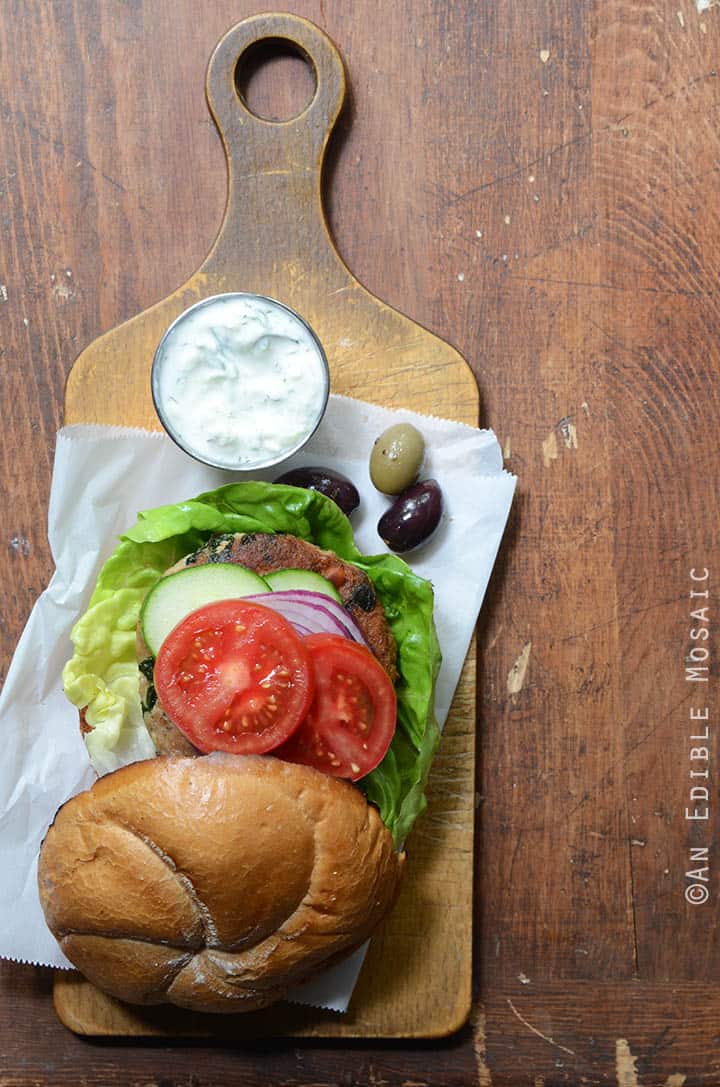 Spanakopita Turkey Burgers with Easy Homemade Tzatziki Sauce. It doesn't get much better than a ridiculously flavorful burger! Serve it up low-carb style on a bed of greens instead of a bun.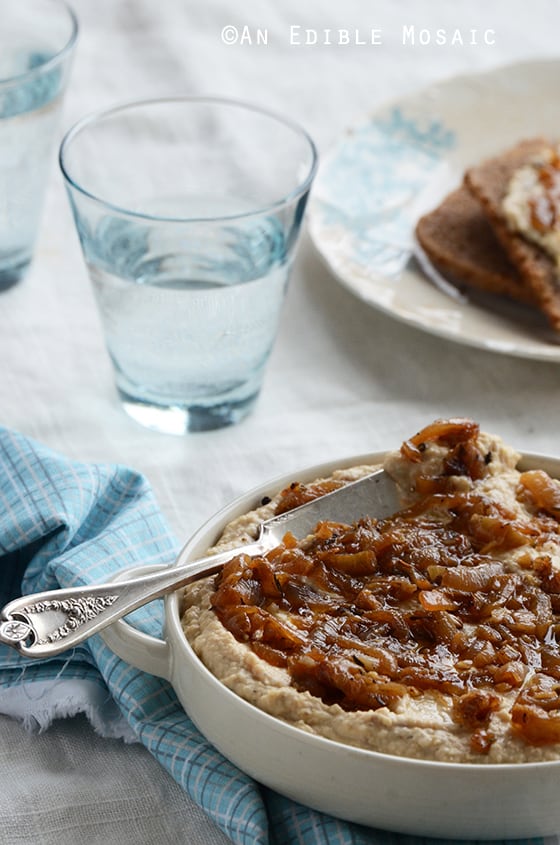 Warm Caramelized Onion and Chickpea Spread. Hummus meets French onion soup, yum.
A few other fusion food favorites:
This soup isn't too shabby for a dish that uses pantry scraps, right? What's your favorite meal to make out of pantry staples?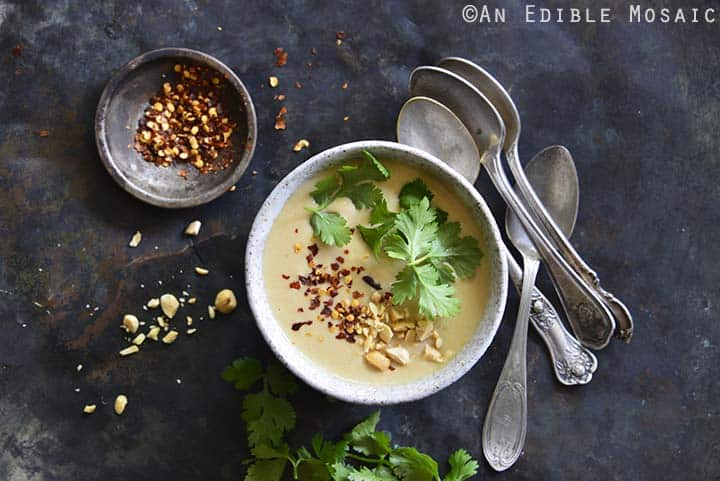 Panang Curry Red Lentil Soup
Prep time:
Cook time:
Total time:
Panang Curry Red Lentil Soup uses simple red lentil soup as the base and builds complexity with inspiration from Thai flavors.
Ingredients
Optional Garnishes:
Fresh cilantro
Crushed peanuts
Crushed red pepper flakes
Fresh lime wedges, for squeezing into the soup
Instructions
Heat the coconut oil in a 5-quart pot over medium heat. Add the onion and cook until softened, but not browned, about 5 to 7 minutes, stirring occasionally. Add the garlic and ginger and cook 1 minute more, stirring constantly.
Add the chicken stock, lentils, coconut milk, peanut butter, tamari, coconut sugar, rice vinegar, chili garlic sauce, and fish sauce.
Bring up to a boil, and then cover the pot, turn the heat down to simmer, and cook until the lentils are soft, about 20 to 30 minutes, stirring occasionally. You can add a splash of water at any point if the soup looks too thick.
Let the soup cool slightly and then carefully puree using an immersion blender, or in batches in a regular blender.
Taste and add salt and pepper as desired. Serve with any garnishes you like.


Disclosure: This post contains Amazon affiliate links to products I believe in, which means that even though it doesn't cost you anything extra, I will receive a small amount of money from the sale of these items, which helps me keep this site alive – thank you for helping to support An Edible Mosaic!