Diestel Family Turkey Ranch provided me with product for the purpose of this post, as well as compensation for my time. I am happy for the opportunity to share brands that I believe in with my readers, and I hope you enjoy my recipe. As always, opinions stated are my own.
Flavorful and juicy Apple Rosemary Brined Roast Turkey will make a gorgeous centerpiece for your family's holiday table.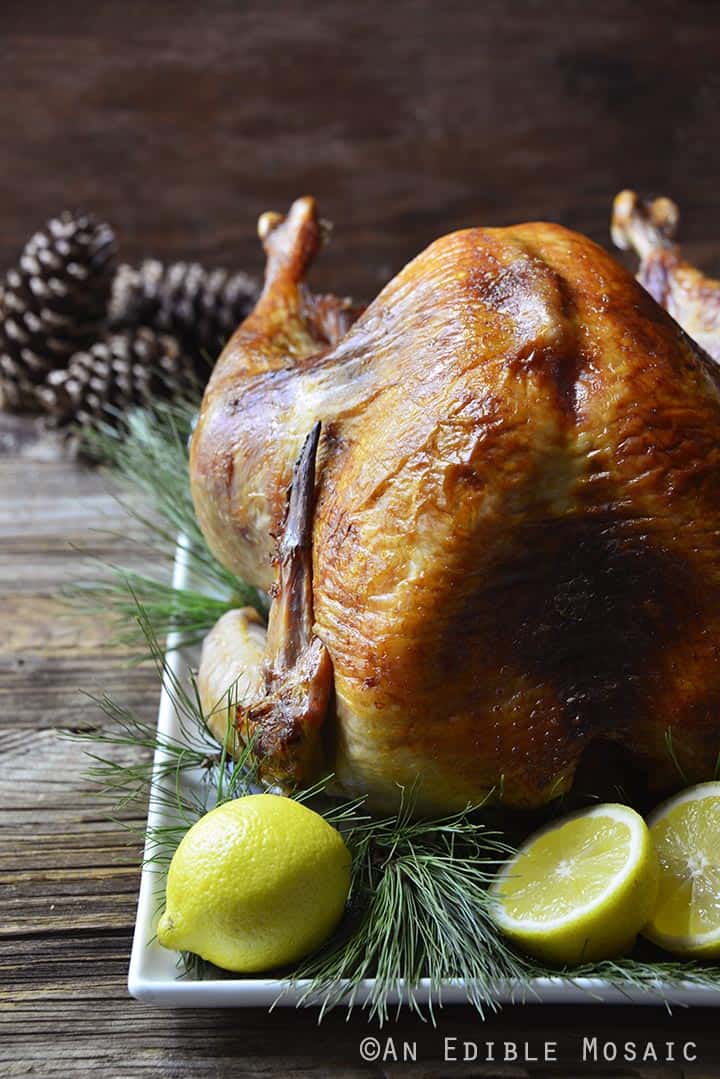 The Thanksgiving I remember best isn't because the meal was the most delicious. Actually, quite the opposite because my sister and I had no idea how to cook the stuffing, let alone the turkey. It was my first year of law school and also my first year away from home on Thanksgiving; my sister had come down to Florida from North Carolina to spend the holiday with me, and we were muddling through making dinner together.
A friend at school had given me a few tips on making the turkey, but it came out more than a little dry, which didn't really matter anyway because we had no idea how to carve it and ended up doing quite the hack job. The gravy was basically inedible, the mashed potatoes were lumpy (and not in a good way) and bland, the green bean casserole waterlogged, and the squash was oddly stringy. None of that mattered though. We laughed at ourselves and the situation the entire time, and to this day that Thanksgiving dinner is still one of my all-time favorites.
Because really, the holidays are about making memories with the people you love.
Since that Thanksgiving, I (along with my mom's help and lots of practice) have vastly improved when it comes to the art of turkey-cooking. Different people swear by different methods, but personally, I'm a big believer in brining and I've always found it to result in flavorful, juicy meat. Here I'm sharing one of my favorite brine recipes involving fresh rosemary and apple cider, but first, because the most delicious end product depends so heavily on the quality of the turkey itself, let's talk turkey.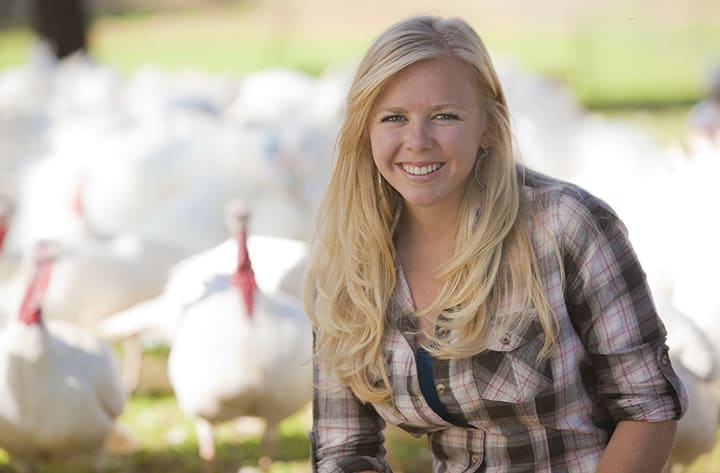 Heidi Diestel
I recently had the pleasure of talking to Heidi Diestel, a fourth-generation turkey farmer from Diestel Family Turkey Ranch in Sonora, California, and her passion for what she does was incredible. Their family's commitment to quality and tradition shows up not only in the product that you purchase, but also in the way they thoughtfully raise the turkeys. They feed their turkeys a 100% vegetarian diet of corn and soy that they mill themselves, and their feed is free of antibiotics, growth enhancers, hormones, gluten, animal by-products and dried distillers grains. And Diestel turkeys are given time to be turkeys; they allow their animals to slow grow to their naturally intended weight for their specific breed in almost twice the amount of time and three times the amount of space as conventional turkeys. Not only is this better for the turkeys' quality of life, but it results in the best tasting turkey because flavor and texture are developed naturally.
Additionally, I was pretty impressed by Diestel's commitment to sustainability and preserving the environment for future generations. They reclaim ground water used by treating it with a Zenon membrane water filtration system after processing to ensure that the water is purified, reused, and returned to the environment to be just as pure as it was when it came from Diestel's well.  The family is also eliminating the use of toxic chemicals, fertilizers, and inorganic substances on their ranch, as well as in their processing, packaging, and distribution facilities. By composting their manure, feathers, and cardboard, Diestel reduces their waste stream by nearly 75% and naturally increases the soil's nutrient density. And they see composting as a way to give back; they give their compost to school gardening programs, and make it available for purchase to organic farmers and community members.
If your turkey is the centerpiece of your holiday table, Diestel is a great choice. Their turkeys are available at select independent and natural food stores across the country (here's their store locator by zip code), and also can be purchased online here. Their products don't stop at whole turkeys; they make year-round products like deli slices, chorizo, and turkey sausage. You can check out @DiestelTurkey on Facebook and Twitter and follow along to stay up-to-date. And if you want to try their turkey for yourself, use coupon code EDIBLE12 for $12 off an online order now through November 14, 2016 (limit one per customer, no combining coupons).
Back to this brine. One of my favorite things about brine is that there's a lot of leeway to make it your own with fresh herbs, spices, citrus, or other aromatics like onion. I've even heard of people playing around with adding things like tea leaves, which I find so intriguing! Here I used Diestel's Organic Young Turkey and I kept the brine simple and crowd-pleasing with apple and a few other aromatics, and it's still neutral-enough to pair well with just about any gravy you want to whip up. And have fun with the side dishes!
What are some of your family's favorite Thanksgiving dinner traditions?
Apple Rosemary Brined Roast Turkey
Prep time:
Cook time:
Total time:
Yield:
1 12 to 14-pound turkey
Flavorful and juicy Apple Rosemary Brined Roast Turkey will make a gorgeous centerpiece for your family's holiday table.
Ingredients
12 cups (2.8 L) cold water, divided
¾ cup coarse kosher salt
¾ cup white sugar
3 bay leaves
1 to 2 sprigs fresh rosemary, lightly crushed in your hands to release their oils
1 medium onion, peeled and quartered
4 large cloves garlic, peeled and cracked but left whole
2 teaspoons whole peppercorns
4 cups ice
2 cups (475 mL) fresh apple cider
¾ cup (180 mL) organic raw, unfiltered apple cider vinegar
1 (12 to 14-pound) Diestel Family Turkey Ranch Organic Young Turkey, giblets removed
4 tablespoons unsalted grass-fed butter, at room temperature
Instructions
Add 4 cups (950 mL) water, salt, sugar, bay leaves, rosemary sprigs, onion, garlic, and peppercorns to a medium saucepan over medium heat. Continue heating (stirring constantly), until the salt and sugar are dissolved. Turn off the heat and stir in the ice, and then the apple cider and apple cider vinegar.
Pour the mixture into a vessel large enough to hold your turkey (I use the biggest stock pot I have), and add the remaining 8 cups (1.9 L) of water.
Gently slide the turkey into the brine, adding more cold water if the bird isn't fully immersed. Cover the vessel and refrigerate overnight (about 12 hours).
The next day, preheat the oven to 325F and prepare a roasting pan large enough to hold the turkey. (If you don't have a roasting rack for the bottom of your roasting pan, you can scrunch up foil for the bottom of the pan so the turkey isn't sitting in the bottom of the pan.)
Remove the turkey from the brine, rinse it, pat it dry, truss it, and place it into the prepared roasting pan (breast-side-up). Use your fingers to smoosh the butter onto the skin.
Roast until the internal temperature between the thigh and the wing and the thickest part of the breast reaches 165F on an instant-read thermometer, about 3 hours 15 minutes, to 3 hours 30 minutes.
Lightly drape a piece of foil over the turkey and let it set 15 minutes before carving.