Cinnamon Apple Brown Butter Blondies combine sweet aromatic cinnamon apples with the gooey texture of a classic blondie; it's a perfect pairing!
For those times you want pie, but have neither the time nor the patience to make pie, I give you these blondies. Because apparently, as of late blondies have become my thing (only in the food sense, lol).
It started back in October when my Salted Peanut Butter and Chocolate Snickers Brown Butter Blondies saved the day (or at least the moment!) and helped use up leftover Halloween candy. The trend continued with my Flourless Pecan Pie Cashew Butter Blondies about a month later, and now these.
Truthfully, I've been sitting on this recipe for going on two months now, but I couldn't share this recipe right after I shared the Snickers blondies, right? Lest you all catch on quick to the fact that apparently I am blondie-obsessed. (But I promise I'm not, lol. This batch went to a good friend who polished them off in a single day!)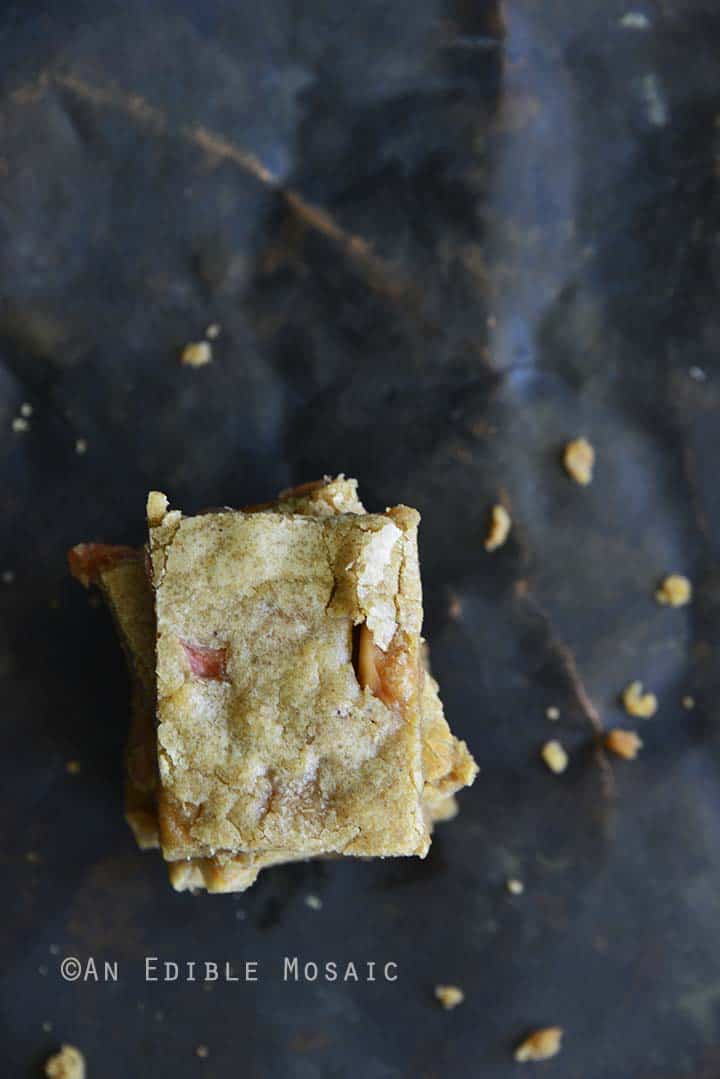 The really great thing and perhaps what I love most about blondies (other than their amazingly gooey texture) is the fact that once you come up with the perfect base recipe, you can change up the flavor seasonally or to suit your preference. I had two lonely little apples in my fridge and of course that's not enough to make a pie…but it's the perfect amount to whip up these bars!
These are super easy to make, the only thing that bears noting this that the apples have to be slightly precooked before being added to the batter. Don't skip this step; it results in perfectly tender and sweetly aromatic pieces of apple. Take into consideration that these require minimal effort for such a delicious treat, and you have something that might make you at least think twice before you take an afternoon to make an apple pie!
I promise it'll be a while, but any requests on my next flavor of blondies?
Cinnamon Apple Brown Butter Blondies
Prep time:
Cook time:
Total time:
Yield:
1 (8 by 8-inch pan), about 12 servings
Cinnamon Apple Brown Butter Blondies combine sweet aromatic cinnamon apples with the gooey texture of a classic blondie; it's a perfect pairing!
Ingredients
Apple Mix:
2 medium sweet-tart apples, cored and chopped small (not peeled)
¼ cup (60 ml) water
2 tablespoons sugar
1¼ teaspoons ground cinnamon
½ teaspoon ground nutmeg
Brown Butter Blondies:
10 tablespoons (142 g) unsalted butter, browned and cooled slightly
¾ cup (150 g) sugar
1 large egg
1 teaspoon pure vanilla extract
1 teaspoon blackstrap molasses
1 cup (128 g) all-purpose flour
¼ teaspoon salt
Instructions
Preheat the oven to 350F; line an 8 by 8-inch baking pan with parchment paper so it hangs over all 4 sides.
For the apple mix, add all ingredients to a small saucepan; bring to a boil and then reduce heat and simmer until the apples are tender and the liquid is evaporated, about 6 to 8 minutes, stirring occasionally. Cool.
For the brown butter blondies, whisk together the brown butter, sugar, egg, vanilla extract, and molasses in a large bowl. Stir in the flour and salt until just combined, being careful not to over-mix. Fold in the apples (they should be syrupy).
Pour the batter into the prepared pan, spread it out as evenly as possible, and bake until golden on the outside, but still a touch doughy in the center, about 27 to 31 minutes (be careful not to overbake, as these are best gooey in the center).
Cool completely before cutting.