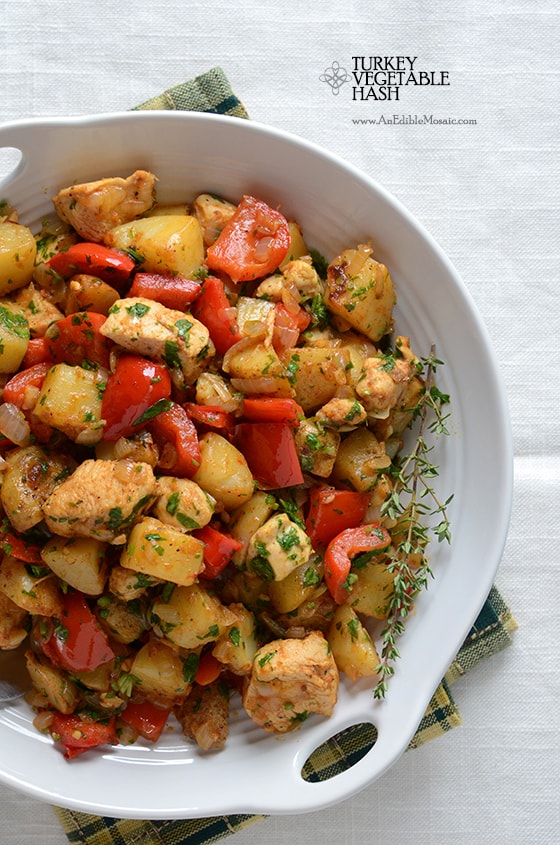 I hope everyone had a wonderful Thanksgiving…spending time with loved ones, eating their fill of good food, and being thankful for life's blessings, big and small.
And now, Happy Black Friday, all!
If you're not familiar with it, Black Friday is not nearly as grim as it sounds…in the U.S., this refers to the Friday after Thanksgiving. It's the busiest shopping day of the year, and most retailers have extended hours and sales galore.
There is much speculation as to where its name comes from…a few explanations include it puts retailers in the black, profit-wise…or bargain shoppers act so unruly that their behavior besmudges them…or a well-loved retail worker named Black (who incidentally always wore a black suit) died one year on the Friday after Thanksgiving. (For more speculation on the origin of the name "Black Friday", see Wikipedia, The City Desk, or About.com.)
Whether you're shopping today or not, odds are that you have leftover turkey to use, which is where this quick, easy, and delicious dish comes in. Serve it for breakfast, lunch, or dinner, and for something really special, plate it up with a fried egg on top.
Turkey Vegetable Hash
Prep time:
Cook time:
Total time:
Ingredients
2 tablespoons butter
2 tablespoon canola oil
3 medium (about 1½ lbs) potatoes, cleaned and cubed (peeled if desired)
2 medium onions, diced
2 medium bell peppers, chopped (I used red, but you can use any color)
4 cloves garlic, minced
2 teaspoons minced fresh thyme
1 teaspoon salt
¾ teaspoon sweet paprika
¼ teaspoon cayenne pepper (more or less to taste)
¼ teaspoon black pepper
2 cups chopped or shredded cooked turkey (see Note)
2 tablespoons lemon juice
½ cup minced fresh parsley
Instructions
Heat the butter and oil in a large nonstick skillet over medium-high heat; add the potato and cook 7 minutes, stirring occasionally.
Add the onion and bell pepper and cook until all the veggies are tender, about 7 to 10 minutes, stirring occasionally.
Add the garlic, thyme, salt, paprika, cayenne pepper, and black pepper and cook 1 minute, stirring constantly.
Stir in the turkey and lemon juice and use a wooden spoon to scrape up any brown bits that have formed on the bottom; cook until warm throughout, about 2 minutes.
Turn off heat, stir in the parsley, and serve.
Notes
Recipe was inspired by and adapted from my recipe for
Baked Egg Skillet with Vegetable Hash
and Ina Garten's recipe for
Basil Chicken Hash
.
Turkey:
You can substitute chicken if you prefer. If you don't have cooked turkey or chicken, you can use 1 to 1½ lbs chicken breast; trim any fat, cube it, then sauté it in a little olive oil until fully cooked and proceed with the rest of the recipe.