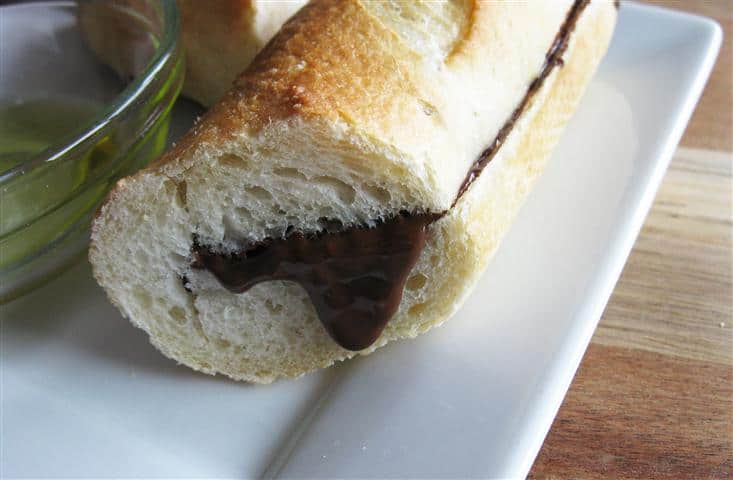 When I'm at a restaurant and I find a dish I truly love, it usually falls into one of two categories: mind-blowing delicious dishes that seem complicated to make so I only order them when eating out (like Sole Meunière…I have no idea how to de-bone the fish the way they do, but mmm, Sole Meunière), or mind-blowing delicious dishes that are easy to make so I end up making them frequently at home.
I first had this Chocolate Baguette about two months ago when I was eating lunch out with friends. (Twinkle Toes, if you're reading this, hi Gorgeous! Say hi to the Lady in Red for me!) Since then I've made it two other times at home and each time I have it I fall in love with it all over again. The flavors in this dish complement each other amazingly well…the rich, semi-sweetness of the chocolate, the spiciness of the olive oil, and the finishing salty flavor of the fleur de sel that melts on the tongue.
If you want to try this dish but don't want to eat it as a meal, you could turn it into an appetizer. Thinly slice and toast the baguette, brush extra virgin olive oil on top, spoon on a little melted chocolate, and sprinkle on a pinch of fleur de sel. I actually think I may do this for our Christmas Eve party!
Chocolate Baguette
(Yield: 4 main course servings, if served with a salad)
1 good quality baguette
4-6 oz good quality couture semi-sweet or dark chocolate
Fleur de Sel
Good quality olive oil (I had ran out of extra virgin olive oil when I made this last time, but I highly recommend using extra virgin olive oil if you have it on hand)
Melt the chocolate in the microwave or a double boiler. Split open the baguette, spread the chocolate inside, and sprinkle a little Fleur de Sel on the chocolate. Close the baguette and cut it into pieces. Serve with a small dish of olive oil for dipping.