The first Christmas Brunch recipe I'm sharing is my favorite item on the whole menu, "Everything" Cheese Pastries.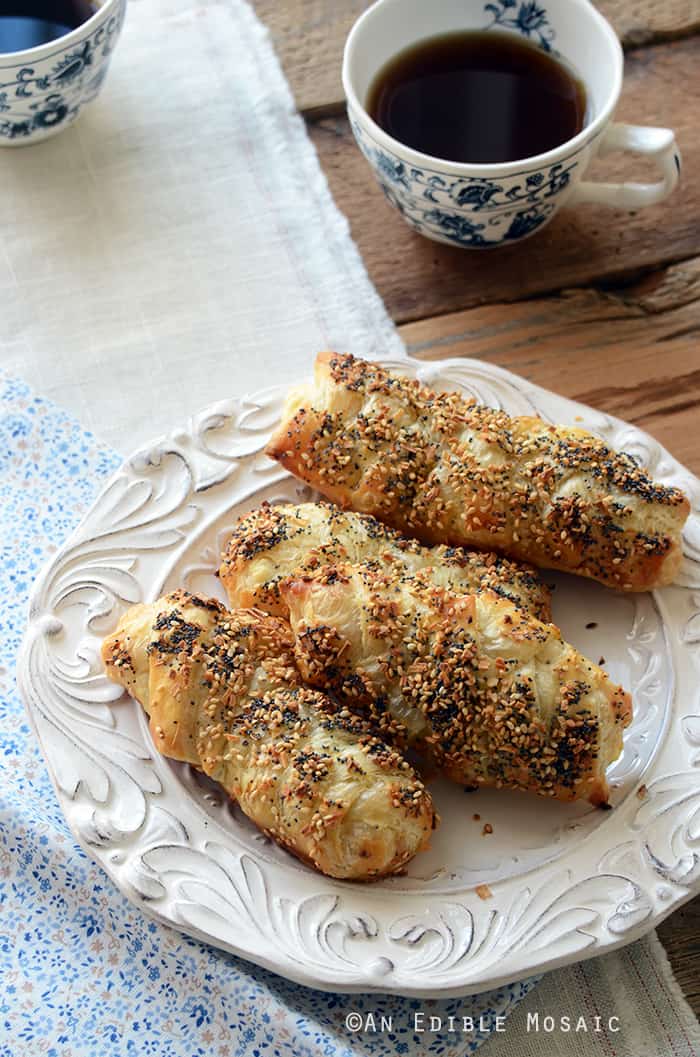 My inspiration for these delicious pastries came from two sources: my favorite bagel (the everything bagel), and the gorgeous blog, White on Rice Couple. I had been thinking about how to transform the everything bagel into a pastry, and when I saw their lovely recipe for Strawberry Crossover Puff Pastries, I immediately knew I wanted to make my own version…a savory pastry, reminiscent of an everything bagel stuffed with cream cheese.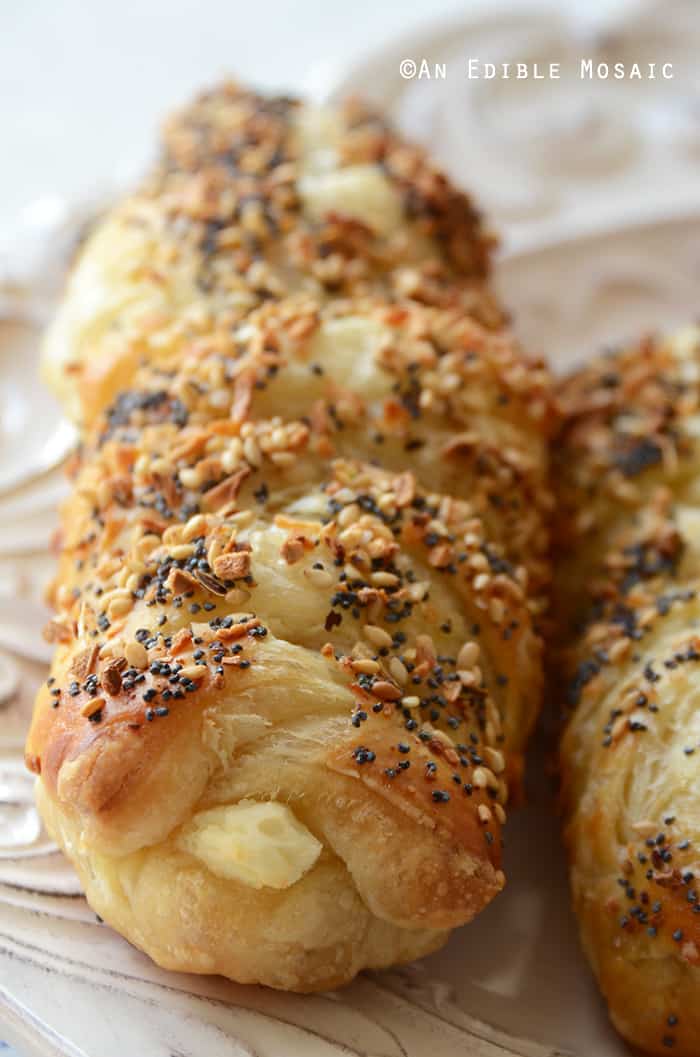 These beautiful pastries make a delicious breakfast served with just a bowl of fruit and a cup of coffee, but they're also special enough to serve as part of a festive holiday brunch.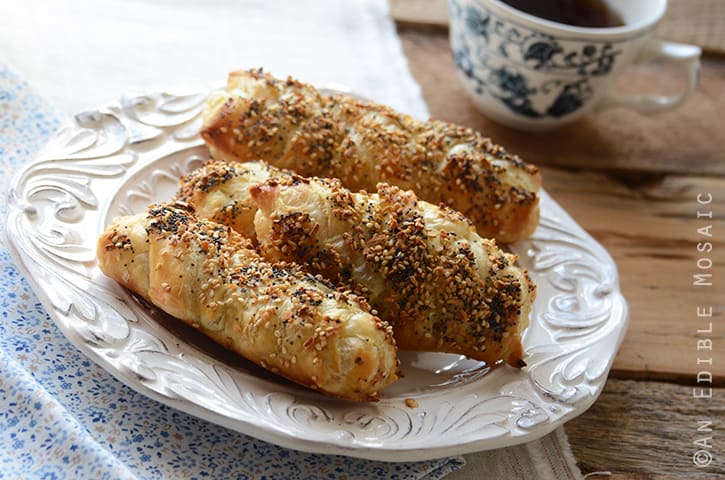 "Everything" Cheese Pastries
Prep time:
Cook time:
Total time:
Ingredients
¾ teaspoon poppy seeds
½ teaspoon sesame seeds
½ teaspoon dried onion flakes
¼ teaspoon steak seasoning (see Note)
Flour, for rolling out the pastry
1 sheet (about ½ lb) puff pastry
4 oz cream cheese (low-fat is fine)
1 egg beaten with 1 tablespoon water, for eggwash
Instructions
If frozen, thaw the puff pastry at room temperature for 40 minutes or in the fridge overnight. Preheat the oven to 375F and line a baking sheet with parchment paper or a silpat liner.
Combine the poppy seeds, sesame seeds, dried onion flakes, and steak seasoning in a small bowl and set aside.
Lightly flour your hands, the surface you want to roll the pastry out on, and your rolling pin. Roll out the pastry to a rectangle slightly over 16 inches wide and 8 inches tall and trim the edges so you have straight lines. Lightly flour the top of the pastry and cut the rectangle into 4 pieces, each about 4 inches wide and 8 inches tall.
Fold each piece of pastry in half, bringing the two farthest sides together. Use a knife to cut strips (about ¼ to ½ inch wide and 2 inches tall) along the edge of the dough through both layers; be careful not to press the layers of dough together too much.
Lay the pastries out on the prepared baking sheet. Place 1 oz cheese in the center of each pastry; bring the right strip farthest from you across the cheese, then bring the left strip farthest from you across the first strip. Continue alternating strips this way, making sure that each strip overlaps the previous. Repeat this process on the remaining pastries. Lightly press down on the top of each pastry to help seal the strips together.
Brush the tops of the pastries with eggwash (you will have extra eggwash; don't try to use it all), then sprinkle ½ teaspoon of the seasoning mixture on top of each pastry.
Bake until the pastries are puffed and golden, about 20 to 25 minutes.
Notes
Steak Seasoning: The steak seasoning I use contains sea salt, coarse-ground black pepper, coriander seed, mustard seed, dill seed, and red pepper.
Update (December 10, 2014): I made this dish again and snapped a few pictures, so I decided to update the photos in this post.