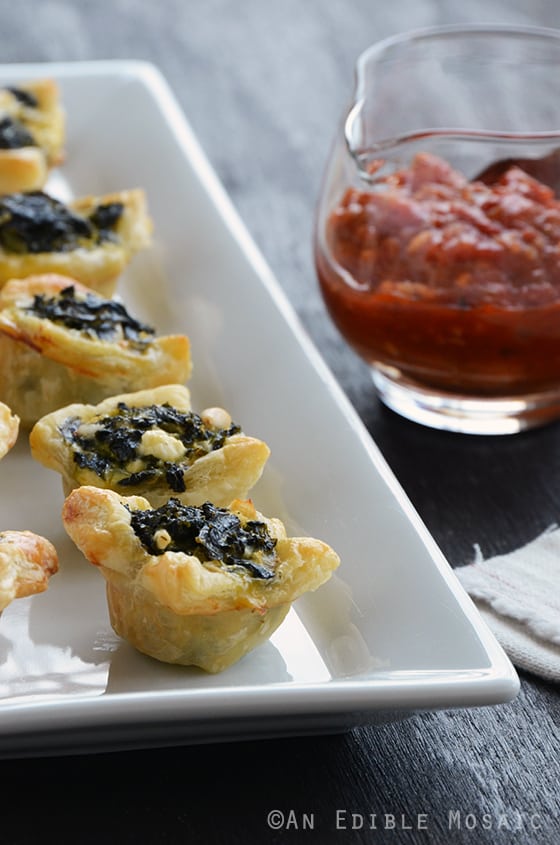 Given the choice between a big, one-plate meal (like lasagna or roast chicken), or a meal of several small dishes, I will choose the small dishes at least nine out of ten times. (That tenth time I just need roast chicken, lol.)
This month's 5 Star Makeover theme was a fun one: Greek Meze! The idea was for everyone to choose a different Greek-themed appetizer to have a full meze platter. (I wish we all lived in the same area – wouldn't this be an incredible potluck?) I chose to remake one of my Greek favorites: Spanakopita!
I made my version based on what I had on hand; if you have spinach or another green that you want to use instead of kale, you could give that a try. If you don't have pine nuts on hand, it's not a deal-breaker, but they do add fantastic flavor and a nice crunch. Lately I've been craving tomatoes like it's nobody's business, so I also made a thick homemade tomato sauce for dipping or for spooning on top of the two-bite Spanakoptia treats (it's your call whether you want to make it or not; they were delicious without the sauce too).
All in all, these Spanakopita Puffs were addictive.
Thanks to Laz and Natasha for hosting the event!
Spanakopita Puffs
Prep time:
Cook time:
Total time:
Ingredients
1 sheet (1/2 lb) frozen puff pastry, thawed in the fridge overnight
Flour, for rolling out the pastry
2 large eggs plus 1 large egg yolk
2 tablespoons olive oil
2 medium onions, finely diced
¾ lb kale, rinsed, tough center ribs removed, and chopped
1 cup water
2 large cloves garlic, minced
¾ teaspoon dried dill (or 2¼ teaspoons minced fresh dill)
½ teaspoon crushed red pepper flakes (more or less to taste)
⅛ teaspoon salt
¼ teaspoon black pepper
1 tablespoon fresh lemon juice
3 oz crumbled feta
2 tablespoons pine nuts
Chunky Marinara Sauce, store-bought or homemade (I used my recipe for Chunky Pizza Sauce)
Instructions
Preheat oven to 375F. Roll the pastry out on a lightly floured surface to about a 12- by 14-inch rectangle. Make 6 cuts across the pastry the long way at equal intervals, then make 4 cuts across the pastry the short way at equal intervals (you end up with 24 pieces of dough). Press each piece into a mini muffin cup; cover the muffin tray with plastic wrap and transfer to the fridge to chill while you make the filling.
Whisk the eggs and egg yolk together, then measure out 1 tablespoon to reserve for the eggwash.
Heat the oil in a large lidded skillet over medium heat; add the onion and cook until tender and starting to caramelize, about 5 minutes. Turn the heat up to medium-high, add the kale and water, cover the skillet, and cook 8 minutes, stirring occasionally.
Turn the heat down to medium, and then stir in the garlic, dill, crushed red pepper flakes, salt, and pepper, and cook (uncovered) until very tender, about 10 minutes, stirring occasionally. Stir in the lemon juice and turn off the heat. Cool slightly, then stir in the eggs (except the reserved egg for eggwash) along with the feta and pine nuts.
Fill the pastry wells with the kale mixture, using your finger to pack it down lightly. Lightly brush the dough with eggwash and bake until the pastries are puffed and golden, about 20 to 25 minutes.
Serve hot, warm, or room temperature along with Chunky Marinara Sauce.
Notes
Extra Filling: There shouldn't be a lot leftover, but if you have extra filling, you could scramble it up with some eggs or make it into a small frittata or quiche.