I don't know about you, but I've never been one to shy away from bold-flavored foods…
Extra, extra onion on every sandwich. (I wish I were kidding. If you're ever at a sandwich shop and you hear someone order their sandwich with double extra onion, walk up and say hi because it's probably me.)
At least one more clove of garlic than every recipe calls for.
Tunafish for breakfast…why not?!
(Yup, Mike is indeed a very lucky guy, lol. Luckily for both of us, he eats the same way though!)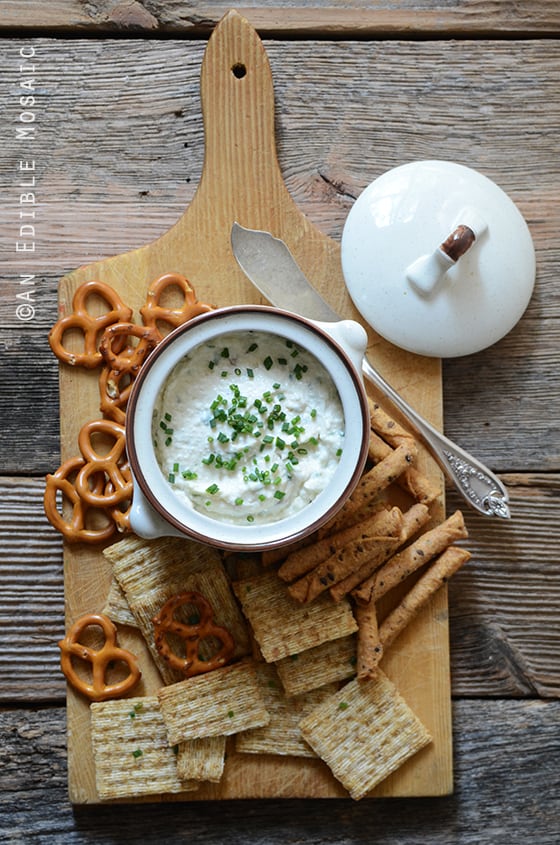 This Roasted Garlic and Chive Cottage Cheese Crema is no different. But like I talk about in this post, as it roasts, garlic takes on a sweet, nutty, and much more mellow flavor, so it isn't nearly as in-your-face as you'd imagine. But then don't forget, there are chives too, so this crema really does end up pretty bold. But that's why it's so good.
What is crema?, you might be wondering. Well, my inspiration was Mexican Crema, a tangy Mexican cream (similar to sour cream) that pairs perfectly with oh so many things. Here I used cottage cheese to get a similar creamy consistency without using cream (note that I like mine with some texture instead of completely smooth, but you can process yours until it reaches your desired consistency). As an added bonus, this crema is high in protein and fairly low in fat (if you use 2% cottage cheese).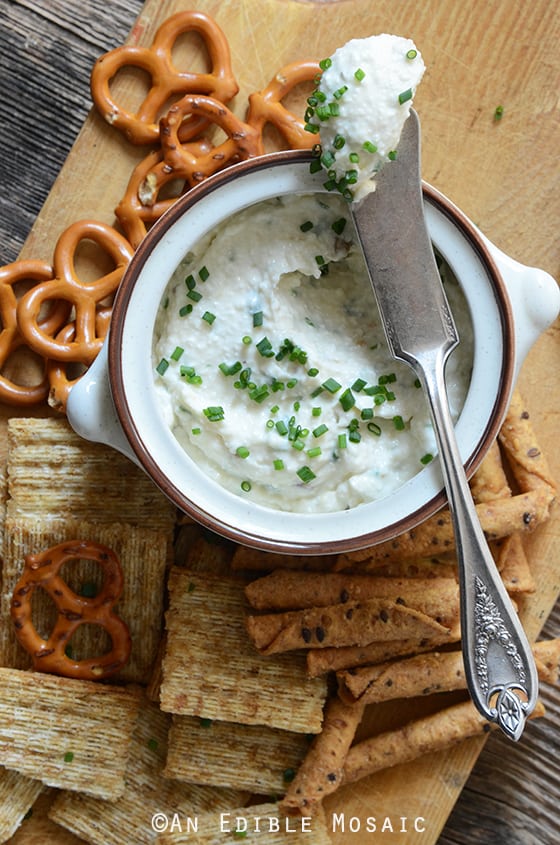 How can I use this crema?, you're thinking. I'm so glad you asked…
As a dip, served with crackers, chips, pretzels, or carrot and celery sticks.
As a condiment on sandwiches, burgers, or tacos.
As salad dressing.
As pasta sauce – just toss with warm pasta and a drizzle of olive oil.
As filling for stuffed shells or lasagna.
As filling for an omelet.
As a pre or post-workout snack, along with fresh raw veggies (like broccoli, cauliflower, bell pepper, etc.) for dipping.
Or, you know, it's also great eaten right out of the food processor with a spoon. (Quality control, of course. ;) )
Once you try this, you'll probably think of at least 10 more ways to use it right off the bat. But good luck getting to them; this dip is addictive there may not be any left!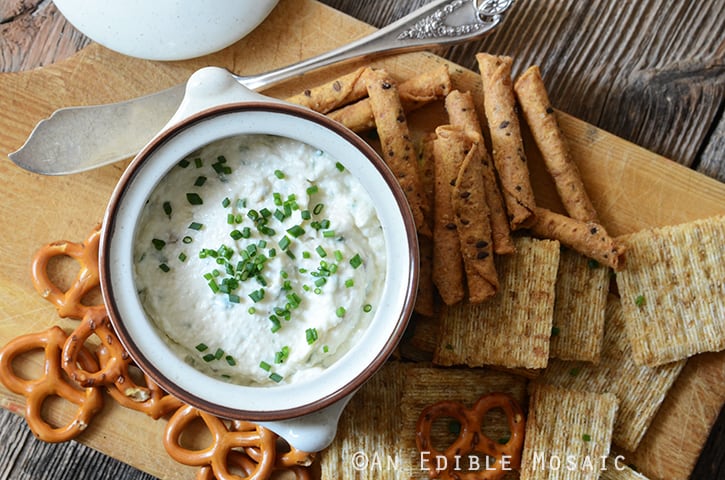 Healthy Roasted Garlic and Chive Cottage Cheese Crema
Prep time:
Cook time:
Total time:
Yield:
1 slightly heaping cup of crema
Ingredients
4 large cloves of garlic (not peeled)
1 teaspoon extra-virgin olive oil
Salt and black pepper
1¼ cups (300 g) cottage cheese (I use 2%)
2 tablespoons minced chives, plus more for garnish if desired
Instructions
Preheat oven to 375F.
Place the unpeeled garlic cloves in the center of a square of foil; drizzle on the oil and add a sprinkle of salt and pepper. Wrap up the garlic cloves in the foil, and then place the foil package onto a baking sheet or an oven-safe casserole dish. Roast until the garlic is completely soft and light caramel in color, about 35 to 40 minutes. Cool completely and then peel the garlic cloves.
Add the cottage cheese, ¼ teaspoon salt, ⅛ teaspoon pepper, and the roasted garlic to a food processor. Process until it reaches your desired consistency (I like it pureed, but with a little texture instead of completely smooth), scraping down the sides as necessary. Add the chives and pulse a couple times to combine.
You can serve it immediately, or refrigerate for up to 3 days because it's even more delicious after it sits for a couple days.