Spiced Maple Peach Oat Crisp is easy to whip up and perfect for brunch or dessert on a lazy summer day.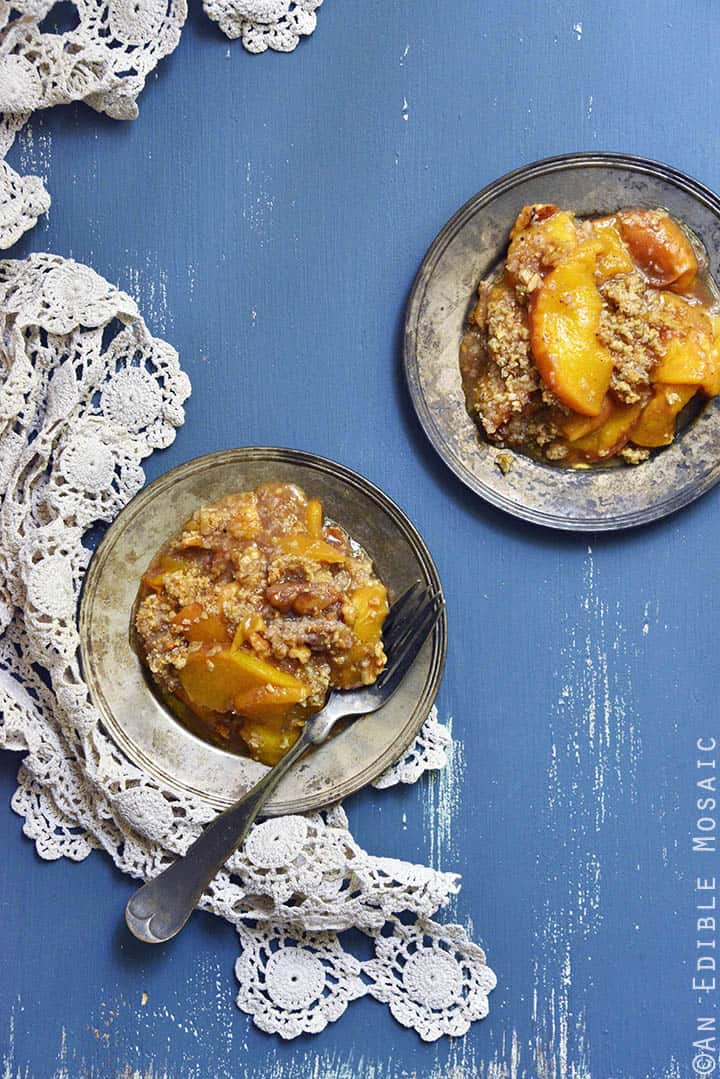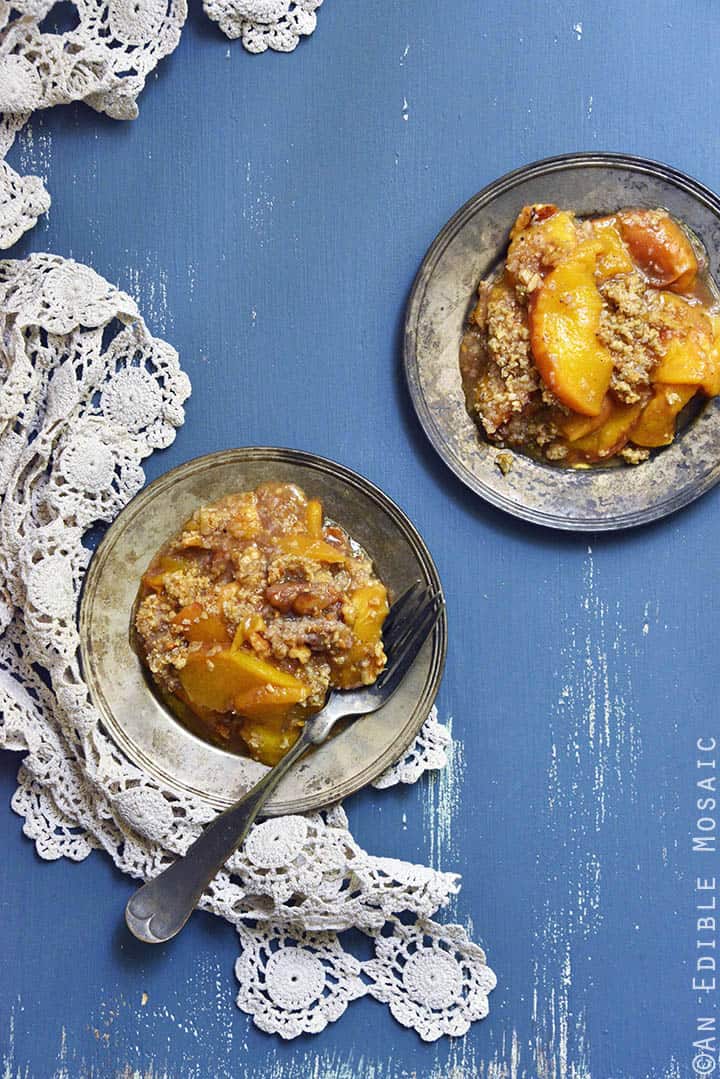 There are few things that say late summer better than a perfectly ripe peach with its intensely juicy sweetness. If summer flavor could be bottled, it would be liquid gold peach juice that's the color of sunshine.
Peaches are one of my favorite fruits this time of year and I usually just eat them out-of-hand, which explains the scarcity of peach recipes on my blog! It's nice to have a few go-to recipes for those times when you find yourself with an abundance of peaches though, and while jam is always a good idea, there's nothing better than a seasonal pie, crumble, or crisp for dessert on a summer evening. This is a humble dessert, but it feels elegant in its simplicity in a very comforting, homey way. Of course this is a great brunch option as well as dessert (it's basically oatmeal and fruit, right?). You can top it with a dollop of yogurt or whipped cream, or French vanilla ice cream for bit of indulgence.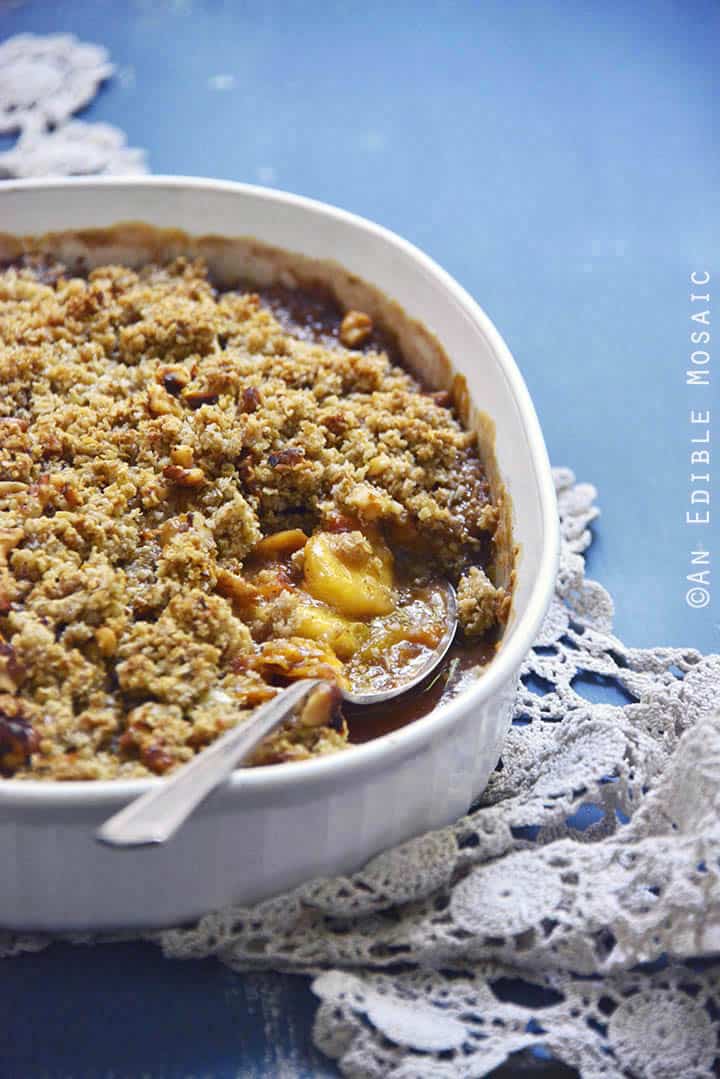 This crisp only needs 15 minutes of hands-on prep time and then it babysits itself in the oven; as it cooks, it fills the house with the aroma of peaches and I'm telling you the hardest part about making it is waiting the 10 minutes for it to cool so you don't burn your tongue before diving into it.
Because maple is such a great pairing with peach, I used Better Oats Steel Cut Maple and Brown Sugar Instant Oatmeal with Flax to make the crisp, and all I had to do was cut in butter (no need to add any other flavorings!). This oatmeal is a good source of fiber and omega-3 fatty acids, and the pre-measured pouches also make it an easy and convenient choice for quick weekday breakfasts on school and/or work mornings. They're a great option for breakfasts while you're traveling too; the pouch can be used to measure the water and then the oatmeal can be made right in the microwave in just two and a half minutes! (I love this! I'm always looking for healthier breakfast options that can be made in a hotel room when I'm traveling to make life easier.)
I also added a handful of walnuts to the crisp topping here, but pecans would also be perfect, or you can skip the nuts if they're not your thing. A hint of warm spices takes this dish to the next level and really pulls out the other flavors. Use the best ripe local peaches you can get your hands on for this recipe, and savor the fact that part of what makes this dish and all seasonal cooking so special is that they're only available for a short time every year.
I'm not quite ready to let go of seasonal fruit yet; if you need me, I'll just be over here getting my fill of peaches any way I can.
Spiced Maple Peach Oat Crisp
Prep time:
Cook time:
Total time:
Spiced Maple Peach Oat Crisp is easy to whip up and perfect for brunch or dessert on a lazy summer day.
Ingredients
Peaches:
5 large ripe, juicy peaches, halved, pitted, and sliced into ¼-inch thick slices (not peeled)
3 tablespoons pure maple syrup (or honey)
1½ teaspoons pure vanilla extract
1½ teaspoons fresh lemon juice
¾ teaspoon pumpkin pie spice mix (see Note)
1 pinch sea salt
1 tablespoon tapioca starch (or ½ tablespoon cornstarch)
Crisp:
Instructions
Preheat the oven to 350F; get out a 2-quart gratin dish.
Stir together all ingredients for the peaches in a large bowl until well combined; let the mixture sit for 10 minutes. Pour the peach mixture into the gratin dish along with any juices that have collected in the bottom of the bowl.
Add the oatmeal to a medium-sized bowl and cut the butter in with a fork or pastry cutter until mixed (you will have some pieces of butter the size of small peas); mix in the walnuts. Sprinkle the oat mixture on top of the peaches.
Bake until the crisp is golden on top and bubbling around the outside, about 45 to 55 minutes.
Cool 10 minutes, and then serve.
Notes
Pumpkin Pie Spice Mix: Instead of this, you can use ½ teaspoon ground cinnamon + ¼ teaspoon nutmeg.
Disclosure: I'm thrilled to partner with Better Oats to bring you delicious oat recipes. I received the Better Oats product that I used in this recipe for free, and I also received compensation for this post. I am happy for the opportunity to share brands that I believe in with my readers, and I hope you enjoy my recipe. As always, opinions stated are my own.