Ancho Chili Peach Blender BBQ Sauce is sweet and tangy with a touch of spicy heat.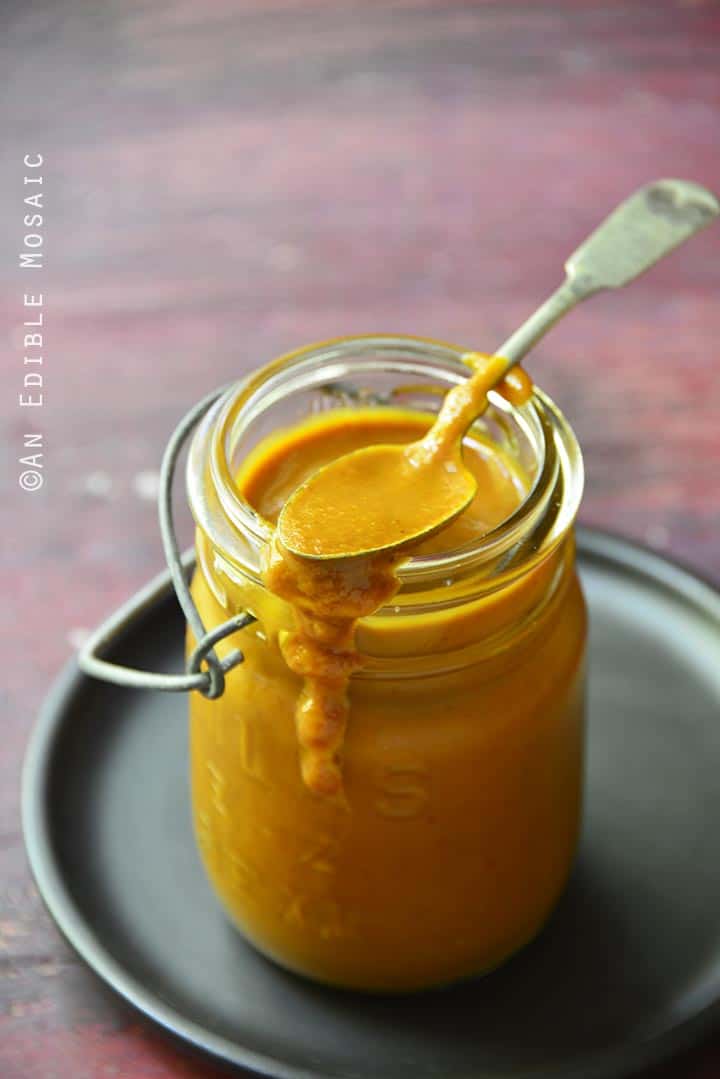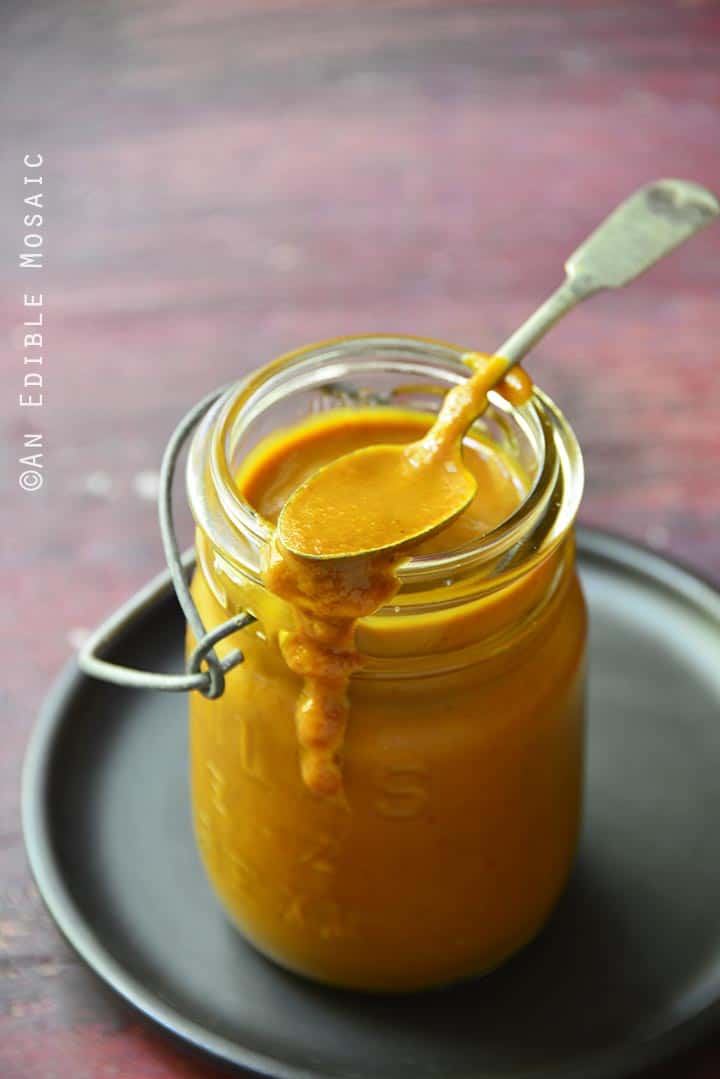 I used to think that most people either fall into the creamy condiment camp (like mayo) or the sweet/tangy condiment camp (like ketchup, honey mustard, and BBQ sauce). That's because until about five years ago when I discovered the bliss that is homemade mayo (not to mention how insanely easy it is to make), mayo just wasn't my thing.
I've been converted to the mayo camp, but I can always get behind a good ketchup or BBQ too. They serve different purposes, am I right?
When it comes to BBQ sauce, I like mine to have a nice balance of sweet, heat, and tang; add fruity flavor notes like peach, and there's just about nothing I won't put it on. Chicken, omelets, salads, hot dogs, burgers, potatoes, and even toast are all pretty delicious with a drizzle of this sauce. I keep discovering new things to use it on.
The best part is, this sauce is incredibly easy to whip up in the blender! Everything just gets pureed together, no need to even strain it. The peaches add a nice thickness to the sauce even before it's cooked. You could use the sauce straight out of the blender, but I like to give it a quick stint (about 20 minutes) on the stovetop to help all the flavors blend and thicken it up even more. Stash it in the fridge overnight and the next day once all the flavors have married, it's even better. If you're looking for an easy BBQ sauce to kick up your BBQ game, this is it!
So, are you a condiment person? And if so, what's your favorite?
Ancho Chili Peach Blender BBQ Sauce
Prep time:
Cook time:
Total time:
Ancho Chili Peach Blender BBQ Sauce is sweet and tangy with a touch of spicy heat.
Ingredients
2 dried whole ancho chile peppers, stems and seeds removed
2-4 dried whole chile de árbol peppers, seeds removed (or 1 to 3 teaspoons crushed red pepper flakes instead)
½ cup (120 ml) boiling water
2 large very ripe peaches, pitted
1 large onion, peeled and halved
6 cloves garlic, peeled
5-6 tablespoons pure honey
2 tablespoons apple cider vinegar
2 tablespoons olive oil
1 tablespoon Worcestershire sauce (see Note for paleo-friendly version)
1 teaspoon smoked sweet paprika
¾ teaspoon salt
½ teaspoon ground mustard powder
¼ teaspoon ground black pepper
3 whole cloves
Instructions
Toast the chilies in a dry skillet over medium heat until fragrant. Transfer to a small bowl and pour the boiling water on top; steep for 3 minutes.
Add the chilies and their steeping liquid along with all other ingredients to a high-speed blender and process until completely smooth.
Use as-is, or to help blend the flavors, transfer the sauce to a medium saucepan; bring up to a simmer and cook (uncovered) 20 minutes, stirring occasionally. Cool to room temperature.
Store covered in the fridge for up to 2 weeks.
Notes
Paleo-Friendly Version: Omit the Worcestershire sauce or make your own homemade paleo-friendly Worcestershire sauce and use that.
: : GIVEAWAY : :
If you've been wanting a high-speed blender, you'll be as excited about this giveaway as I am! Huge thank you to Wolf Gourmet because they're giving away one of their gourmet blenders to one lucky winner.
The blender's retail price is $599.95 on Williams-Sonoma and I can say firsthand how powerful (with speeds over 210 mph!), pretty, and easy to use and clean it is.
To participate in this giveaway, just leave a comment on this post telling me your favorite thing to make in a blender.
For extra entries, you can do any of the following (please leave a separate comment for each so they can be counted as additional entries):
Tell me what your most-used kitchen tool is.
Share this giveaway on Facebook, Twitter, Instagram, or Pinterest using the hashtag #WolfGourmet and @AnEdibleMosaic.
You do not need to have a blog to enter this giveaway. To enter, you must be at least 18 years old. For shipping purposes, this giveaway is only open to U.S. residents and we are not able to ship to P.O. boxes. This giveaway ends on September 20, 2016 at 11:59 PM EST. Once the giveaway ends, the winner will be randomly chosen and notified via email. The winner will have three business days to respond with his or her mailing information, otherwise a new winner will be randomly chosen. Good luck to all!
Disclosure: Wolf Gourmet provided me with a blender for review, and they are providing the blender for this giveaway; as always, opinions stated are my own.