This dish is as delicious as it is simple. The crispy potato, the creamy yolks, and the sharpness of the cheddar all come together wonderfully. And the veggies take on a lovely, nutty flavor after being roasted. This meal is perfectly hearty without being heavy, and since the amounts can be easily adjusted to serve any number, it's a great dish to serve at a brunch.
Feel free to switch up the vegetables for your favorites (I think zucchini would be delicious), or you could add some kind of breakfast meat.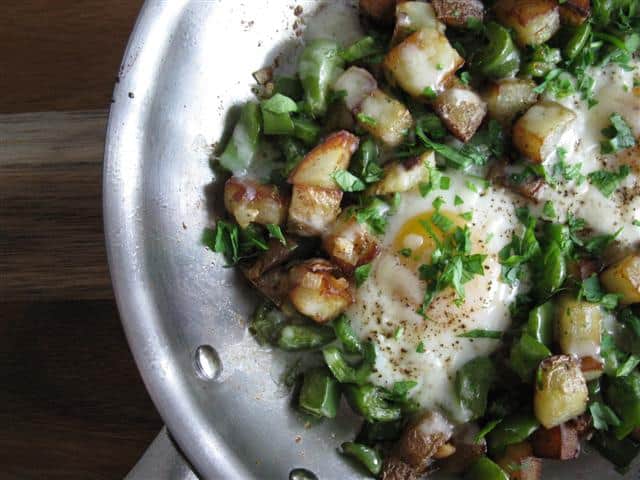 Baked Egg Skillet with Vegetable Hash
(Yield: 1 serving)
1 TB olive oil
1 small potato, cleaned and diced
½ small white onion, diced
1 small bell pepper (or ½ medium bell pepper), any color
1 clove garlic, minced
2 large eggs
Salt and pepper
½ oz sharp white Cheddar, shredded
Chopped fresh parsley (optional, for garnish)
Preheat the oven to 400F. Heat a small-medium pan (an 8- or 10-inch pan works well here) on medium-high heat. Add the oil and potato and cook over medium to medium-high for 5-10 minutes (stirring occasionally), until the potatoes are browned and cooked through. Add the onion, pepper, garlic, and a pinch of salt and pepper, turn the heat down to medium or medium-low and cook another 3-5 minutes, until the veggies start to soften.
Make two wells in the veggies so that the eggs have a place to go, then gently crack each egg into a well. Sprinkle a little more salt and pepper on top of each egg. Bake until the whites are set and the yolks are cooked to your desired consistency (about 10 minutes will give you runny yolks with set whites). Sprinkle the cheese on top then bake for 45-60 seconds longer, just to melt the cheese. Serve with parsley sprinkled on top.