I can't imagine Thanksgiving dinner without some kind of squash dish. Pureed is usually my mom's favorite way to go (she's very much a traditionalist when it comes to holiday meals, and that's how her mom always prepared it), but roasted is my preference since I love how roasting brings out the vegetable's natural sweetness. For this dish I use one of my favorite kinds of squash – butternut! – and pair it with apple, onion, and thyme.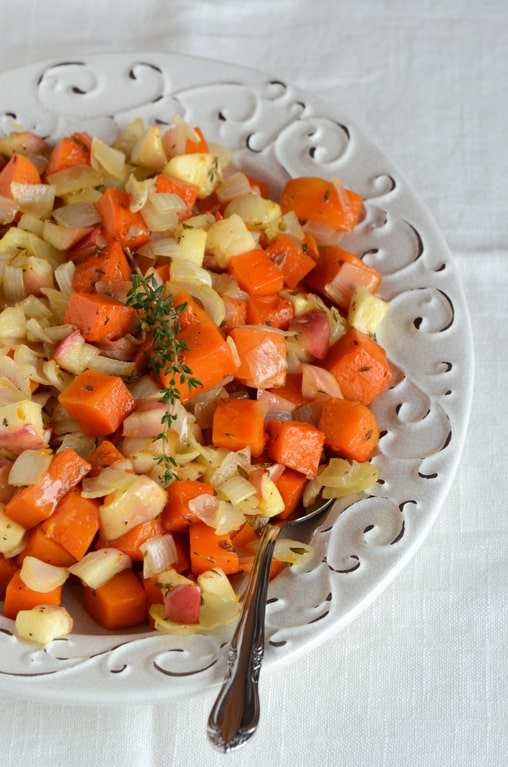 Not only does this make a wonderful side dish for Thanksgiving (or any autumnal meal), but leftovers are just as delicious and super versatile. (And since there's always a ton of them, leftovers are a big factor when we decide what to make for Thanksgiving! Some things just don't reheat well, but luckily this dish is not one of them.) Here are some leftover suggestions for this dish:
Serve warm or cold over spinach or other greens.
Serve warm over bulgur wheat or any other whole grain.
Serve warm tossed with pasta; top with shaved Parmigiano-Reggiano cheese and/or walnuts.
Puree with cream cheese and serve as a spread for crackers or crudités.
Puree with vegetable stock and add any seasonings you like to make a soup.
What are some of your favorite go-to Thanksgiving side dishes that make great leftovers?
Roasted Butternut Squash with Apple, Onion, and Thyme
Serves about 6 as a side dish
1 medium (about 2 lbs) butternut squash
1 tablespoon light olive oil
2 tablespoons butter, melted (or coconut oil for vegan version)
2 tablespoons brown sugar, lightly packed
¾ teaspoon salt
⅛ teaspoon black pepper
1 medium-large onion, chopped
2 medium sweet-tart, firm apples, cored and chopped (such as Cortland)
2 teaspoons minced fresh thyme
1 tablespoon lemon juice
Preheat oven to 400F; line a large baking sheet with a silpat liner (if available).
To prepare the butternut, trim off the top and bottom ends. Cut the squash in half between the neck (the elongated part) and the base (the bulbous part). To peel off the skin, use a vegetable peeler, or if the skin is very thick, stand the neck straight up and carefully trim off the skin with a sharp knife (you can cut the neck into 2 pieces first, if it's easier). Peel the base in the same way; once peeled, cut the base in half and scoop out the insides. Once peeled and de-seeded, cut the squash into 1-inch cubes.
Toss the squash with the oil, butter, brown sugar, salt, and pepper in a large bowl, then spread it in an even layer on the prepared baking sheet. Bake 20 minutes, stirring once halfway through.
Toss the onion, apple, thyme, and lemon juice together in a large bowl. After the squash has cooked for the first 20 minutes, remove it from the oven and turn the oven up to 450F. Pour the onion/apple mixture onto the tray with the squash and gently toss it together. Bake until everything is tender, about 20 minutes, stirring halfway through. If you want the veggies to brown a bit more, you can run them under the broiler for a couple minutes...keep a close eye on them though!
Taste and season with additional salt and pepper as desired; serve.