Strawberry and Coconut Cream Overnight Oatmeal Parfaits are perfect for grabbing on-the-go for breakfast or dessert.
People who know me know are always shocked to hear that I went through a hoarding phase as a kid. It's true though; I used to have what I called "collections" of basically random junk, including everything from rocks, to seashells, to buttons, to scruffy Barbies that were past their prime. I rarely wanted to get rid of anything, no matter how ugly or nonfunctional it was.
One day I had it with my hoarding ways and literally threw out bags of junk. The sad part is, I actually threw out some pretty cool stuff too. (My Strawberry Shortcake and Blueberry Muffin dolls were things I never should have parted with!) Since then I've prided myself on the fact that my hoarding days are in the past…at least until I look at the shelves of props in my studio and ask myself if I really need 150 different plates. Or until I look in the fridge and see four flavors of mustard, five kinds of cheese, three types of berries, and two varieties of lettuce. (But at least that's functional hoarding, right? Or that's what I tell myself, lol.)
The other day I saw a quart of the prettiest strawberries in my fridge (yup, peeking through behind the different kinds of cheese and lettuce), and I knew I wanted to do something a little different with them. It's funny how a recipe can be so simple and basic, but if you save it for rare occasions it just feels special. Overnight oats is one of those things for me.
There is nothing easier to whip up than overnight oats; you literally just combine oats with your milk of choice and let it chill in the fridge overnight. The thing is, I'm a great meal planner when it comes to lunch and dinner, but not so much regarding breakfast, so I never think to mix up overnight oats the night before. Because of that, for me this dish is elevated into something that feels truly special.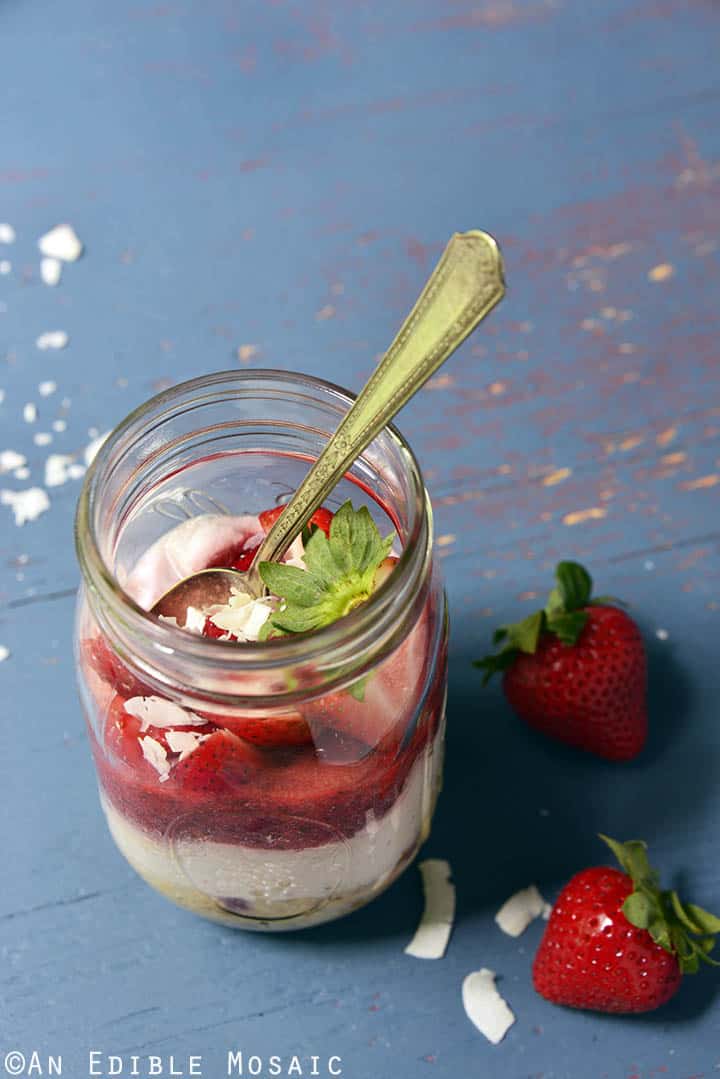 Here strawberries and cream are taken to the next level with minimal effort. The oats and coconut milk chill in the fridge overnight and in the morning you whip up the coconut cream and make a quick little strawberry chia seed "jam" in the food processor or blender. Everything gets layered together for a treat that's as pretty as it is delicious.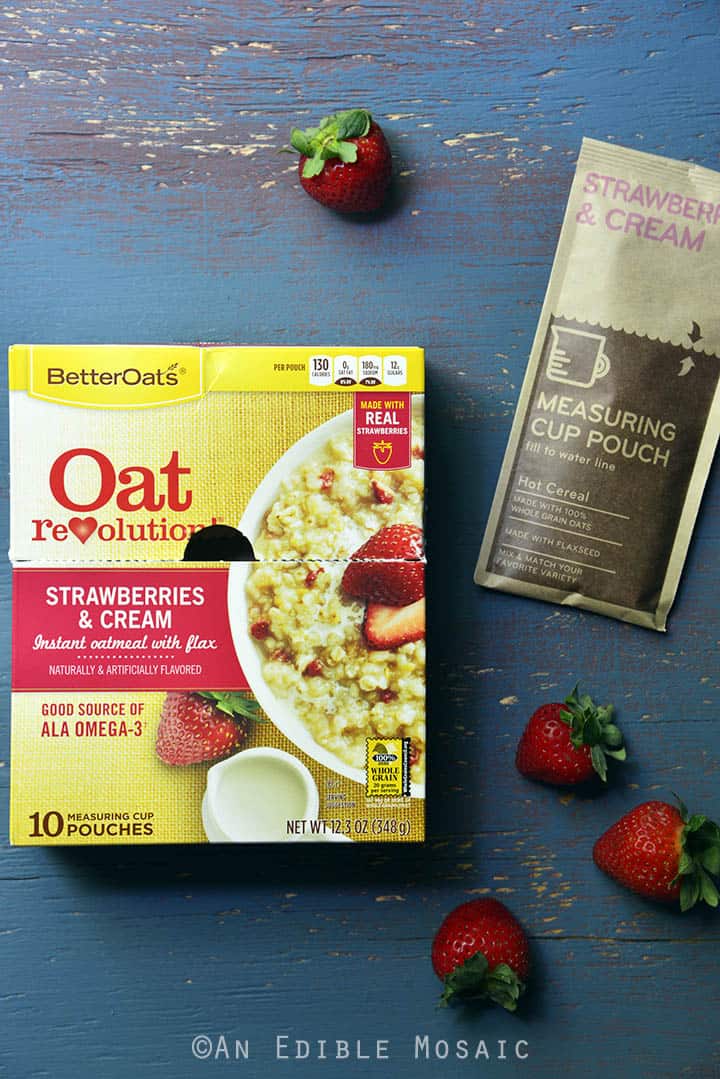 I used Better Oats Strawberries and Cream Instant Oatmeal with Flax for this recipe, which is a good source of calcium, vitamins A and E, and ALA Omega-3, plus the oats come in adorable little pouches for portability and portion control. You'll need canned unsweetened, full-fat coconut milk so you can make coconut "whipped cream", but you could substitute Greek yogurt or regular whipped cream if you prefer. Just don't forget the fresh strawberries on top.
These little parfaits are easy to whip up, and making them in mason jars means they're easy to grab on-the-go. They work for breakfast or dessert, and they're the perfect thing to bring along on a picnic or hike if you want to get outside and enjoy these beautiful late summer days.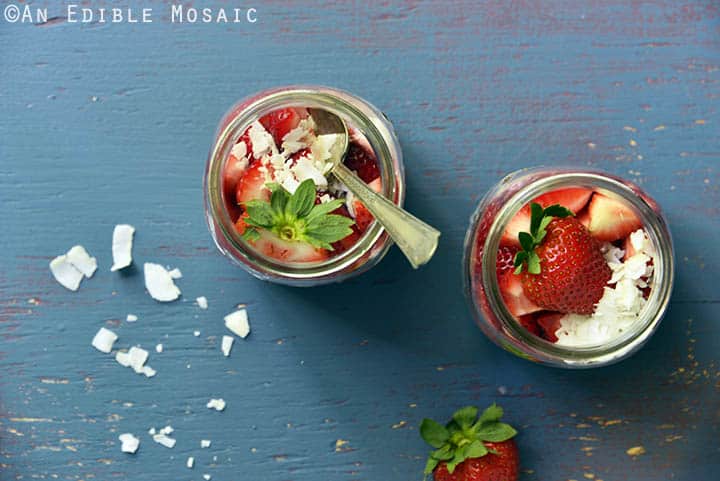 Strawberry and Coconut Cream Overnight Oatmeal Parfaits
Strawberry and Coconut Cream Overnight Oatmeal Parfaits are perfect for grabbing on-the-go for breakfast or dessert.
Ingredients
½ cup (120 ml) plain, unsweetened almond milk (or any kind of milk you like)
⅓ cup (80 ml) thick, waxy portion of coconut milk (from a can of unsweetened, full-fat coconut milk)
1½ cups (9 oz/255 g) chopped strawberries, divided
1 teaspoon honey (more or less to taste)
½ teaspoon pure vanilla extract
1 pinch sea salt
1 tablespoon chia seeds
1 tablespoon unsweetened coconut flakes, for topping
Instructions
Add 1 pouch of oatmeal and ¼ cup milk to each of 2 pint-sized (2 cup/475 ml) mason jars. Shake each to combine well; refrigerate 8 hours or overnight.
Refrigerate the coconut milk (while still in the can) until fully chilled, 8 hours or overnight. Open the can from the bottom and drain off the thinner, liquid-y coconut milk (you can reserve it for use in something else, such as a smoothie, if you want). Transfer ⅓ cup of the thick, waxy-looking portion to a medium bowl, and whip it with a handheld electric beater until light and fluffy.
Add 1 cup chopped strawberries, honey, vanilla, and salt to a food processor or blender and pulse it until it forms a sauce (a few lumps are fine).
Measure out 1 tablespoon of the strawberry sauce and add it into the whipped coconut milk; beat until combined.
Stir the chia seeds into the strawberry sauce and let it sit for 3 minutes to thicken slightly.
Pour half of the whipped coconut milk into each of the mason jars on top of the thickened oats. Top each with half of the strawberry sauce. Divide the remaining ½ cup chopped strawberries and 1 tablespoon coconut flakes on top of each.
Serve or store covered in the fridge for up to 2 days.
Disclosure: I'm thrilled to partner with Better Oats to bring you delicious oat recipes. I received the Better Oats product that I used in this recipe for free, and I also received compensation for this post. I am happy for the opportunity to share brands that I believe in with my readers, and I hope you enjoy my recipe. As always, opinions stated are my own.