This Strawberry Coffee Cake Recipe features rich and buttery crumb cake with a hint of vanilla aroma and strawberry flavor. And the best part is that it's an easy-to-make one-bowl recipe!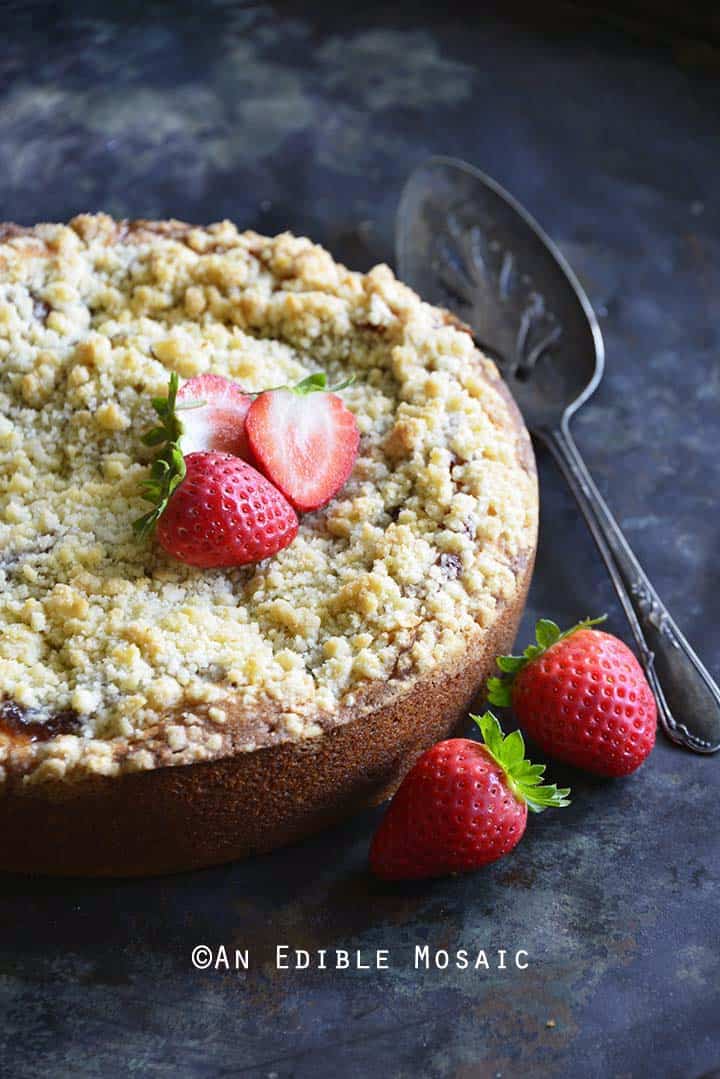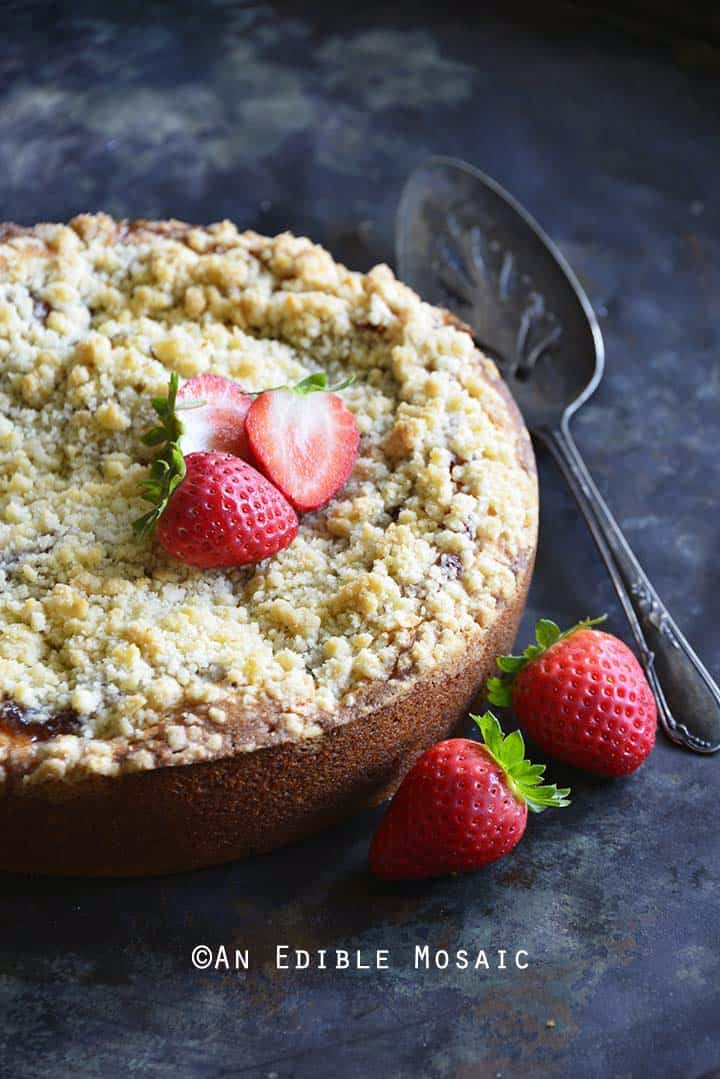 Even though I eat low-carb most of the time, I always enjoy baking. Spending an afternoon in the kitchen watching ingredients like flour, sugar, and eggs cohesively meld into something beautiful and delicious is like magic. Or if you want to realistic, it's chemistry, lol)!
When I have house guests I always try to get in as much baking as I can. Not only to feed them well, but also because it lets me get in my baking fix, which is like therapy for the soul.
Bake it Sweet by The Cooking Doctor Jehanne Ali
When my sweet friend Dr. Jehanne Ali told me she was coming out with a baking cookbook, I was pretty thrilled! She's not only a medical doctor, but she's also a master baker and an all-around amazing person.If you want to order Jehanne's beautiful book, she can be found on Instagram!
Jehanne's beautiful cookbook, The Cooking Doctor's Bake it Sweet Cookbook has 100+ recipes for beautiful baked goods, such as:
Victoria Sandwich Cake (so elegant and perfect for tea time)
Sesame Cookies (which I think would be a perfect afternoon treat along with a cup of Turkish coffee)
Butterscotch Hazelnut Praline Cake (what a lovely sounding flavor combination, right?!)
Frangipane Croissants (there is nothing better than a fresh, homemade croissant)
And even healthier options, such as Applesauce Spelt Brownies and Vanilla Oat Waffles
I should also mention that she's a master at macarons; I want to start with her Crème Brulee Macarons!
Jehanne also includes useful information for beginner bakers, such as baking tools and pantry basics. I like that there are method recipes included at the beginning of the book, like how to make things like Simple Sugar Syrup, Chantilly Cream, Salted Caramel Sauce, Swiss Meringue Buttercream, Lemon Curd, and Raspberry Coulis.
It was hard for me to choose a recipe to start with! However, the recipe for Cherry Streusel Sour Cream Cake instantly caught my eye. I love the use of sour cream in cake and paired with fruit, there's no way you can go wrong. Using Jehanne's recipe for inspiration, I put a few of my own tweaks on her recipe:
I used store-bought strawberry preserves instead of homemade cherry compote.
Omitted the milk in favor of adding another egg.
And just a few other small tweaks.
If you want to order Jehanne's lovely book, send her a direct message on Instagram!
Strawberry Coffee Cake Recipe
I made this gorgeous cake for one of my mom's recent visits and she raved about it. This Strawberry Crumb Cake is rich and buttery with a hint of vanilla aroma, and similar to pound cake in texture.
Strawberry preserves are lovely, but you can use your favorite fruit jam. The streusel topping takes it to the next level and makes it feel more special, and it's equally perfect for brunch, an afternoon tea break, or dessert.
Streusel Crumb Topping
If you've ever had a New York-style crumb cake (this pumpkin one is my personal favorite), you're probably familiar with streusel topping!
It's a crumbly topping of butter, sugar, and flour (and of course any flavors you like, such a vanilla or cinnamon) that can be baked on top of cakes, muffins, pies, etc.
As it bakes, it takes on a golden color and somewhat crisp texture, and it tastes rich and buttery.
Where Does Coffee Cake Come From and Does It Really Have Coffee in It?
Coffee cake is said to have evolved from several types of cakes throughout a span of generations. The Danish are credited with making the earliest versions of what we think of as coffee cake today, and supposedly they actually did contain coffee. The word "streusel" means "granules" in German, and refers to the crumble topping.
Read more about the origin of coffee cake on Brewed Coffee and Foodimentary.
Different Types of Coffee Cake
There are so many different varieties of coffee cake! Coffee cakes can often have cinnamon or nuts, such as walnuts or pecans.
They can be leavened with baking powder and/or baking soda for a cake-like texture, or yeast for a more bready texture.
Coffee cakes can have swirls of flavor (like the brown sugar cinnamon swirl in this recipe).
Various fruits or jams can be added, such as cherries or strawberries.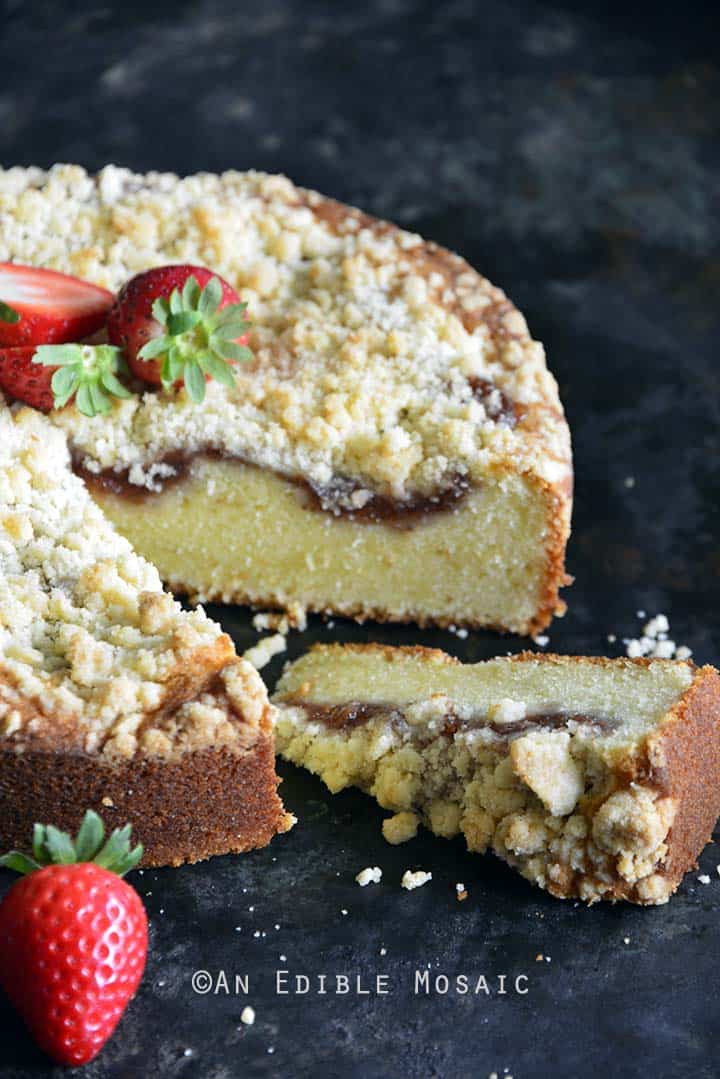 Strawberry Season
I love using fresh strawberries as a garnish for this cake!
Strawberry season is such a short-lived time; it's only about three weeks long (maybe four if you're lucky), basically you blink and it's over. It's well worth the wait and anticipation because the sweetness and intense strawberry flavor of fresh local strawberries is unparalleled by any commercially-produced strawberry! I always look for the smaller berries because I find they have the best flavor.
In the U.S., strawberries are grown in every state and depending where you live, peak season is typically April through June. It's earlier if you're in a hotter climate, and later if you're in a colder climate. Here in Florida, peak strawberry season is in February; when I lived in Buffalo, peak strawberry season was in June.
How to Store Fresh Strawberries to Keep Them Fresh Longer
Strawberries can be a bit delicate and prone to molding, but with a couple tips, they'll last up to five days (maybe even a week) in the fridge.
Pro Tip: No matter how long you want to store fresh strawberries (whether it's one day or five), don't wash them until right before you're eating or using them.
If You're Just Storing Strawberries Overnight
Keep the strawberries in the crisper drawer of your fridge to not only keep them cold, but also to regulate the humidity.
To Store Strawberries for About 5 Days in the Fridge
Arrange the strawberries in a single layer on a paper towel-lined baking sheet. Cover with plastic wrap and store in the fridge up to five days. Sometimes they'll even last seven days stored this way!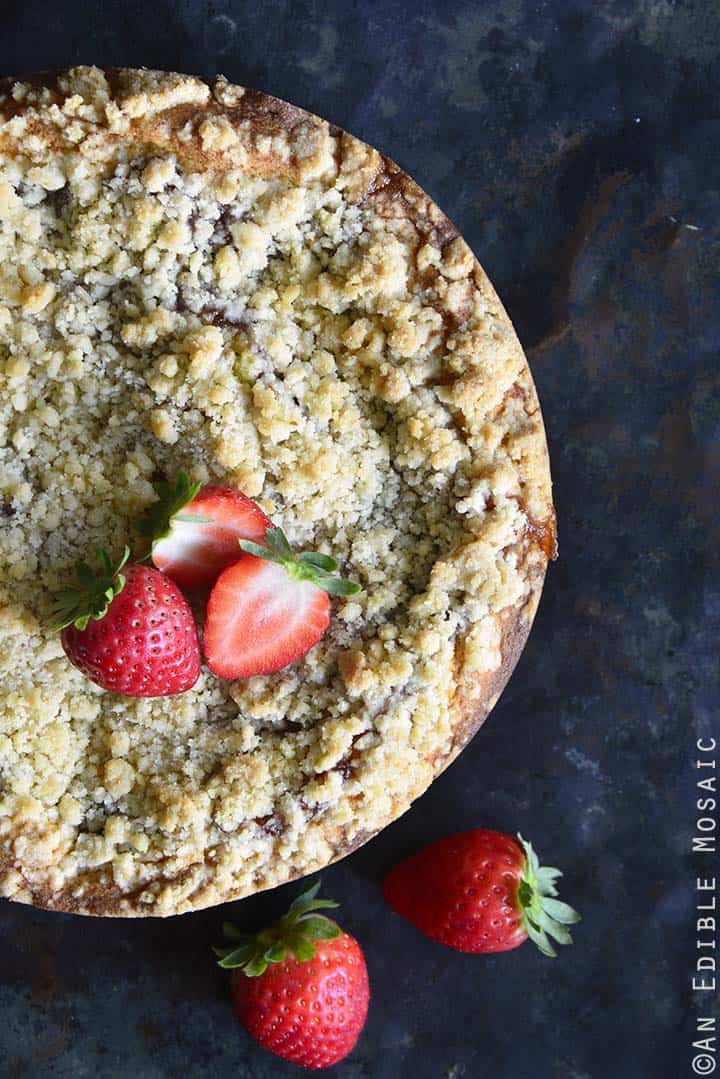 If You Like Fruity Crumb Cakes: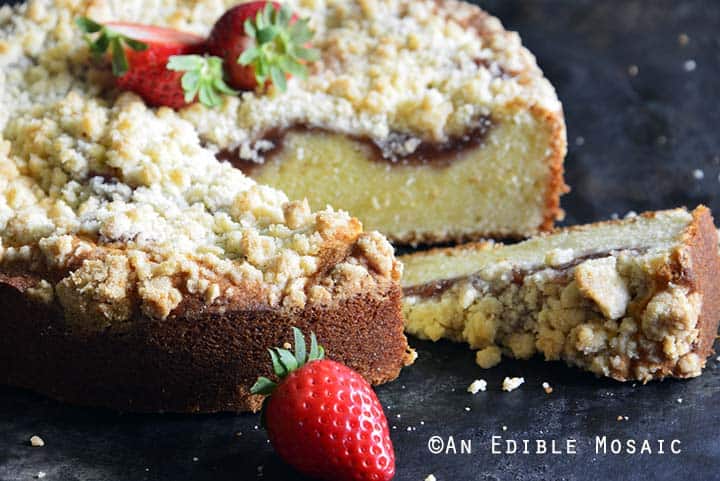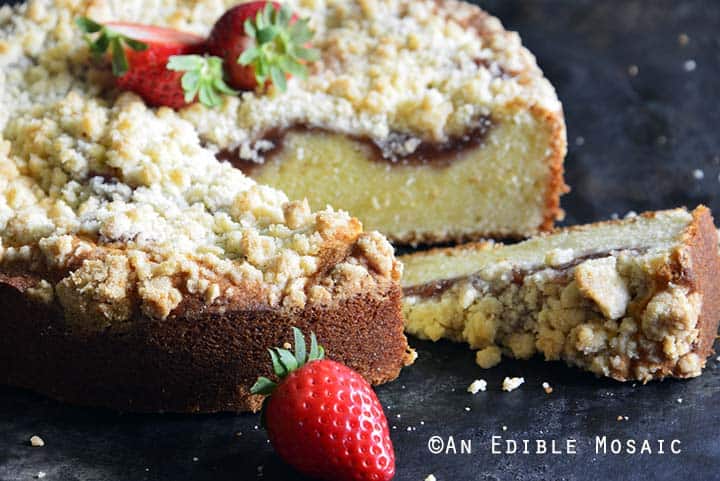 Did you make this recipe? Please rate it and leave a comment below because I love hearing from you! You can also tag @anediblemosaic on social media. To stay up-to-date FOLLOW ME on Instagram, Twitter, and Facebook. Xoxo, Faith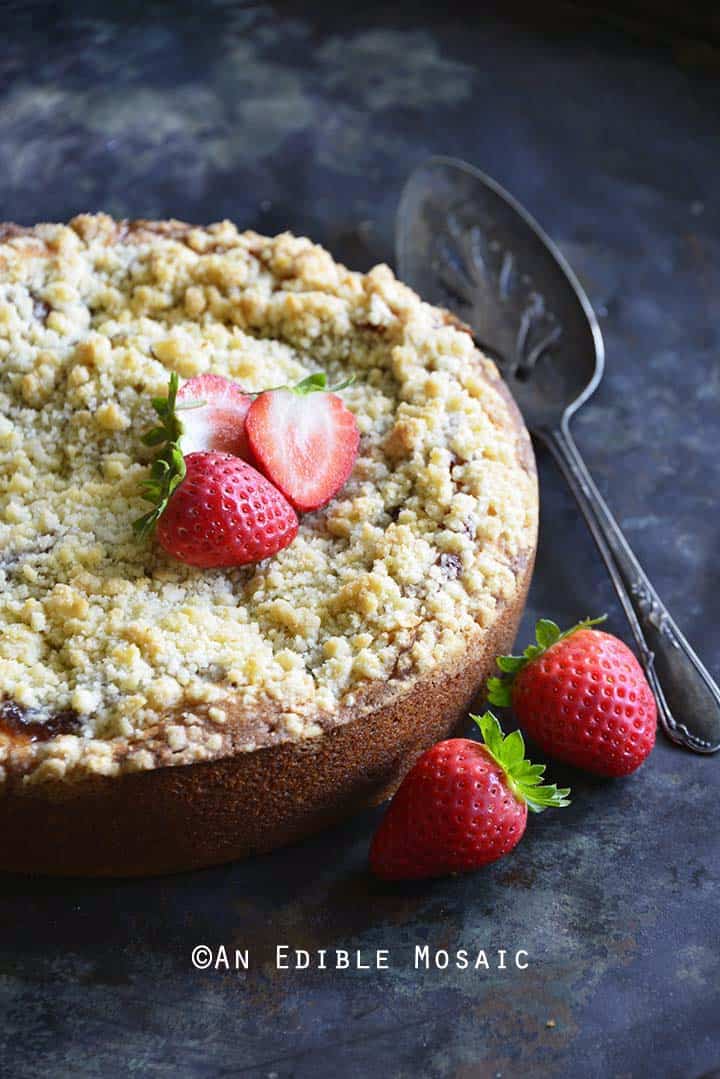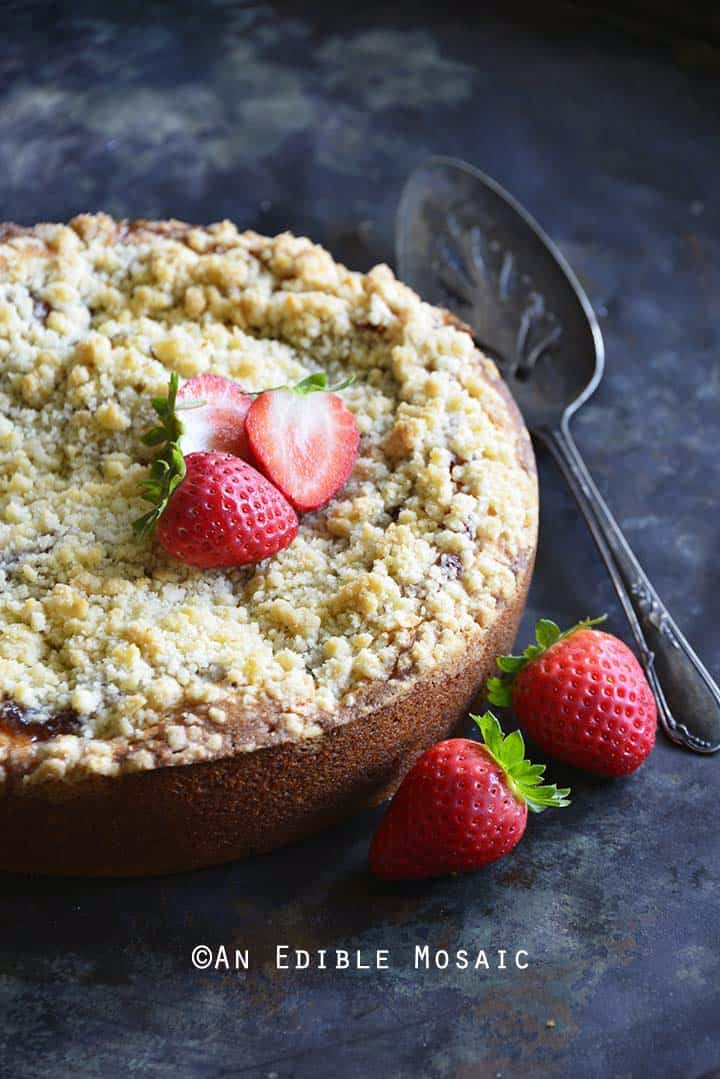 Strawberry Coffee Cake Recipe
This Strawberry Coffee Cake Recipe features rich and buttery crumb cake with a hint of vanilla aroma and strawberry flavor. And the best part is that it's an easy-to-make one-bowl recipe!
Instructions
Preheat the oven to 350F. Line the bottom of a 9-inch round cake pan with a piece of parchment paper that's been trimmed to fit inside. Spray coconut oil on the inside of the pan.

Cream together the butter and sugar, and then cream in the eggs, beating until light and fluffy. Beat in the vanilla and sour cream.

Sift the flour, baking powder, salt, and baking soda into the wet ingredients, and stir just until combined, being careful not to overmix.

Pour the batter into the prepared pan and use a rubber spatula to spread it out evenly. Dollop the preserves on top of the batter and spread them around (leaving a ¼-inch rim along the outside).

For the topping, add all ingredients to a medium bowl and use your fingers to crumble it together until it forms large crumbs. Sprinkle the crumbs on top of the cake.

Bake until the cake is golden on top and along the outside, and a toothpick inserted in the center comes out clean, about 40 to 50 minutes.

Cool before cutting and serving.
Faith's Tips
Recipe adapted from the recipe for Cherry Streusel Sour Cream Cake in The Cooking Doctor's Bake it Sweet Cookbook by Dr. Jehanne Ali.
Nutrition
Nutrition Facts
Strawberry Coffee Cake Recipe
Amount Per Serving
Calories 415
Calories from Fat 162
% Daily Value*
Fat 18g28%
Cholesterol 85mg28%
Sodium 158mg7%
Potassium 117mg3%
Carbohydrates 59g20%
Protein 5g10%
Vitamin A 571IU11%
Vitamin C 3mg4%
Calcium 45mg5%
Iron 2mg11%
* Percent Daily Values are based on a 2000 calorie diet.
This post was first published on An Edible Mosaic on May 7, 2018. I updated it with more information on July 17, 2020.
Disclosure: This post contains Amazon affiliate links to products I believe in, which means that even though it doesn't cost you anything extra, I will receive a small amount of money from the sale of these items. Thank you for helping to support An Edible Mosaic!