Easy Turkey or Chicken Masala Wraps are a delicious recipe to transform leftovers into a completely new meal!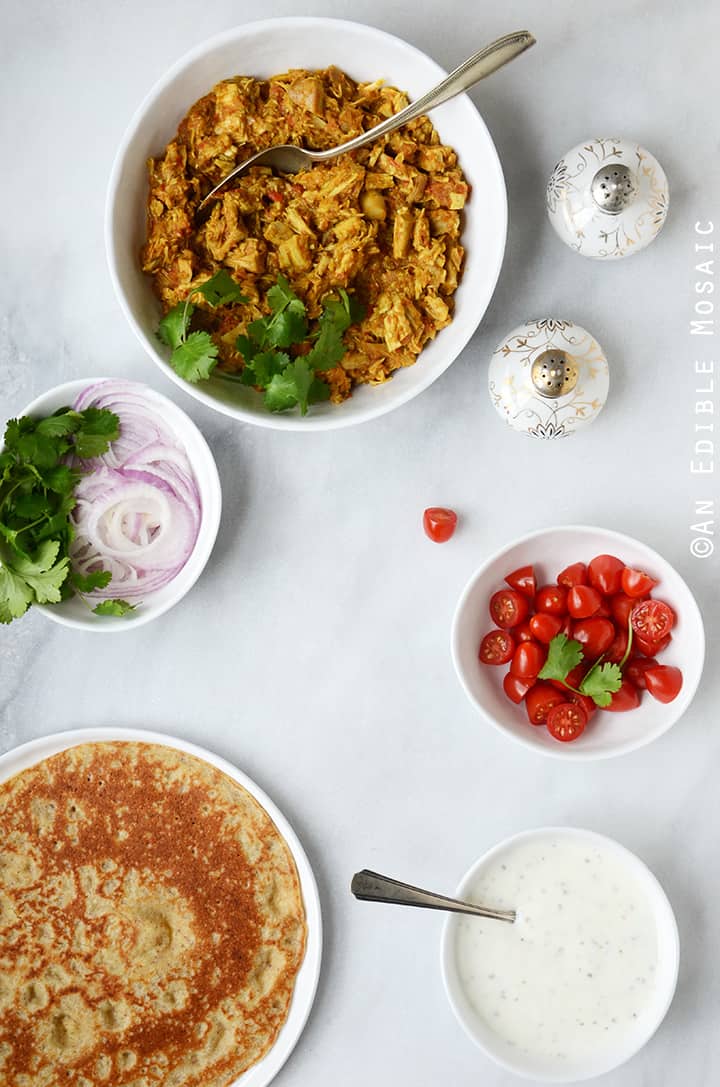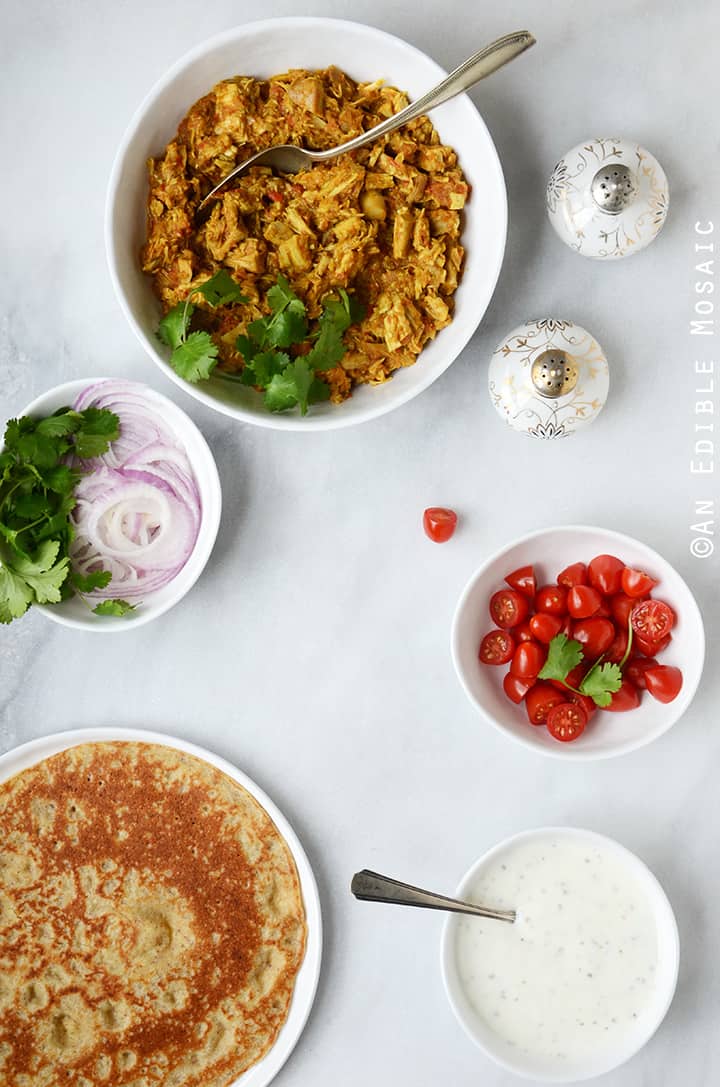 I don't consider myself a food snob at all. My go-to meal when nothing sounds good is a humble egg (preferably fried, runny yolk) with roasted vegetables, or a big pile of salad greens topped with whatever leftovers I can find in the fridge.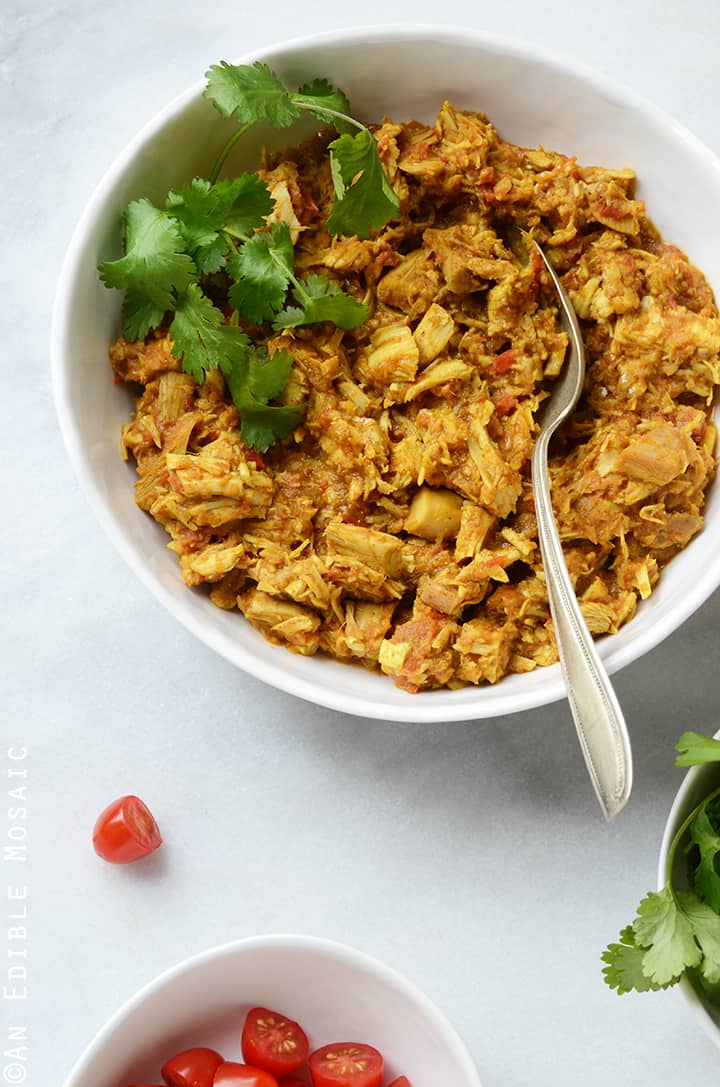 The thing is though, I've come to realize that I just don't enjoy eating out all that much. The main reason my hubby and I go out to eat is to give me a break from cooking and cleaning (and sometimes it's fun to get all prettied up and go out!). But 9 times out of 10, we're both disappointed by the food quality (or lack thereof) when we eat at restaurants. It's such a shame and completely frustrating.
A while ago when I was in the mood for Indian, instead of going out or ordering in, I decided to quickly whip something up at home. I remembered having seen Dolphia's recipe for Masala Chicken Wraps on her lovely blog Story of Cooks, and thinking of the leftover turkey in my fridge, I saw dinner take shape. If you've never been to Story of Cooks, I highly recommend heading over and checking it out. Dolphia is one of the most talented food photographers I know, and I speak from experience when I say that her recipes are as delicious as they are beautiful.
About these wraps…they are quick and easy to whip up and no doubt better than what you'd get from a restaurant! And this recipe is a great way to use leftover chicken or turkey (because you can never have too many ideas on how to use rotisserie chicken, right?). I took Dolphia's advice and used the food processor to quickly mince the garlic, ginger, onion, and tomato for this recipe, but of course this can be done by hand as well.
I served this fragrantly spiced turkey mixture wrapped up in my Paleo Flatbread, but you can use any bread you like for wrapping. Or you turn it into a big salad by serving it on a bed of greens!
Easy Turkey or Chicken Masala Wraps
Prep time:
Cook time:
Total time:
Easy Turkey or Chicken Masala Wraps are a delicious recipe to transform leftovers into a completely new meal!
Ingredients
Yogurt Sauce:
¾ cup (180 ml) plain, low-fat yogurt
1 clove garlic, crushed or grated
½ teaspoon dried mint or 1½ teaspoon minced fresh mint
1 pinch salt
Water, as necessary to thin it out to a pourable consistency (like a creamy salad dressing)
Turkey or Chicken Masala:
4 cloves garlic, peeled
1-inch piece fresh ginger, peeled and cut into 2 pieces
1 medium onion, peeled and quartered
1 medium-large tomato, quartered
2 tablespoons avocado oil or light olive oil
2 cups cooked chopped turkey or chicken
1 teaspoon tandoori masala spice mix or garam masala spice mix
½ teaspoon each ground turmeric, ground cumin, ground coriander, and salt
¼ teaspoon cayenne pepper (more or less to taste)
For Serving:
Flatbread (I used my Paleo Flatbread)
Sliced red onion (for garnish)
Fresh cilantro (for garnish)
Chopped tomatoes (for garnish)
Instructions
For the yogurt sauce, whisk together the yogurt, garlic, mint, and salt in a small bowl. Whisk in enough water so it forms a pourable dressing. Cover and refrigerate until serving.
For the turkey or chicken masala, add the garlic and ginger to a food processor and pulse a few times until minced. Add the onion and process until finely chopped, and then add the tomato and process until finely chopped. Heat the oil in a medium-large skillet over medium heat; add the tomato mixture and cook (uncovered) until it starts to thicken, about 3 to 5 minutes, stirring occasionally. Add the turkey or chicken and spices and cook (uncovered) until the mixture is thickened, about 3 to 5 minutes more.
To serve, spoon the turkey or chicken mixture onto flatbread and top with the yogurt sauce and red onion, cilantro, and tomato, if using.
Notes
Recipe inspired by and adapted from Story of Cooks' recipe for
Masala Chicken Wrap
.
Paleo-Friendly:
Omit the yogurt sauce or substitute full-fat canned coconut milk for the yogurt.