This weeknight-friendly recipe for Lightened Up Chicken Tikka Masala Soup recipe is lower in carbs without sacrificing flavor.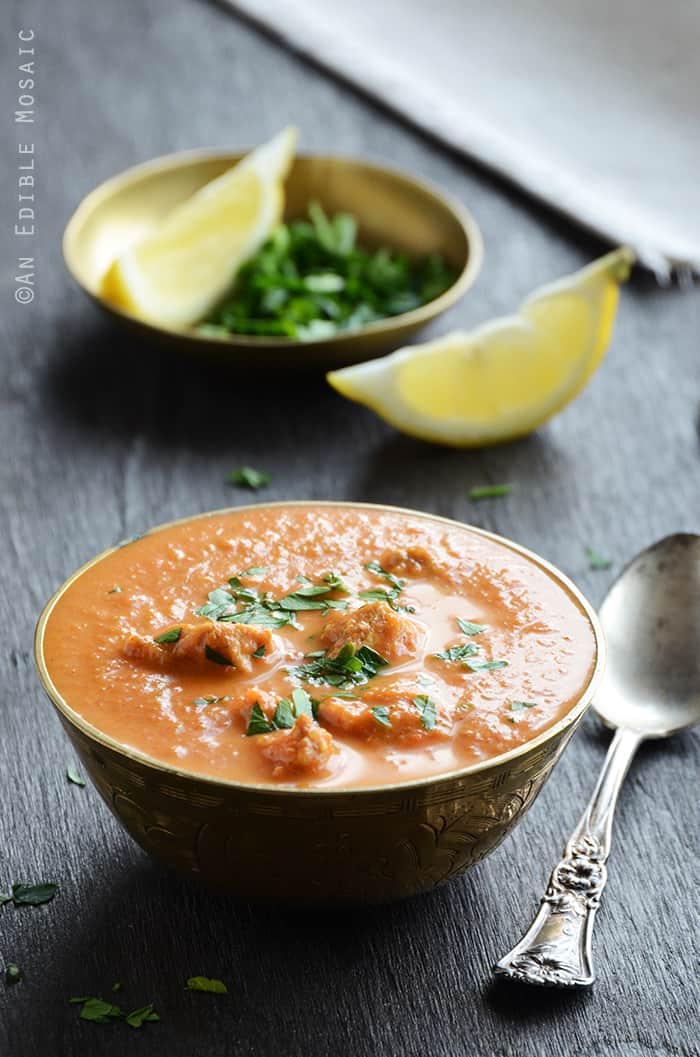 Did you ever meet someone, have a super brief conversation with them, and realize that if you had met at a different time and/or in a different place you could have really hit it off?
The other day at Wegmans I had the nicest cashier in the whole history of grocery stores. She was witty, joking about customers and the weather (I wish I could remember what she said, but trust me it was funny…and anyone who can make a witty weather joke is a unique find in my book). She was personable, asking questions that were interesting and stayed on the side of friendly rather than nosy. And in the time span of 10 minutes I learned that she hosts brunch for friends every Sunday morning, is studying for a degree in cross-cultural communication, and loves fish tacos. How cool does she sound? We could totally have been besties.
But how weird would it have been for me to point out the fact we were kindred souls and should hang out?
Pretty darn weird (and I don't want to be that girl). Which is unfortunate because if I had met her and we had started chatting at spinning class or book club, it would have been totally acceptable to invite her to coffee. Sigh.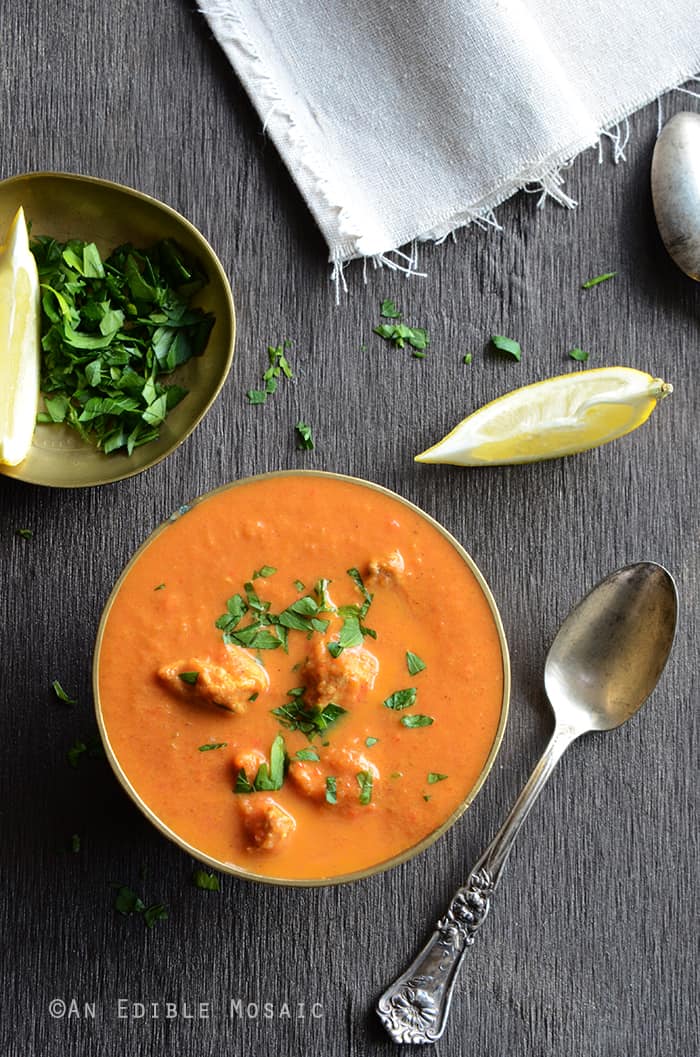 Anyway, I was buying ingredients for this soup that day at Wegmans. It was one of those recipe ideas that came to me right at the grocery store in a moment of inspiration. I was craving Indian food. (Actually, if I'm being honest, I wanted a super quick, lazy version of Chicken Tikka Masala, and the idea of turning it into soup came to mind.)
My version is naturally gluten-free and pretty lean – full of veggies and light on fat – but definitely big on flavor! (To lower the fat content even more, you can skip the addition of cream or coconut milk at the end; this soup really won't suffer for it.) Boneless skinless chicken breast is a great source of lean protein here; it's something that I always have in my freezer and utilize all the time, but rarely share recipes for. I think I need to change that.
This soup comes together pretty quickly; if you're so inclined, you can even chop the veggies beforehand (it's perfect if you do meal prep on the weekend!). That way, when you go to make this soup on a weeknight everything is waiting for you. Remember to marinate your chicken at least a couple hours before cooking so the flavors have time to blend and the chicken can absorb them.
As written, the heat level of this soup is pretty low (mild!), but that can easily be adjusted up. Just add more cayenne pepper to the spice mix or hot sauce of your choice to the soup. And if you find that your tomatoes are a bit on the tart side, you can always add a touch of honey to taste (start out small – a little goes a long way!).
For the Indian food lovers, I think this one will be a new favorite. (And for those of you who are in the mood for Indian flavors and have a bit more time to play with, check out my Indian Butter Chicken, which will probably always hold the #1 spot for Indian food in my heart.)
What is the Difference Between Chicken Tikka Masala and Butter Chicken?
Butter Chicken (aka Murgh Makhani) is different from Chicken Tikka Masala in a few ways. Butter chicken is Indian in origin, while Tikka Masala is British. Makhani has butter and more cream, while Tikka Masala is heavier on spices. When I order these dishes at restaurants, I've noticed that Tikka Masala frequently comes with bell peppers and onions in the gravy. Alternatively, Makhani commonly comes with golden raisins.
Chicken Tikka Masala Soup
This dish is an easy one to make into soup! Chicken Tikka Masala is traditionally quite a saucy dish, similar to many curries. It already has a creamy tomato-based sauce, so all I did was thin it out a bit to turn it into soup.
More Indian-Inspired Soup Inspiration: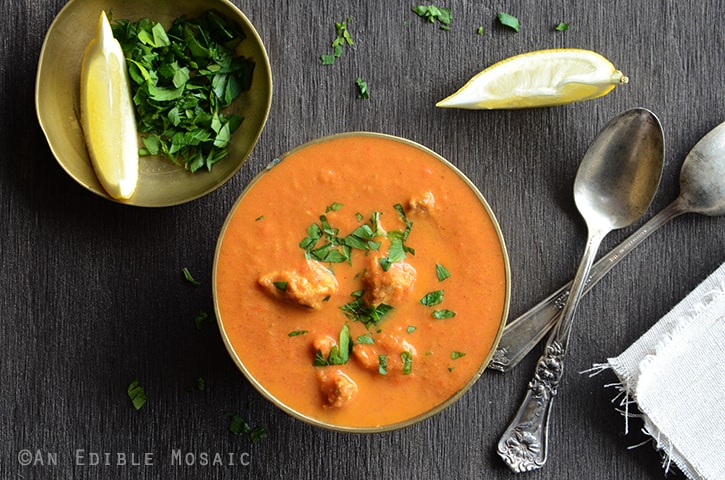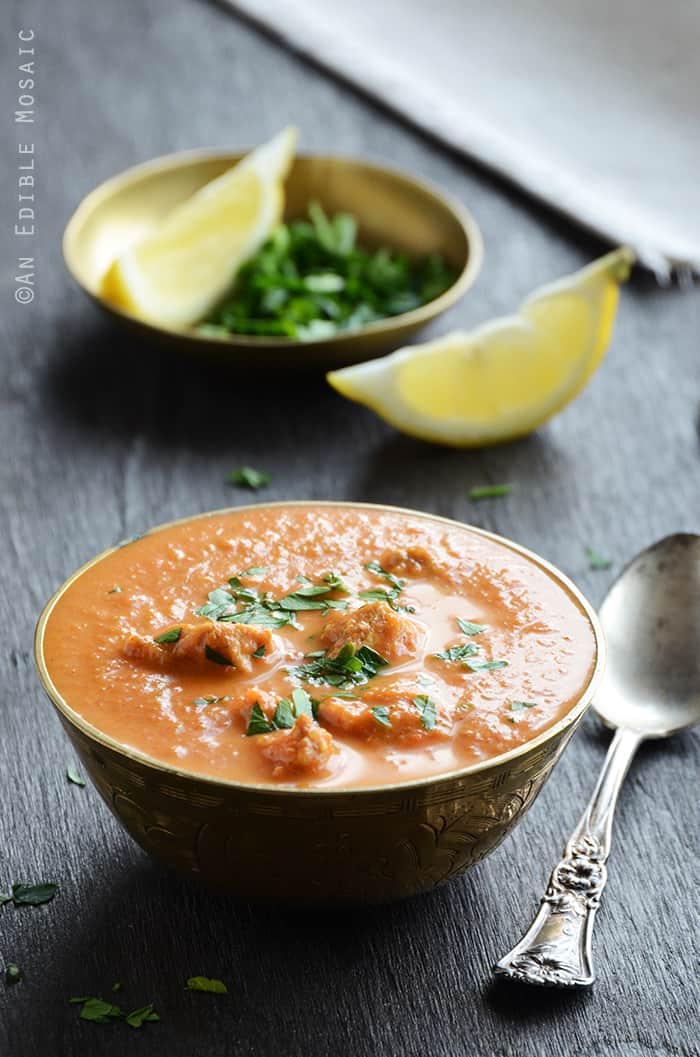 Lightened Up Chicken Tikka Masala Soup
This weeknight-friendly recipe for Lightened Up Chicken Tikka Masala Soup recipe is lower in carbs without sacrificing flavor.
Ingredients
Soup:
1

lb

boneless, skinless chicken breast, cut into ½-inch cubes

3

tablespoons

plain yogurt

1

tablespoon

fresh lemon juice

2

large cloves garlic

peeled and cracked

1¼

teaspoons

salt

divided

2

tablespoons

olive oil

1

medium onion

diced

1

medium green bell pepper

chopped

1

medium red bell pepper

chopped

2

large cloves garlic

grated

1-

inch

piece fresh ginger

grated

1

bay leaf

29

oz

can tomato puree (about 3½ cups)

2

cups

low-sodium chicken stock, warmed

2

tablespoons

tomato paste

¼

cup

heavy cream or full-fat canned coconut milk (optional)
Other:
2

tablespoons

minced fresh cilantro or parsley

for garnish (optional)

Fresh lemon wedges

for serving (optional)

Naan

for serving (optional)
Instructions
Combine all ingredients for the spice mix in a small bowl; divide in half.

Mix together the chicken, yogurt, lemon juice, cracked garlic cloves, ½ the spice mixture, and ¼ teaspoon salt in a medium bowl; cover and refrigerate 2 to 24 hours, stirring occasionally.

Heat the oil in a large pot over medium heat; add the onion, green bell pepper, and red bell pepper. Cook until the vegetables are starting to soften, about 5 minutes, stirring occasionally. Add the garlic, ginger, bay leaf, remaining ½ of the spice mixture, and remaining 1 teaspoon salt, and cook 1 minute more, stirring constantly. Stir in the tomato puree, chicken stock, and tomato paste; bring the soup up to a boil, then turn heat down and simmer (uncovered) until the vegetables are tender, about 15 minutes, stirring occasionally.

Cook the chicken while the soup simmers. Preheat oven to 450F. Remove any excess marinade, and spread the chicken out on a large baking sheet that has been sprayed with nonstick spray. Bake until the chicken is fully cooked, about 10 to 12 minutes, flipping once halfway through. (The chicken is done when there is no pink inside.)

Remove the bay leaf from the soup, and puree using an immersion blender or in batches using a regular blender. Pour the soup back into the pot and reheat as necessary; turn off the heat and add the cream and cooked chicken. (Once the cream is added, don't let it come back up to a boil.)

Taste and add salt, pepper, hot sauce, and/or honey to taste.

To serve, pour into individual bowls, sprinkle on the cilantro or parsley (if using), and serve along with fresh lemon wedges to squeeze into the soup if desired.
Faith's Tips
Net Carbs: 17g per serving (⅙ of recipe) Paleo/Whole30 Version: For the chicken marinade, omit the yogurt and increase the lemon juice to 2 tablespoons. Finish the soup with full-fat coconut milk instead of cream. Skip the Naan and serve with Cauliflower Rice instead. Low Carb Version: Skip the Naan and serve with Cauliflower Rice instead.
Nutrition
Nutrition Facts
Lightened Up Chicken Tikka Masala Soup
Amount Per Serving
Calories 268
Calories from Fat 108
% Daily Value*
Fat 12g18%
Cholesterol 63mg21%
Sodium 688mg30%
Potassium 1145mg33%
Carbohydrates 21g7%
Protein 21g42%
Vitamin A 1770IU35%
Vitamin C 61mg74%
Calcium 71mg7%
Iron 3.7mg21%
* Percent Daily Values are based on a 2000 calorie diet.
Disclosure: This post contains Amazon affiliate links to products I believe in, which means that even though it doesn't cost you anything extra, I will receive a small amount of money from the sale of these items. Thank you for helping to support An Edible Mosaic!