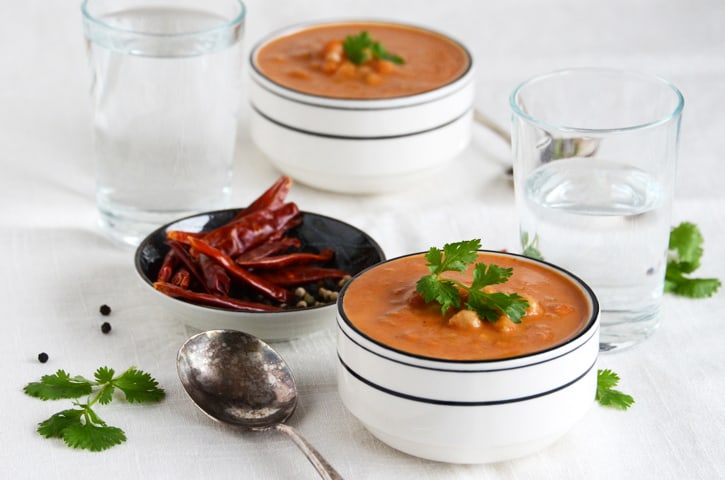 I know I've mentioned it here before, but I was a strange child (I know that's pretty open for interpretation, but I'm mostly talking about my tastes in food, lol!). I hated foods I should have loved (tomato soup, for example), and loved things that most kids abhor (like beets). I know what you're thinking…what kind of kid hates tomato soup and likes beets?!
I guess the kind of kid who turns down fish sticks, but enjoys catching her own fish and cooking it over an open fire. (I didn't even mind touching the worm (unless it was an especially gross-looking one), but I have to admit that I did not enjoy gutting the fish – that was always my dad's job.) Ok, I've digressed to the point of talking about worms and fish guts...and for that I'm sorry. Moving on. :)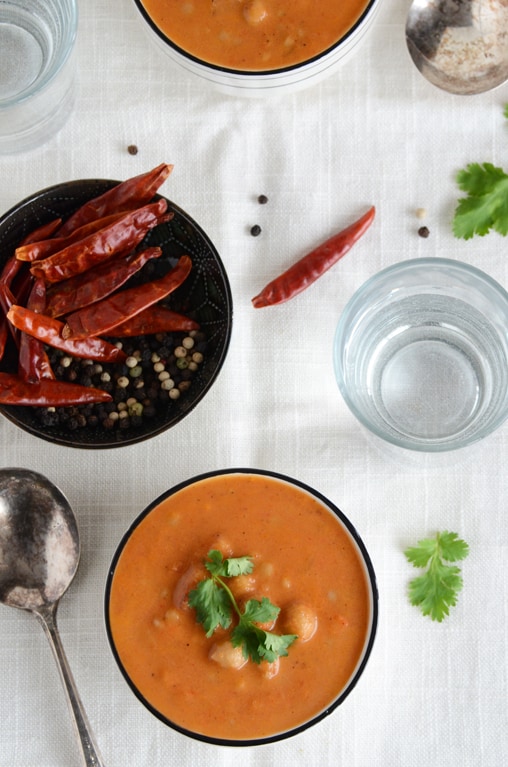 Now that I think of it, I don't think I ever had made-from-scratch tomato soup as a kid, so maybe that's why I had no love for it then…or maybe my tastes have just changed through the years. In any case, as an adult, tomato soup (made from scratch!) is always a favorite of mine.
This version of tomato soup is more flavorful than most, with garlic, ginger, and Indian spices. The protein is bumped up with the addition of chickpeas, and thanks to whole wheat couscous it's also a good source of healthy grains.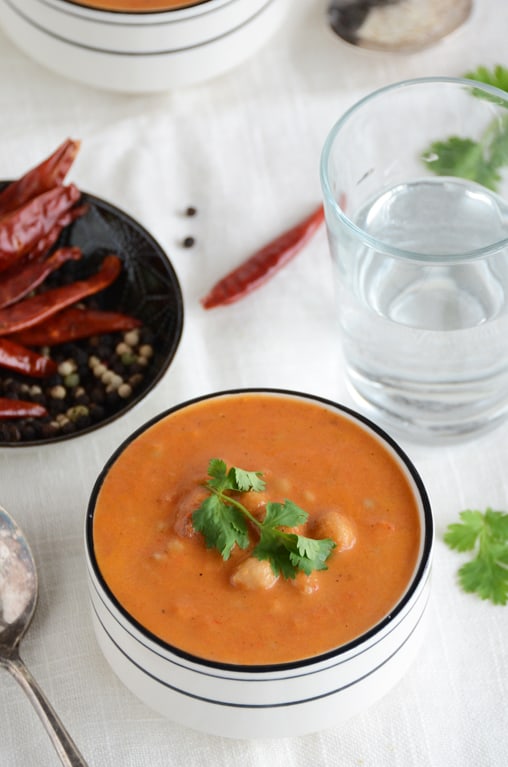 Indian-Spiced Cream of Tomato Soup with Whole Wheat Couscous (My recipe was featured on Bob's Red Mill; you can check it out here.)
Serves 4
¾ cup Bob's Red Mill Whole Wheat Pearl Couscous (Israeli Couscous)
1 tablespoon olive oil
1 medium red bell pepper, diced
1 medium-large onion, diced
3 large cloves garlic, minced
1-inch piece fresh ginger, grated on a microplane
1 (14 oz) can petit diced tomatoes, with juices
2 tablespoons tomato paste
3 cups low-sodium chicken or vegetable stock (use vegetable to keep it vegetarian)
1 bay leaf
2 dried red chili peppers (optional)
2 teaspoons garam masala
1 ½ teaspoons sugar
¼ teaspoon salt
¼ teaspoon black pepper
1 (16 oz) can chickpeas, rinsed and drained
1 tablespoon lemon juice
3 tablespoons coconut milk or heavy cream
Fresh cilantro or flat-leaf parsley (optional; for garnish)
Fill a medium-sized pot ⅔ of the way full with water and bring to a boil. Add the couscous and a generous pinch of salt and cook until the couscous is al dente, about 7 to 9 minutes; drain and set aside.
Heat the oil in a medium pot over medium heat; add the bell pepper and onion and cook until softened, about 7 minutes, stirring occasionally. Add the garlic and ginger and cook 2 minutes more, stirring constantly. Stir in the canned tomatoes, tomato paste, stock, bay leaf, dried red chili peppers (if using), garam masala, sugar, salt, and black pepper; turn heat up to high and bring to a boil, then cover the pot, turn heat down to simmer, and cook 10 minutes, stirring occasionally. Turn heat off, cool slightly, and remove and discard the bay leaf and dried red chili peppers.
Transfer ⅔ of the soup to a blender and puree until smooth (or use an immersion blender). Pour the pureed soup back into the pot, along with the chickpeas and lemon juice. Bring up to a simmer over medium heat, then turn heat off and stir in the couscous and coconut milk or heavy cream. Taste and season with additional salt, black pepper, sugar, or lemon juice as desired.
Serve garnished with cilantro or parsley if desired.
Disclaimer: I received the whole wheat pearl couscous that I used in this recipe for free from Bob's Red Mill. As always, opinions stated are my own.