I can't resist picking up a unique (or better yet, strange) food item, and even something that seems as ordinary as pasta is no different. (Food bloggers, I know you get this…everyone else, I know it's a little weird.)
I found this pasta a while back at a specialty store. I meant to write down the name of the shape before I threw out the package, but I forgot…does anyone know what it's called? The noodles are long and thick and if you look closely, you'll see they're "S" shaped. (Incidentally, it's pretty crazy how many kinds of pasta there are. I have no idea the exact number (I doubt it's known at all, actually), but I know it's at least in the hundreds.)
When I received a set of Rose Romano's Italian Peppers Marinara and was thinking about what to use it in, a dish with sautéed bell pepper, onion, and sausage came to mind. Toss in some pasta, and serve it along with a green salad and you've got dinner on the table.
There are two varieties of Rose Romano's Marinara: red bell pepper and green bell pepper. Both kinds are thick, slightly sweet, and full of bell pepper flavor. It's not meant to drown your pasta; rather it's meant to accentuate it, which is why 1 cup is plenty of sauce for ½ pound of pasta.
I also used the sauce as a topping for pan-seared cod; with black olives and a little feta sprinkled on top, it was a unique and tasty meal. I think it would make a delicious base for veggie pizza, or as a dipping sauce for a mozzarella or provolone grilled cheese sandwich.
Pepper and Onion Pasta with Sausage
Prep time:
Cook time:
Total time:
Ingredients
½ lb (225 g) long pasta noodles (such as spaghetti, bucatini, or linguine)
2 tablespoons olive oil
¾ lb (350 g) fully cooked chicken or turkey sausage, sliced
1 medium-large onion, quartered and thinly sliced
2 medium bell peppers (red or green), quartered, cored, and thinly sliced
2 cloves garlic, minced
1 cup (250 ml) Rose Romano's Italian Peppers Marinara (use red or green to match your fresh bell pepper)
1 tablespoon chopped fresh parsley, for garnish
Instructions
Cook the pasta to al dente according to the package directions.
Meanwhile, heat the oil in a large lidded skillet over medium-high to high heat; add the sausage and cook until browned, about 5 to 7 minutes. Use a slotted spoon to transfer the sausage to a bowl and set aside.
Turn the heat down to medium, add the onion and bell pepper, and cook until starting to soften but not turn mushy, about 3 to 5 minutes. Add the garlic and cook 1 minute more, stirring constantly.
Stir in the sauce and cook until warm, about 1 minute, then toss in the pasta and cook 1 minute more.
Serve with fresh parsley sprinkled on top.
Rose Romano's is also giving away a package of their products for one lucky reader. The winner will get a set of four (16 oz) jars of sauce, two red bell pepper and two green bell pepper. (And it comes in a really pretty package...very nicely done, Rose Romano's!)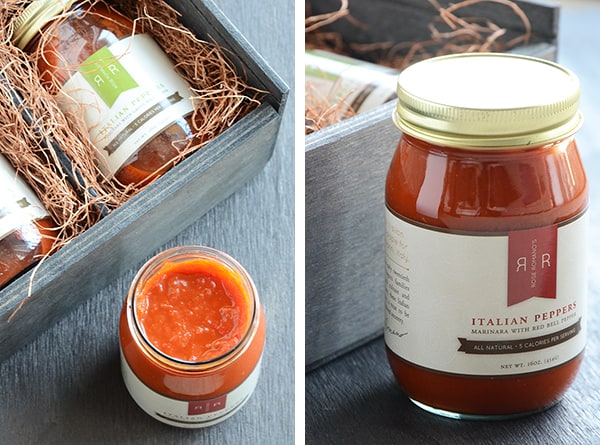 You do not need to have a blog to enter this giveaway! To participate, you can do any of the following (please leave a separate comment for each so I can count them as separate entries):
Leave a comment telling me your favorite way to use marinara sauce.
Leave a comment telling me if you know the name of the pasta that's pictured above.
Share this giveaway on Facebook and leave a comment here telling me.
Tweet this giveaway on Twitter and leave a comment here telling me.
This giveaway ends Monday, February 4, 2013 at 5AM EST. After that the winner will be randomly selected and notified by email. Good luck to all!
Disclaimer: I received the marinara that I discussed in this post for free from Rose Romano's, and they are also providing the prize pack for this giveaway. I was under no obligation to review this product, and as always, opinions stated are my own.