A couple weeks ago I happened to briefly mention to my mom that I had never seen The Sound of Music. (How does this come up randomly in conversation?, you ask. Well, as it were, we were driving through the countryside with my niece and I happened to nonchalantly say Look, there's a deer – a doe! And then my nine-year-old niece broke into that song that even I'm familiar with, although I've never seen the musical.)
My mom being nothing short of flabbergasted that I hadn't seen it (which truthfully, came across more as horrified), insisted on making amends at once, or at least as soon as she could. She eventually got her hands on a copy after calling every library in the county, since the video rental store clerk (who looked to be just a couple years older than my niece) said she hadn't even heard of it.
So anyway, we watched The Sound of Music one afternoon last week – all 174 minutes of it. I can be extremely good at multi-tasking though. While watching, I not only made slow-simmered beef taco meat for dinner (and I mean seriously slow-simmering…it cooks for three to four hours on the stovetop! But if you're looking for the best tacos, I've got you covered), but I also made these muffins. We needed sustenance at about the 120 minute mark and these flavorful muffins were perfect.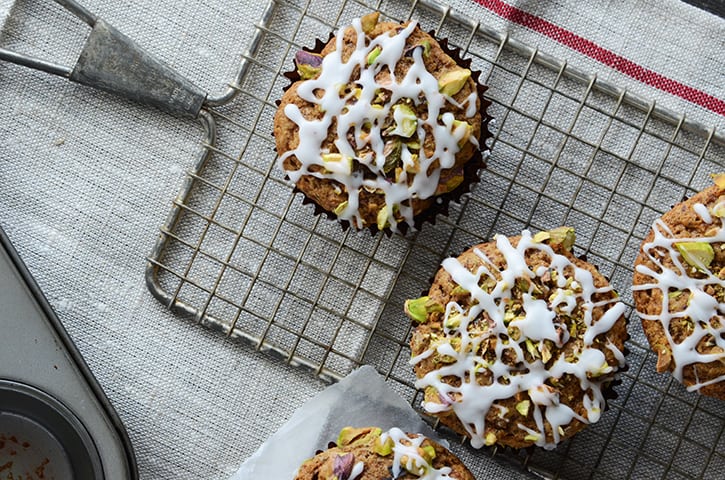 Pistachio-Chai Muffins
Prep time:
Cook time:
Total time:
Ingredients
Muffins:
1 cup (250 ml) milk (I used 1%)
1 tablespoon lemon juice
1 cup (115 g) all-purpose flour
¾ cup (85 g) whole wheat flour
¾ cup (175 g) coconut palm sugar (or lightly packed brown sugar)
1 teaspoon baking powder
1 teaspoon baking soda
¼ teaspoon salt
2 chai tea bags, opened (I used Tazo Organic Chai)
¼ cup (65 ml) canola oil
1 teaspoon pure vanilla extract
1 large egg
¼ cup (30 g) shelled roasted, unsalted pistachios, chopped
Glaze:
½ cup (60 g) powdered sugar
½ teaspoon pure vanilla extract
2-3 teaspoons water
Instructions
Preheat oven to 375F; line a muffin tray with paper liners (or butter and flour the muffin wells).
Pour the milk into a medium bowl and drizzle in the lemon juice; let the milk and lemon juice sit for 3 minutes without stirring or moving the bowl.
Whisk together the flours, sugar, baking powder, baking soda, salt, and tea in a large bowl.
Stir the oil, vanilla, and egg into the bowl with the milk/lemon juice.
Stir the wet ingredients into the dry all at once, being careful not to over-mix.
Scoop the batter into the muffin tray and sprinkle the pistachio on top.
Bake until a toothpick inserted inside comes out clean, about 16 to 18 minutes. Cool completely.
Once the muffins have cooled, make the glaze. Whisk together the powdered sugar, vanilla, and enough water so it reaches your desired consistency.
Drizzle the glaze on the cooled muffins and allow it to set before serving.