Orange Chiffon Layer Cake with Almond-Orange Italian Meringue Buttercream has a light and springy, yet moist and tender crumb, and the cake's lightness is balanced perfectly by the buttercream's richness.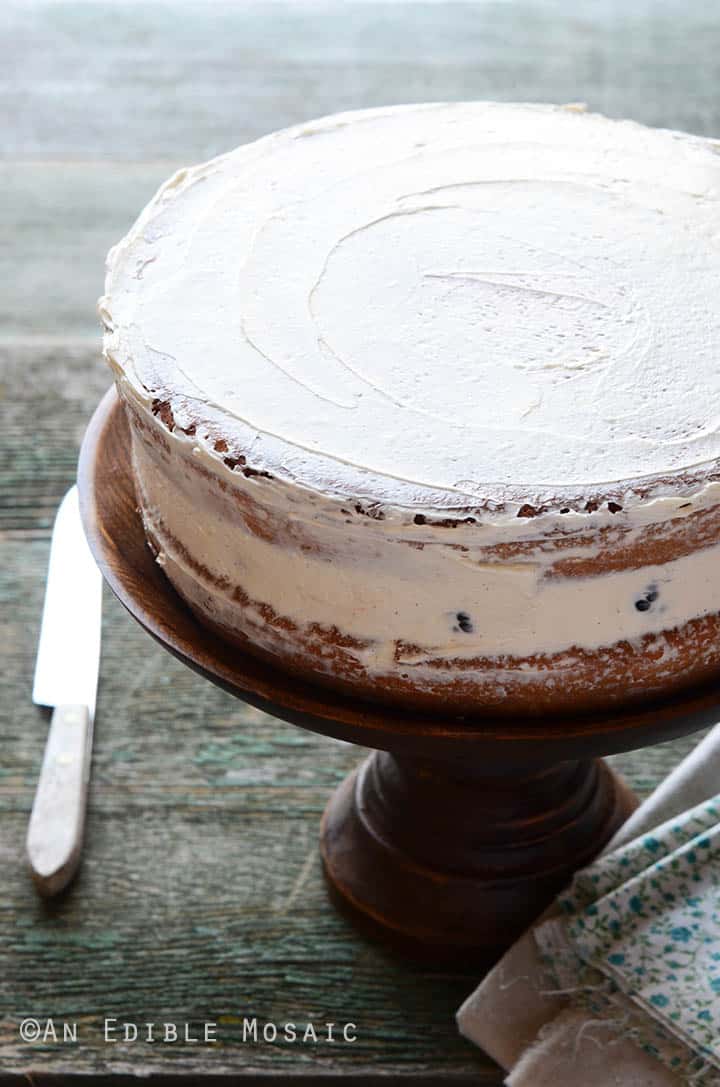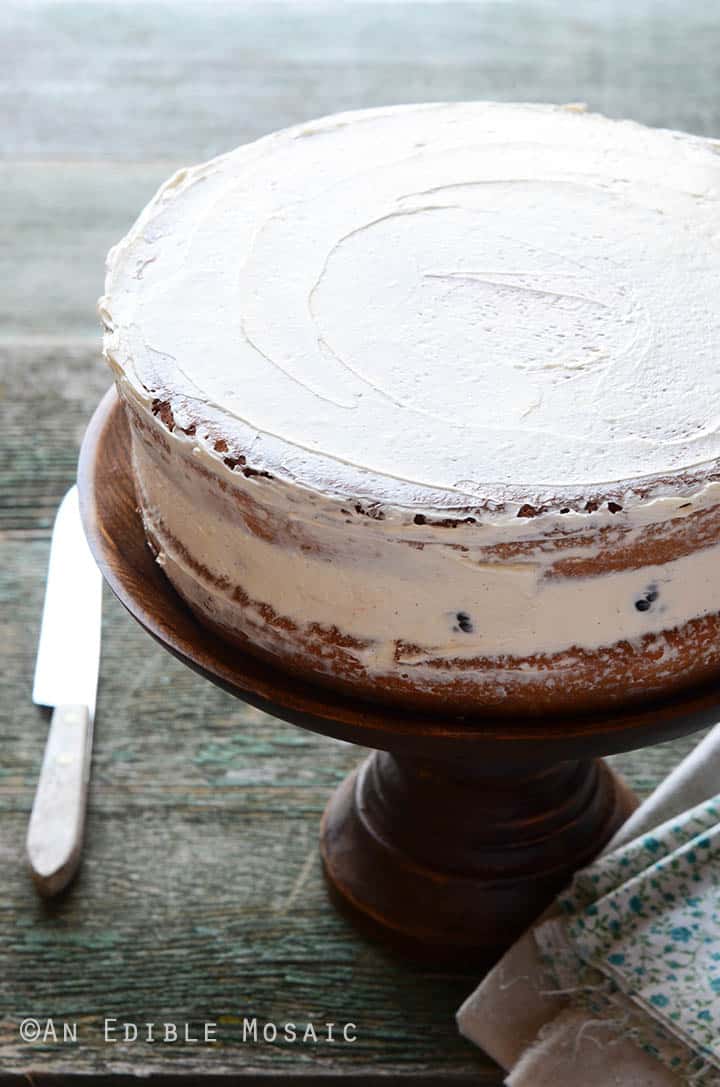 Growing up, my mom made orange chiffon cake in the shape of a lamb every single Easter. It was frosted with vanilla buttercream and coated in coconut, and she used black jelly beans for the eyes. If I remember correctly, a few years she even dyed coconut green so the little lamb could rest on a bed of grass, and also placed a few robin's egg candies around for color.
It was beautiful; an heirloom recipe that my mom got from her grandmother, and my mom used her grandmother's lamb-shaped mold to make it. The only problem was that I didn't care much for the cake itself! Until somewhat recently, I've never had much of a taste for citrus-flavored sweet treats; as an adult I discovered how lovely and refreshing they can be.
This cake in particular is a dream. It has a light and springy, yet moist and tender crumb. Chiffon cakes are more traditionally baked in a tube pan so they're tall with a hole in the center, but I wanted a layer cake so I could lavish it with frosting. Here the cake's lightness is perfectly balanced by the richness of Italian meringue buttercream. I went with "naked-style" frosting (aka lightly frosted) on the outside, but this recipe does make enough buttercream for a generous center layer.
I used Bob's Red Mill Organic Unbleached White All-Purpose Flour for this recipe, which is my favorite type of flour when I'm doing traditional baking with wheat flour. I've consistently found it to be top-quality, yielding wonderful results every time for a variety of baked goods like cookies, cakes, muffins, and pie crust.
I like to add a handful of blackberries to the center of the cake, for both a pop of color and sweet/tart flavor, and then a few more berries on top of each slice makes a lovely garnish for serving. If you prefer, you could add a sprinkling of coconut and use that as garnish instead. Or for a richer, more decadent twist, you could use whipped chocolate ganache for the center layer and drizzle chocolate ganache on top.
Of course this cake would be perfect for Easter dessert, but I think it's wonderful for any springtime celebration.
Orange Chiffon Layer Cake with Almond-Orange Italian Meringue Buttercream
Prep time:
Cook time:
Total time:
Yield:
1 (9-inch) cake with 2 layers, about 16 servings
This cake has a light and springy, yet moist and tender crumb and the cake's lightness is balanced perfectly by the buttercream's richness.
Ingredients
Cake:
4 large eggs, separated into yolks and whites (at room temperature)
¼ teaspoon cream of tartar
1¼ cups (250 g) sugar
½ cup (120 ml) avocado oil or light olive oil
½ cup (120 ml) fresh-squeezed orange juice
¼ cup (60 ml) milk (I used whole milk)
2 to 3 tablespoons fresh orange zest
1 teaspoon pure vanilla extract
2¼ cups (287 g) Bob's Red Mill Organic Unbleached White All-Purpose Flour
1 tablespoon baking powder
1 teaspoon salt
Buttercream:
2 large egg whites (about 60 to 65 g), at room temperature
1 pinch salt
1 pinch cream of tartar
¾ cup (150 g) sugar
3 tablespoons water
½ lb/225 g (2 sticks) unsalted butter, at room temperature
½ teaspoon pure vanilla bean paste
¼ teaspoon pure almond extract
⅛ teaspoon pure orange extract (or ½ teaspoon fresh orange zest)
Other:
Butter, to grease the cake pans
Flour, to dust the cake pans
A handful of fresh blackberries or raspberries, for the middle (optional)
Instructions
For the cake, preheat the oven to 350F. Butter 2 (9-inch) round cake pans, add a sprinkling of flour, rotate the pans around to coat the inside, and tap out any excess.
Use a handheld electric mixer to beat the 4 egg whites and cream of tartar in a large bowl until they form stiff peaks; set aside for now.
In a separate bowl, beat the egg yolks, sugar, oil, orange juice, milk, orange zest, and vanilla for about 3 minutes.
Sift the flour, baking powder, and salt into the egg yolk mixture all at once, and stir to combine, being careful not to over-mix.
Add ¼ of the egg whites and stir to fully incorporate. Fold in the remaining egg whites with a rubber spatula ¼ at a time (fold only in 1 direction and be careful not to over-mix; seeing some streaks of egg whites in the batter is better than over-mixing).
Pour the batter into the prepared pans and bake them both on the middle rack of the oven until they're golden and a toothpick inserted inside comes out clean or with just a couple crumbs, about 25 minutes, rotating the pans once halfway through. Cool completely before frosting.
For the buttercream, put the egg whites into a stand mixer fitted with the whisk attachment and have them ready to go. Get the salt and cream of tartar out and have them nearby. Set aside for now.
Heat the sugar and water in a small saucepan over medium heat. Don't stir, but you can swirl the pan around to help the sugar dissolve if you like.
Once the sugar syrup reaches 230F, start beating the eggs. When the eggs are foamy, add the salt and cream of tartar, and continue beating until they form stiff peaks.
Meanwhile, continue cooking the sugar syrup. The temperature of the sugar syrup should reach 240F around the same time that the egg whites are beaten to stiff peaks. At this point, add the sugar syrup to the egg whites in a steady stream with the mixer on high, and continue beating on high until the mixture is cool (touch the bottom of the bowl to check), about 5 to 7 minutes.
Beat in the butter about 1 tablespoon at a time until fully incorporated, and then beat in the vanilla bean paste, almond extract, and orange extract. If the mixture looks curdled, keep beating until smooth.
Layer the cake and frost it with the buttercream, adding a handful of berries to the center of the cake if desired.
Store leftovers covered in the fridge for up to 5 days; let the cake come to room temperature before serving because the buttercream will stiffen in the fridge.
Disclosure: I'm thrilled to partner with Bob's Red Mill as a brand ambassador. I received the Bob's Red Mill product that I used in this recipe for free, and I also received compensation for this post. I am happy for the opportunity to share brands that I believe in with my readers, and I hope you enjoy my recipe. As always, opinions stated are my own.