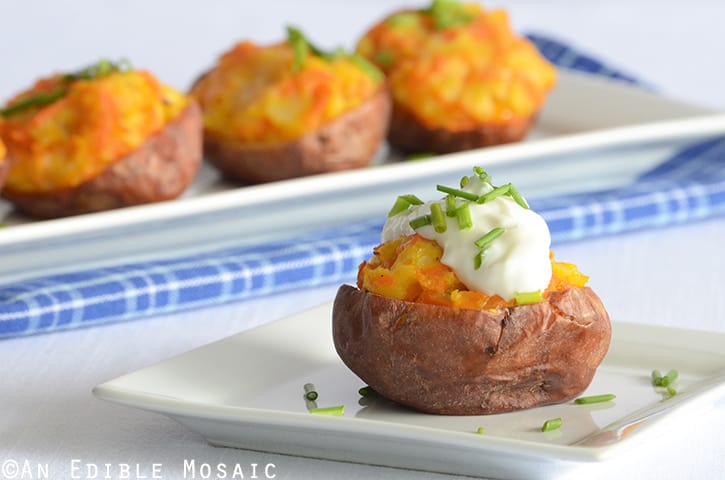 Even though they're a fairly ordinary vegetable, potatoes have pretty rich tastes: they adore things like butter and look fantastic adorned in cream. The good thing about potatoes is that they taste just as amazing when flavored with healthier things like onion, garlic, and olive oil.
Garlic and onion give these potatoes great flavor, but as we all know, we eat with our eyes first. I use a little trick for making these potatoes look like they're full of shredded cheddar (because who can resist a cheddar-stuffed twice baked potato?!): grated carrot! It saves the calories and fat that would be found in a ton of cheese, plus, it's a fun way to sneak in another veggie for the people who normally wouldn't reach for another.
Serve these at your next game day party and I guarantee no one be the wiser.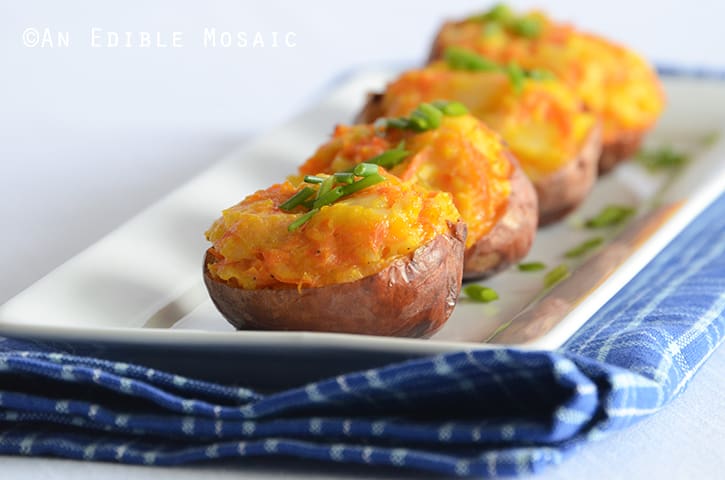 Lightened Up Twice Baked Potatoes
Prep time:
Cook time:
Total time:
Ingredients
8 small (about 4 oz/115 each, or 2 lb/910 grams total) potatoes, washed and dried (I used red potatoes)
3 tablespoons olive oil, divided
1 medium-large onion, diced
2 medium-large carrots, grated
2 large cloves garlic, minced
½ cup (120 ml) milk
2 oz (60 g) sharp cheddar cheese, shredded
½ teaspoon salt
¼ teaspoon black pepper
Toppings of your choice, such as Greek yogurt, sour cream, shredded cheese, fresh chopped herbs, etc.
Instructions
Preheat oven to 400F. Use a sharp paring knife to poke each potato a few times (don't skip this step – this is so the potatoes don't explode in the oven!). Bake the potatoes directly on oven rack for 1 hour, then remove the potatoes and turn oven up to 450F. Let the potatoes cool slightly so you can handle them, then cut them in half lengthwise, scoop out the insides into a large bowl, and reserve the skins.
Heat 2 tablespoons of oil in a medium saucepan over medium heat; add the onion and cook until softened and just starting to brown, about 5 to 7 minutes, stirring occasionally. Add the carrot, garlic, salt, and black pepper; turn heat down to medium-low and cook until carrot is softened, about 3 to 5 minutes.
Add the onion mixture to the bowl with potatoes. Mash the potatoes (lumps are fine), gradually adding a splash of milk as needed (you might not need the full ½ cup of milk); stir in the cheese. Taste and add additional salt and pepper as desired. Scoop the potato mixture into the reserved potato skins, slightly mounding the filling up.
Arrange the potato skins on a baking sheet, drizzle the remaining 1 tablespoon oil on top, and bake 15 minutes.
Serve warm topped with any toppings you like.