Gingerbread Snack Cake with Earl Grey Glaze is full of Christmas-y flavor and is the perfect thing to accompany a steaming cup of holiday tea.
Closing my eyes and tipping my head back slightly, I inhale deeply. I smell a crispness in the air; faintly woodsmoke, pine trees, and a richly spiced sweet aroma. At that my eyes pop open and a longing for gingerbread hits me; I know it won't be long before one graces my kitchen.
That was two weeks ago, and I couldn't hold out any longer. And anyway, I've been working on perfecting my gingerbread recipe since last winter, and it's high time it saw the light of day.
I did quite a bit of research before experimenting with my own gingerbread recipe, and I noticed that most recipes use a 1:1 ratio of white sugar to molasses, so that's what I went with here. I also use a homemade spice blend, but don't be intimidated because it's easy to whip up if you have a well-stocked spice cabinet. You'll notice that I use both dried ground ginger and fresh ginger (which a lot of gingerbread recipes use) because I find they're actually quite different in flavor, and fresh ginger really wakes up this cake. Milk gives this cake a tender crumb, and butter adds a bit of richness. Oh, and it's completely optional, but I like to add a shredded apple to keep it ultra moist (and bump up the nutrition just a teensy bit).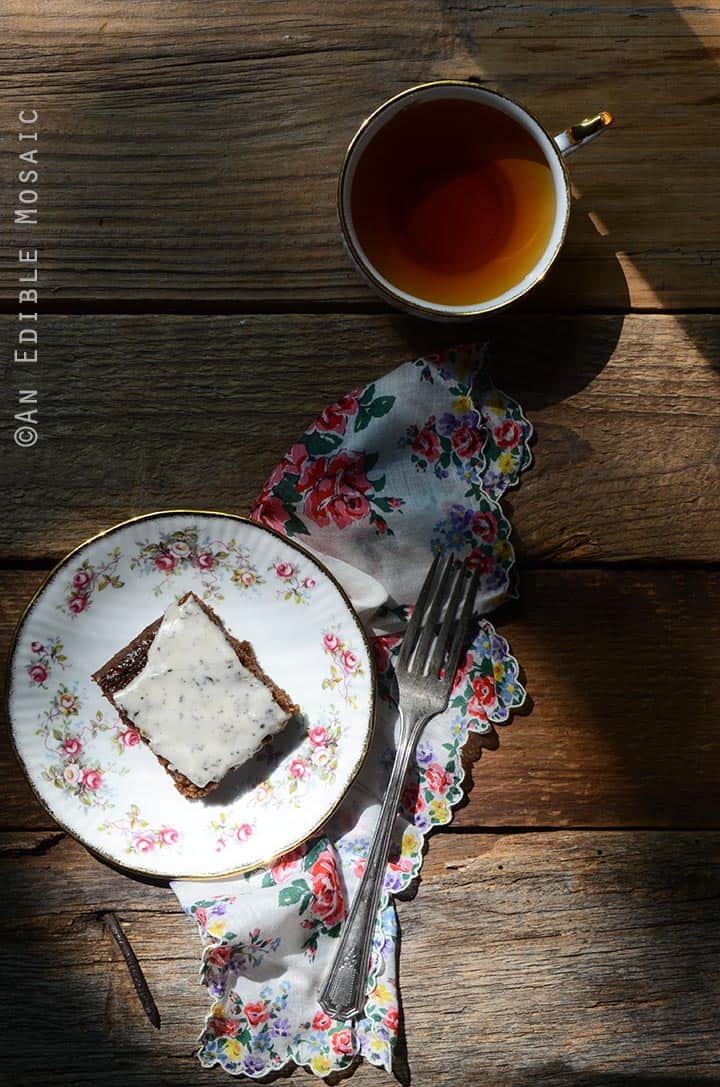 This cake is perfect for munching on along with afternoon tea or coffee. It's the sort of thing that you tell yourself you'll just eat a square of, but then three squares later you realize it's somewhat addictive, aromatic with spices, soft and moist, and just sweet enough because the use of molasses with its complex bitter notes keeps it from being over-the-top cloyingly sweet.
And let's talk for a minute about that glaze. This cake really doesn't need anything on top, so you can feel free to leave off the glaze entirely if you want or just lightly dust the top with powdered sugar. I didn't want a naked cake (for no particular reason other than that's the mood I was in, lol), so I opted for a glaze here, and Earl Grey tea is the perfect flavor accent with its citrusy bergamot flavor.
To take this cake the more decadent route, you could instead frost it with a thick layer of buttercream, like my Rosemary Vanilla Bean Italian Meringue Buttercream, to make it worthy of your Christmas dessert spread.
Gingerbread Snack Cake with Earl Grey Glaze
Prep time:
Cook time:
Total time:
Yield:
1 (8 by 8-inch or 9 by 9-inch) cake, 12 to 16 servings
Gingerbread Snack Cake with Earl Grey Glaze is full of Christmas-y flavor and is the perfect thing to accompany a steaming cup of holiday tea.
Ingredients
Cake:
1¼ cups (150 g) whole wheat pastry flour or all-purpose flour (I used Bob's Red Mill)
½ teaspoon salt
½ teaspoon baking powder
¼ teaspoon baking soda
1 teaspoon dried ground ginger
1 teaspoon ground cinnamon
¼ teaspoon ground cloves
¼ teaspoon ground nutmeg
6 tablespoons unsalted butter, at room temperature
⅓ cup (70 g) white sugar
⅓ cup (80 ml) molasses
1 large egg
1½ teaspoons fresh-grated ginger
¾ cup (180 ml) whole milk
1 small apple, peeled and shredded (optional)
Glaze:
⅔ cup (80 g) powdered sugar
½ teaspoon ground organic Earl Grey tea leaves
½ teaspoon pure vanilla extract
2 to 3 teaspoons milk
Instructions
Preheat the oven to 350F; butter and flour an 8 by 8-inch or 9 by 9-inch cake pan.
Sift together the flour, salt, baking powder, baking soda, ground ginger, cinnamon, cloves, and nutmeg in a medium bowl and set aside.
Beat together the butter and sugar until light and fluffy, and then beat in the molasses, egg, fresh ginger, milk, and apple.
Beat the dry ingredients into the wet half at a time, being careful not to over-mix.
Pour the batter into the prepared pan and bake until a wooden pick inserted in the center comes out clean, about 35 to 40 minutes. Cool completely on a wire rack before glazing.
Once the cake is cooled, make the glaze. To do so, whisk together the powdered sugar, tea, and vanilla. While whisking, gradually add enough milk so it reaches your desired consistency.
Drizzle the glaze on top of the cake and let it set before cutting and serving.