Gluten-Free Cherry Almond Cake with Rosemary Vanilla Bean Buttercream makes a lovely winter cake that's fit for a simple wedding, or simply dessert for a family supper.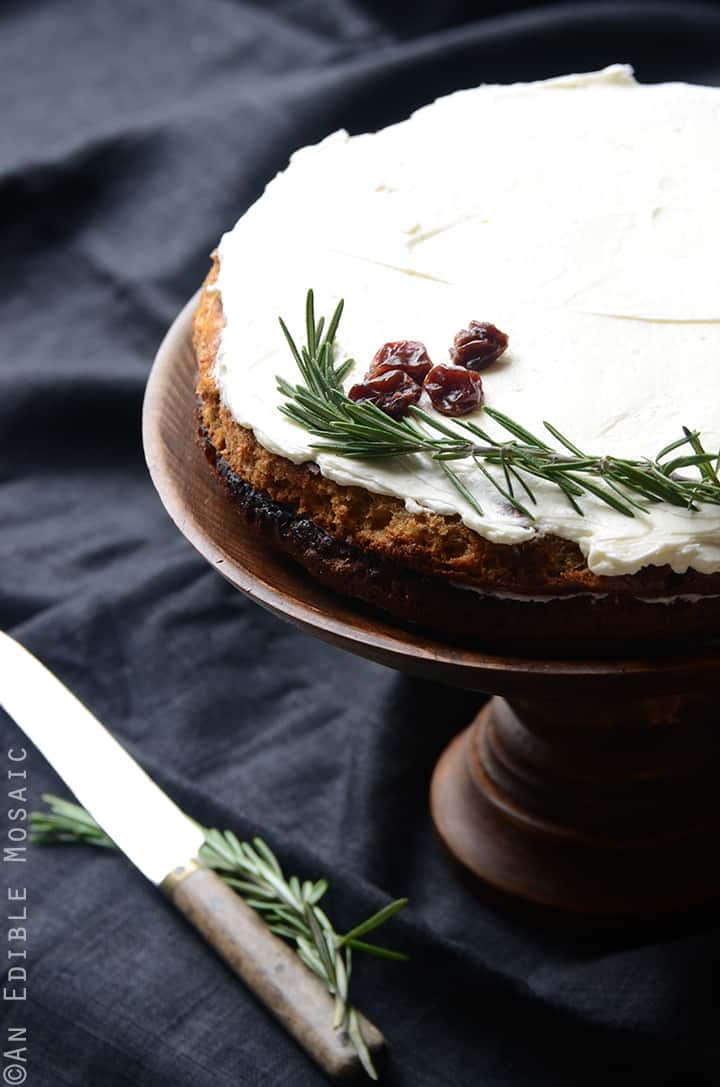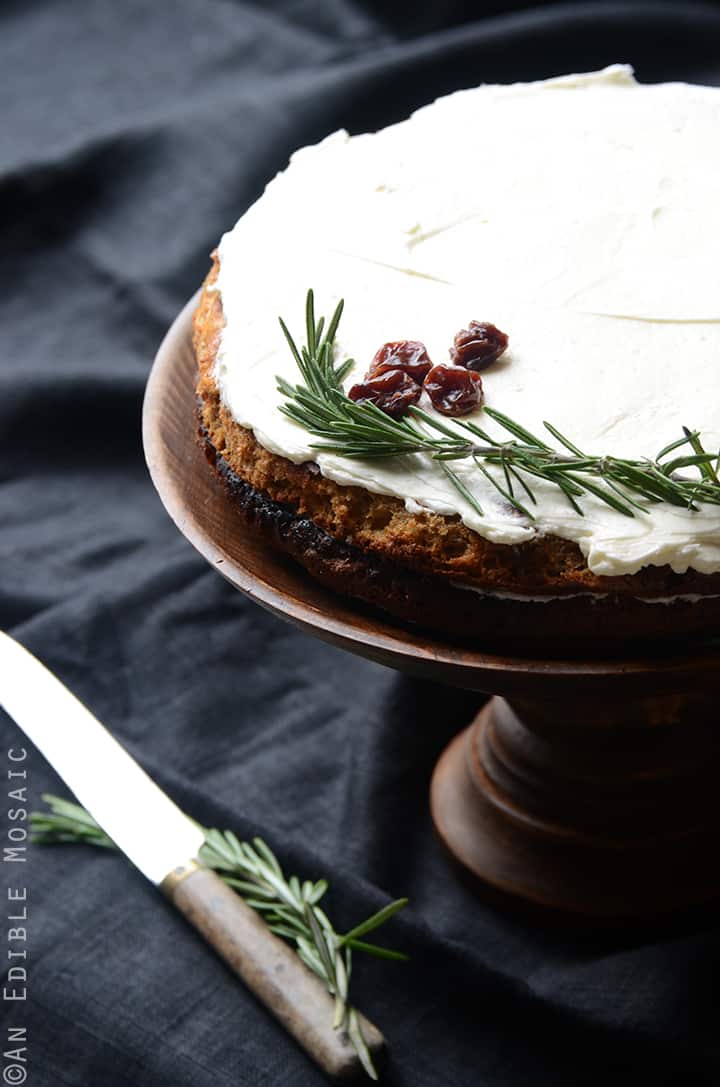 Note that this post is not sponsored in any way, nor is it affiliated with Downton Abbey! It is dedicated to Downton fans, as well as all fans of cake. Does that just about cover everyone? ;)
Love in many forms comes and goes, a fact of life that we've seen over and over again in Downton Abbey. There's been a lot of heartbreak on this show; Sybil and Tom Branson, Edith and Michael Gregson, Mary and Matthew, Robert and his beloved dog Isis, to name just a few. But there has also been found love.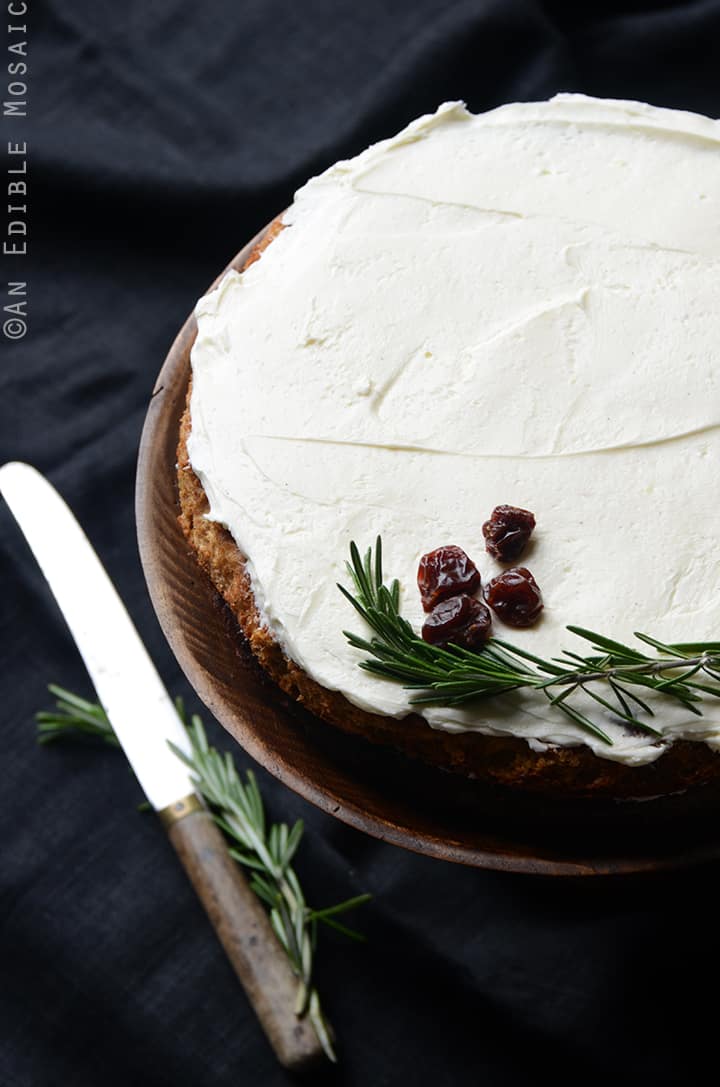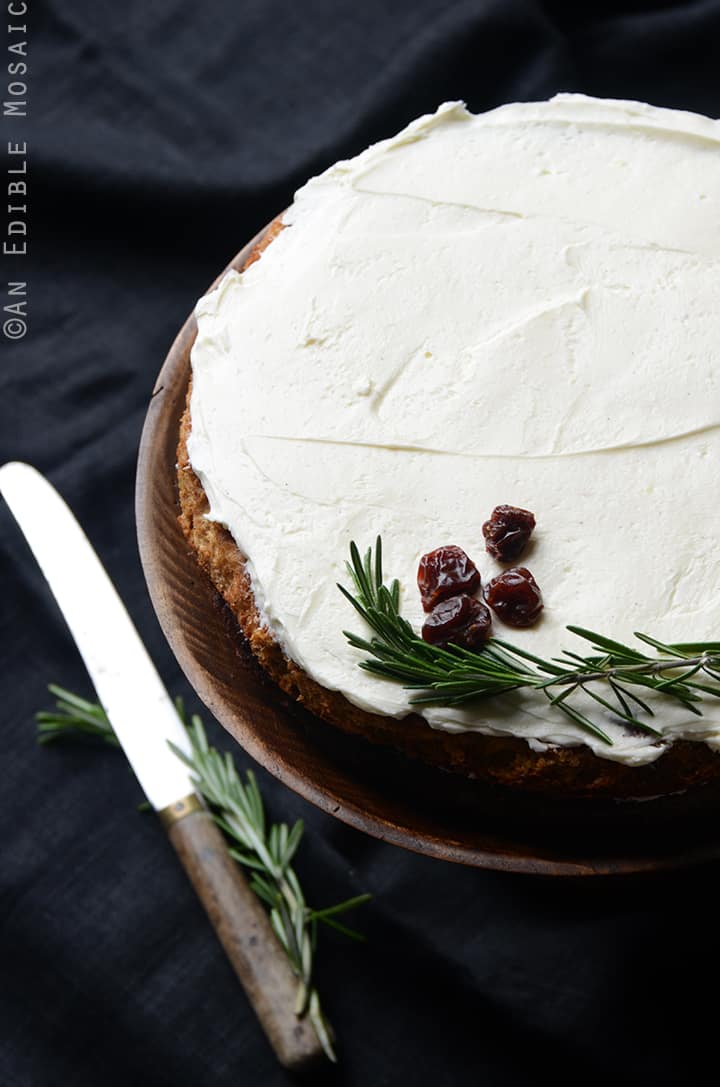 Anna and Mr. Bates, Rose and Atticus, and maybe most surprisingly, Mrs. Hughes and Mr. Carson, who are tying the knot this season. Who says you can't find love after a certain age?
Every wedding deserves a cake, and for their special day I wanted something humble, but classy. Something wintry, but appropriate or easily adaptable for all seasons. Something nearly classic that would suffice as a wink and a nod to a traditional English fruitcake, but with a slightly whimsical twist. And that's how this cake was born.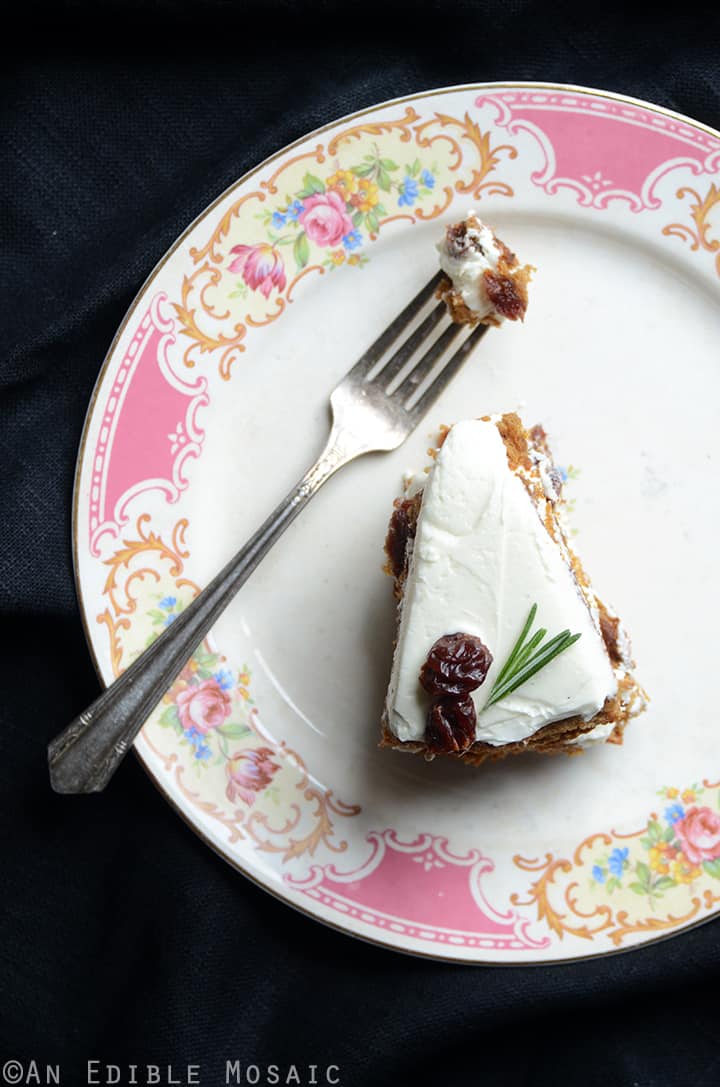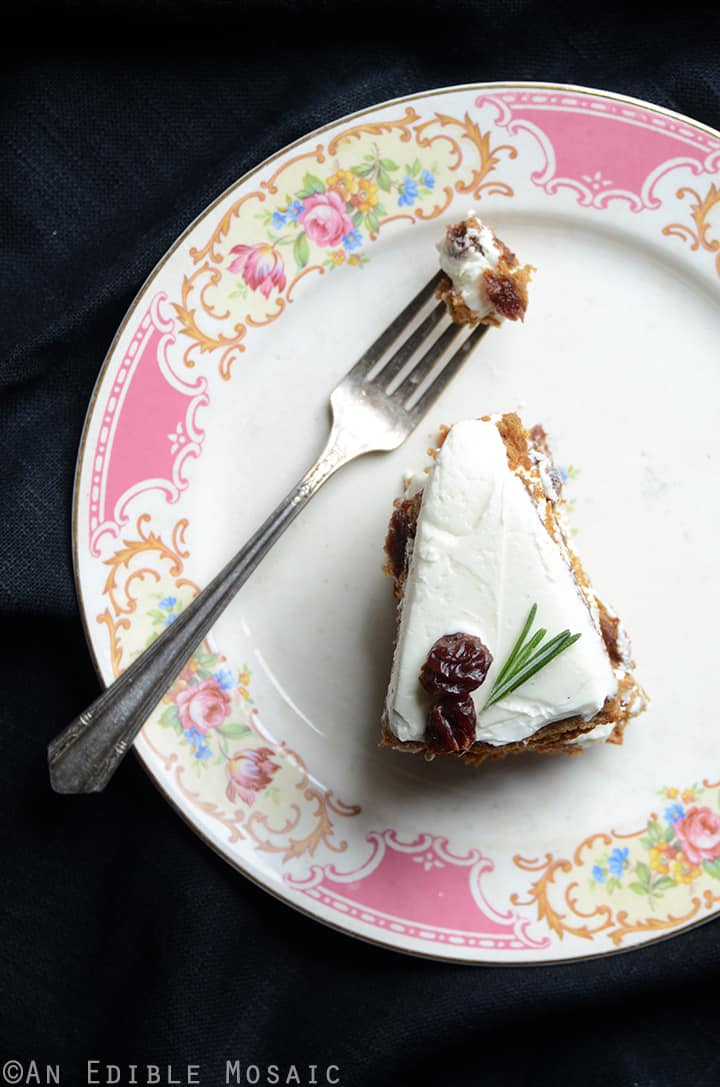 I wanted a very rustic look for this cake. I didn't frost the sides because I wanted the rough brown texture of the cake to show, and I used a scruffed-up sprig of rosemary instead of a perfect sprig. A simple wooden cake pedestal and a piece of black fabric that plays so prettily with light and shadow completed the look I was going for. To me, it's the imperfections that make this cake perfect.
I kept the cake itself paleo-friendly (it was inspired by my Paleo Lemon-Vanilla Almond Cake, but with a spongier, less dense texture), but I think even non-paleo folks will go crazy for it. This cake is perfectly sweet without being overly so, is flavorful with almond and cherries, and has great texture.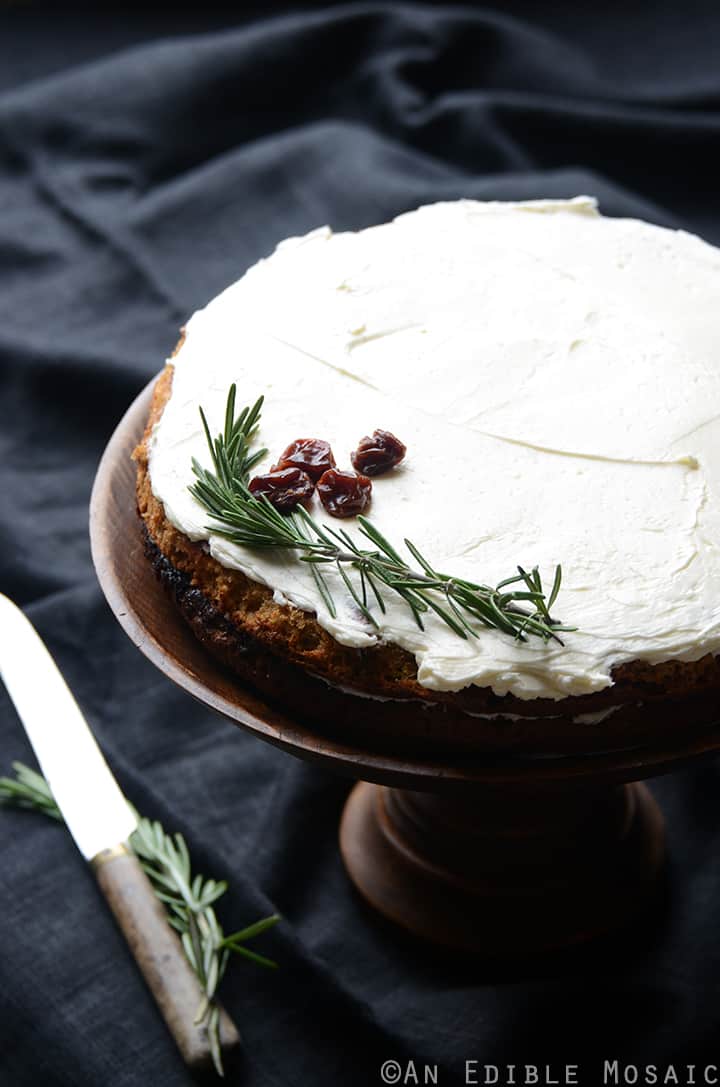 The buttercream is where I bring in a bit of unexpected flair with rosemary. I made Italian meringue buttercream here, which is surprisingly simple to make! (Ok, it's not as easy as American buttercream, which is just powdered sugar whipped with butter, a splash of liquid, and a touch of flavoring, but Italian meringue buttercream really isn't much harder.) Italian buttercream is much less sweet than its American counterpart, and is flavored mostly – you guessed it – of butter.
For Italian meringue buttercream, you make a sugar syrup (just boil sugar and water; that's where I added the subtle rosemary flavor by adding a sprig of rosemary) and beat it into whipped egg whites. After having the living daylights beaten out of them, the egg whites and sugar syrup turn into a lovely meringue, and at that point room-temperature butter is beaten in. (As you might have noticed, there's a lot of beating involved in making this frosting; accordingly, I would only recommend making this type of buttercream using a stand – not hand-held – mixer!)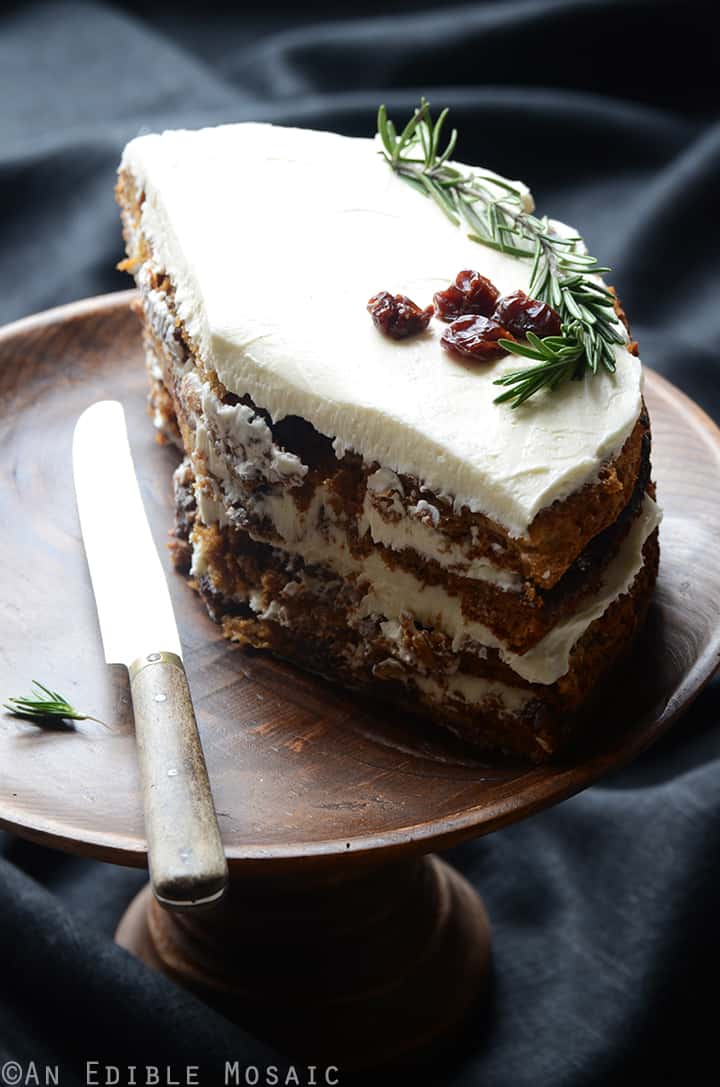 I give directions in the Notes on how to make a four-layer cake like this if you prefer!
If you don't want frosting with sugar for this cake, you can skip it and substitute coconut "whipped cream" instead, or go with an orange-vanilla coconut "whipped cream", like I used to frost my Orange Creamsicle Cupcakes.
Another thing I want to mention is that as-is, this recipe makes one (9-inch), two-layer cake. I give directions below on how to go about it if you want a really impressive four-layer cake though.
If you're a serious Downton fan, here are a few other goodies you won't want to miss:
Have you made a Downton Abbey-inspired dish?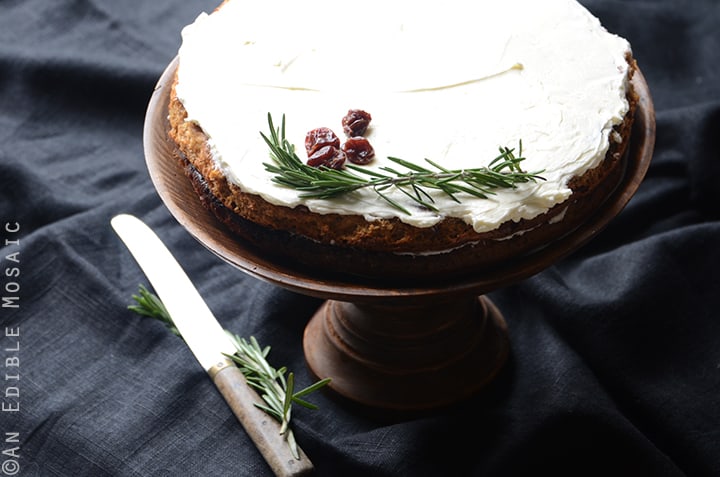 Gluten-Free Cherry Almond Cake with Rosemary Vanilla Bean Buttercream
Prep time:
Cook time:
Total time:
Yield:
1 2-layer (9-inch) round cake, about 12 servings
Gluten-Free Cherry Almond Cake with Rosemary Vanilla Bean Buttercream makes a lovely winter cake that's fit for a simple wedding, or simply dessert for a family supper.
Ingredients
Gluten-Free Cherry Almond Cake:
¾ cup (90 g) dried cherries, soaked in ¾ cup (180 ml) boiling water for 10 minutes and 3 tablespoons of the liquid reserved
4 large eggs, separated into yolks and whites
2 large egg yolks
1 cup (175 g) coconut sugar
1 teaspoon vanilla bean paste (or the scrapings from 1 vanilla bean pod)
½ teaspoon pure almond extract
1 cup (115 g) almond flour
½ teaspoon baking powder
¼ + ⅛ teaspoon salt
½ cup (60 g) toasted sliced almonds
Rosemary-Vanilla Bean Italian Meringue Buttercream:
2 large egg whites (about 60 to 65 g), at room temperature
1 pinch salt
1 pinch cream of tartar
¾ cup (150 g) sugar
3 tablespoons water
1 large sprig rosemary, crushed lightly with your hands
½ lb/225 g (2 sticks) unsalted butter, at room temperature
½ teaspoon pure vanilla bean paste
¼ teaspoon pure almond extract
Other:
Clarified butter or coconut oil, to grease the cake pans
Almond flour, to dust the cake pans
A sprig of rosemary, for garnish (optional)
A few dried cherries, for garnish (optional)
Instructions
For the cake, preheat the oven to 350F. Butter 2 (9-inch) round cake pans, add a sprinkling of almond flour, rotate the pans around to coat the inside, and tap out any excess.
Use a handheld electric mixer to beat the 4 egg whites in a large bowl until they form stiff peaks; set aside for now.
In a separate bowl, beat the 6 egg yolks, sugar, vanilla bean paste, almond extract, and 3 tablespoons of the liquid reserved from soaking the cherries for about 3 minutes, or until it's pale-colored and falls off the beaters in thick ribbons.
Add the almond flour, baking powder, and salt to the egg yolk mixture all at once, and stir to combine.
Add ¼ of the egg whites and stir to fully incorporate them, and then stir in the sliced almonds and soaked, drained cherries. Fold in the remaining egg whites with a rubber spatula ¼ at a time (fold only in 1 direction and be careful not to over-mix; seeing some streaks of egg whites in the batter is better than over-mixing).
Pour the batter into the prepared pans and bake them both on the middle rack of the oven until they're golden, feel springy to the touch, and a toothpick inserted inside comes out clean or with just a couple crumbs, about 12 to 14 minutes, rotating the pans once halfway through. Cool completely before frosting.
For the buttercream, put the egg whites into a stand mixer fitted with the whisk attachment and have them ready to go. Get the salt and cream of tartar out and have them nearby.
Heat the sugar, water, and rosemary in a small saucepan over medium heat. Don't stir, but you can swirl the pan around to help the sugar dissolve if you like.
Once the sugar syrup reaches 230F, start beating the eggs. When the eggs are foamy, add the salt and cream of tartar, and continue beating until they form stiff peaks.
Meanwhile, continue cooking the sugar syrup. The temperature of the sugar syrup should reach 240F around the same time that the egg whites are beaten to stiff peaks. At this point, add the sugar syrup to the egg whites in a steady stream with the mixer on high, and continue beating on high until the mixture is cool (touch the bottom of the bowl to check), about 5 to 7 minutes.
Beat in the butter about 1 tablespoon at a time until fully incorporated, and then beat in the vanilla bean paste and almond extract. If the mixture looks curdled, keep beating until smooth.
Layer the cake and frost it with the buttercream. Garnish with a sprig of rosemary and a few dried cherries if desired.
Store leftovers covered in the fridge for up to 5 days; let the cake come to room temperature before serving because the buttercream will stiffen in the fridge.
Notes
To Make This a 4-Layer Cake: You will need to make 2 of the cake recipes. I recommend making 1 batch of 2 layers, cooking them, and then making another batch so you end up with 4 layers. If you don't want such a thick layer of frosting (more like the "naked" cakes that are so popular right now), then this will be enough buttercream for a 4-layer cake; however, if you want the amount of frosting that's pictured, you will also need to make a double batch of frosting for a 4-layer cake.