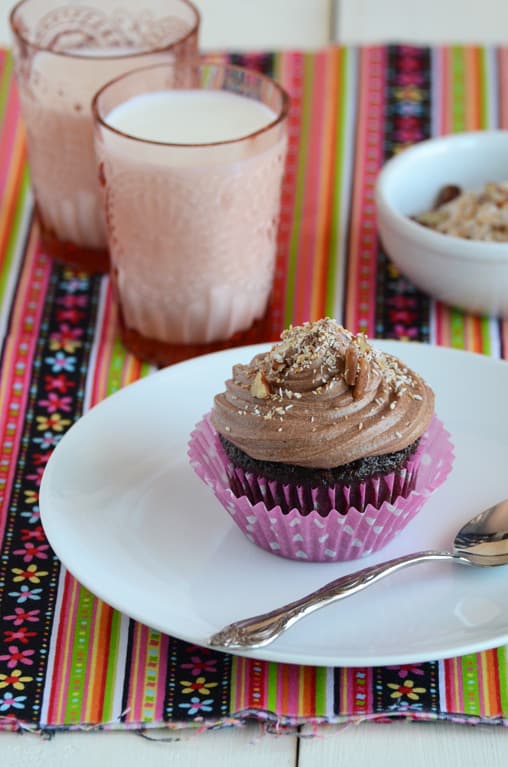 I love how random Google searches can sometimes be. I have no idea how "chromebar" and "poisonous mushrooms" are two of the all-time top key search phrases that lead to my blog, but I guess I'll take it. Also along the lines of random Google searches, I love how a couple weeks ago when I was looking for a recipe for stuffed chicken breast, all the sudden I happened on the next best thing (to me) since sliced bread…chocolate sauerkraut cake!
It wasn't at all what I was searching for, but I had to have a closer look. (How could I not be intrigued?) The blog that popped up in my search results was Diary of a Mad Hausfrau, a lovely blog that I hadn't previously come across. Although her recipe looks fantastic (I especially love that caramel frosting idea!), in the end I ended up adapting my recipe from both All Recipes (the reviews are particularly helpful on this site), and Amanda's Cookin.
Perhaps unlike most, I wasn't horrified by the idea of a cake containing sauerkraut…the first thought that went through my mind was that my all-time favorite chocolate cake recipe (which happens to be vegan!) has vinegar in it. So why not pickled cabbage?
That being said, there are a couple of warnings I have to give you. Rinse your cabbage very, very well. Then press out all the water very, very well. And then, chop the living daylights out of it (or preferably, enlist the help of your food processor to do so). Follow this advice and you really can't go wrong with this cake. (I know I went a little heavy on the sauerkraut; if the amount I used scares you, you can reduce it to a less intimidating 1 or 1 ½ cups. But you won't regret using the full amount!)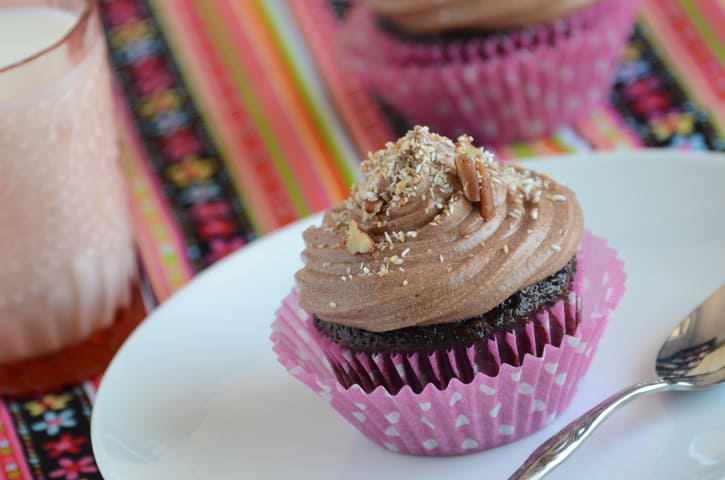 Of course I know you're wondering if you can taste the sauerkraut…the answer is an emphatic "no"! These cupcakes are delicious. I knew what was in them and I still couldn't taste it. And if you make sure the sauerkraut is chopped up super fine, you won't be able to see it either. It lends a bit of texture to the cake, sort-of like coconut would. Mike (who is probably one of the pickiest people on the planet, second only maybe to that kid Mikey who used to do those Life cereal commercials) liked it. My brother-in-law (who is used to only eating cupcakes from a very upscale bakery in Seattle) said they were the best cupcakes he's ever had. Period. (This actually shocked me! These cupcakes?, I thought. Really?, I said. Don't get me wrong, these cupcakes are amazing…but what I wanted to say was that he should try my chocolate hazelnut truffle cupcakes with hazelnut buttercream…or my peanut butter and jelly cupcakes. Or, even though it isn't in cup form, my red velvet cake with cream cheese frosting. Instead, I smiled, humbly said thank you, and handed him another cupcake. ;)
And then the next day when Mike took the rest of the cupcakes to work, one of his very sweet co-workers called me to say that not only where these the best cupcakes she's ever had (!!!), but she wanted the recipe so she could make them for an upcoming family member's birthday. I could have hugged her right through the phone.
A Little Oktoberfest Fun: It's not just coincidence that I'm posting these now – it's the heart of Oktoberfest! The fact that these cupcakes are filled with sauerkraut would make them the perfect thing to celebrate with. Plus the pecan and coconut topping makes them a little reminiscent of German Chocolate Cake, which actually isn't German at all, but does have a delicious caramel-coconut-pecan filling.
A Tip for Whipping the Ganache: Make sure that the ganache has completely cooled to room temperature before you start whipping it. For this task, I recommend using a stand mixer because this takes quite a while to whip; I haven't tried it with a handheld electric mixer, but I'd be a bit nervous to blow out the motor. Anyway, here's the trick to get it to whip up a bit faster…while you're whipping the ganache place a few ice packs on the mixer right under the bowl so that they're touching the bottom of the bowl. (Gently cooling the cream like this helps it to stiffen up quicker.)
A Serving Tip: Plan to make these the day before you want to serve them since they're even better the next day.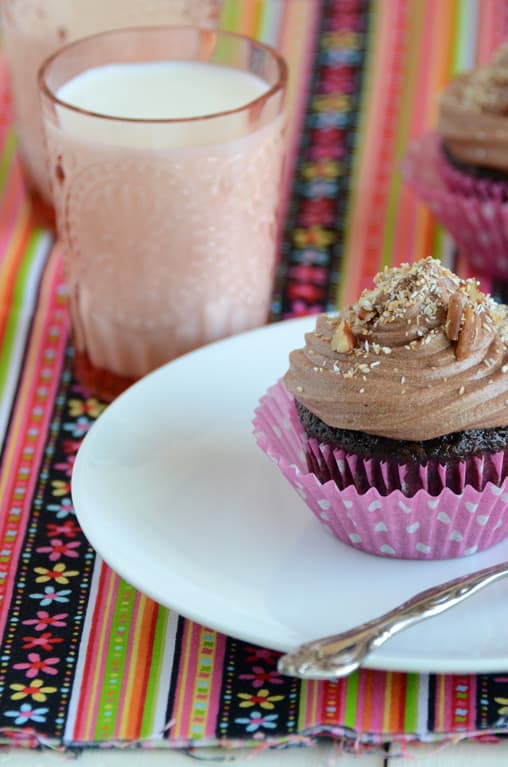 Chocolate Sauerkraut Cupcakes with Whipped Chocolate Ganache (Adapted from All Recipes and Amanda's Cookin)
Yields about 26 to 28 cupcakes
Chocolate Sauerkraut Cupcakes:
1 (27 oz/765 g) can sauerkraut
2 cups all-purpose flour
¾ cup unsweetened cocoa powder
1 teaspoon baking powder
1 teaspoon baking soda
½ teaspoon salt
⅛ teaspoon powdered instant coffee
1 ¾ cups sugar
3 large eggs
2 cup milk
½ cup canola oil
1 teaspoon pure vanilla extract
Butter (a trick for the pan)
¼ cup chopped pecans (for topping)
¼ cup unsweetened, desiccated coconut (for topping)
Whipped Chocolate Ganache (recipe below)
Preheat oven to 350F. To prevent the batter from spreading out as it cooks, lightly butter the top of a cupcake pan around each of the wells; line with paper liners.
Pour the sauerkraut into a mesh sieve and rinse under cold running water for several minutes; press down on the sauerkraut to extract as much water as possible (or better yet, wring it out in a piece of cheesecloth). Transfer to a food processor and pulse several times until very, very finely chopped, scraping down the sides of the processor as necessary; set aside.
In a large bowl, whisk together the flour, cocoa powder, baking powder, baking soda, salt, and coffee powder. In a separate bowl, whisk together the sugar, eggs, milk, canola oil, and vanilla. Gradually stir the dry ingredients into the wet, being careful not to over-mix. Fold in the sauerkraut.
Fill each cupcake well ⅔ full. Bake until a toothpick inserted inside comes out with just a couple crumbs, about 20 to 24 minutes. Cool for 5 minutes in the pan, then transfer to a wire rack to finish cooling completely. Make sure they are completely cool before frosting.
Add the pecans and coconut to a small skillet over medium-low heat; toast until golden brown, about 2 minutes, stirring frequently. Transfer to a bowl to cool completely before sprinkling on frosted cupcakes.
Whipped Chocolate Ganache:
Yields about 4 cups
¾ lb good quality semisweet chocolate, chopped (I like to use 60% cacao)
1 ½ cups heavy cream
4 tablespoons butter
1 teaspoon pure vanilla extract
Pinch of powdered instant coffee
¾ cup powdered sugar (optional)
Place chocolate in a medium bowl and set aside.
Combine cream and butter in a small saucepan over medium-low heat; cook until butter is melted and cream is simmering, stirring occasionally. Pour cream mixture over chocolate and let it sit 8 to 10 minutes; stir gently to mix, then stir in the vanilla and coffee.
Cool completely to room temperature (it should not be even a little bit warm). Transfer to the bowl of a stand mixer, and whip until light and fluffy (it should have about the same consistency as a meringue buttercream). Whip in the powdered sugar, if using. Transfer to a freezer-safe bowl and chill slightly (about 20 minutes) in the freezer, stirring occasionally.
Transfer to a piping bag fitted with whatever tip you like (I used an Ateco 824) and frost the cupcakes. Once frosted, keep cupcakes refrigerated, since this frosting has a tendency to melt in hot weather. (The cupcakes are even better the next day!)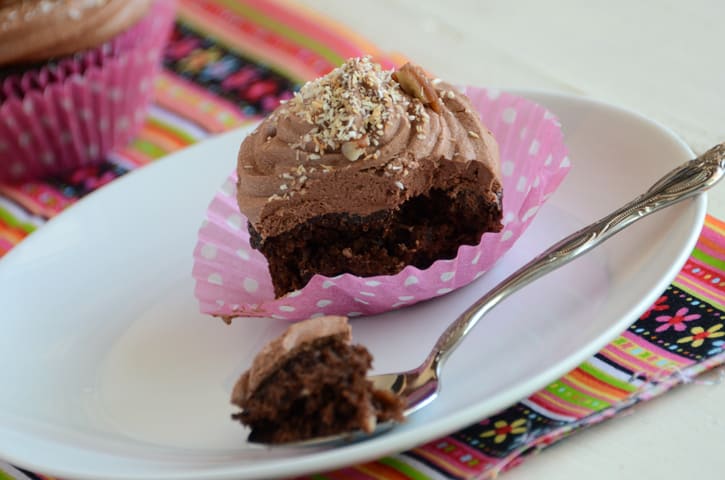 Toward the end of photographing these cupcakes I started to think that I should have a picture showing the inside so you all can see that the sauerkraut really isn't visible (plus there's always at least one person who wants to see the gruesome insides, lol!). I took a bite out of one (for photographing purposes, of course), which led to two bites, which led to a massacre of that poor little cupcake.
This poor cupcake surely didn't see the impending massacre that hit him.