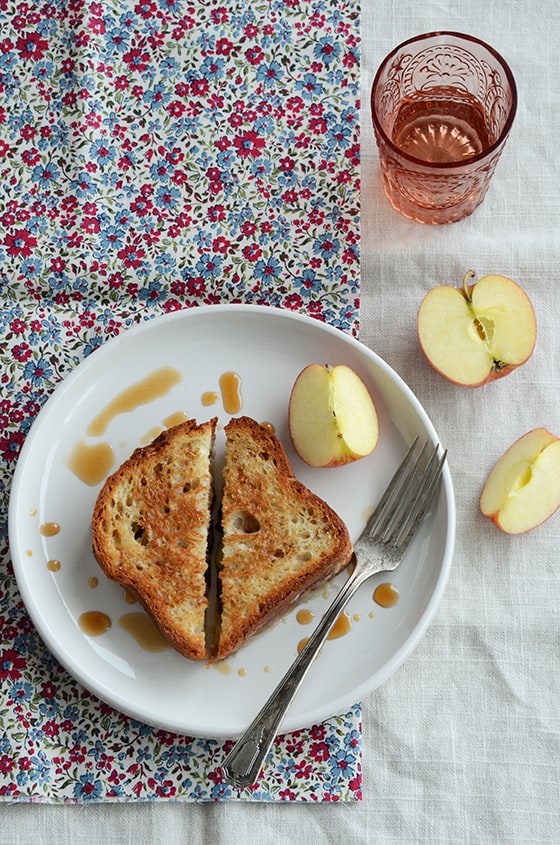 I don't remember the first (edible) recipe I ever made, but I remember what it was for my brother: grilled cheese.
He was about 10 and home alone for the first time. Of course, despite orders not to, he cooked for himself. My mom said she got home and he ran over to her, saying he figured out the secret trick to the best grilled cheese in the world. (A mighty tall claim for a 10-year-old!) My mom, who was more than a little intrigued, smiled and asked What? Grinning like the Cheshire cat, my brother exclaimed You have to slap the cheese back and forth between your hands first before you make it!
(And now I should mention, my brother was a football – that is, American football – player from just about the time he could walk. He had just gotten home from practice and was home alone for about an hour when he got hungry and decided to do something about it.)
My mom looked down at my brother's hands, which were black as soot from practice. She nearly jumped out of her skin. But my brother didn't stop beaming, he was so proud of himself; not only for making his first meal, but also for discovering a newfound trick to making it the best ever.
I love that story, and it's for that reason that grilled cheese sandwiches (minus the dirt) have always held a special place in my heart. 
Sweet Honey-Pomegranate Grilled Cheese
Prep time:
Cook time:
Total time:
Ingredients
2 teaspoons honey (if available, use a local honey for best flavor)
2 teaspoons pomegranate vinegar (such as Vom Fass Waldburg Balsam Pomegranate Vinegar)
2 slices of your favorite bread
2 teaspoons butter
2 oz (55 g) sharp white Cheddar, sliced or shredded
2 teaspoons chopped walnuts
2 teaspoons dried cranberries
Instructions
Mix together the honey and vinegar in a small bowl; set aside for now.
Spread 1 teaspoon butter on 1 side of each slice of bread.
Place 1 slice of bread (butter side down) on a cutting board and top with the cheese, walnuts, and cranberries, then drizzle on 2 teaspoons of the honey/vinegar syrup.
Place the remaining slice of bread on top (butter side up).
Grill the sandwich in a small skillet (or on a griddle) over low heat until golden on both sides.
To serve, transfer the sandwich to a plate and drizzle on the rest of the honey/vinegar syrup.
Waldburg Balsam Pomegranate Vinegar