This cleansing paleo Thai Inspired Vegetable Chicken Detox Soup features a balanced flavor profile and is packed with nutrition.
After all the making merry that goes on during the holiday season, most of us could probably use a little TLC in the form of nutrition.
After even just a couple days of less conscious eating (read: junk food indulging!) I find that I'm noticeably less energetic, more bloated, and less able to focus.
I don't like to beat myself up over it, because that just leads to a bad relationship with food. And let's be honest, ain't nobody got time for that.
But I do like to make it up to myself by putting extra effort into my nutrition in the following week or two.
Salads are an easy surefire way to pack in loads of nutrient-dense foods! However, in the winter months I need something warming. Soup is an equally fabulous method for loading up on healthy foods.
Thai Inspiration for This Soup
This soup uses a few Thai ingredients to give it a balanced flavor profile. Coconut cream adds subtle natural sweetness. Coconut aminos (or soy sauce if you prefer) lends saltiness. Fish sauce gives an umami flavor. And apple cider vinegar and fresh lime bring tartness.
The resulting flavor profile is very well balanced, and this soup has a rich heartiness without being overly heavy.
Vegetable Chicken Detox Soup
One of the things I love most about soup (and salad, for that matter) is the fact that it's a great way to clean out the fridge. Any veggie you have on hand is likely to work!
That was definitely the case here too. I utilized what I had on hand, but I was a little more methodical than just tossing everything into a pot and hoping for the best.
With this recipe, I chose ingredients that would pack a huge punch when it comes to detox!
Let's talk for a quick minute about the components of this soup.
Carrots are rich in glutathione, which is a powerful antioxidant and is important in immune function. (Everyday Health)
Tomatoes are a good source of lycopene that helps the body flush out free radicals. (Waller Wellness Center)
Garlic is high in vitamin C and helps support liver function. (LIVESTRONG)
Organic raw, unfiltered apple cider vinegar helps to alkalize the body (Healthy Bliss) and can help the body absorb minerals from foods like leafy greens (David Wolfe).
Turmeric contains curcumin which stimulates the gallbladder to produce bile, which the liver uses to remove toxins (and heads-up, don't skip the black pepper in this recipe because it helps the body absorb turmeric!). (LIVESTRONG)
Parsley acts as a diuretic, helping the body to naturally reduce bloating. (Step to Health)
Cilantro helps remove heavy metals from the body. (Underground Health Reporter)
Coconut oil helps your body absorb the vitamins in the veggies. (Mercola)
And let's not forget that this soup is full of fiber to help your body eliminate waste!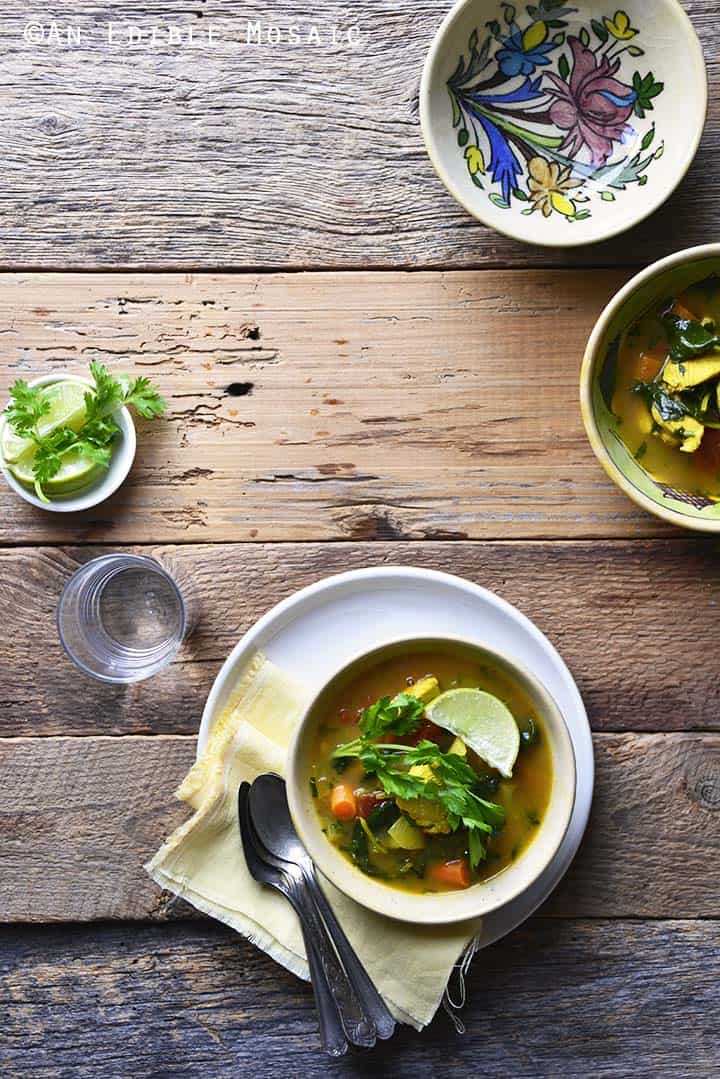 More Healthy Recipes to Try: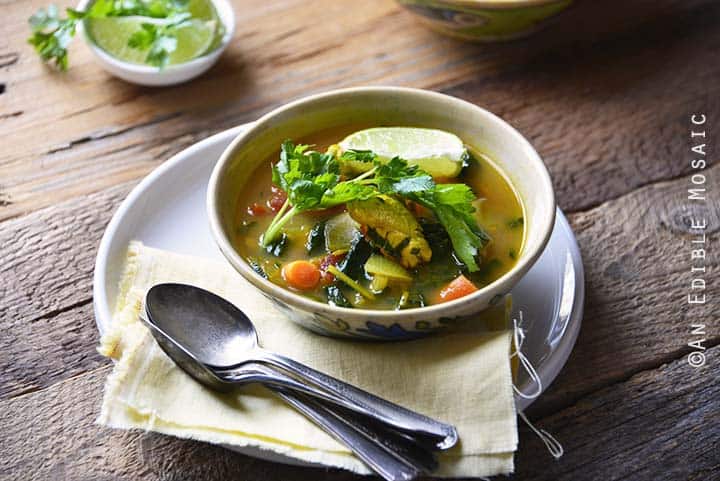 Did you make this recipe? Please rate it and leave a comment below because I love hearing from you! You can also tag @anediblemosaic on social media. To stay up-to-date FOLLOW ME on Instagram, Twitter, and Facebook. Xoxo, Faith
Thai Inspired Vegetable Chicken Detox Soup (Paleo)
This cleansing paleo Thai Inspired Vegetable Chicken Detox Soup features a balanced flavor profile and is packed with nutrition.
Instructions
Heat the coconut oil in a 5-quart pot over medium-high to high heat. Once hot, add the chicken and cook until starting to brown.

Add the stock, tomatoes, coconut cream, carrot, celery, onion, garlic, ginger, fish sauce, coconut aminos, turmeric, black pepper, and salt. Bring up to a boil, and then cover the pot, turn the heat down, and simmer until the vegetables are tender, about 20 minutes.

Turn off the heat and stir in the kale, continuing to stir until it's wilted, about 1 minute.

Stir in the vinegar, parsley, and cilantro. Squeeze a fresh lime wedge into each serving of soup. Serve.
Faith's Tips
Store this soup refrigerated for up to 3 days.
Nutrition
Nutrition Facts
Thai Inspired Vegetable Chicken Detox Soup (Paleo)
Amount Per Serving
Calories 319
Calories from Fat 144
% Daily Value*
Fat 16g25%
Cholesterol 60mg20%
Sodium 707mg31%
Potassium 1198mg34%
Carbohydrates 21g7%
Protein 28g56%
Vitamin A 12234IU245%
Vitamin C 79mg96%
Calcium 142mg14%
Iron 3mg17%
* Percent Daily Values are based on a 2000 calorie diet.
This post was first published on An Edible Mosaic on January 2, 2017. It was updated with more information and photos on December 31, 2020.
Disclosure: This post contains Amazon affiliate links to products I believe in, which means that even though it doesn't cost you anything extra, I will receive a small amount of money from the sale of these items. Thank you for helping to support An Edible Mosaic!