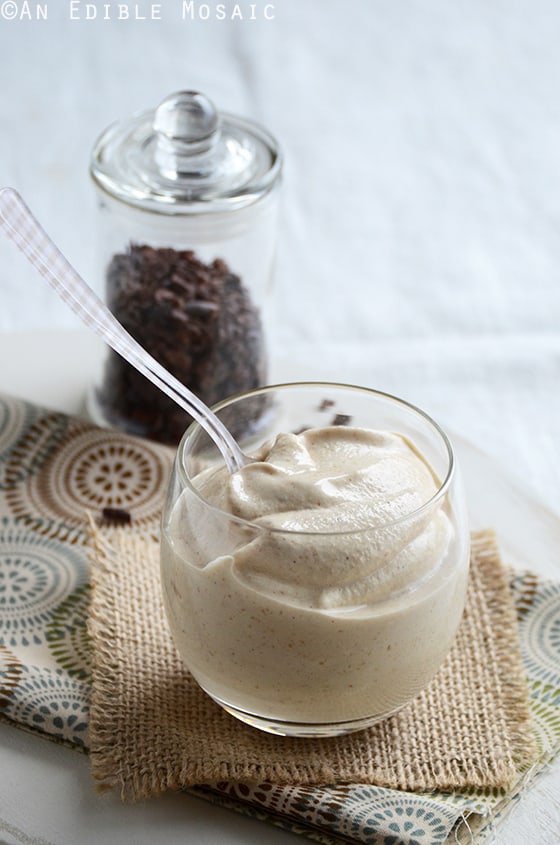 One of my favorite family traditions is every winter we snowbird down to Florida for a couple weeks of vacation. We are Disney fanatics, the whole lot of us (well, maybe aside from Mike, who claims that he goes for my sake…but when we're there he seems to be enjoying the food and merriment for his own sake as well, lol), so the bulk of our time gets spent there. (Last year I posted about the afternoon tea we had at The Grand Floridian.)
We have a few favorite places where we always eat in each Disney theme park; at Hollywood Studios one of our favorites is 50's Prime Time Café. They serve classic American comfort food (think pot roast, meatloaf, fried chicken, and chicken pot pie) in a 50's atmosphere. To further add to the ambiance, the waitress has you call her "Mom" and scolds you if you put your elbows on the table or if you don't finish your veggies.
We didn't end up going to Florida this year, so our Disney time was out; I was recently craving a really thick, old-fashioned milkshake like what they serve there. There are two flavors in particular that I'm really crazy about: chocolate peanut butter cup and peanut butter and jelly. Peanut butter is definitely the common denominator.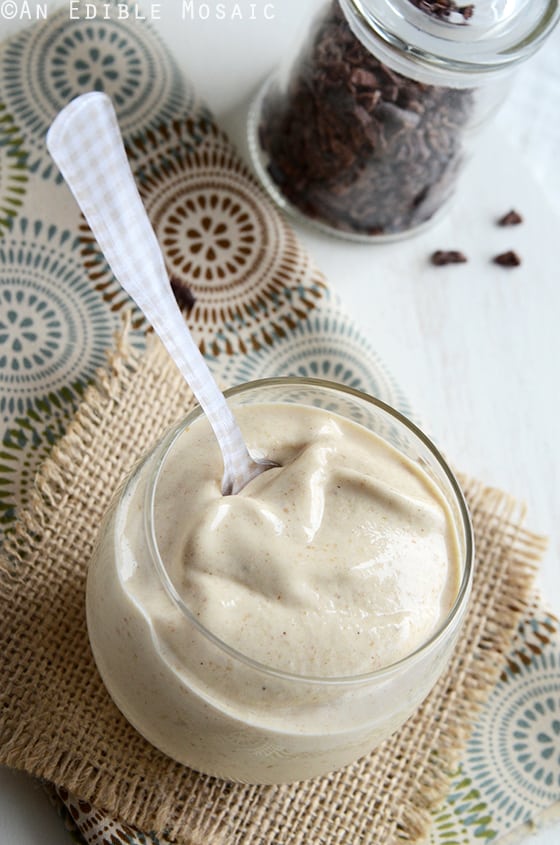 One of my favorite childhood snacks was a slice of bread spread with peanut butter and topped with banana slices, and if I was really lucky, my mom would add a drizzle of honey and a sprinkle of cinnamon. Thinking of peanut butter, I couldn't help but remember those classic flavors, and this combination is what served as the basis for this milkshake (but really, it is healthy enough for breakfast, so I should probably call it a smoothie instead!). It's a filling breakfast too – this will stick with you well until lunch time. Even so, maybe best of all is that you get to feel like you're eating ice cream first thing in the morning.
Take a quick glance at the ingredient list…does anything stand out to you? Yup, it's the vinegar; organic raw, unfiltered apple cider vinegar to be exact. It's only half a teaspoon, so you won't be able to taste it, but what it does is wake up all the other flavors in this smoothie. In other words, it makes the other flavors pop – don't skip it!
If you're wondering whether I'm right, try it for yourself.  Make this milkshake without the vinegar and taste a spoonful (it is so thick you will need to eat this milkshake with a spoon) – it's good but not amazing, right? Maybe a tad flat tasting, for lack of a better word. Now whiz in the vinegar while it's still in the blender and give it a taste – the flavors will explode! If you need to skip something, skip the cacao nibs; they're just healthy chocolate sprinkles and can be done away with! Whatever you do, don't skip the apple cider vinegar.
Here are a few other peanut butter and banana smoothie/milkshake recipes I found around the web that looked interesting:
Milkshake craving satisfied/crisis averted. :)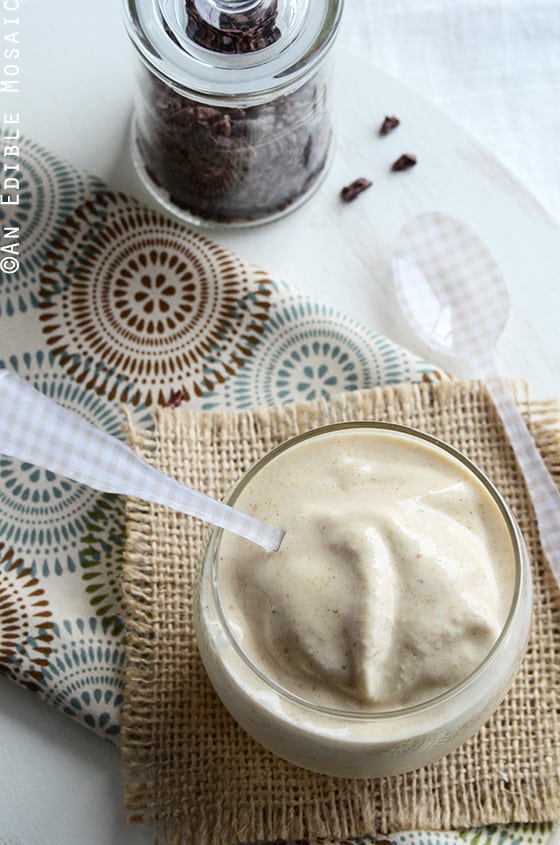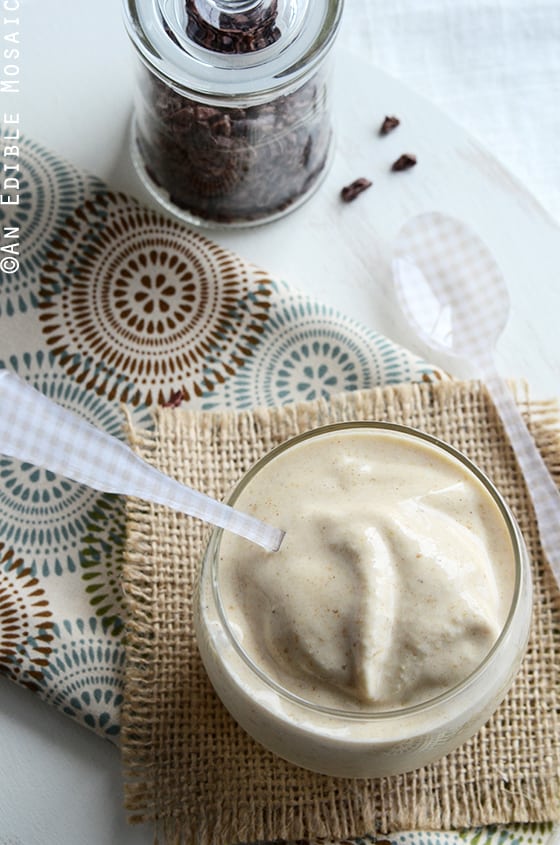 Healthy Peanut Butter, Banana, and Honey Milkshake
Ingredients
½ cup (125 ml) milk, any kind you like (I used 1%, but you can use whatever you like)
1 tablespoon peanut butter (I used creamy, but you can use crunchy if you like)
1 tablespoon ground golden flaxseed (see note below)
2 teaspoons honey (preferably raw, local honey)
½ teaspoon pure vanilla extract
½ teaspoon organic raw, unfiltered apple cider vinegar
¼ teaspoon ground cinnamon
1 pinch sea salt
1 large ripe banana, peeled, chopped into 6 pieces, and frozen
1 teaspoon raw cacao nibs, for garnish (optional)
Instructions
Add all ingredients into a blender and process until smooth.
Pour the smoothie into a glass and sprinkle the cacao nibs on top, if using.
Serve immediately, while it is super thick and creamy.
Notes
Flaxseed Substitution: You can use 1 tablespoon rolled oats instead of the ground flaxseed, or if you have flaxseeds on hand but no ground flaxseed, you can grind it yourself in a coffee grinder or food processor.

Vegan Option: Use a non-dairy "milk" (like soy, almond, etc.) and use pure maple syrup instead of honey.