This month's 5 Star Makeover theme is "Gourmet Picnic Food" in honor of upcoming Memorial Day. Since this theme is so wide open, I had a lot of fun with it and chose a more non-traditional picnic theme: teatime! For my picnic, pack a thermos full of tea (spiced black tea is fantastic with these scones!), some finger sandwiches, and these Olive Oil Scones with Cinnamon Figgie Butter…
I love the light, fluffy texture and buttery taste of cream scones, so when I was coming up with this recipe I decided to keep them somewhat traditional with the addition of cream. I also knew that I wanted the main flavor of these scones to be somewhat untraditional -- the fruity, peppery flavor of extra virgin olive oil -- so I highlighted that flavor with subtle notes of cinnamon, nutmeg, and black pepper. The Cinnamon Figgie Butter is the perfect finishing touch for these scones.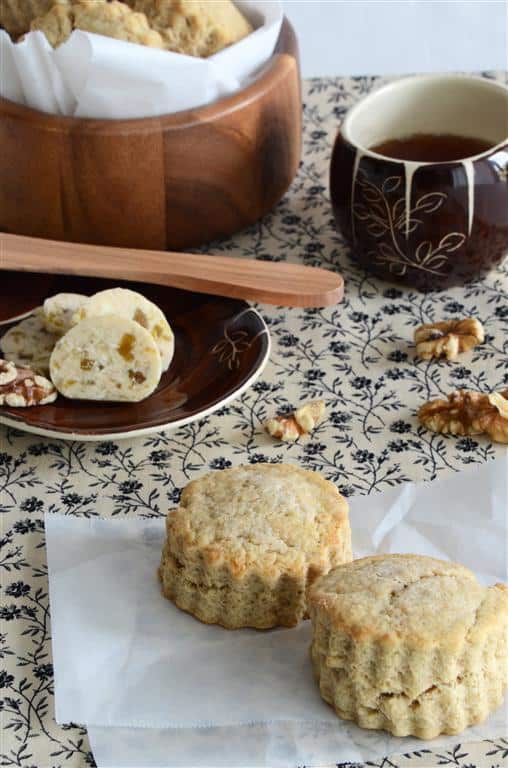 I'm going to go out on a limb here and say that these scones are the best I've ever had. Their texture is perfectly light and fluffy inside, with a slightly crunchy sugar top. They have a subtly sweet yet spicy flavor, with different spice notes hitting your palate at different times.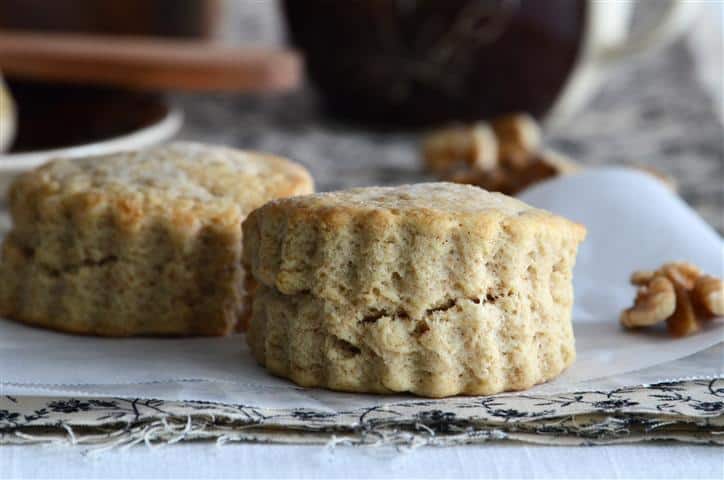 But maybe the best part about these scones is that they can be whipped up in less than 20 minutes including bake time, and the dough (which handles like a dream) can be made entirely in the food processor.
If you have the chance, I highly recommend making them!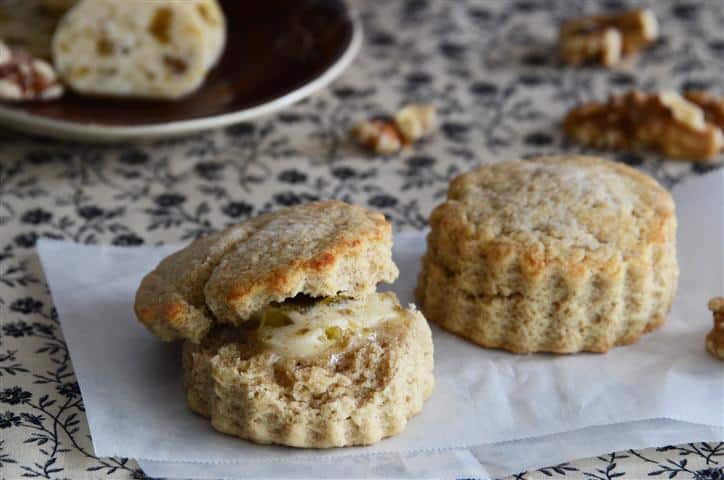 Olive Oil Scones with Cinnamon Figgie Butter
(Yield: 8 scones)
Olive Oil Scones:
1 cup all-purpose flour, plus a little more to roll out the dough
1 cup whole wheat flour
2 ½ teaspoons baking powder
½ teaspoon salt
¼ teaspoon cinnamon
⅛ teaspoon nutmeg
Pinch black pepper
3 tablespoons sugar, plus a little more to sprinkle on top
¼ cup extra virgin olive oil
1 large egg
½ cup heavy cream
1 tablespoon milk, to brush on top
Preheat oven to 450F and line a baking sheet with parchment paper or a silpat liner.
In a small bowl, whisk together egg and cream; set aside.
Add the following to the bowl of a food processor: flours, baking powder, salt, cinnamon, nutmeg, pepper, and sugar; pulse to combine. Gradually stream in olive oil while pulsing; once olive oil is incorporated, gradually stream in egg/cream mixture while pulsing. The dough should come together nicely. (Alternatively, you can make the dough by hand…just whisk together the dry ingredients, cut the oil in with a fork, and then stir in the wet ingredients.)
Turn the dough out a lightly floured surface. Form the dough into a ball, then flatten it into a ¾ inch-thick circle. Use a floured 2 ½ inch cookie cutter to stamp out the scones, then gather up the dough scraps and repeat (you should get about 8 scones total).
Transfer the scones to the prepared baking sheet, lightly brush the tops with milk, and sprinkle on a little sugar. Bake until light golden brown, about 9-11 minutes. Serve with Cinnamon Figgie Butter.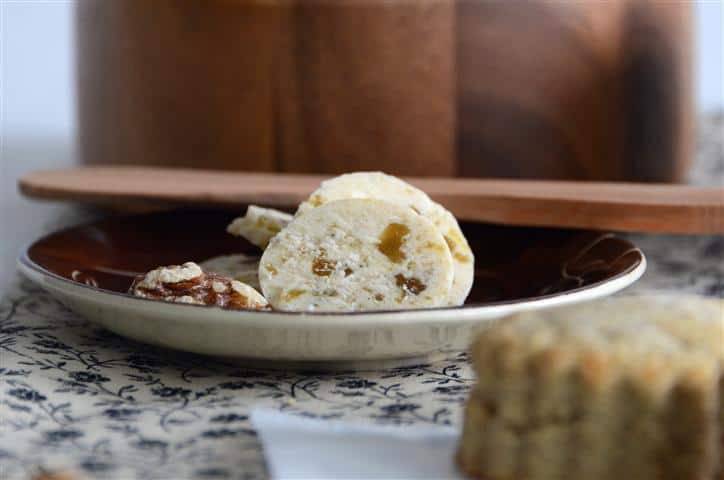 Cinnamon Figgie Butter:
4 tablespoons unsalted butter, room temperature
1 preserved fig, minced
1 teaspoon liquid from preserved fig (or honey)
⅛ teaspoon cinnamon
Pinch fine salt
Mix together all ingredients; roll into a log shape using plastic wrap and refrigerate to chill. Cut into thin slices to serve.