After lots and lots of testing, I'm dubbing this the Best Paleo Cinnamon Roll for One! It's slightly chewy in texture, subtly sweet, and bursting with buttery cinnamon flavor. And heads-up, if you feel like sharing with your sweetie, it's big enough to do so.
Certain days just call for a cinnamon roll, the way some days require mittens and others call for umbrellas. Now, as true as that is, it's also true that food "can either be the safest and most powerful form of medicine or the slowest form of poison" (quote by Ann Wigmore), so even when a cinnamon roll just seems to be in order, I'm a much happier girl whipping up this paleo version than grabbing one at the mall. Not only do I feel better about my choices, but bonus, there's no ensuing sugar crash.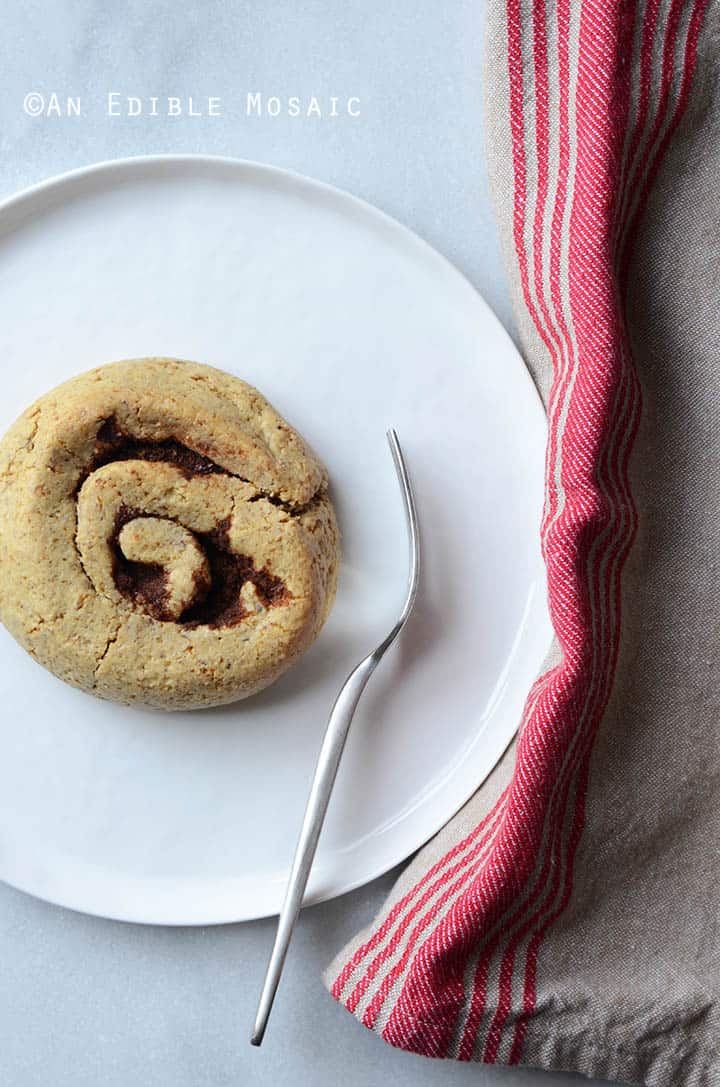 I've had a paleo cinnamon roll on my "to-make" list for forever now (ok, more like a solid year, basically ever since I saw Detoxinista's lovely version here). Of course along with being able to cross a recipe off my "to-make" list comes several rounds of testing. In coming up with this recipe, I tried various paleo-friendly flours, including coconut, arrowroot, tapioca, and almond, in just about every combination you can think of. I also tried using a whole egg versus using an egg white or just a yolk. In the end I went with an almond flour/tapioca base with just a little flaxseed meal added in to give it a bit of chewy texture, and a single egg yolk for richness and moisture.
Now, I'm not saying that this grain-free, gluten-free, dairy-free, and refined sugar-free version of a cinnamon roll is an exact replica of Cinnabon, but honestly, it's pretty darn delicious. The tapioca and flaxseed meal do lend a slightly chewy texture (if it's eaten while still warm!) and it's full of buttery cinnamon flavor. The sweetness level is spot-on, being perfectly sweet, but not overly so.
I came up with the frosting component knowing full well that if I didn't, I'd have requests for it. But if I'm being totally honest, I have to admit that my preference is to forgo the frosting and instead top the still-warm cinnamon roll with a pat of grass-fed butter instead. It's bliss.
Another thing I like to do with this recipe is transform it into a "sticky bun". I add 1 tablespoon of chopped walnuts or pecans to the filling and when it's out of the oven, drizzle a little Paleo Salted Coconut Caramel Sauce on top (if you happen to have some on hand). A drizzle of maple syrup or honey would do the trick too.
Is there a regular recipe you'd like a paleo version of?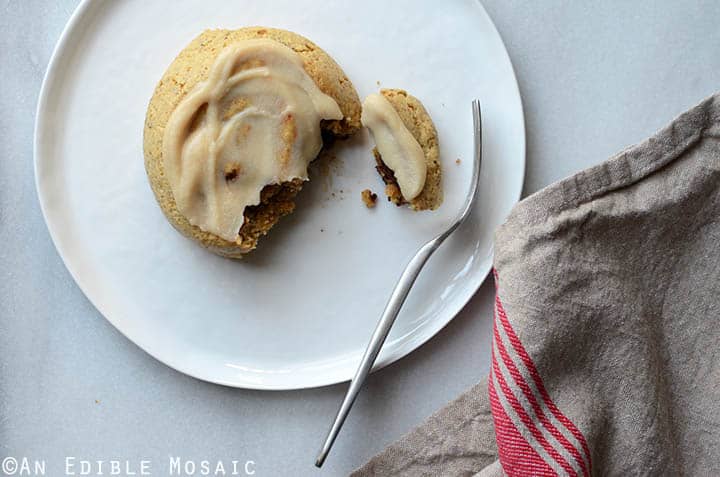 The Best Paleo Cinnamon Roll for One
Prep time:
Cook time:
Total time:
Yield:
1 large cinnamon roll
Paleo cinnamon roll perfection...this is slightly chewy in texture, subtly sweet, and bursting with buttery cinnamon flavor.
Ingredients
Dough:
½ cup (60 g) almond flour
¼ cup (30 g) tapioca starch
1 tablespoon golden flaxseed meal
1 tablespoon coconut sugar
⅛ teaspoon salt
⅛ teaspoon baking powder
1 pinch ground mahlab (optional)
1 large egg yolk
1 tablespoon plain, unsweetened almond "milk"
2 teaspoons avocado oil
1 teaspoon pure vanilla extract
Filling:
1 tablespoon coconut sugar
½ tablespoon ghee (clarified butter)
Slightly scant ½ teaspoon ground cinnamon
Frosting (optional):
1 tablespoon coconut butter, melted
1 to 2 teaspoons plain, unsweetened almond "milk"
½ teaspoon pure maple syrup
¼ teaspoon pure vanilla extract
Instructions
Preheat the oven to 350F; grease a small baking dish with clarified butter.
Whisk together the almond flour, tapioca starch, flaxseed meal, coconut sugar, salt, baking powder, and mahlab in a medium bowl.
Whisk together the egg yolk, milk, oil, and vanilla in a small bowl.
Add the wet ingredients to the dry and stir to combine.
Spoon the dough out onto a piece of plastic wrap; fold the plastic wrap over the top of the dough, and press the dough out into strip about 11 to 12 inches long by 2 to 3 inches wide.
Stir together the filling ingredients and spoon that onto the strip of dough.
Start at one end of the strip of dough and use the plastic wrap to roll it up into a cinnamon bun shape.
Transfer the cinnamon bun to the prepared baking dish, press it down to flatten slightly, and bake 20 minutes.
Stir together all ingredients for the frosting and spoon on top of the warm cinnamon bun.
Serve while still warm.