I've mentioned Tim Hortons a couple times before (when I made my version of their pumpkin spice muffins and chocolate chip muffins), and it is also the inspiration for today's post. Tim Hortons is a coffee shop chain in Canada and several (mostly northern) states in the U.S. that was started by the famous hockey player, Tim Horton. Chain or not, Tim Hortons has the best coffee ever (as evidenced by the traffic-stopping lines leading into their parking lots on pretty much any given morning). Not to mention their amazing baked goods. This time of year my favorite Tim Hortons treat is a pumpkin spice coffee and doughnut, so of course I wanted to try my hand at making a homemade version. The good thing about remaking restaurant favorites at home is you know exactly what's going into your food, not to mention it's much cheaper.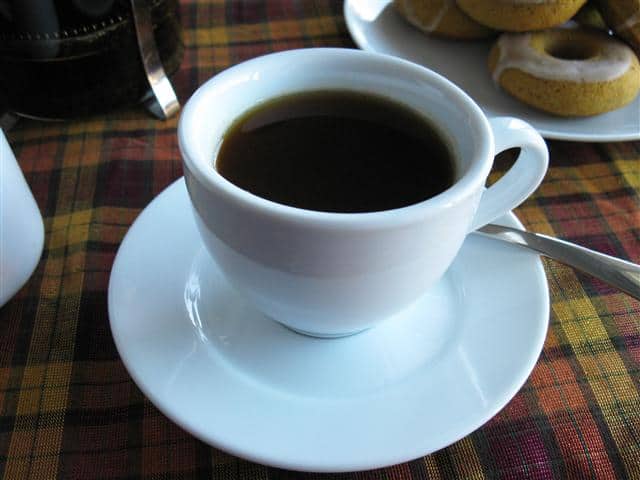 So, coffee first. I added the pumpkin spice syrup I made to black coffee, no milk, but of course you can add milk and froth it up a little if you prefer a latte. The syrup was rich, sweet, and spicy, without being too sweet or overpowering, and the addition of maple was a really nice flavor accent. The only thing I didn't like about it is that the pumpkin solids had a tendency to settle to the bottom of the cup. (That never happens with store-bought pumpkin spice coffee…hmmm, how do they do that? Which begs the question, what's really in it if it's not actual pumpkin?) Oh well, just give it a little swirl with a spoon and problem solved.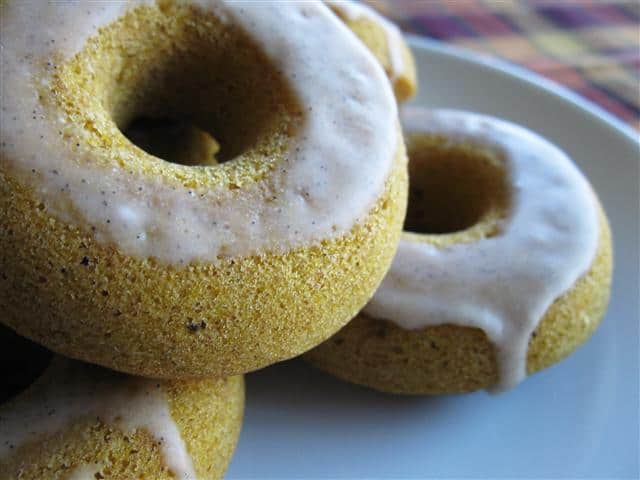 Now for the doughnuts. Or should I say, the best doughnut I've ever had and probably the only doughnut I'll ever eat again. They were tender and moist from the pumpkin, with a delicious balance of sweet and spice. The complete gilding of the lily was vanilla bean glaze which not only added great flavor, but also smelled ahhhhmazingly divine. After I glazed these babies up I got lost in their magical scent for at least a minute. (Close eyes, inhale deeply…who needs yoga with these around? ;) ) I think these doughnuts were about 50 times better than their store-bought counterparts and even Mike (who of course doesn't usually like pumpkin or doughnuts) couldn't get enough of them. The only caveat to their deliciousness is that like any doughnut, they are best eaten right away; wait until the next morning and you'll have missed their mind-blowing effect.
A Note on the Pan I Used to Cook the Doughnuts: I used a mini doughnut pan to bake the doughnuts. If you want to make muffins instead, it would probably be around 12 regular-sized muffins; if you do this, remember to increase the cooking time.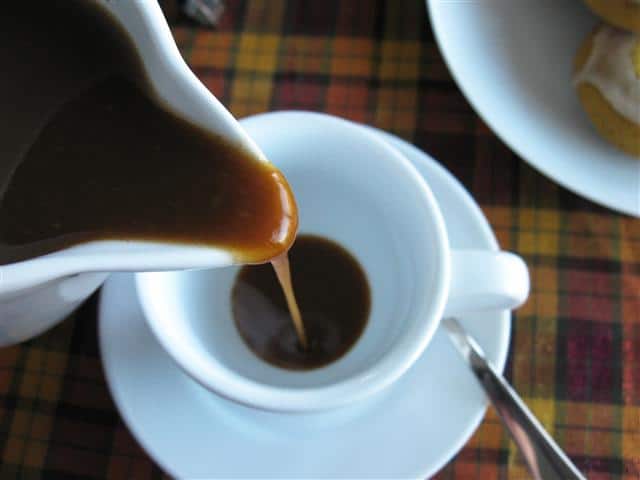 Pumpkin Spice Syrup
(Yield: 1 1/2 c pumpkin spice syrup)
1 c water
1/4 c pumpkin puree (homemade or store-bought)
1/4 c pure maple syrup
1/4 c brown sugar, lightly packed
1 tsp cinnamon
1/2 tsp freshly grated nutmeg
1/4 tsp ground cloves
1/4 tsp ground ginger
Pinch salt
Whisk together all ingredients in a small to medium-sized saucepan. Over medium heat, bring up to a boil (stirring occasionally), then turn heat down to low and simmer 3-5 minutes until slightly thickened. Add warm syrup to taste (about 2 TB per cup) to your favorite coffee; add milk if desired.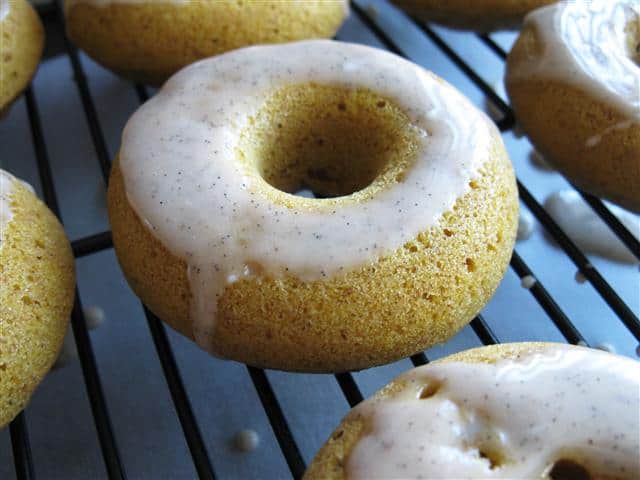 Baked Pumpkin Spice Cake Doughnuts
(Yield: 18 mini doughnuts)
3/4 c brown sugar, lightly packed
2 large eggs
1 c pumpkin puree (homemade or store-bought)
1/4 c low-fat or fat-free milk
2 TB canola oil
1 c all-purpose flour
1/2 c whole wheat flour
2 tsp baking powder
1/2 tsp salt
1 tsp cinnamon
1/2 tsp freshly grated nutmeg
1/4 tsp ground cloves
1/4 tsp ground ginger
Vanilla Bean Glaze:
1/2 c (2 oz) powdered sugar
2 tsp water
1 tsp pure vanilla bean paste
Mini doughnut pan (my pan makes 6 (2 1/2-inch) doughnuts with holes)
Butter, to grease the pan
Preheat the oven to 350F and lightly grease a mini doughnut pan with butter. In a medium bowl, whisk together the brown sugar and eggs until light and fluffy, then stir in the pumpkin, milk, and canola oil. In a separate bowl, whisk together the flours, baking powder, salt, and spices. Gradually stir all of the dry ingredients into the wet. Transfer the batter to a pastry bag (or a large zip-top plastic bag that you can cut a corner off of) and pipe it into the prepared pan, filling each well about 3/4 full. Tap the tray a couple times on the countertop to smooth out the batter.
Bake for 8 to 10 minutes, or until a toothpick inserted into a doughnut comes out clean or with just a couple crumbs. Let the doughnuts cool slightly in the pan (about 5 minutes), then transfer them to a cooling rack to finish cooling.
In a small bowl, whisk together all ingredients for the glaze, then drizzle the glaze over the doughnuts. Let the glaze set before serving.