When Mike and I initially found out that we were moving overseas, along with the excitement and anticipation of moving, I had two thoughts race through my head: 1) I'm going to miss the food, and 2) I'm going to miss my family and friends.
Priorities, lol. (Kidding, mom!)
At home there's a taco chain called Mighty Taco that blows just about every other taco chain out of the water (IMHO anyway…but I'll admit, I'm biased). I've talked to people who were disappointed in the place, but I think that's because they were expecting it to be something it's not. It's not fancy on any level, so don't expect linen tablecloths, soft background music, or ambiance of any kind (no matter…hello, drive-through); it's just your run-of-the-mill fast food joint. But it's actually one of the select few fast food chains I'll eat from, and their Super Mighty Beef Taco on a soft whole wheat tortilla with guacamole is killer.
I knew I'd miss their beef when I moved, so I wanted to re-create it (or at least my version of it) before I left.
Full disclosure here, although this meal is a no-brainer (you literally just dump everything into a pot and let it do its thing), this isn't a quick meal to make. There is about four hours of cook time, but other than an occasional stir, it basically cooks itself. I haven't tried this in a crockpot yet, but I bet it would be fantastic (if you make it in a crockpot, let me know in the comments!).
What's your favorite food chain?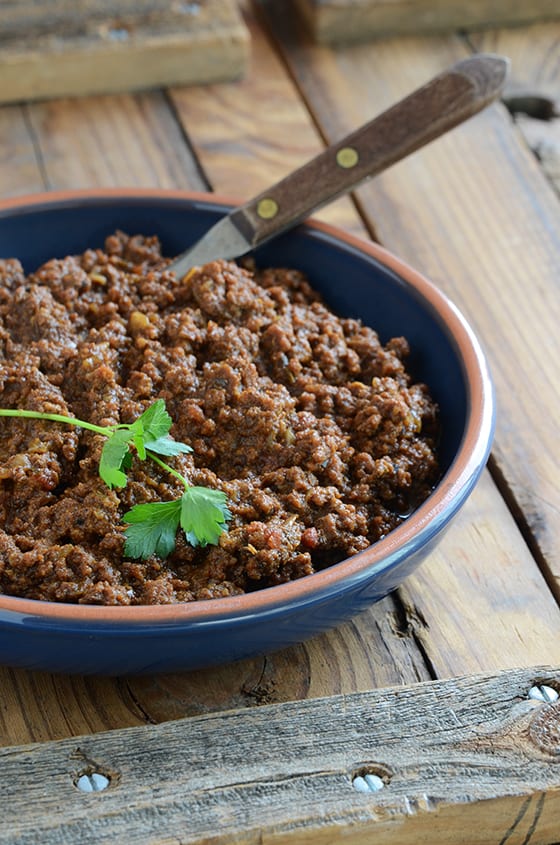 Homemade Mighty Taco Beef Copycat
Ingredients
3 lbs (1.4 kg) lean ground beef
9 cups (2 liters) water, divided into 8 cups/1 cup
1 (14.5 oz/410 g) can no-salt-added diced tomatoes, with juices
3 medium-large onions, diced
3 large cloves garlic, minced
1 fresh jalapeno pepper, de-seeded and minced (or 1 tablespoon dried diced jalapeno pepper)
3 tablespoons tomato paste
3 tablespoons apple cider vinegar
2 tablespoons honey
3 tablespoons chili powder
1 tablespoon coarse kosher salt
1 tablespoon dried oregano
1 tablespoon ground cumin
½ teaspoon black pepper
Instructions
Add the beef and 8 cups water to a 5.5-quart pot; bring to a boil over high heat, then turn heat down and simmer 45 minutes, skimming off the fat as it rises to the top and stirring occasionally.
Stir in all remaining ingredients (including the remaining 1 cup water), turn heat up to high, and bring to a boil. Once boiling, turn heat down to simmer, cover the pot, and cook until the liquid is evaporated out, about 3 hours, stirring occasionally.
Use the beef to make tacos or taco salad; store any leftovers in an airtight container in the fridge for up to 3 days (it's even better after the first day!).