This Breakfast Pineapple and Pearl Barley Pilaf will fuel up your morning!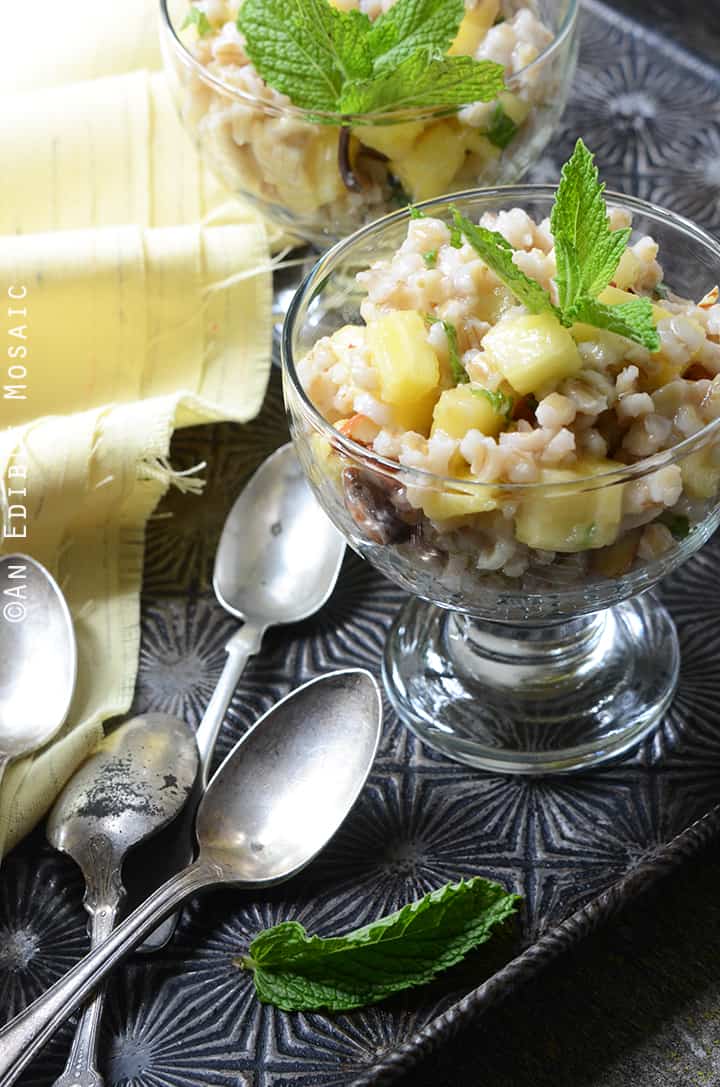 One of the nice things about the change of weather (which hasn't happened in full force yet here in Northern Virginia, but the temps have definitely started to cool down pleasantly), is that there are less bugs.
Now, let me say, although ants in my kitchen are enough to send me into a two-hour cleaning frenzy and I really can't do camping because of how much I hate the fact that I can never just get clean, bugs never really bothered me much. That is, until I got to Virginia. Here we might as well be in the Australian Outback, or at least in Texas (where supposedly everything is bigger).
In the summer we have carpenter bees, which are almost mutant-like in how huge they are if you've never seen them before (they can be up to 1 inch long!), and giant wolf spiders, which are just as freakishly scary as they sound (especially if you're home alone when it decides to come out…and in the split second that you see it, you know you need to make a decision: either run like heck into the other room where it could potentially follow you – and eat you, for all you know because they really are that massive – or man up and trap it in a Tupperware container and hope the thing doesn't die before hubby comes home). So yeah, we aren't strangers to scary wildlife.
While bugs leave us alone a little more, the downside of the weather cooling off is that mice tend to come inside to warm up. Last winter a teensy tiny little gray mouse made the mistake of coming inside…little did the poor thing know that we have a cat. Our cat had the mouse in her mouth and I thought it was a dustball or something. I was grossed out enough by the idea of a dustball in the cat's mouth, so I asked Mike to get it from her. That's when he noticed it wasn't a dustball; he thought it was a mouse-shaped cat toy so he picked it up, realized that it was a live mouse, and promptly took it outside. Like I said, the poor little thing, lol.
No matter what the weather is outside, it seems as though we always have animal friends coming inside to visit, so I might as well enjoy the cooler temps. Fall is absolutely my favorite time of year for so many reasons, and it's right about now that I start craving more filling breakfasts like Creamy Wheat Berry Porridge with Gingered Blueberry Topping and Carrot Cake Oatmeal. This Breakfast Pineapple and Pearl Barley Pilaf is nice because it's hearty in a stick-to-your-ribs kind-of way, but it's served chilled so it's appealing even if it's hot outside.
Here pineapple, almond, and fresh mint combine with pearl barley and a flavorful vanilla-honey dressing. It's a great way to get a healthy grain into your diet early in the day. You know, to give you the energy you need to run from all the crazy wildlife. ;)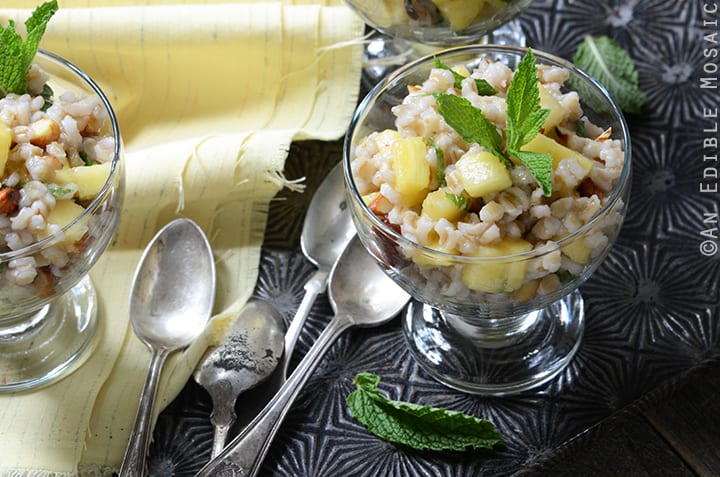 Breakfast Pineapple and Pearl Barley Pilaf
Prep time:
Cook time:
Total time:
This sweet breakfast pilaf features the flavors of pineapple, almond, vanilla, and honey. It's a great way to get a healthy grain into your diet early!
Ingredients
Pilaf:
3 cups (710 ml) water
1 cup (200 g) pearl barley (I used Bob's Red Mill)
½ teaspoon salt
2 cups chopped fresh pineapple
½ cup toasted almonds, chopped
2 tablespoons fresh mint, chopped, plus more for garnish if desired
Vanilla-Honey Dressing:
4 tablespoons honey
2 tablespoons fresh lemon juice
2 tablespoons avocado oil or melted coconut oil
¾ teaspoon pure vanilla extract
¼ teaspoon salt
Instructions
Bring the water to a boil in a medium saucepan; add the barley and ½ teaspoon salt. Cover the saucepan, turn the heat down to simmer, and cook until the water is absorbed, about 50 to 60 minutes. Cool.
Whisk together all ingredients for the dressing in a large bowl. Toss in the cooled barley, pineapple, almonds, and mint.
Serve the pilaf chilled, and store the leftovers refrigerated up to 3 days.