Jewel-Toned Sweet and Savory Basmati Rice Pilaf with Pomegranate is an impressive-looking side dish that's easy to make and pairs well with just about anything!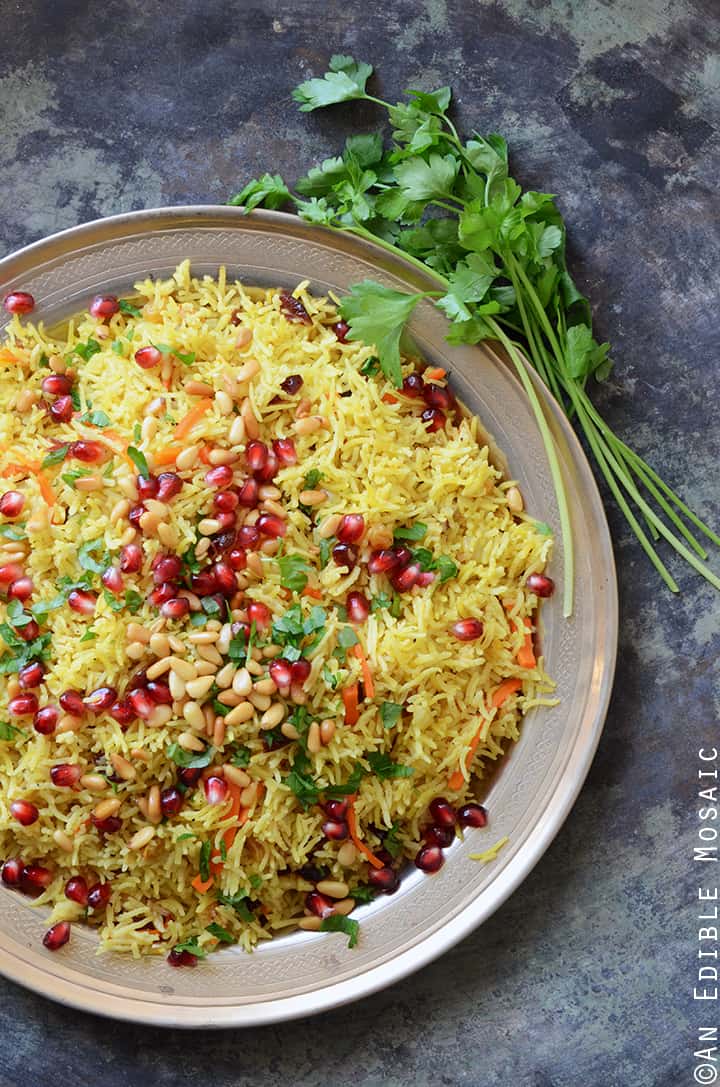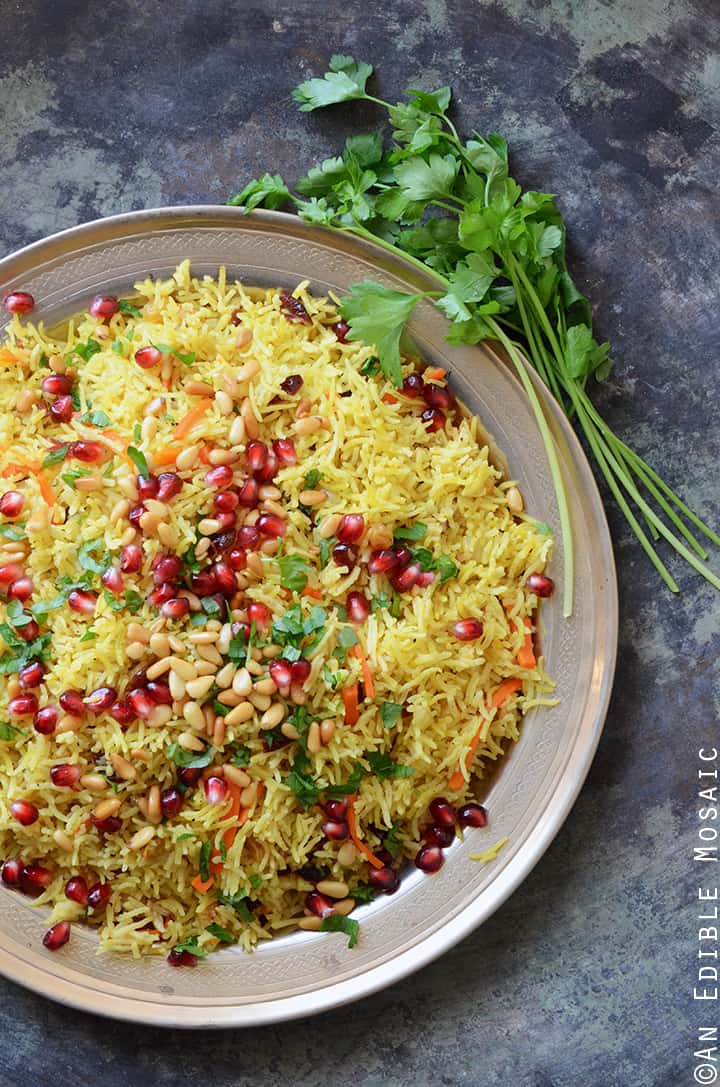 I grew up with traditional holiday side dishes like mashed potatoes, stuffing, candied yams, and green bean casserole. They were ubiquitous at every holiday dinner, and I (more or less) enjoyed them all. These are the classics that, for me, harken back to my first holiday memories, so they'll always feel special, but now I'm ready for a little bit of a change.
Or at the very least, I'm ready to incorporate a couple fresh new side dish ideas into the collection of classics. Are you with me?
Let's start with this gem-hued beauty, which looks impressive but is actually pretty easy to make. My inspiration for this pilaf came from a couple different sources, the main one being Persian Jeweled Rice that Mike and I ate every chance we got while we were living in Kuwait. The traditional Persian rice dish is a labor of love and as such, can't be rushed. Cooking the rice is a multi-step process; it gets par cooked and then rinsed, layered with other ingredients, and slow-cooked on the stovetop. My other source of inspiration was an Indian basmati rice pilaf (or pulao), fragrant with warm spices and beautifully yellow with turmeric or saffron. The dish I'm sharing with you is my melding of those two, along with a couple of my own personal touches; I'm happy to say, this dish doesn't sacrifice flavor or beauty, and better yet, it manages to come together much quicker (because we are all busy enough this time of year, right?).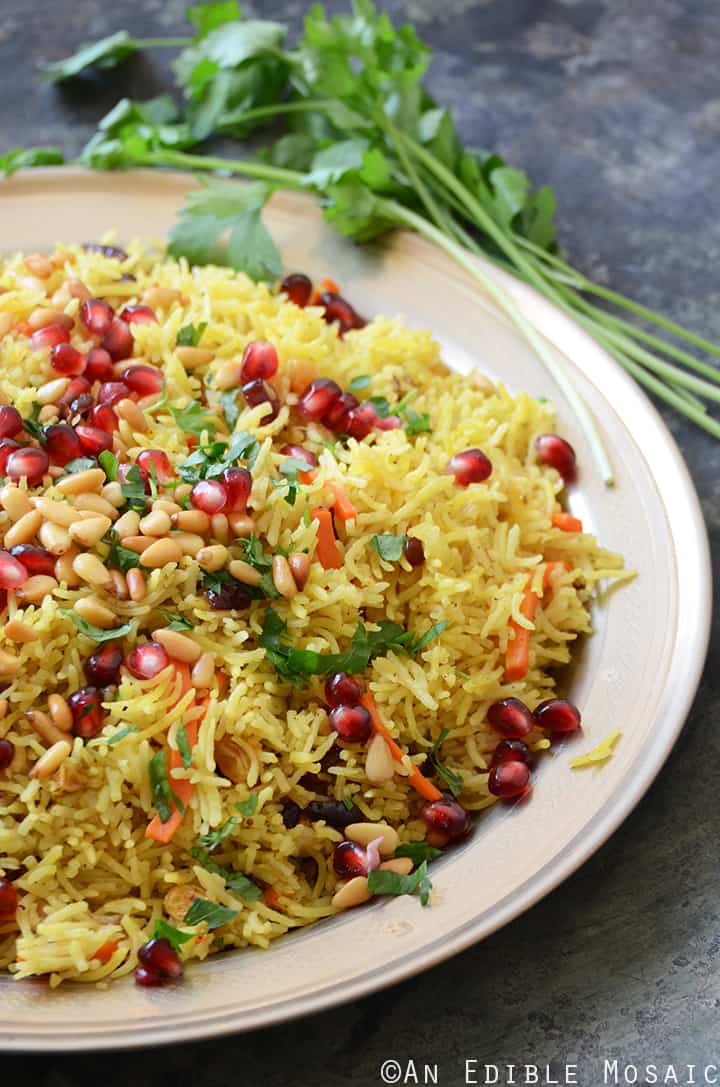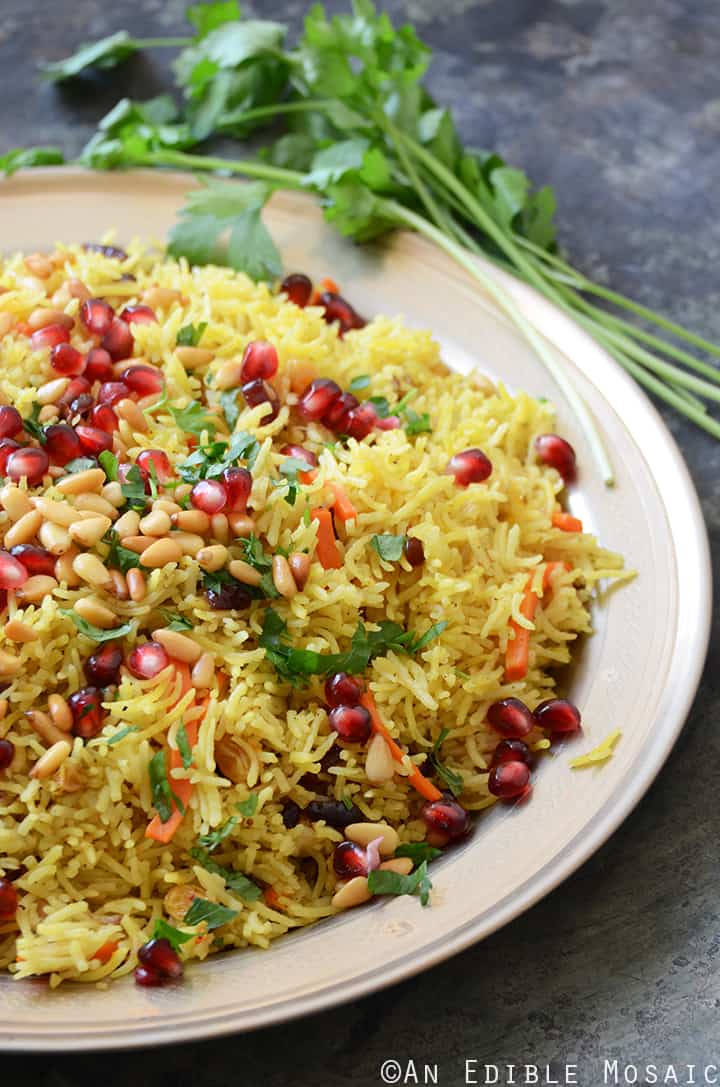 I admit, when I first started cooking rice, it was always a stressful thing, and it was a rare occurrence for me when a pot actually came out perfect. That's not the case anymore; thanks to my Syrian mother-in-law's tips, I've mastered the art of making rice. And you absolutely can too.
I give very detailed instructions in the recipe below, but there are just a couple key steps I want to highlight. The first is that basmati rice should be soaked and rinsed before cooking, which removes excess starch and yields fluffier rice, makes the rice less brittle so it's less likely to break, helps the rice expand to its full length, and reduces the cooking time. Toasting the rice gives it a nutty aroma and adds another layer of flavor to the overall dish. Finally, I find that letting the rice sit covered for a bit once it's done cooking helps ensure evenly cooked, fluffy rice. That is literally all there is to it!
If you're thinking this rice must be overly sweet, let me assure you it has a very well-balanced flavor profile. There is natural sweetness coming from golden raisins, dried cranberries, and carrot; a pleasant sweet/tartness from fresh pomegranate arils; and savory flavor from onion, spices, and vegetable stock. I used Swanson® Vegetable Stock here, and I definitely recommend using stock in this recipe because it lends a richer, more savory flavor to the rice than water or even broth would. (Side Note: I used vegetable stock to keep this dish vegetarian, but chicken stock will also yield delicious results.)
This beautiful pilaf would be perfect alongside roast chicken, turkey, fish, or beef, or even with something as simple as broiled flank steak or seared chicken cutlets for a meal that's as easy as it is festive. There is no need for holiday cooking to be stressful!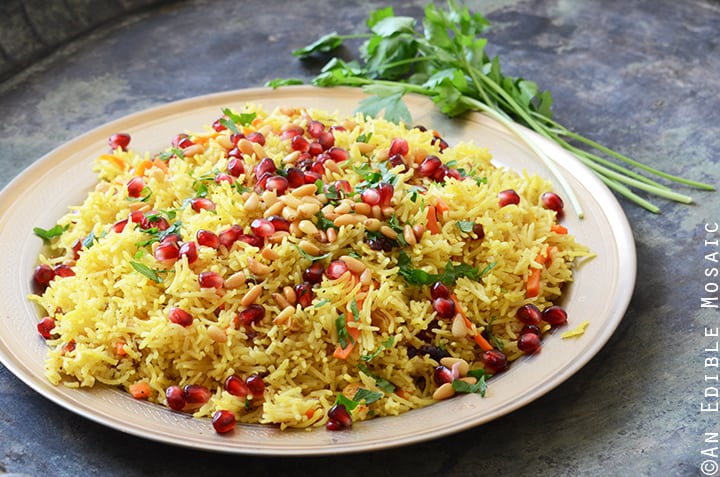 Jewel-Toned Sweet and Savory Basmati Rice Pilaf with Pomegranate
Prep time:
Cook time:
Total time:
Jewel-Toned Sweet and Savory Basmati Rice Pilaf with Pomegranate is an impressive-looking side dish that's easy to make and pairs well with just about anything!
Ingredients
1½ cups (270 g) long grain basmati rice
¼ cup (40 g) golden raisins (sultanas)
¼ cup (30 g) dried cranberries
2½ tablespoons clarified butter (ghee)
3 tablespoons pine nuts or slivered almonds
1 medium onion, chopped
1 medium carrot, peeled and cut into matchsticks
¾ teaspoon salt
¼ teaspoon ground cinnamon
¼ teaspoon ground black pepper
¼ teaspoon ground cardamom
¼ teaspoon ground cumin
¼ teaspoon ground turmeric
2½ cups (590 ml) Swanson® Vegetable Stock, simmering
1 teaspoon fresh orange zest
3 tablespoons pomegranate arils
2 tablespoons chopped fresh flat-leaf parsley
Instructions
Soak the basmati rice in cool water for 15 to 20 minutes, changing the water once; rinse the rice in a fine mesh sieve under cool running water and drain well.
Soak the raisins and cranberries in boiling water for 3 minutes; drain.
Meanwhile, heat the clarified butter in a medium saucepan over medium heat; add the pine nuts or slivered almonds and cook until toasted, about 1 minute, stirring constantly. Use a slotted spoon to transfer the nuts to a small bowl and set aside.
Add the onion and carrot to the butter in the saucepan that you cooked the nuts in, and cook until the vegetables are softened, but not browned, about 5 to 7 minutes, stirring occasionally. Once the rice is done soaking and is drained, stir it into the saucepan with the onion and carrot; turn the heat up to high and cook until the rice smells nutty, about 2 to 3 minutes, stirring occasionally.
Stir in the salt, cinnamon, black pepper, cardamom, cumin, turmeric, and stock. Immediately put a lid on the saucepan, turn the heat down to very low, and cook 12 minutes (only open the lid if you need to add a splash more liquid).
Turn the heat off and let the rice sit with the lid on for 10 to 15 minutes before fluffing with a fork. Once fluffed, stir in the orange zest.
Transfer the rice to a serving platter and sprinkle on the toasted nuts, pomegranate arils, and parsley. Serve.
Disclosure: I'm thrilled to partner with Swanson® as a brand ambassador. I received the Swanson® products that I used in this recipe for free, and I also received compensation for this post. I am happy for the opportunity to share brands that I believe in with my readers, and I hope you enjoy my recipe. As always, opinions stated are my own.