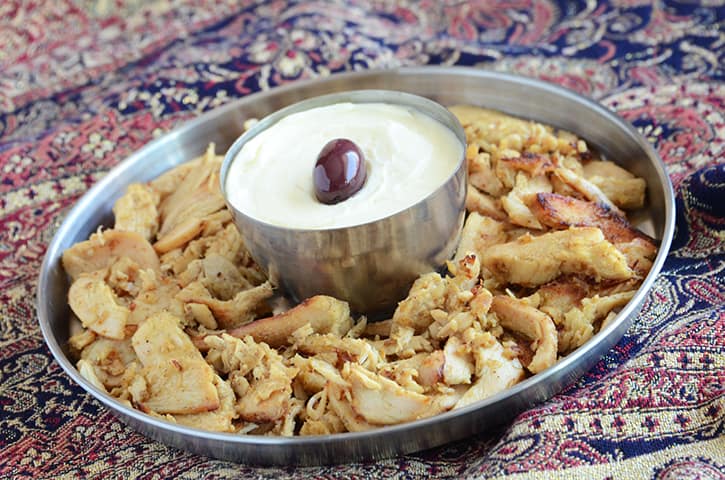 Photo (taken by yours truly) of Spiced Shawarma Chicken from my cookbook, An Edible Mosaic: Middle Eastern Fare with Extraordinary Flair.
If you've been reading my blog for a while you know that Mike and I are serious shawarma people.
Of course I was thrilled when Brandy (of Nutmeg Nanny) told me that was the recipe she wanted to make for the main course for A Mid-East Feast (the appetizer that everyone made was Zucchini Fritters...and stay tuned because dessert is coming next week!). If you're not familiar with it, here's a little bit about shawarma in the Middle East it from my last post on it: Shawarma can be made from just about any kind of meat you can imagine, but chicken and lamb are particularly popular (chicken is my personal favorite). Before being cooked, the meat is marinated and spiced (spices used vary from vendor to vendor), and then formed into a cone shape on a vertical rotisserie. As the meat turns on the rotisserie, the outer layer cooks, crisping in places, and the juices are caught in a drip pan below. The cooked meat is thinly sliced, tossed in the juices, and made into sandwiches, and then the next layer of meat cooks and is sliced off, etc.
If you're having trouble getting your kids to eat healthy, try shawarma…after all, it's the Middle Eastern version of fast food! My niece adores it.
Mike and I seek out the best shawarma joints when we're in the Middle East. Once he moved to the U.S., good shawarma was something that he just wasn't willing to give up…and once I had tasted it, neither was I! The thing about shawarma is that it's typically cooked on a vertical rotisserie (if you're wondering what it looks like, check out my post on shawarma in Damascus). Most people I know (myself included) do not have this piece of equipment at home, so to get an authentic-tasting shawarma, I use a two-step cooking process – roasting in the oven, followed by sautéing on the stovetop – which results in delicious and authentic-tasting shawarma.
The result? Mike (my Middle Eastern hubby) says it's better, both more flavorful and more tender, than the shawarma back home. (And he doesn't mince words or spare my feelings when it comes to food, lol.) And that right there is why I loved learning to cook Middle Eastern food.
The full recipe for my Spiced Shawarma Chicken Sandwiches can be found here on Heather's blog. If shawarma is your thing you will love this recipe! (And even if it isn't, seriously, give the recipe a try and I don't think you'll be disappointed.)
A huge thank-you to all the wonderful bloggers participating in A Mid-East Feast! Please stop by their beautiful blogs to check out their shawarma posts and take a look around.
Brandy – Nutmeg Nanny
Amanda – Fake Ginger
Jeanette – Jeanette's Healthy Living
Gina – Running to the Kitchen
Joanne – Eats Well With Others
Heather – Girlichef
Natasha – Five Star Foodie
Megan – What Megan's Making
Rachel – Baked by Rachel
P.S. Brandy just got married last weekend – isn't she a rock star for organizing this event while planning a wedding? Stop by her blog Nutmeg Nanny to say congrats!!