I feel so incredibly blessed beyond measure. I have wonderful family and friends, a job I love so much it doesn't really feel like work, I'm part of an amazingly supportive community of food bloggers, and I have the best readers in the world. And now I have a book that contains a small piece of my heart and soul to hold in my hands and call my own.
Truth be told, I'm still pinching myself because the reality of it still hasn't quite sunk in yet. I am humbled, truly, more than words can express. All I can say is thank you to those of you have taken time out of your busy lives to support me…whether it's reading my blog, leaving me a comment here, sending me a message on Facebook, tweeting something to me, pinning a photo of one of my recipes that you want to make, shooting me an email, or buying my book. There is no gesture too small. You all make my world brighter.
So now, I want to invite you to my virtual book launch party. This is a time for celebration and joy, and I am thrilled to share it with you. Grab a hot cuppa and settle in because this post is a long one full of goodies that you do not want to miss!
You might be wondering exactly what a virtual book launch party is. When a book is launched it's not uncommon to have a book launch party with great food, fantastic company, and swag (aka cool free stuff!). This online version has all of the above. (The free stuff is at the bottom…scroll down and take a peak if you want, but come back up because there's lots of goodies even before the giveaways!)
FIRST THINGS FIRST: THE FOOD
The food I'm sharing with you is none other than the recipe for Saffron Rice with Golden Raisins and Pine Nuts from my cookbook. With savory onion and saffron, sweet golden raisins, and pine nuts, this dish is a lovely balance of flavors and textures. Not to worry though – if saffron isn't your thing, you can use turmeric instead. My mother-in-law likes to serve Saffron Rice with an aromatic shrimp dish in tomato sauce (the recipe for which is in my cookbook); this rice is also delicious with broiled fish or roasted chicken though.
Saffron Rice with Golden Raisins and Pine Nuts (Roz Mlow'wan)
Prep time:
Cook time:
Total time:
Ingredients
1½ cups (325 g) basmati rice, rinsed
2 tablespoons olive oil
3 tablespoons pine nuts
1 onion, finely diced
4 tablespoons sultanas (golden raisins)
1¾ cups (425 ml) boiling water
¾ teaspoon salt
½ teaspoon saffron threads (or ½ teaspoon turmeric)
Instructions
Soak the rice in tepid water for 10 minutes; drain. While the rice is soaking, put half a kettle of water on to boil.
Add the oil to a medium, thick-bottomed lidded saucepan over medium heat. Add the pine nuts and cook until golden brown, about 1 to 2 minutes, stirring constantly. Transfer the pine nuts to a small bowl and set aside.
Add the onion to the saucepan you cooked the pine nuts in, and cook until softened and just starting to brown, about 5 to 7 minutes, stirring occasionally. Add the rice and cook 2 minutes, stirring frequently. Stir in the sultanas, boiling water, salt, and saffron (or turmeric), turn the heat up to high, and bring it to a rolling boil.
Give the rice a stir, then cover the saucepan, turn the heat down to very low, and cook until tender, about 10 minutes (do not open the lid during this time). Turn the heat off and let the rice sit (covered) 15 minutes, then fluff with a fork.
Transfer to a serving dish and sprinkle the toasted pine nuts on top; serve.
My cookbook, An Edible Mosaic:  Middle Eastern Fare with Extraordinary Flair, is now available for purchase in bookstores across the US and online! Depending on the area, there may be distribution issues due to Hurricane Sandy…if you can't find the book at your local bookstore, please feel free to request it from the store manager. (And if you were able to find the book at your local bookstore, please feel free to let me know – I'd be thrilled!)
Here's where you can buy it online:
Book Depository (free shipping worldwide)
It would make a lovely holiday gift...or gift-to-self!
THE PARTICIPATING BLOGGERS
I'm extremely fortunate to have had the pleasure of getting to know so many amazing bloggers in the last 3 ½ years since I started blogging. The bloggers participating in my virtual book launch party are an extremely talented bunch, and I can't thank each and every one of them enough for their willingness to help. They are all sharing a post with my Saffron Rice recipe today…please head over to their blogs to check out their posts!
Here they are, in random order:
Erica (Itzy's Kitchen)
Vianney (Sweet Life)
Sommer (A Spicy Perspective)
Jo-Lynne (Musings of a Housewife)
Bev (Bev Cooks)
Julia (The Roasted Root)
Lauren (Healthy Food for Living)
Jenn and Seth (Home Skillet)
Asiya (Chocolate & Chillies)
Kim (Liv Life)
Lucy (Teen Baker)
Girlinapurpledress (A Light Perspective)
Krista (Krista's Kravings)
Katerina (Culinary Flavors)
Katrina (Warm Vanilla Sugar)
Barbara (Moveable Feasts)
Lori Lynn (Taste with the Eyes)
Juliana (Simple Recipes)
Amy (Savory Moments)
Jessica (Bacon and Soufflé)
Roxana (Roxana's Home Baking)
Reeni (Cinnamon Spice & Everything Nice)
Victoria (Mission: Food)
Krista (Budget Gourmet Mom)
Veronica (Veronica's Cornucopia)
Angela (Spinach Tiger)
Shannon (Tri to Cook)
Nancy (Good Food Matters)
Heidi (Food Doodles)
Vicki (In-Home Culinary Classes)
Nicole (Prevention RD)
Patty (Patty's Food)
Kellie (Food to Glow)
Priscilla (She's Cookin)
Mary (Keep Learning Keep Smiling)
Tanantha (I Just Love My Apron)
Jean (Lemons & Anchovies)
Liz (That Skinny Chick Can Bake)
Dana (Food for Thought)
Kristina (Spabettie)
Sue (The View From Great Island)
Michele (Cooking at Home)
Louanne (Louanne's Kitchen)
Kelsey (A Slo Life)
Claudia (Foodessa)
Lora (Cake Duchess)
Mollie (Eat Run Read)
Coco (Balance, Joy and Delicias)
Tania (My Kitchen Stories)
Melissa (Fried Ice and Donut Holes)
Evi (Fifthfloorkitchen's Blog)
Julie (Mommie Cooks)
Debi (Table Talk Blog)
Maya (Foodiva's Kitchen)
There are a few of my dear blogger friends who I didn't ask to participate because they are already doing so, so much to help support me. And I know that with how generous they are, they would have most likely said yes to participating, although it might have stretched them too thin. To every single one of my blogger friends, thank you from the bottom of my heart for all you're doing and all you've done for me.
GIVEAWAYS GALORE
And of course, what is a party without some goodies? (Take note, some giveaways are open to US residents only, but many are open worldwide!) A huge, heartfelt thank-you to all the wonderful giveaway sponsors!
Here is the list of giveaway goodies: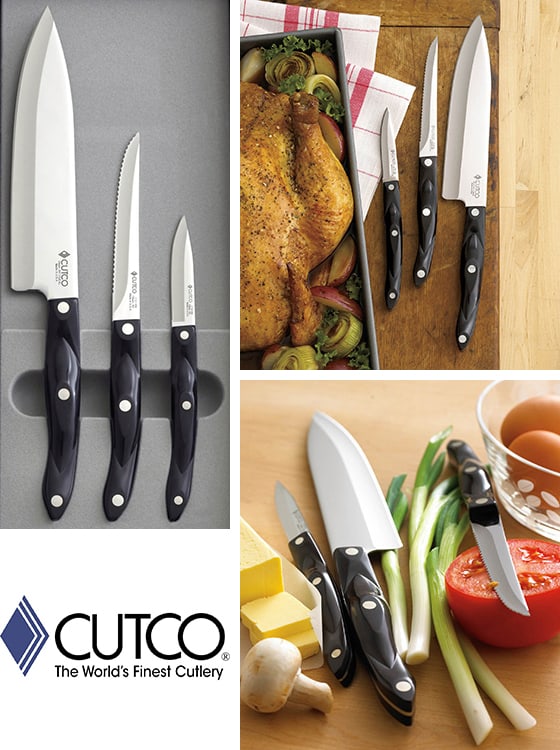 1. One CUTCO Kitchen Classics Gift Set, Valued at $227 (Images Courtesy of CUTCO)
The Kitchen Classics Gift Set has all the knives you need to get started in the kitchen. With its 7 ⅝″ Petite Chef Knife, 2 ¾″ Paring Knife, and Trimmer (utility knife) you'll be chopping, slicing, and dicing your way to delicious meals every day. Home cooks and the pros agree that these are the three must-have knives for their kitchen.
The knives are made of high-carbon stainless steel and feature handles that are comfortable to hold and fit securely in your hand. Made in America, the knives are covered by CUTCO's Forever Guarantee, which covers free sharpening and repairs, forever – no receipt and no registration required.
This giveaway is open to US residents only.
2. One $150 Pier 1 Imports Gift Card, Which Can Be Used to Purchase Something Like This Lovely Hammered Metal Entertainment Set (Images Courtesy of Pier 1 Imports)
The Hammered Metal Entertainment Set pictured here includes the following (but you can use the $150 gift card to purchase any merchandise you like):
This giveaway is open to US residents only.
3. One 3 Quart GreenPan San Fancisco Hard Anodized Aluminium Saucepan with Lid, Valued at $99.99 (Image Courtesy of Big Kitchen)
GreenPan uses Thermolon, a natural, non-stick, mineral-based coating that contains no dangerous chemicals. Completely PTFE-, PFOA-, and silicone oil-free. The non-stick is even applied in such a way that results in 60% less carbon dioxide emissions.
This giveaway is open to US residents only.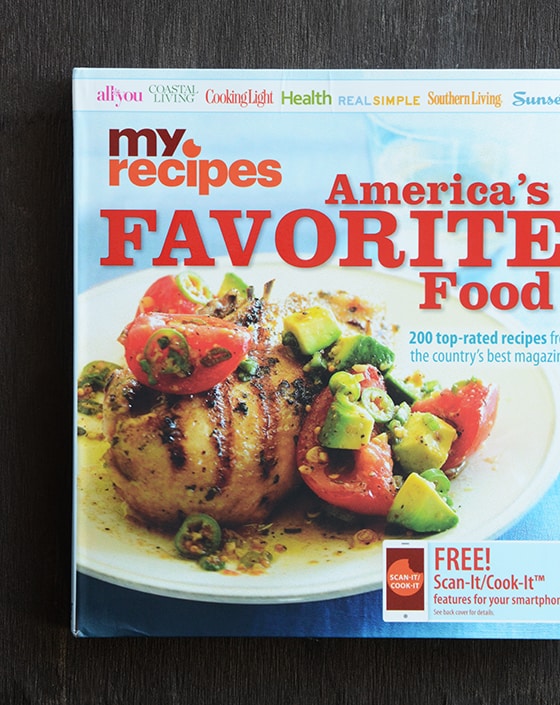 4. Three Copies of America's Favorite Food, Valued at $74.85 (Photo by Faith) 
Thiscookbook marries the beauty and ease of a traditional print cookbook with the online cooking tools and vast resources of MyRecipes.com.
Note that the three copies will be given to three different winners.
This giveaway is open worldwide.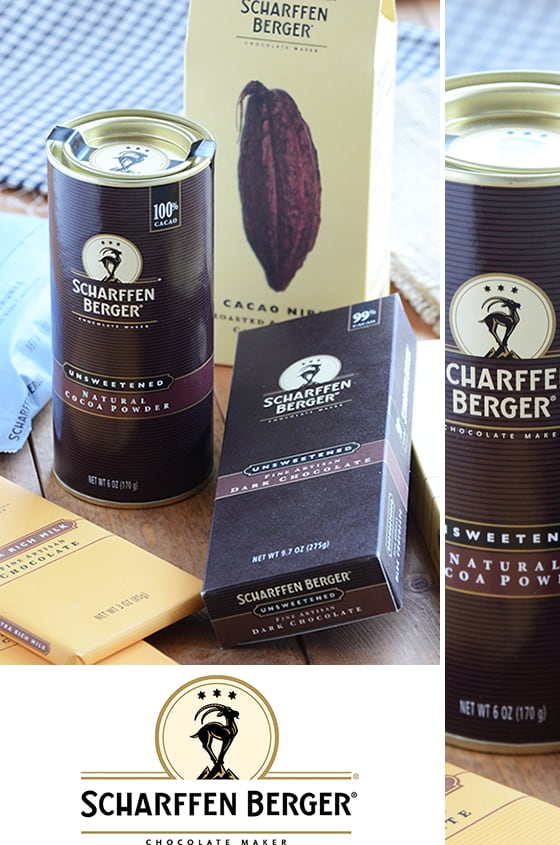 5. One Scharffen Berger Chocolate Box, Valued at $60.80 (Photos by Faith)
America's first contemporary artisan chocolate manufacturer, Scharffen Berger Chocolate Maker, set out to craft the richest, most flavorful chocolate by sourcing the best cacao in the world, blending it in small batches, and gently processing it to maintain the subtle flavors in the beans. (The Scharffen Berger Chocolate Adventure Contest is going on now – there is a $25,000 grand prize! You can find out more at www.ChocolateAdventureContest.com.)
The chocolate box for this giveaway includes the following (all items will be given to one winner):
This giveaway is open worldwide.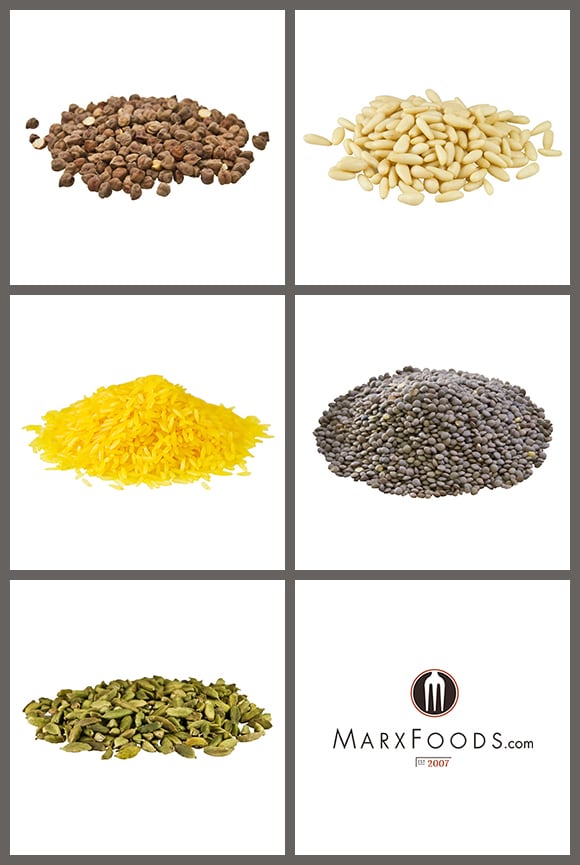 6. One Marx Foods Box, Valued at $80 (Images Courtesy of Marx Foods)
Marx Foods says about their company "We're a family business…the 5th generation to be exact. Things have certainly changed since 1895, but our desire to provide the finest and freshest foods to our customers hasn't. Frank, Justin, Keith, and Garrett Marx and their small staff work with the foragers, farmers, fishermen, and artisans to supply you with the best. We welcome you into our family."
The box for this giveaway includes the following (all items will be given to one winner):
This giveaway is open to US residents only.
7. One D'Artagnan Charcuterie Basket, Valued at $55.99 (Photo Courtesy of D'Artagnan)
D'Artagnan, founded in 1985 by Ariane Daguin, has been dedicated to procuring the freshest, most natural products from farmers who uphold sustainable, humane farming practices, and never use hormones or antibiotics. At the vanguard of the farm-to-table movement, D'Artagnan is the leading purveyor of organic poultry, game, foie gras, pâtés, sausages, smoked delicacies, and wild mushrooms to the nation, supplying everyone from the world's top chefs to discerning home cooks.
This giveaway is open to US residents only.
8. One King Arthur Flour Box, Valued at $36.70 (Photos by Faith)
The box for this giveaway includes the following (all items will be given to one winner):
King Arthur Flour is a wealth of baking information! Get step-by-step instructions for your most delicious baking through their Baking Banter blog or one of over 2,000 free recipes online. Check out their videos for lots of baking tips, interviews with our farmers, and stories from their employee-owners. Learn more about their flours, their commitment to quality, and why you get so much more with King Arthur Flour.
This giveaway is open to US residents only.
9. One $50 Wean Green Gift Card, Which Can Be Used to Purchase Something Like This Lovely Set of Wean Cubes (Image Courtesy of Wean Green)
Pictured here is the Garden Pack Wean Cubes, but you can use the $50 gift card to purchase any merchandise you like.
Wean Cubes are the smallest tempered glass food storage container, making them perfect for baby food or small portions. They have better closures with a clip lock system, making them easy to open and convenient to use. Wean Green glass is soda lime and therefore 100% recyclable.
This giveaway is open to US and Canada residents only.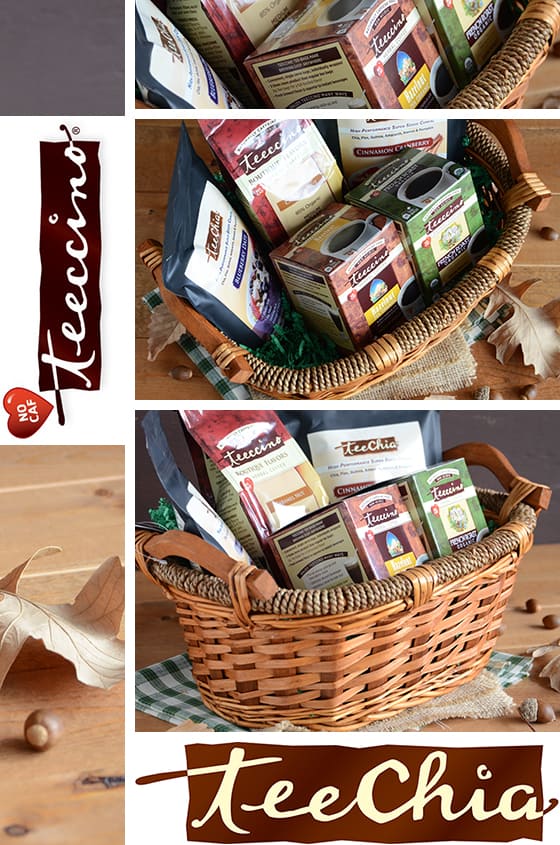 10. One Custom Basket of Teeccino and TeeChia Products, Valued at $50 (Photos by Faith)
Teeccino is a delicious coffee alternative to help with the problem of using "too much caffeine". TeeChia is a high performance, gluten-free cereal made from super seeds that produces lasting energy, satiety (satisfying fullness), and regularity. Caroline MacDougall created TeeChia to be a quick and easy wholesome meal for busy people on-the-go, who want to get a full spectrum of antioxidants, omega-3 essential fatty acids, soluble and insoluble fiber, and vitamins and minerals in their breakfast. I've personally had both of these products (I've been drinking Teeccino for years), and I love them both!
This giveaway is open worldwide.
11. One Stonewall Kitchen Chutney and Cracker Set, Valued at $13 (Images Courtesy of Stonewall Kitchen)
The Apple Cranberry Chutney is the Stonewall Kitchen product of the month for the month of November - it is currently 10% off.
The set for this giveaway includes the following (all items will be given to one winner):
Recipe Card for a Chutney Cheeseball
This giveaway is open worldwide.
12. Fifty $10 Hashems Gift Certificates, Valued at $500
From Hashems, "In 1959 our grandfather, Abu Ali Sheik Theeb, opened the first Hashem's Nuts & Coffee Gallery in the southern Lebanese village of Bint J Bail. Bo Ali provided the towns people with fresh roasted nuts and coffee on a daily basis. Hand mixed spices such as seven spice, kibbeh, and falafel were also made on-site and before long, people where coming from as far as Beirut for Bo Ali's products.
Generations later, the Hashem family continues to provide quality products using the same authentic recipes and methods that were used to make amazing coffee, nuts, and spices in the past. Our coffee and nuts are roasted daily to ensure maximum freshness. To this day we hand mix our spices and never buy any premixed products that may contain additives, fillers, or preservatives. Rest assured in knowing you are getting top quality, authentic Middle Eastern products."
Note that the fifty gift certificates will be given to fifty different winners.
This giveaway is open to US residents only.
HOW TO ENTER THE GIVEAWAY
The Only Mandatory Entry: To enter the giveaway, head over to any one of the participating bloggers' blogs who are listed above to check out their blog (please leave a comment there if you can); then come back here and leave a comment on this post telling me which blog you took a look at.
If  You Want Extra Entries: You can earn additional entries by doing any of the following that you want to do (please leave a separate comment for each so I can count them as additional entries):
1. Share this post on your blog.
2. Share this post on Facebook.
3. Share this post on Twitter.
4. Pin this post on Pinterest.
5. Like CUTCO on Facebook.
6. Follow CUTCO on Twitter.
7. Like Pier 1 Imports on Facebook.
8. Follow Pier 1 Imports on Twittter.
9. Like Big Kitchen on Facebook.
10. Follow Big Kitchen on Twitter.
11. Like My Recipes on Facebook.
12. Follow My Recipes on Twitter.
13.  Like Scharffen Berger on Facebook.
14. Follow Scharffen Berger on Twitter.
15. Like Marx Foods on Facebook.
16. Follow Marx Foods on Twitter.
17. Like D'Artagnan on Facebook.
18. Follow D'Artagnan on Twitter.
19. Like King Arthur Flour on Facebook.
20. Follow King Arthur Flour on Twitter.
21. Like Wean Green on Facebook.
22. Follow Wean Green on Twitter.
23. Like Teeccino on Facebook.
24. Follow Teeccino on Twitter.
25. Like TeeChia on Facebook.
26. Like Stonewall Kitchen on Facebook.
27. Follow Stonewall Kitchen on Twitter.
28. Like Hashems on Facebook.
29. Follow Hashems on Twitter.
DETAILS
1. You do NOT need to have a blog to enter this giveaway.
2. This giveaway starts on November 9, 2012 at 5AM EST and ends on December 9, 2012 at 5 AM EST.
3. Once the giveaway ends, the winners for each item will be chosen randomly.
4. The winners of each item will be notified via email; they will have one week to respond with their mailing information. If they do not respond, a new winner will be randomly chosen.
5. If you are an international reader, please tell me in your comment and I will include you in the correct giveaway.