Basbousa Cake, also known as Namoura or Harissa, is rich and dense with a rustic texture from semolina, and a sticky sweetness from rose or orange blossom-scented sugar syrup.
This cake is called Basbousa, Namoura, or Harissa in different areas of the Middle East. My Syrian mother-in-law always calls it Harissa (also transliterated Harisseh).
No matter what you call it, it's one of my hubby Mike's favorite Arabic desserts. And along with Knafeh bil Jiben (a Middle Eastern sweet cheese pastry), it is something he always seeks out to sample.
Basbousa is made with semolina, so it has a very unique rustic texture. Similar to cornmeal, semolina absorbs a lot of moisture so the cake itself is very dry. A simple sugar syrup that's scented with rose water and/or orange blossom water is poured onto the hot cake once it's removed from the oven.
It results in a sticky-sweet, moist, dense, and very rich cake.
Eggless Basbousa Recipe
Some semolina cake recipes call for eggs. However, this Basbousa or Namoura recipe is eggless.
It's the version I learned from my Syrian mother-in-law, and it always comes out perfectly without eggs.
Basbousa Recipe without Yogurt
Instead of yogurt, this recipe calls for milk and butter. The end result is rich, buttery, and moist.
Basbousa, Namoura, and Harissa Cake in the Middle East
A couple years ago when Mike and I were in Damascus, we came across a pastry shop owner who was making a very unique version of this cake. His cake had a layer of cream baked inside the cake!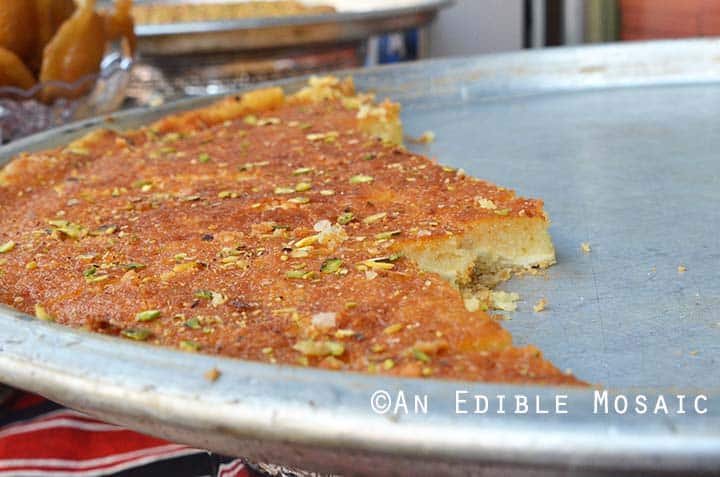 The shop owner claimed to be the only one making it this way in Damascus, so of course he didn't want to share his recipe or method, lol! While I don't know if he was in fact the only one making it this way, I can speak to the fact that his version was delicious. The cream really rounds out the flavor perfectly.
And, I think I have a pretty good idea of how to make it with a layer of cream so I might do a little experimenting soon, wink, wink.
A Mid-East Feast Book Tour
This is the final recipe from A Mid-East Feast, the virtual book tour that my friend Brandy from Nutmeg Nanny put together for my cookbook.
A huge thank-you to Brandy, and the fabulous group of bloggers who are participating in this event:

Did you make this recipe? Please rate it and leave a comment below because I love hearing from you! You can also tag @anediblemosaic on social media. To stay up-to-date FOLLOW ME on Instagram, Twitter, and Facebook. Xoxo, Faith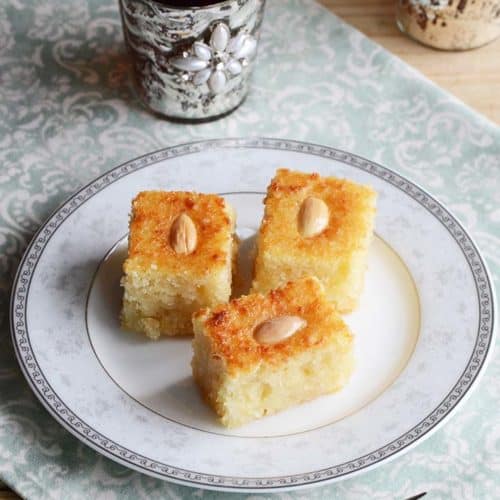 Basbousa Recipe aka Harissa Dessert (Middle Eastern Coconut Semolina Cake)
Basbousa Cake, also known as Namoura or Harissa, is rich and dense with a rustic texture from semolina, and a sticky sweetness from rose or orange blossom-scented sugar syrup.
Print
Pin
Rate
Instructions
For the Scented Sugar Syrup:
Add the sugar, water and lemon juice to a medium, thick-bottomed saucepan, and bring to a boil over medium heat, giving the pan an occasional swirl and skimming off any foam on the surface.

Turn heat down slightly and boil 2 minutes, swirling the pan occasionally. (The syrup will thicken more upon cooling.)

Turn off heat and stir in the orange blossom water or rose water; cool to room temperature, then use.
For the Cake:
Preheat oven to 3750F (1900C); brush the tahini on the inside of a 10-inch (25 cm) round baking pan.

Whisk together the semolina, baking powder, salt, sugar, and coconut in a large bowl. Stir in the butter and milk until combined.

Transfer the batter to the prepared pan and spread it out evenly; let it sit for 10 minutes.

Score the batter into 1-inch (2.5-cm) square or diamond shapes with a sharp knife, periodically dipping the knife in hot water and drying it off before continuing to score the batter; place 1 almond in the center of each diamond.

Bake until the sides and top are golden brown, about 30 minutes. (If the sides are brown but the top isn't, you can broil the cake for a couple minutes to brown the top.)

Once out of the oven, cut the cake along the lines you scored. Slowly pour the cooled syrup onto the hot cake. Let the cake sit at room temperature 2 hours to absorb the syrup before serving.
Helpful Tips
Recipe adapted from the recipe for Coconut Semolina Cake (Harissa) in my cookbook, An Edible Mosaic: Middle Eastern Fare with Extraordinary Flair (Tuttle Publishing; Nov. 2012).
The Scented Sugar Syrup can be flavored with vanilla instead of rose water or orange blossom water if you prefer.
Cool the Scented Sugar Syrup to room temperature before using, since this allows the syrup to thicken.
When you pour the Scented Sugar Syrup onto the cake, the cake should be hot (right out of the oven) and the syrup should be cool, so that the cake fully absorbs the syrup.
Nutrition
Calories:
358
kcal
|
Carbohydrates:
50
g
|
Protein:
6
g
|
Fat:
16
g
|
Saturated Fat:
10
g
|
Cholesterol:
23
mg
|
Sodium:
20
mg
|
Potassium:
224
mg
|
Fiber:
3
g
|
Sugar:
27
g
|
Vitamin A:
286
IU
|
Vitamin C:
1
mg
|
Calcium:
80
mg
|
Iron:
2
mg
Disclosure: This post contains Amazon affiliate links to products I believe in, which means that even though it doesn't cost you anything extra, I will receive a small amount of money from the sale of these items, which helps me keep this site alive – thank you for helping to support An Edible Mosaic!