A typical Arabic or Middle Eastern breakfast usually contains a beautiful variety of appetizer-style dishes known as mezze, such as eggs, vegetables, beans, labneh, etc.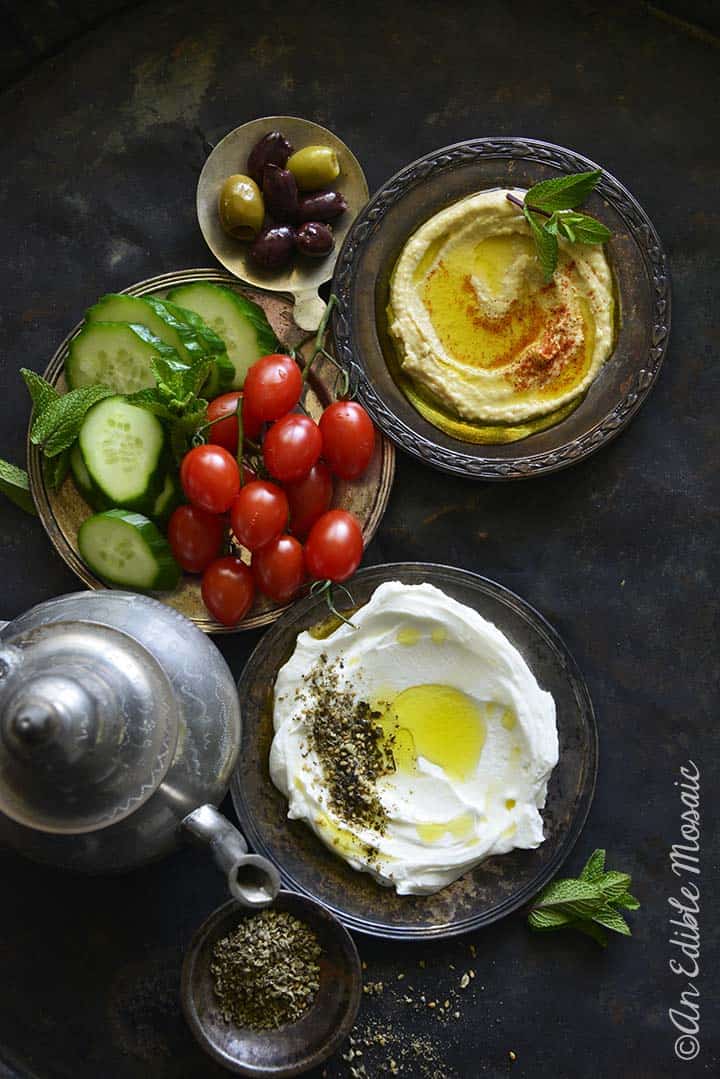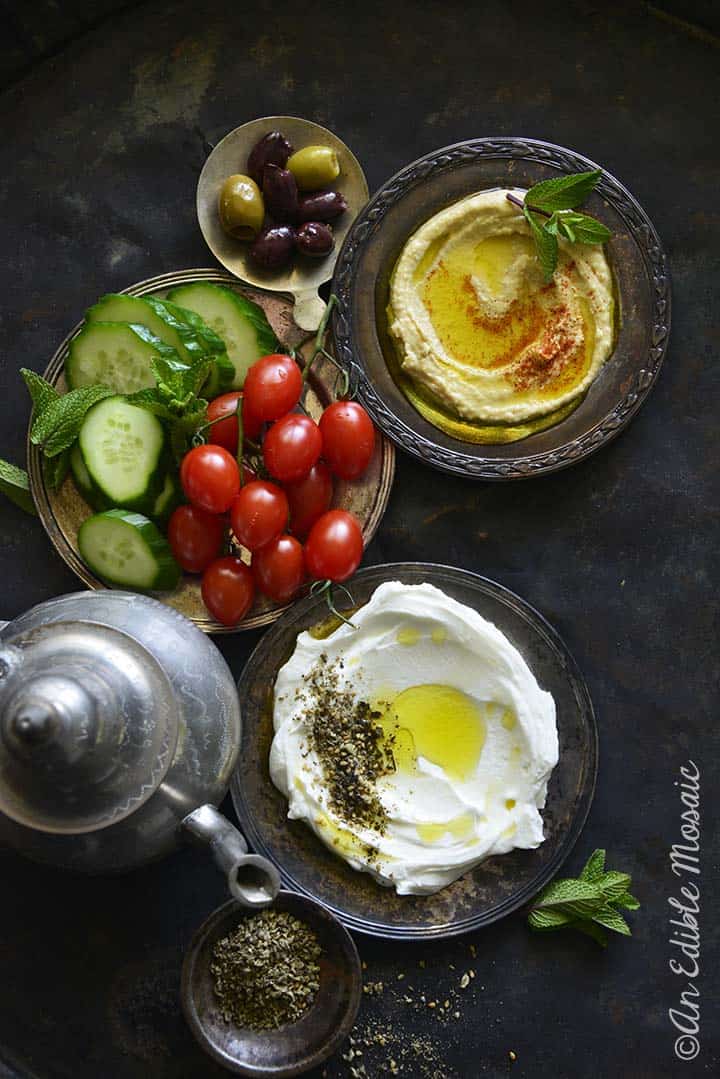 One of the things I loved most about the time I spent in the Middle East is discovering how tightly interwoven culture and cuisine are.
At mealtimes, especially larger meals like lunch and breakfast, everyone gathers around to share the meal and talk and laugh.
They don't portion out foods onto individual plates. Instead, smaller plates of different dishes are arranged on a larger tray and everyone gathers around and digs in. It's a more communal way of eating, and it brings people together in a deeper way.
It's a lovely way to enjoy food.
If you're looking for authentic Middle Eastern recipes, take a look at my cookbook on Amazon, An Edible Mosaic: Middle Eastern Fare with Extraordinary Flair. I learned these recipes firsthand when I lived in Syria and Jordan and watched my ex-mother-in-law Sahar cook.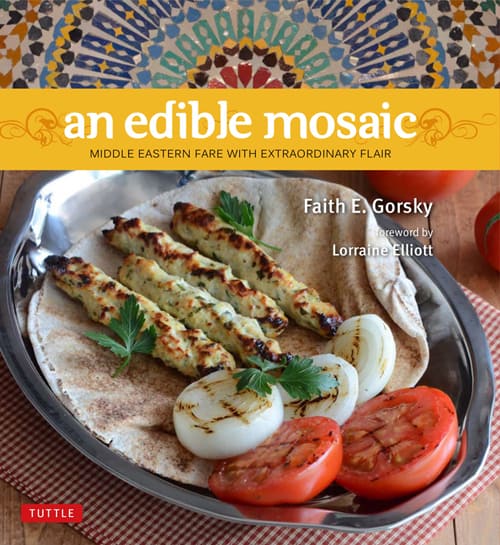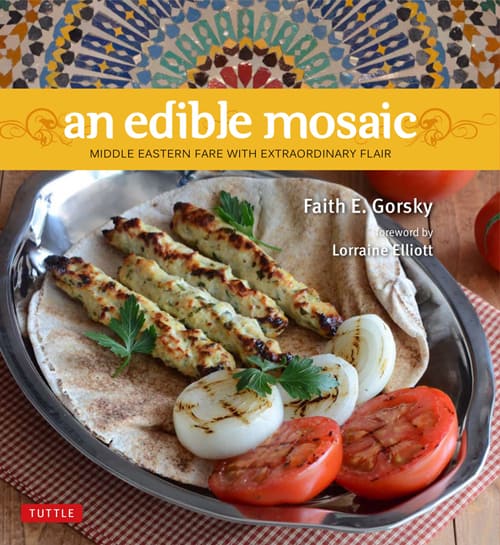 Arabic Breakfast or Middle Eastern Breakfast
A Middle Eastern or Arabic breakfast is usually a fairly big spread and a pretty hearty meal. It is common to contain various dishes of eggs, beans, vegetables, cheeses, olives, salads, and/or bread.
In Middle Eastern culture, lunch is the biggest meal of the day, breakfast is the second largest, and dinner is typically very small.
Breakfast is similar in the countries of the Levant area of Syria, Lebanon, Jordan, Israel, Palestine, Jordan, Egypt, Cyprus, and Turkey.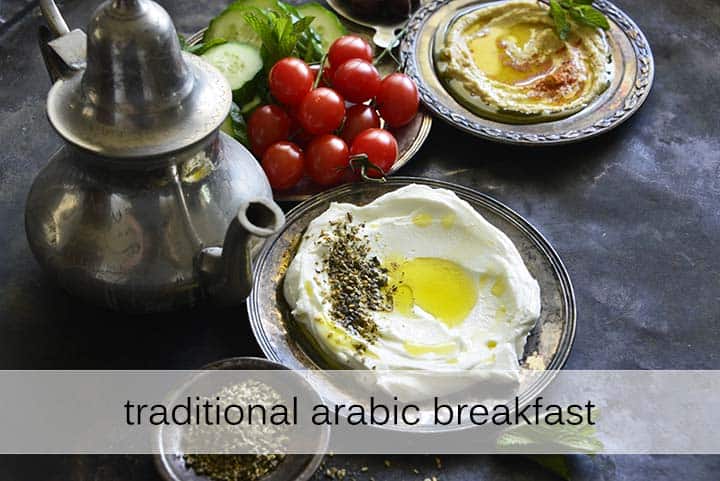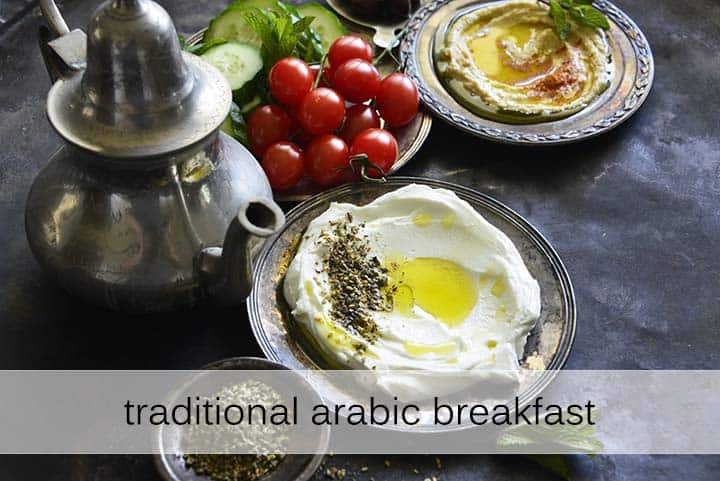 What is a Typical Arabic Breakfast?
For breakfast in the Middle East, you'll typically see a variety of small dishes served on a larger tray. And it's family time!
The whole family gathers around and everyone takes a piece of bread and uses it to scoop up eggs, cheese, hummus, labneh (yogurt cheese), etc.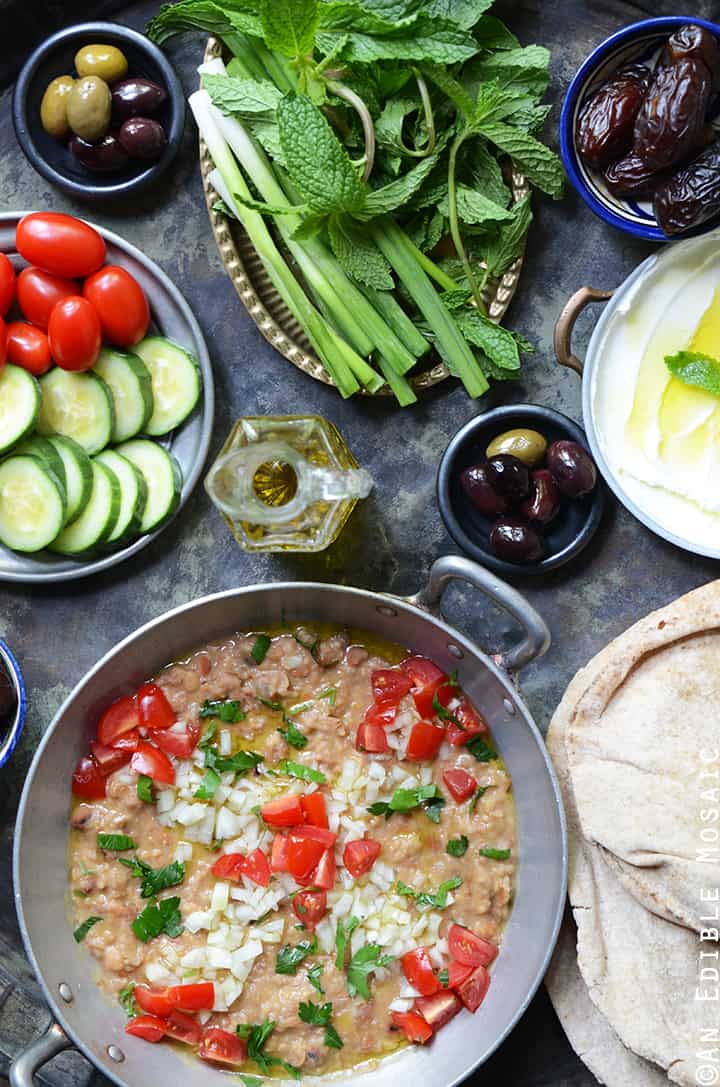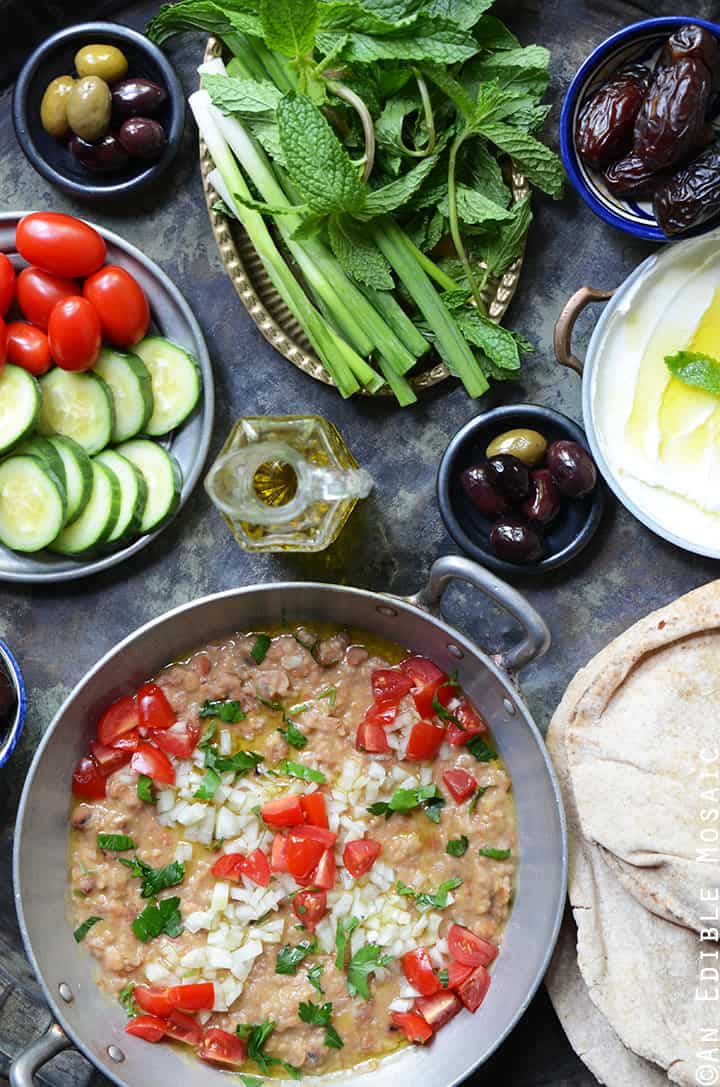 Foul Mudammas
This hearty Egyptian dish has a base of fava beans and chickpeas. Cumin, lemon, and garlic add flavor, and fresh herbs and vegetables brighten it up. Although it hails from Egypt, it's enjoyed as part of a traditional breakfast across the Middle East.
You can read all about Foul Mudammas in my post here.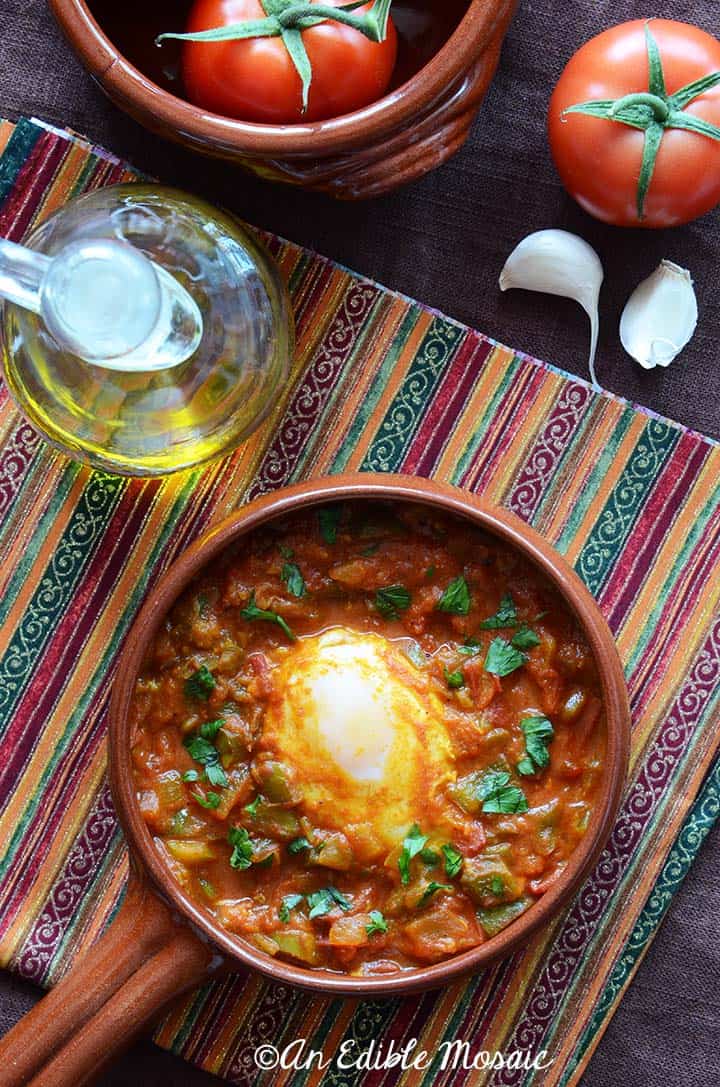 Shakshuka recipe (pictured above) is from my cookbook available on Amazon.
Shakshuka
It's thought that this dish is from North Africa. However, it's a popular breakfast dish across the Middle East, in particular, in Israel.
Shakshuka is a dish of spiced tomato sauce with onion and peppers with eggs simmered right in the sauce. Seasonings typically include garlic, cumin, paprika, and cayenne pepper. Optionally, you can top Shakshuka with fresh herbs, such as cilantro, and crumbled feta. There's no need for utensils, scoop it up with bread!
You can read more about Shakshuka on Wikipedia and learn more about Shakshuka on Chowhound. Take a look at a Shakshuka recipe on Downshiftology.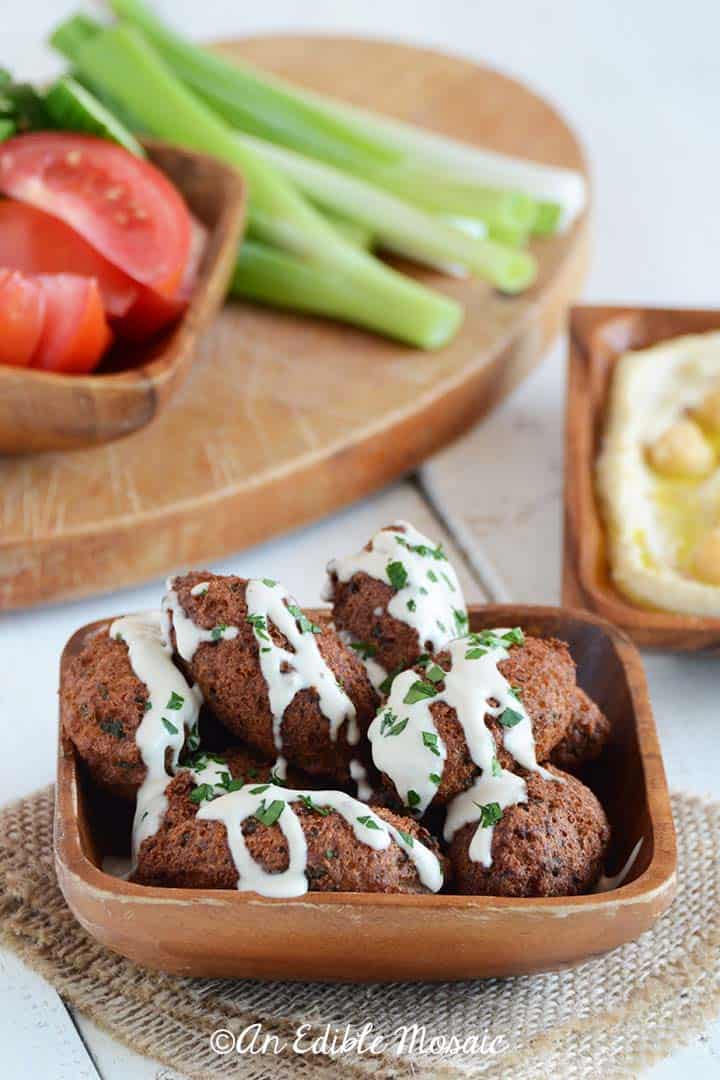 Falafel recipe (pictured above) is from my cookbook available on Amazon.
Falafel
These are deep-fried fritters made from fava beans or chickpeas. You can tell which they're made from because falafel made with fava beans is usually a light green color inside, and falafel made from chickpeas usually has a beige interior.
It's common to find a tahini-based sauce on top of falafel. Wrap falafel along with veggies in flatbread for a sandwich, or eat it as-is.
Check out a traditional recipe for Chickpea Falafel on Tory Avey.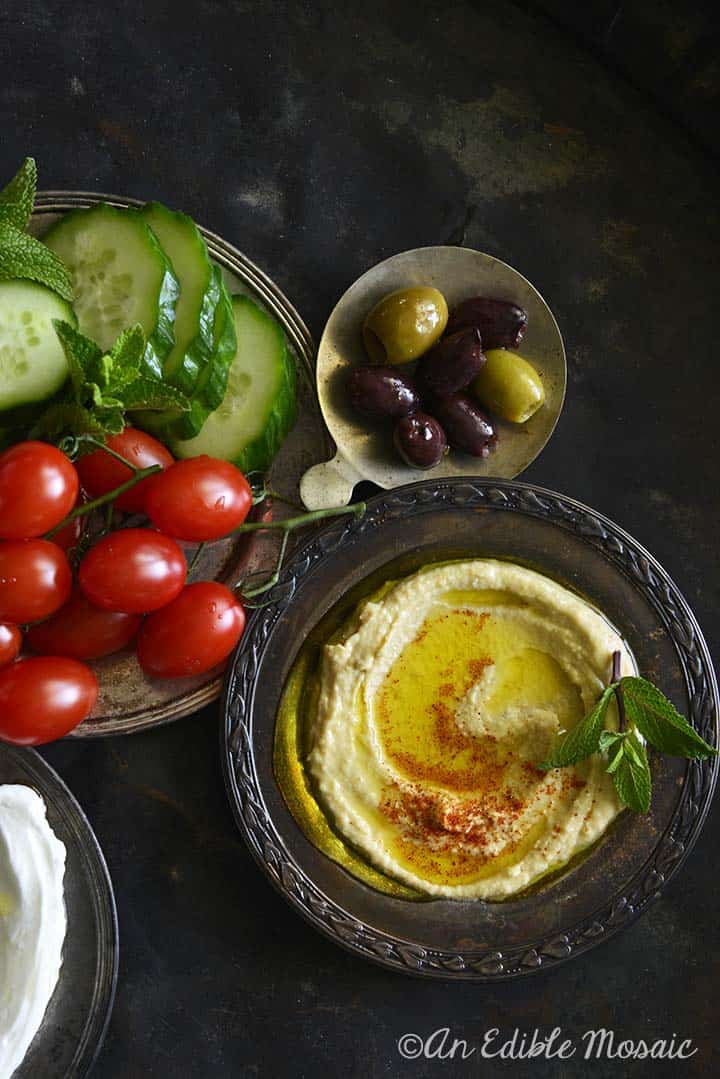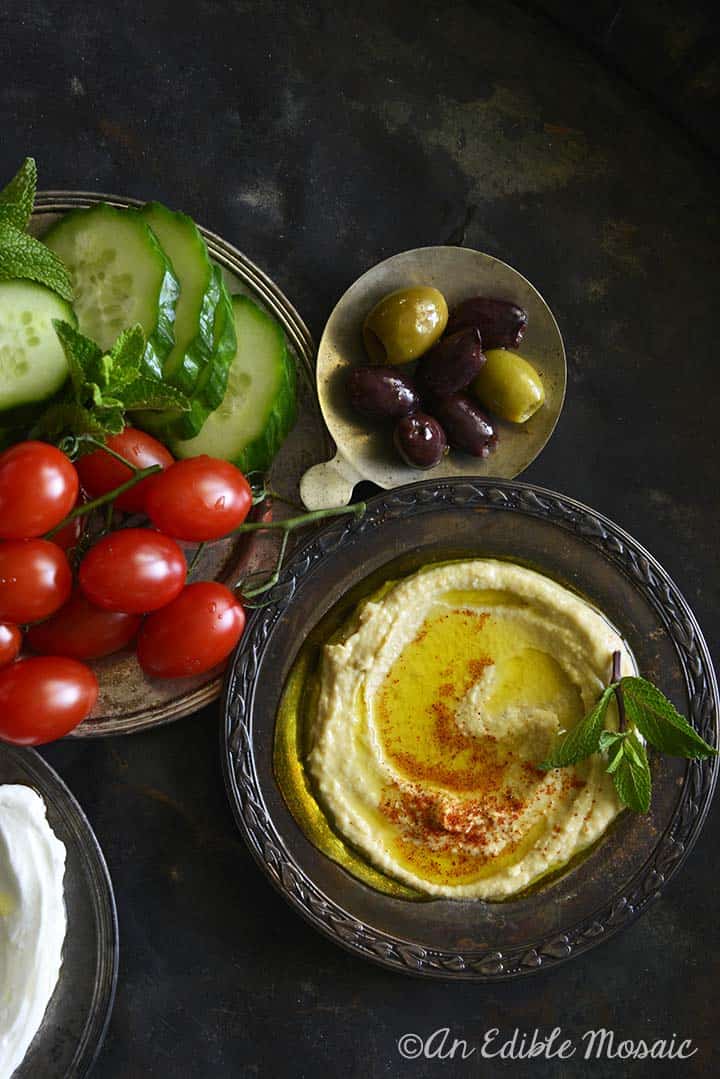 Hummus recipe (pictured above) is from my cookbook available on Amazon.
Hummus
In Arabic, the word hummus means "chickpeas". In Arabic, hummus bil tahina is the dip made of chickpeas blended with tahini, lemon, garlic, and salt.
My Syrian ex-mother-in-law always adds cumin to hummus. She said not only does it add good flavor, but cumin helps reduce the bloating effect that beans can have. I don't know if it's true or not, but she swears by it!
This dish is often served along with falafel, as well as Middle Eastern flatbread to scoop it up.
Even though the flavor of classic hummus is my favorite, I enjoy playing with the flavor profile.
Here are a few fun variations on hummus:
And if you want to try your hand at classic hummus, check out this authentic hummus recipe from The Mediterranean Dish.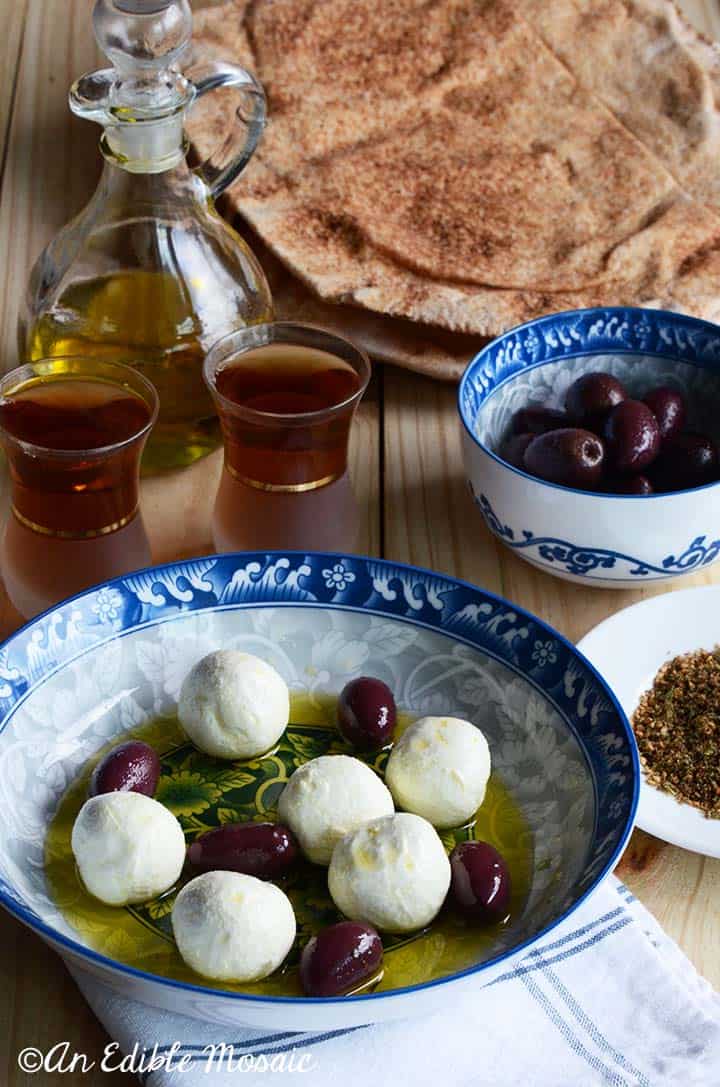 Yogurt cheese balls recipe (pictured above) is from my cookbook available on Amazon.
Labneh
Labneh, which is referred to as yogurt cheese, is just yogurt with the whey removed. You can easily make labneh at home.
To make yogurt cheese at home, line a fine mesh sieve with cheesecloth. Add yogurt, and tie the cheesecloth. Place a weight on top of the yogurt (a can of beans works well), and place it in the fridge for a day or until it reaches your desired thickness.
The end result is a ultra thick, rich, and creamy spread, even more so than Greek yogurt. Spread it into a shallow bowl, drizzle on the best extra-virgin olive oil you can find, and eat it with flatbread.
Alternatively, if you strain the yogurt for a bit longer, you can make it into yogurt cheese balls.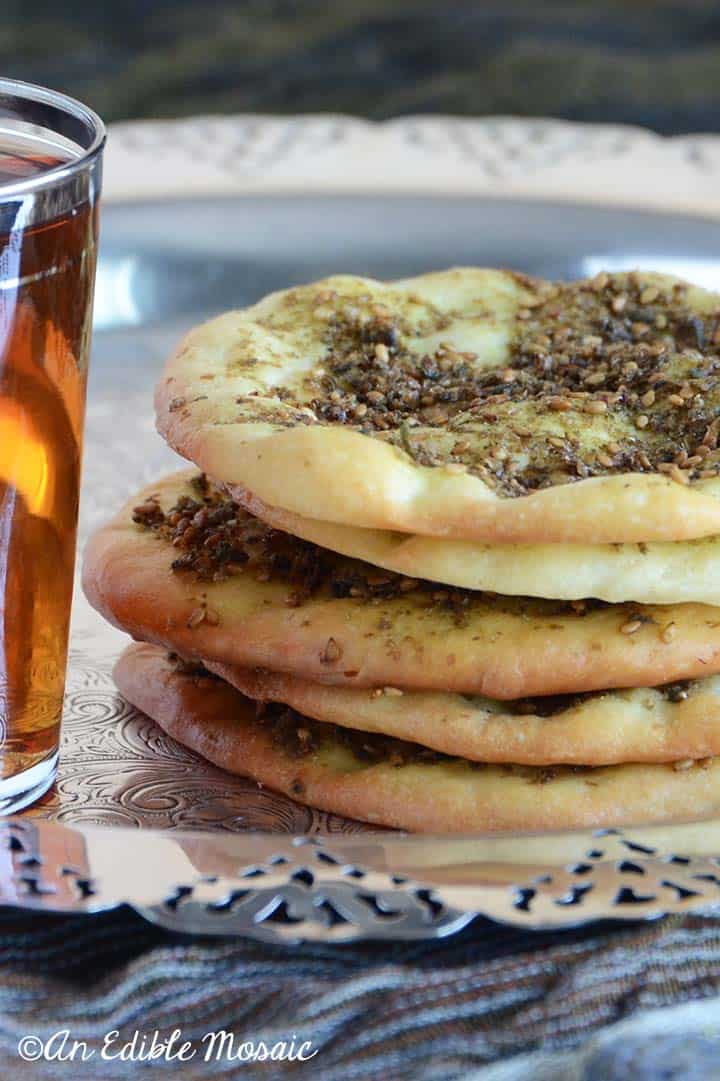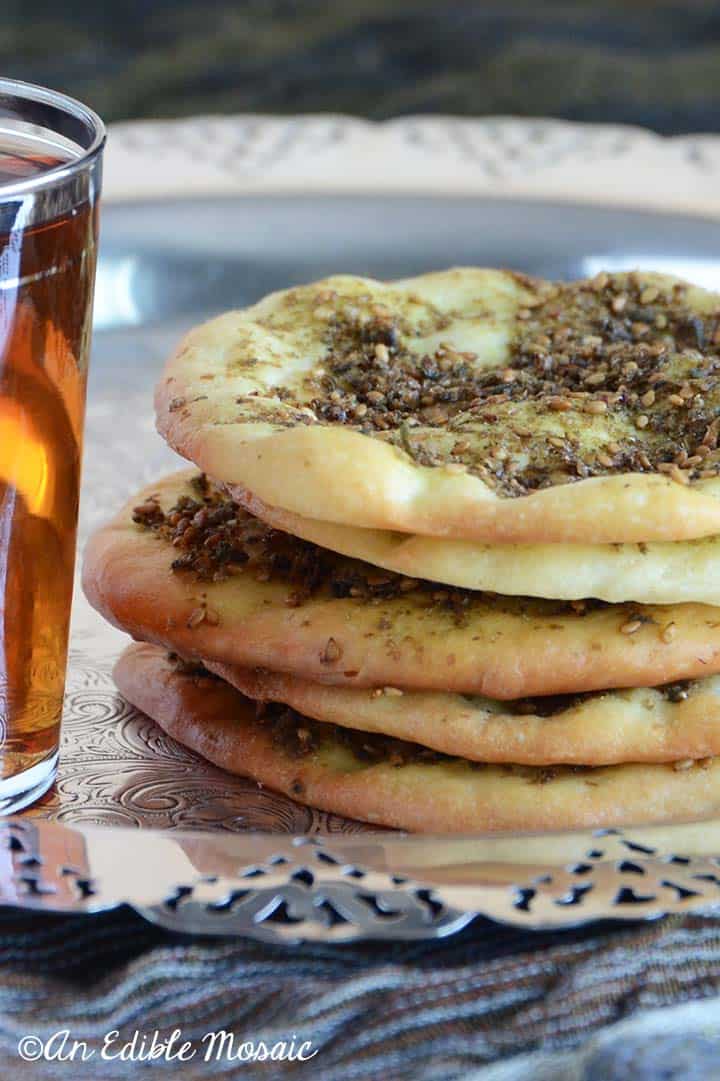 Manakeesh recipe (pictured above) is from my cookbook available on Amazon.
Za'atar wa Zeit
This literally means za'atar with oil. Za'atar is a Middle Eastern thyme spice blend (you can find za'atar on Amazon!). And zeit means oil; specifically, here it refers to gorgeous green-hued, slightly peppery olive oil.
In its simplest form, to eat za'atar wa zeit you tear off a piece of fresh, hot flatbread. Dip it first in olive oil, and then in za'atar. Eat it, and then take a sip of sweet, hot, strong tea.
Manakeesh is another way to get your fix! Yeasted dough is topped with olive oil and za'atar, and then baked.
What to Drink with an Arabic Breakfast
Unlike here in the U.S., coffee isn't commonly part of breakfast. Turkish coffee, which is what is the most common type of coffee in the Middle East, is quite strong, similar to espresso. Also similar to espresso, Turkish coffee is served in little demitasse cups and usually sweetened with sugar.
It's more common to sip tea, especially sweet hot mint tea, along with an Arabic breakfast.
Serve Turkish coffee after breakfast or other meals.
More Middle Eastern Recipes to Make at Home: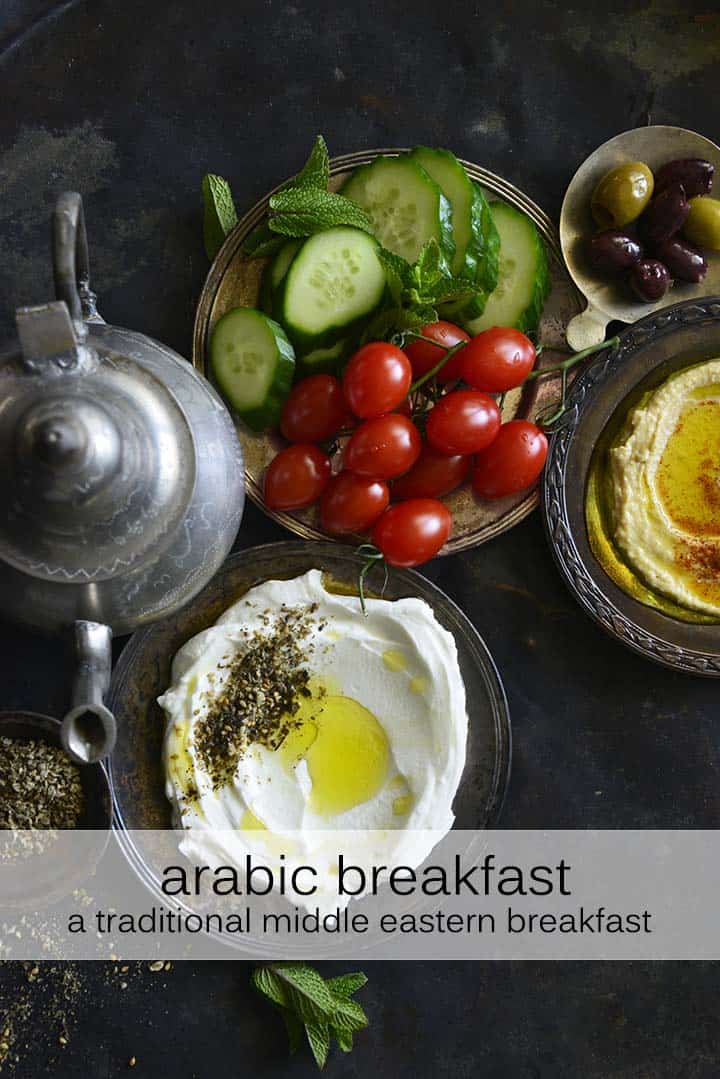 Did you enjoy this article or make one of my recipes? Please leave a comment below because I love hearing from you! You can also tag @anediblemosaic on social media. To stay up-to-date FOLLOW ME on Instagram, Twitter, and Facebook. Xoxo, Faith
Disclosure: This post contains Amazon affiliate links to products I believe in, which means that even though it doesn't cost you anything extra, I will receive a small amount of money from the sale of these items. Thank you for helping to support An Edible Mosaic!