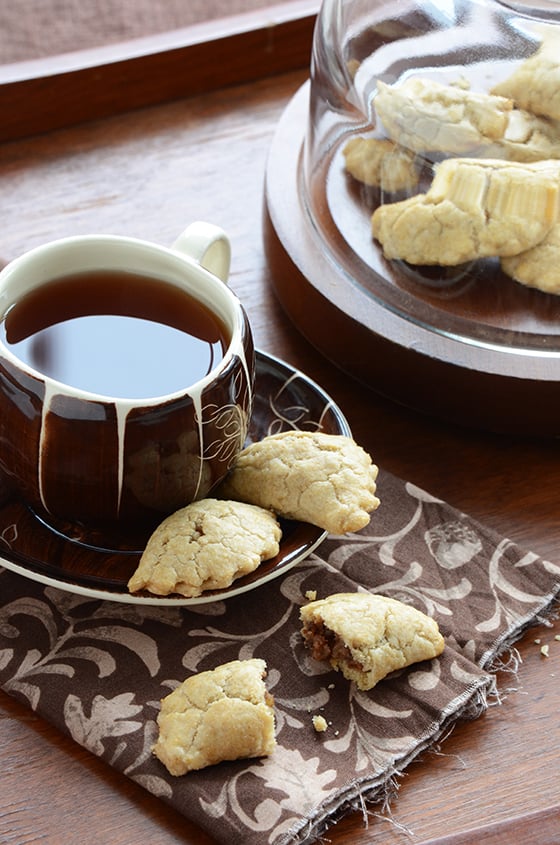 This year I wanted to come up with a healthier holiday cookie that doesn't necessarily taste healthy. Something that I could serve to my family for dessert along with tea and coffee at one of my parents' family dinners and have people be satisfied with dessert – not left wanting something else.
I've been in the mood for Ma'amoul, which are Middle Eastern filled cookies. Perhaps the most common filling for these cookies is dates, but my mother-in-law also makes versions with walnuts and pistachios. For the walnut, she makes two different flavors: 1) cinnamon and 2) rose and orange blossom water-scented. The cinnamon-walnut are my favorite (even rivaling the date-filled for me).
I wanted to come up with a remake of that classic, with a few of my own touches. For starters, I made them into turnovers instead of cookies…and these turnovers are itty-bitty, just about the cutest little cookies ever. I made them a little healthier by using whole wheat pastry flour (instead of all-purpose flour), and using maple syrup instead of simple syrup as the sweetener. (I love how well maple pairs with walnut and warm spices!) And the filling isn't overly sweet – there's only 6 tablespoons of maple syrup in the whole batch! (But take note, for those who like things a little sweeter, feel free to roll the cookies in powdered sugar once they're baked and cooled. It makes for a very pretty presentation too!)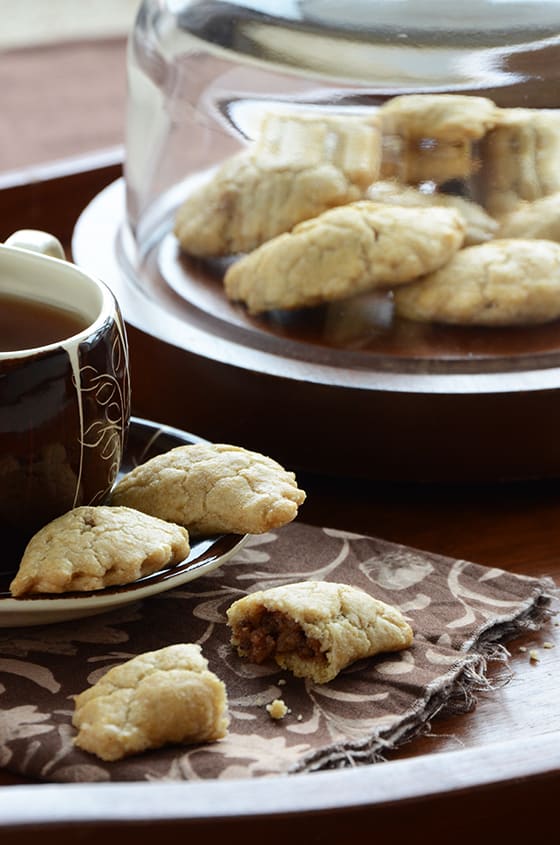 The dough I used to make these cookies is actually my pastry crust recipe (that I use to make both sweet and savory pies), which is just about the flakiest crust a girl can hope for. It has perfect texture, crisp and flaky on the outside and tender inside, and a rich, buttery flavor.
These cookies are dry and crumbly, perfect for enjoying with coffee, tea, or your hot beverage of choice (mulled apple cider works well too). They were a hit with my family, and a few people mentioned that they taste like little Baklava cookies! I'll take it. :)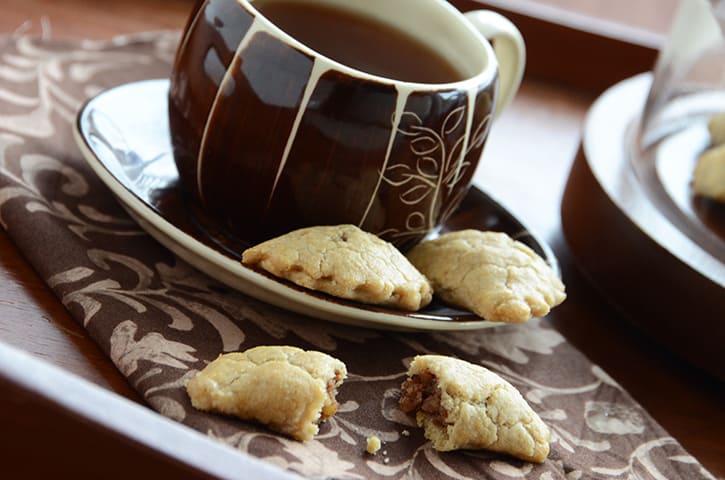 Mini Maple-Cinnamon-Walnut Turnover Cookies
Yield:
About 50 to 60 cookies
Ingredients
Pastry Crust:
2½ cups whole wheat pastry flour (or all-purpose unbleached flour)
¾ teaspoon fine salt
½ cup (1 stick) unsalted butter, chilled and diced
½ cup vegetable shortening
4-6 tablespoons ice-cold water
Filling:
2 cups walnuts
6 tablespoons pure maple syrup
1¼ teaspoons ground cinnamon
½ teaspoon ground nutmeg
Other:
1 large egg, beaten with 1 tablespoon water (for eggwash)
Instructions
Start out by making the pastry. Pulse together the flour and salt in a food processor. Add the butter and shortening and pulse until it looks like coarse meal (the pieces of butter should be about the size of small peas). (Alternatively, this can be done by hand; whisk the flour and salt together in a large bowl, then cut in the butter and shortening with a pastry cutter or a fork until it looks like coarse meal.) Transfer the dough from the food processor to a large bowl. Add water 1 tablespoon at a time, working the dough together with your fingertips just until it comes together, and only adding enough water so the dough comes together when you squeeze it. Gather the dough together into a ball and then divide it into 2 pieces. Flatten each into a disk, wrap in plastic wrap, and refrigerate until chilled, about 30 minutes.
While the pastry chills, make the filling. Pulse the walnuts in a food processor until finely chopped (but don't let them turn into walnut butter; or chop them by hand). Combine the nuts in a medium bowl with the maple syrup, cinnamon, and nutmeg.
Unwrap 1 disk of chilled dough and generously flour both sides. Lay a piece of parchment paper out on your work surface and generously flour it. Place the dough on the prepared parchment paper and top with another piece of parchment. Working from the center out, roll the dough out to a circle about 11 inches in diameter. Use a 2¼ inch cookie cutter (or a glass with that diameter) to stamp out circles in the dough; note that the cookie cutter I used was crimped, but a regular cookie cutter is fine.
Place a slightly scant 1 teaspoon of filling in the center of each circle of dough. Use a thin metal spatula to lift up one circle of dough. Fold the dough over onto itself, pressing the cookie closed and being careful to not tear the dough. The cookie will be very full and the dough should just cover the filling as you press the cookie closed. Continue this way until all the cookies are made. Gather the scraps, re-roll them out, and continue this way; repeat this process with the second disk of dough. (You should get about 50 to 60 cookies total.)
Arrange the cookies on baking sheets 1 inch apart; refrigerate until fully chilled, about 2 hours.
During the last 30 minutes of chilling, preheat the oven to 350F. Once chilled and the oven is hot, brush the top of each cookie with eggwash. Bake until the cookies are golden, about 22 to 24 minutes, rotating the trays once halfway through.
Optionally, you can roll the cookies in powdered sugar once they're cool. Serve with hot coffee or tea.
Notes
Pastry Crust Recipe: This is the recipe I also use for both my sweet and savory pies. If you want to use it for pie, note that this recipe makes enough crust for 1 double-crusted 9-inch pie or 2 single-crusted 9-inch pies.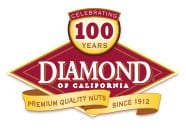 100 years of holiday traditions you just don't mess with. Classic family recipes call for a classic ingredient. Diamond of California nuts. The only nut good enough for your mom's mom's recipes is the only one that should be in yours. Diamond of California. Premium quality nuts since 1912.
Disclosure: Compensation for this post was provided by Diamond of California via Glam Media; such compensation did not influence the opinions expressed herein. The opinions expressed herein are my own, and are not indicative of the opinions or positions of Diamond of California.