Does anyone else remember as a kid requesting to go to IHOP specifically for their corncakes with pecan maple syrup? Hot off the griddle, dripping with maple syrup, with a hint of nutty crunch from the pecans…as a 10 year old, food really didn't get any better than that, except for maybe pop rocks and warheads. I haven't had pop rocks or warheads in years, but corncakes with maple syrup and pecans are still a favorite of mine.
I admit that these are not the corncakes of my childhood though. I added quinoa, which make for nice chewy cakes (and also added nutrition!). And the cakes themselves are subtly flavored with cinnamon and maple, which almost alleviates the need to add additional maple syrup…almost. ;)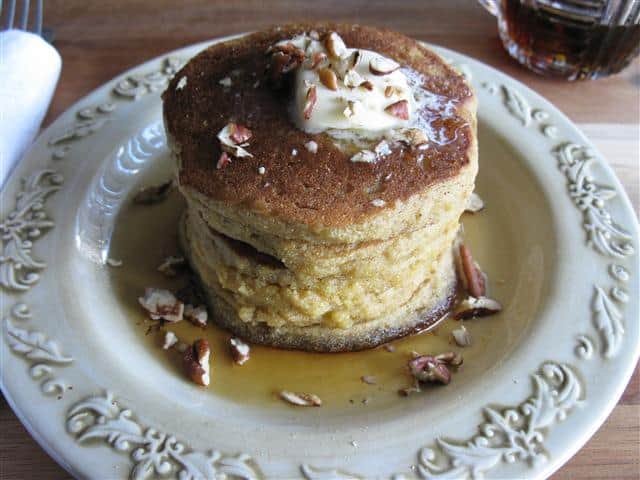 Quinoa Corncakes
(Yield: 15 cakes, about 5-7 servings)
1 c cornmeal
½ c all-purpose flour
1 teaspoon baking soda
½ teaspoon salt
½ teaspoon cinnamon
2 TB lightly packed brown sugar
¾ c water
⅔ c buttermilk
2 large eggs
¼ c pure maple syrup, plus more for serving if desired
2 TB canola oil, plus a little more to grease the griddle
1 c cooked quinoa (¼ c before cooking)
Chopped pecans (optional, for serving)
Butter (optional, for serving)
In a small bowl, whisk together cornmeal, flour, baking soda, salt, cinnamon, and brown sugar. In a medium bowl, whisk together water, buttermilk, eggs, maple syrup, and canola oil. Gently stir dry ingredients into wet, adding a little at a time until everything is incorporated. Gently fold cooked quinoa into the batter.
Preheat a griddle over medium to medium-high heat (or if you have an electric griddle, preheat it to 350F). Once the griddle is hot, lightly brush it with canola oil, then use a ¼ c measure to scoop out the batter into round cakes on the griddle. Cook each cake until golden on both sides, flipping once (about 3 minutes per side). You can turn down the heat if the cakes start cooking too fast. Repeat this process until all the batter is gone (this makes about 15 cakes).
If desired, serve with maple syrup, butter, and chopped pecans to sprinkle on top.
Mmm, love the mile-high stack...note that this is actually two servings though...perfect for breakfast in bed with your honey. ;)