Royal Tea at Peacock Alley in the Waldorf Astoria Orlando is an elegant, relaxing way to spend a Sunday afternoon!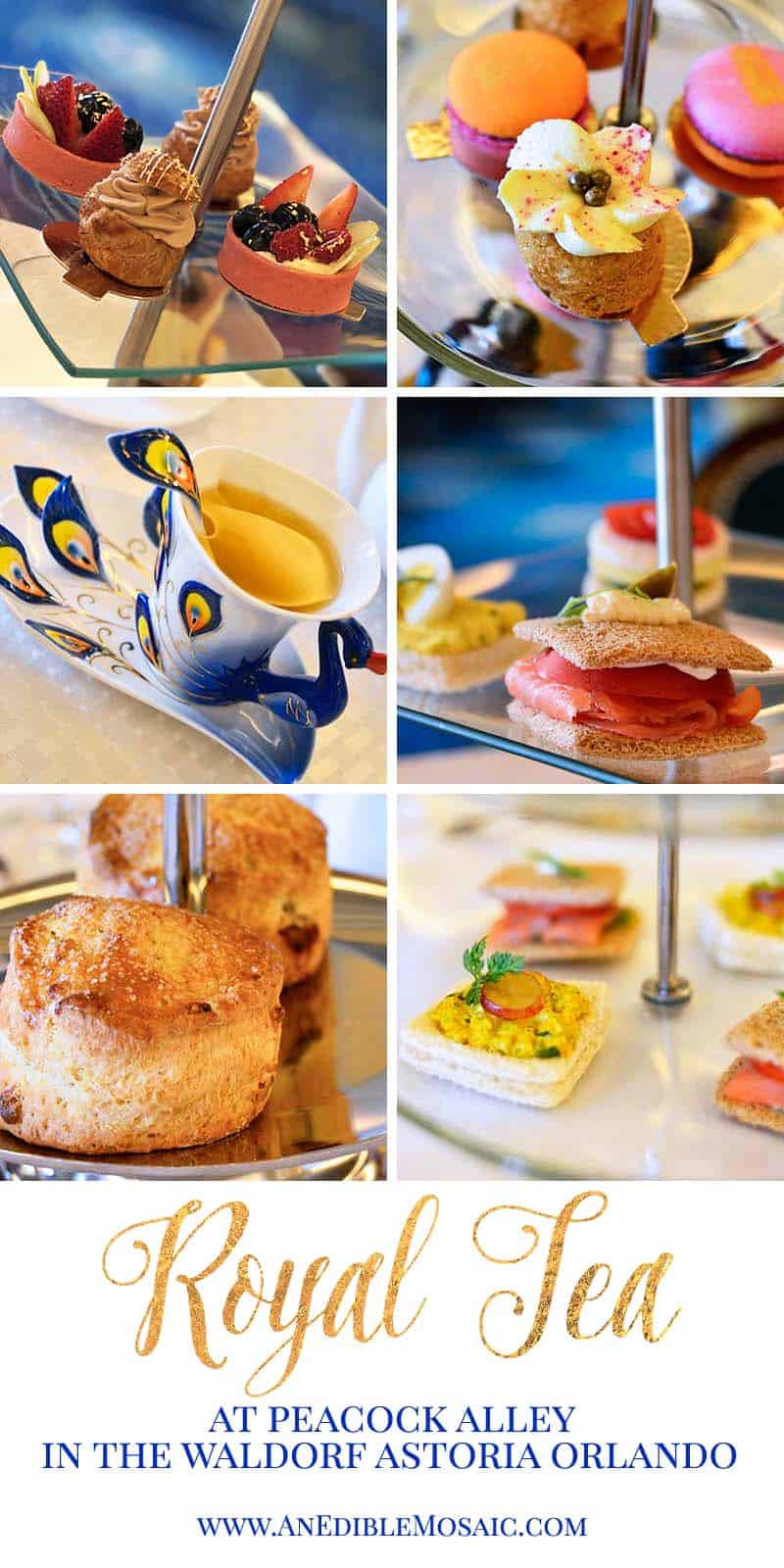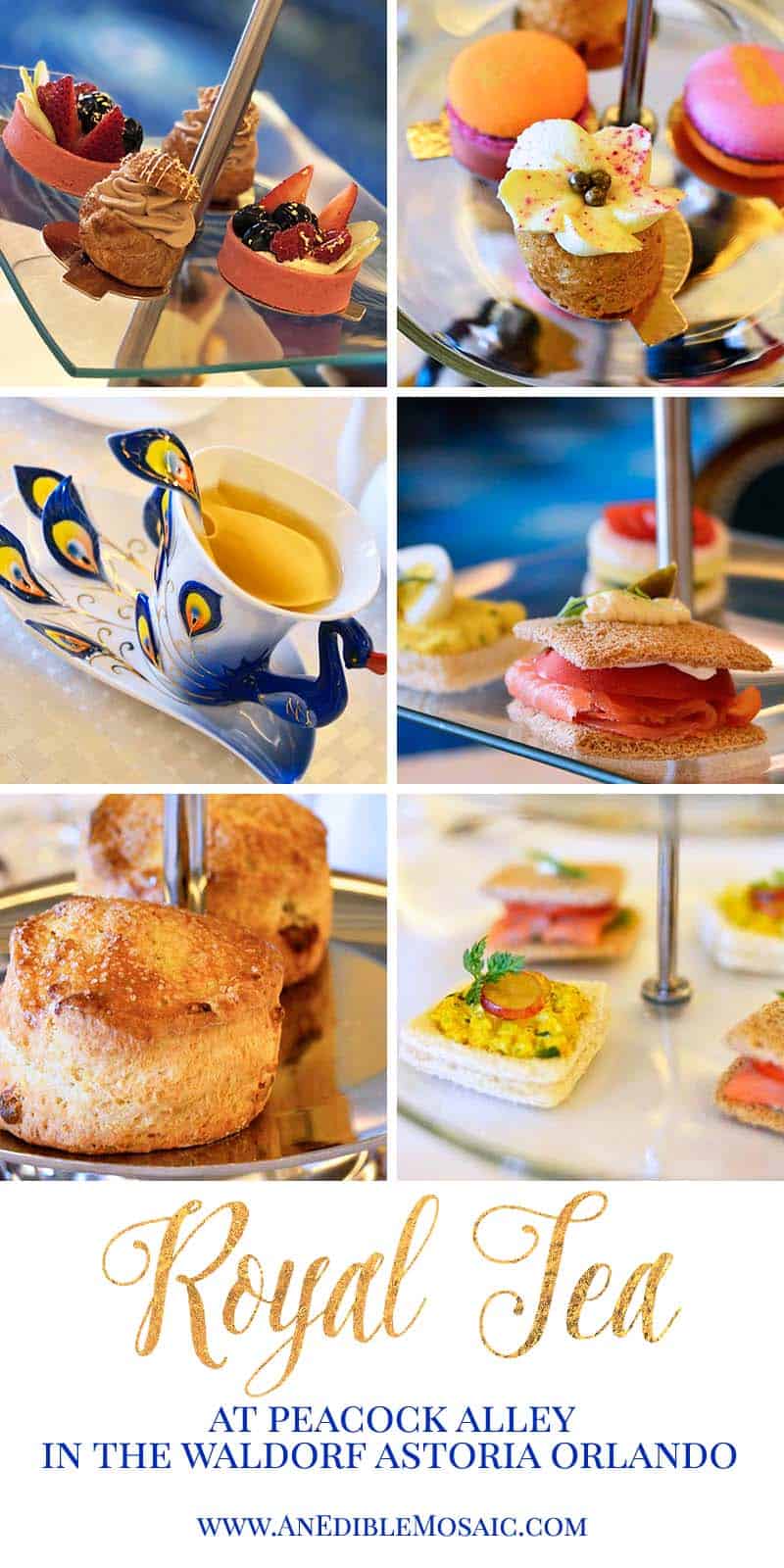 Afternoon tea is one of the most relaxing and elegant ways to spend a Sunday afternoon. It's full of beautiful girly things, like pretty teapots and cups, dainty sandwiches, and two-bite sized sweet treats that are almost too pretty to eat.
History of Afternoon Tea
Afternoon tea is more than just enjoying a pot of tea; it's a custom originating in Britain in the 1840's. Anna, the seventh Duchess of Bedford, is credited with the introduction of afternoon tea. It's said that mid-afternoon she wanted a bit of sustenance between lunch and dinner to tide her over; this became a daily routine for her, and then she began inviting friends to join in her afternoon ritual. Queen Victoria started partaking in this afternoon custom, and by the 1880's afternoon tea was popular with upper class women who would change into floor-length gowns, long gloves, and fancy hats and gather in the drawing room. (Read more about afternoon tea on Historic UK, Afternoon Tea, and Royal Central.)
What is Afternoon Tea
Afternoon tea is a selection of dainty, scrumptious tea sandwiches typically with the crust removed, such as cucumber, curried chicken, and egg salad. It also includes fresh-baked scones served with clotted cream and fruit preserves, a magnificent collection of little pastries, cakes, and cookies, and a selection of fine teas.
Nowadays, afternoon tea is a more special occasion event that you can enjoy in finer hotels or charming tearooms. I've had the absolute pleasure of having tea at a few different places, including Harrods in London, Disney's Grand Floridian, The Plaza in New York City, and most recently, Waldorf Astoria Orlando. I've had tea a couple times at the Waldorf and both times were exquisite.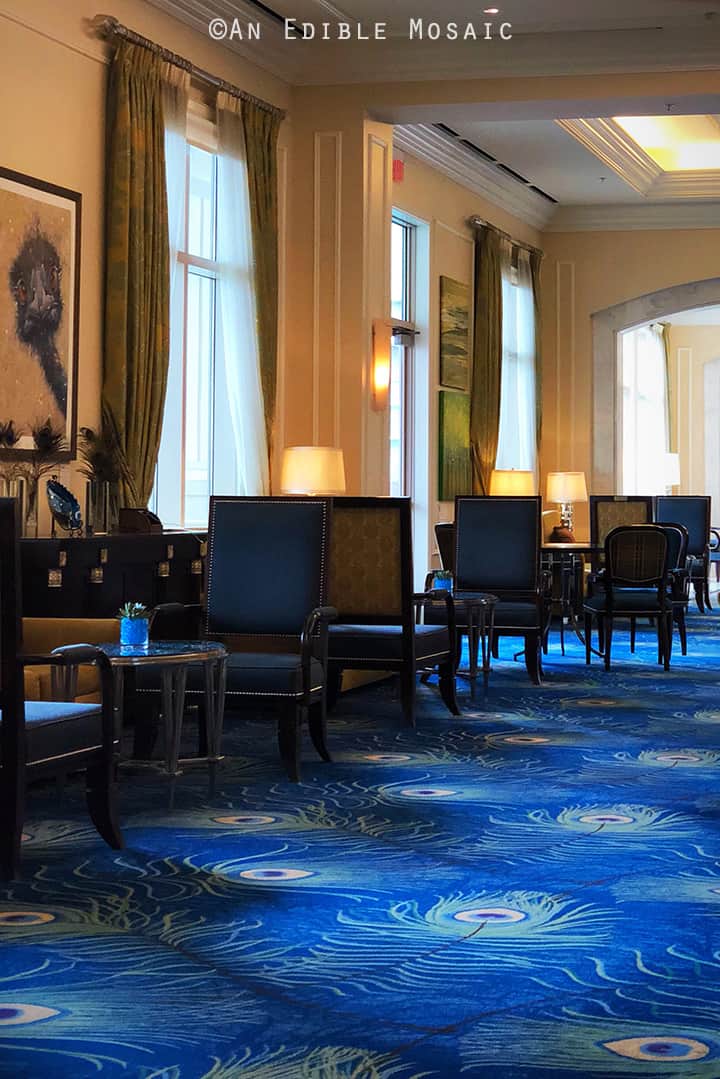 Peacock Alley in the Waldorf Astoria Orlando
Royal Tea at Peacock Alley in the Waldorf Astoria Orlando
Royal Tea at Peacock Alley in the Waldorf is a truly beautiful experience. No detail goes unnoticed here.
Ambiance
Starting with the ambiance, their classic peacock carpet, huge windows overlooking the stunning Florida landscape, and live pianist all add to the experience. They present you with your own personalized menu when you're seated. They have new linens, plates, and flatware, which are all stunning. And I'm happy to say, they still have their classic, beautiful peacock teacups!
Service
The servers are attentive and engaging, always willing to go the extra step, and seem to anticipate what you want before you even tell them. For example, I asked for milk for my chai tea and the server offered to steam it. Also, I mentioned how much I loved their house-made berry jam and another served packaged some up for me to take home. These little extras truly made me feel special.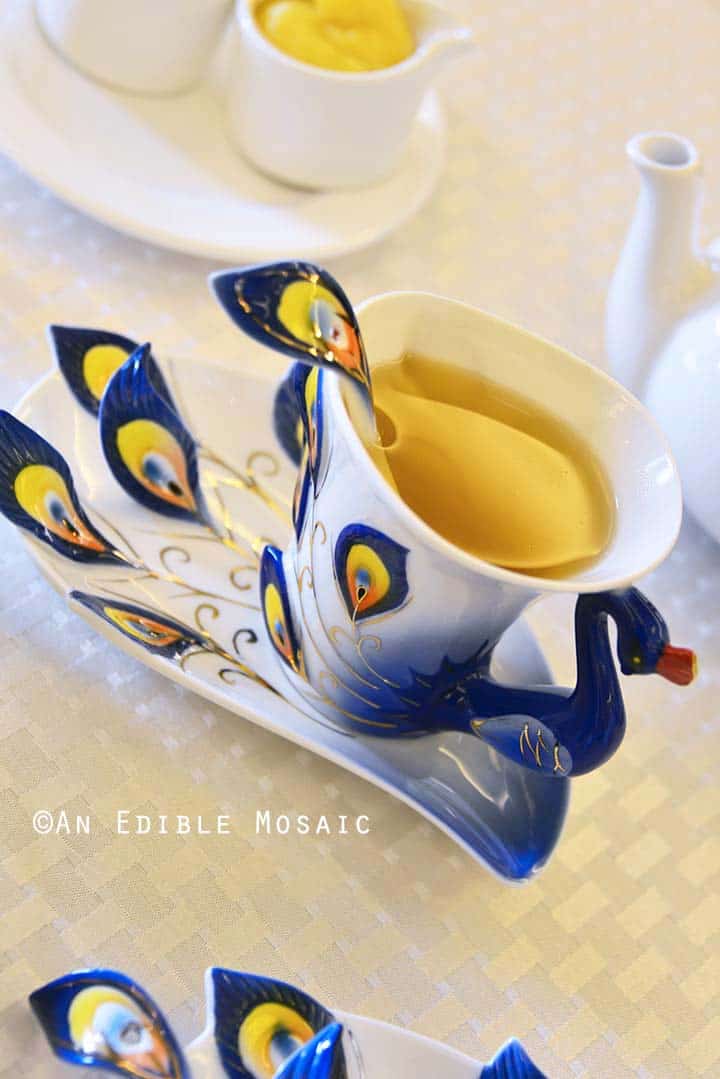 Tea
Their selection of loose leaf Harney & Sons teas is impressive. I've had the Chai, as well as the Black Currant, and the Bangkok. I enjoyed the Chai with hot steamed milk, a drizzle of honey, and a cinnamon stick. The Black Currant was subtly sweet on its own and with a sugar cube, I thought it tasted like fresh berries. The Bangkok was my favorite though; it's bancha green tea blended with lemon grass, ginger, and coconut and I loved it as-is. They also have an hourglass tea timer so you know exactly how long to steep your tea.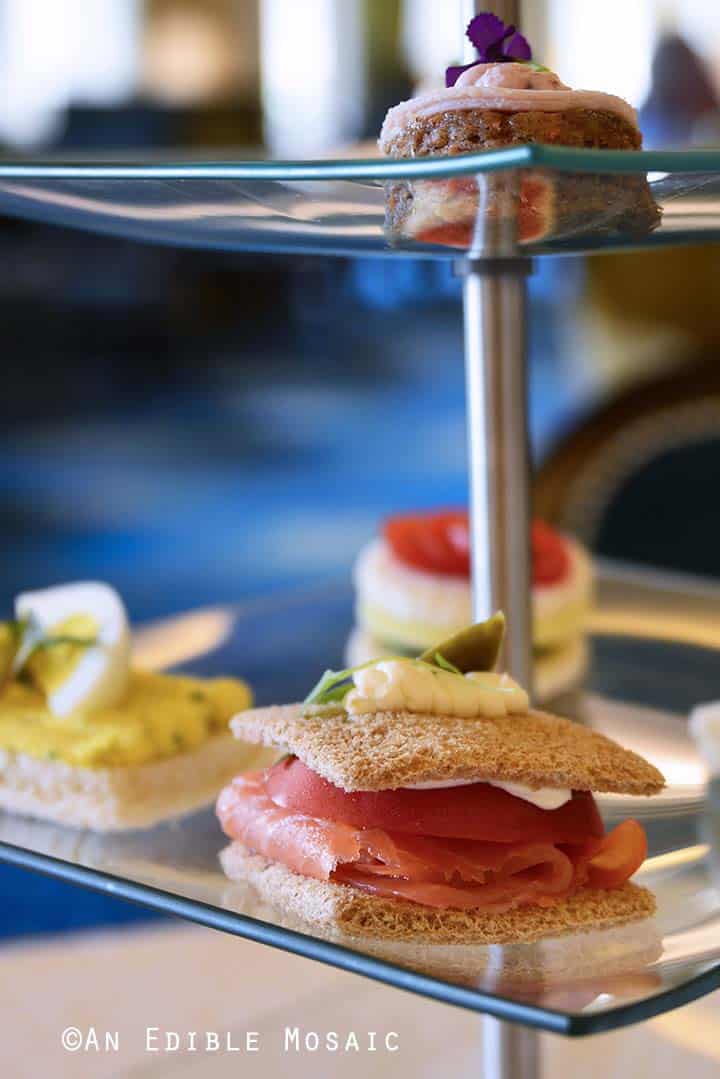 Finger Sandwiches
Once you have your steaming pot of tea, next come the finger sandwiches. There was a selection of Cucumber (shaved cucumber and pear, dill cream cheese), Roasted Turkey (dried cranberry cream cheese on carrot cake), Black Forest Ham (whole grain mustard cream cheese, pequillo peppers, arugula), Classic Egg Salad (herb mayonnaise, watercress), Waldorf Curry Chicken Apple Salad (chicken apple salad, curry, caramelized walnuts, julianne apple on white bread), and Smoked Salmon (shallots, crème fraiche, capers).
The curried chicken salad, which normally isn't a favorite of mine, actually was the one sandwich I wished I had another of! It was a perfect balance of flavors and textures and not at all overpowering or heavy. The sweet and savory carrot cake sandwich came as a delicious surprise to me because I never would have thought to pair savory turkey breast with sweet cake…but it works, and it works splendidly. And the smoked salmon, with its rich buttery texture always wins my heart.
Scones
The scones came next (blueberry was the flavor of the day last time I was there – yum!), and they were served with lemon curd, house-made berry jam (with a hint of cinnamon), and clotted cream. I literally fell in love with that jam.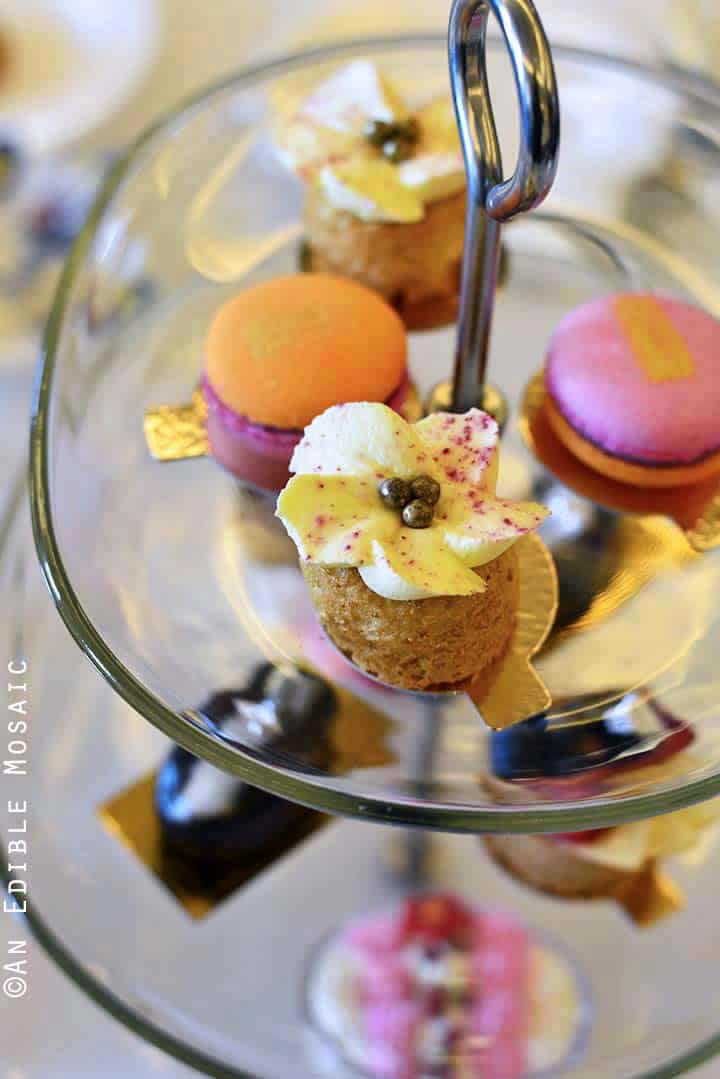 Dessert
Last, but certainly not least, and perhaps the pièce de résistance, dessert! I've had Royal Tea here a couple different times and each time dessert has blown my mind. From mini pastries, tarts, cakes, cookies, and puddings, each little treat is a work of art, and all are as delicious as they are lovely. Because dessert changes each time, it's hard to choose a favorite, but I will say that I always look forward to the macaron flavor of the day (passionfruit was one of my favorites), and I once had an adorable two-bite-sized fruit tart with a raspberry crust that I truly savored.
The ambiance, tea, finger sandwiches, scones, and dessert are all swoon-worthy at the Waldorf, but what truly sets it apart for me and makes it a magical experience is the outstanding service. It's the perfect place to celebrate a special occasion, like a birthday, shower, or Mother's Day!
Disclosure: Thank you to the Waldorf Astoria Orlando for hosting me for Royal Tea at Peacock Alley. It is always a wonderfully memorable experience. As always, opinions stated are my own.