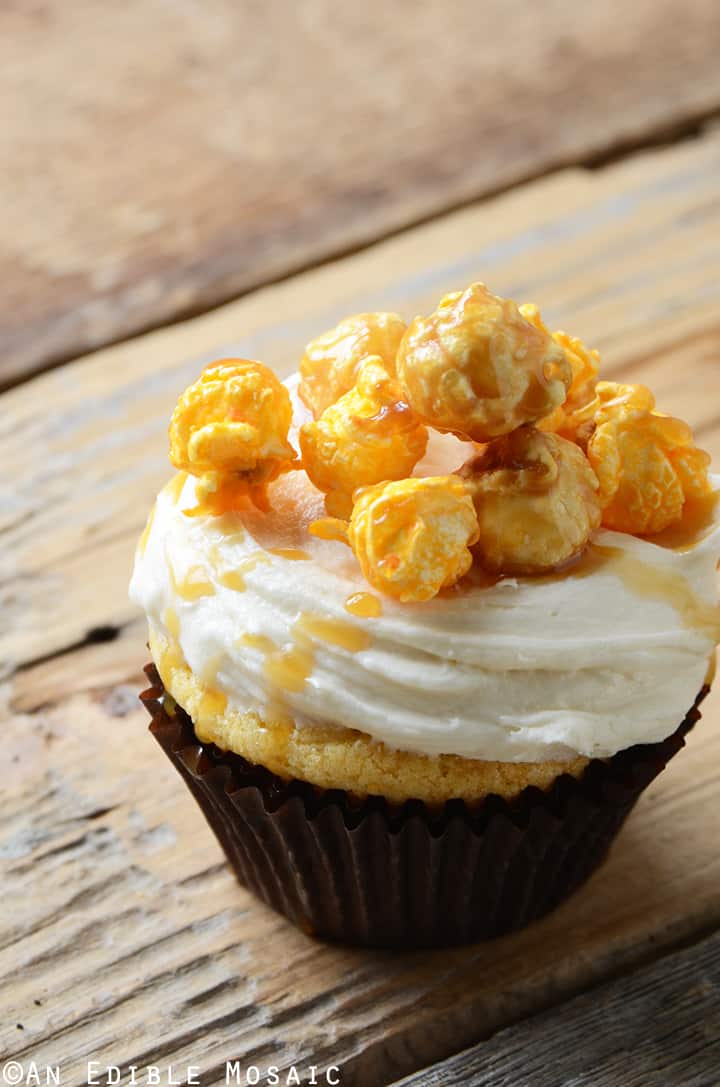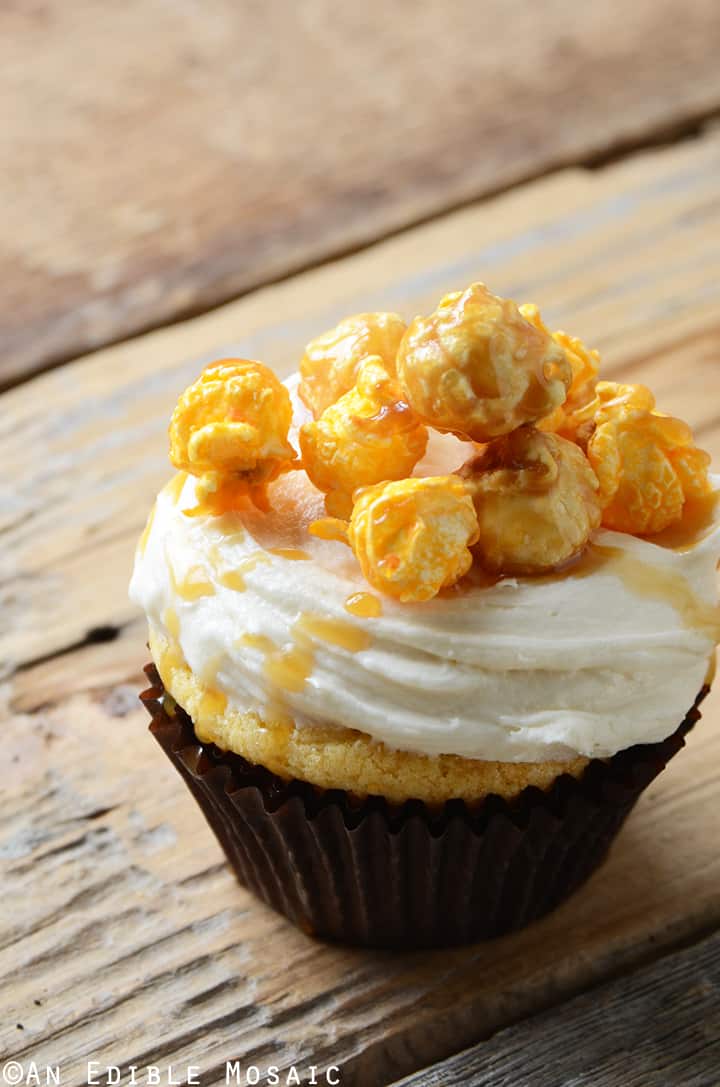 So, Chicago Mix. You sweet, salty, sultry little vixen, you.
I think you might very well be the one and only trashy snack from the junk food aisle that tempts me.
But you tempt me so badly I avoid that aisle like the plague.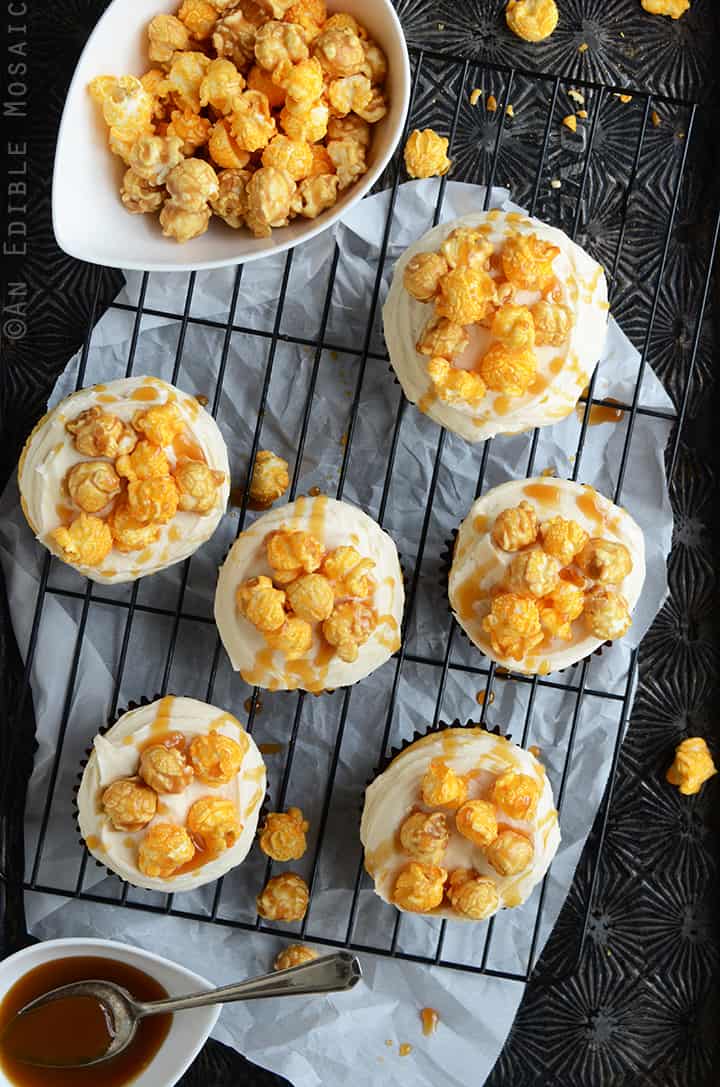 That is, until I give in and buy a bag. Only to get it home and have inspiration hit on how I can drag that single bag out as long as possible (because after that bag is gone, you know I'm cut off for another month).
If you just get me when it comes to Chicago Mix popcorn, you'll want to run right out and buy a bag to make these cupcakes. Unless of course, you already have a bag in your pantry...in which case, can we be besties? ;)
And if you've never had Chicago Mix before, I know how it sounds…ewww! But there's just something about it that's so wrong its right. The complex bite of sharp Cheddar paired with sweet caramel is strangely addictive. These cupcakes capitalize on that genius flavor combo.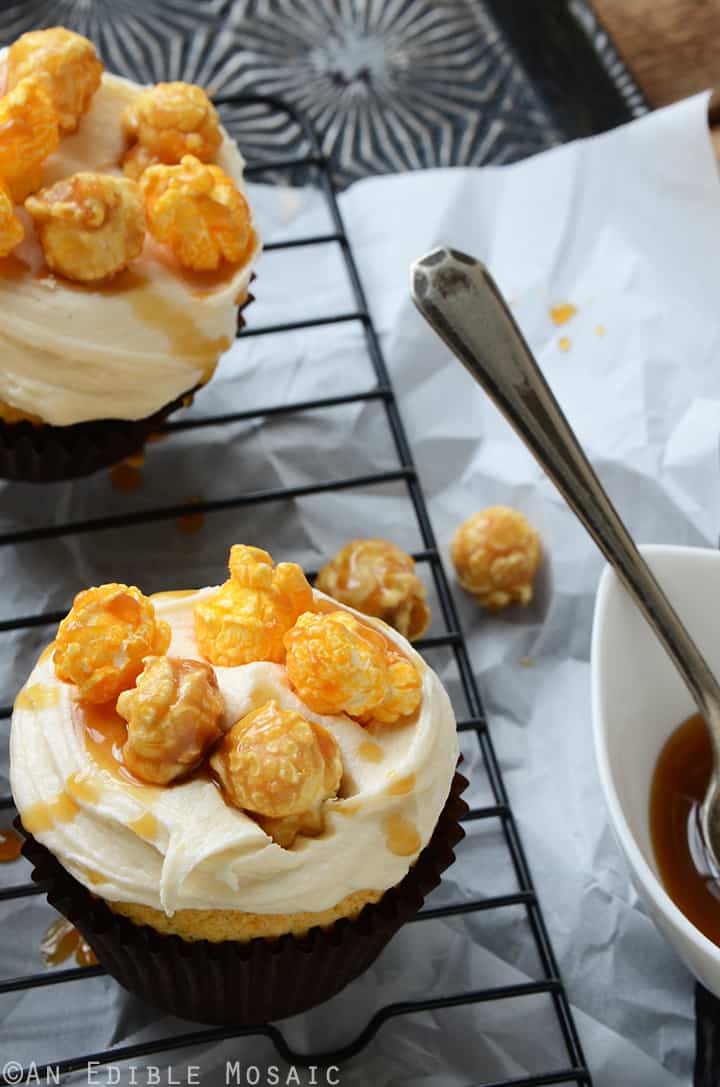 Plus, bonus (because I heart you), this recipe only makes six cupcakes, so even if you want to indulge in one (or one today and one tomorrow), you won't have a ton of cupcakes left on hand to contend with. Send the rest packing with hubs to work and he'll be sure to make new friends.
Or you can easily double this batch and take these beauties to a summer picnic or potluck because you know they'll make you the star of the party.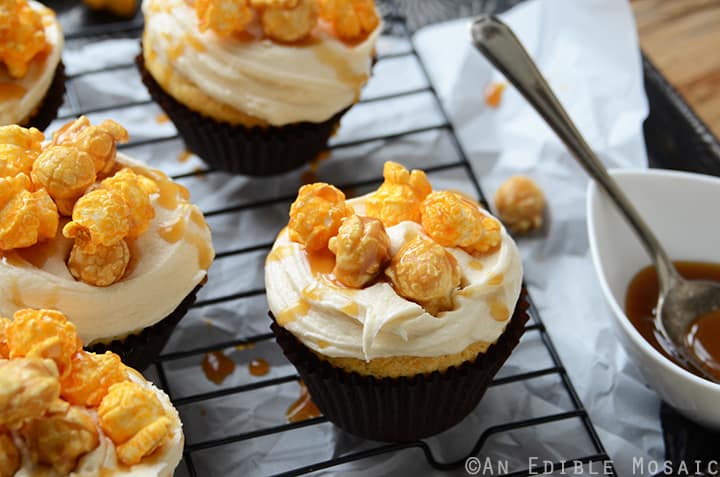 Cheddar-Caramel Chicago Mix Cupcakes
Prep time:
Cook time:
Total time:
These cupcakes take full advantage of the genius Cheddar/caramel combo that is Chicago Mix popcorn.
Ingredients
Cheddar Cupcakes:
2 oz (60 g) sharp Cheddar, shredded
2 tablespoons unsalted butter, at room temperature
½ cup (100 g) sugar
1 large egg
¼ cup (60 ml) milk
1 teaspoon vanilla extract
¾ cup (95 g) all-purpose flour
¾ teaspoon baking powder
¼ teaspoon fine salt
Caramel Buttercream:
6 tablespoons (85 g) salted butter (see Note)
1 tablespoon caramel sauce (store-bought or homemade)
½ teaspoon pure vanilla extract
1½ cups (175 g) powdered sugar
½ to 2 teaspoons milk (more or less to reach desired consistency)
Other:
¾ cup Chicago Mix popcorn (I used G.H. Cretors Chicago Mix)
6 teaspoons caramel sauce (store-bought or homemade)
Instructions
For the cupcakes, preheat the oven to 350F; line a cupcake tray with paper liners.
Add the shredded cheddar, butter, and sugar to the bowl of a food processor; pulse a few times to get it going, then turn it on and let it process until it forms a ball (sort-of like dough), stopping to scrape the sides down as necessary. Add the egg, milk, and vanilla and process to combine.
Whisk together the flour, baking powder, and salt in a large bowl. Add the wet ingredients and stir to combine, being careful not over-mix.
Pour the batter into the prepared tray and bake until a toothpick inserted inside comes out clean, about 18 to 20 minutes. Cool completely before frosting.
Once the cupcakes are cool, make the buttercream. Use a handheld electric beater to mix the butter, caramel sauce, and vanilla extract together in a medium bowl. Add the powdered sugar and continue beating while gradually adding milk until the buttercream is smooth and creamy. (You may need a little more milk or powdered sugar to achieve the right consistency.)
Frost the cupcakes with the buttercream; top each with 2 tablespoons Chicago Mix popcorn and 1 teaspoon caramel sauce.
Notes
Salted Butter for the Caramel Buttercream: If you only have unsalted butter, use that and add a pinch of fine salt.