This moist Caramel Apple Cake Recipe is warmly spiced, rich with caramel, and has a full pound of apples baked into the cake. And it's finished off with an easy-to-make vanilla cinnamon buttercream!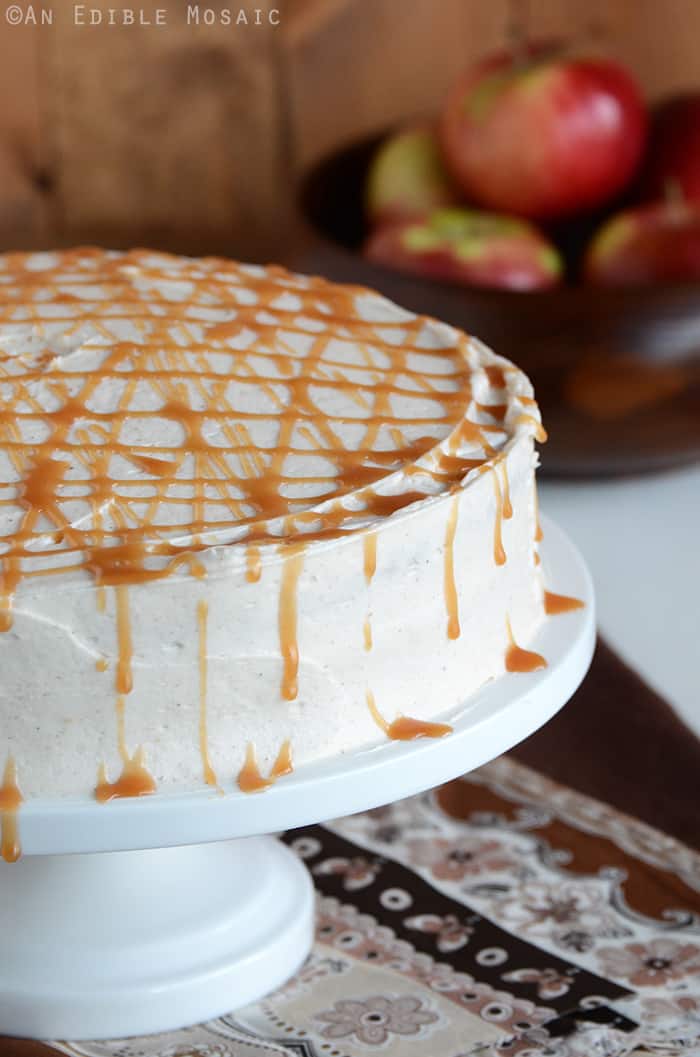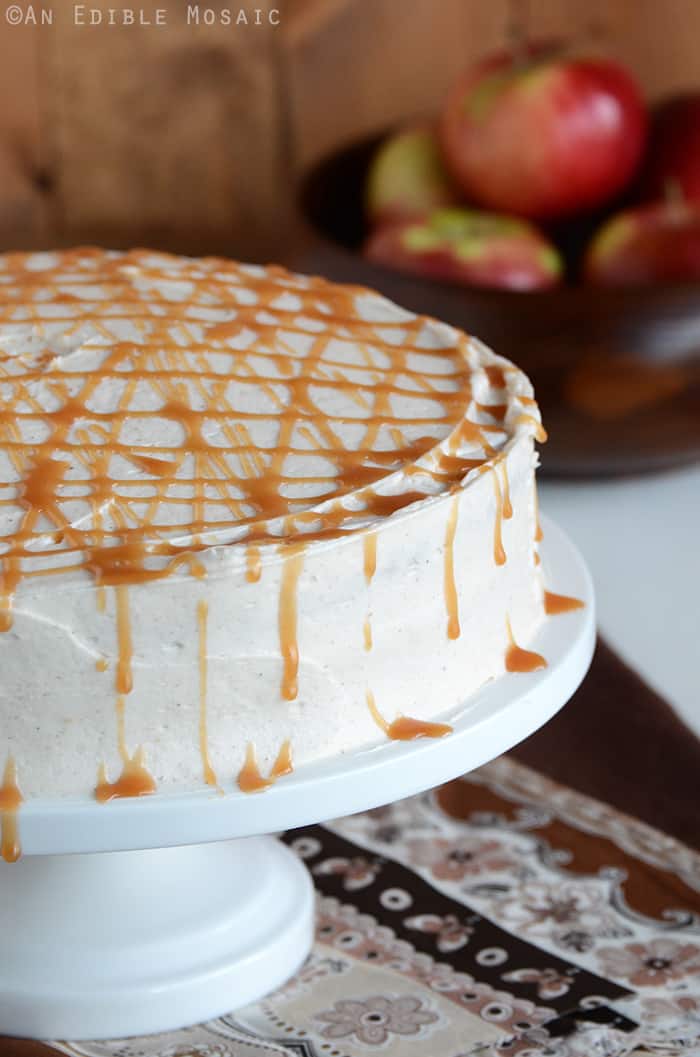 I can be such a party pooper when it comes to surprises. Every year before Mike's birthday, I spend weeks searching for the perfect gift for him. I buy it in secret and then stash it away.
This is all wasted energy. I always, always tell him what it is before his birthday (it's sort-of a windfall for him, I guess).
At Christmas I'm no better. I've been known to bribe my sister with Tim Hortons coffee (her favorite) and homemade muffins for information on gifts. I can't help it; the anticipation is too much for me, lol.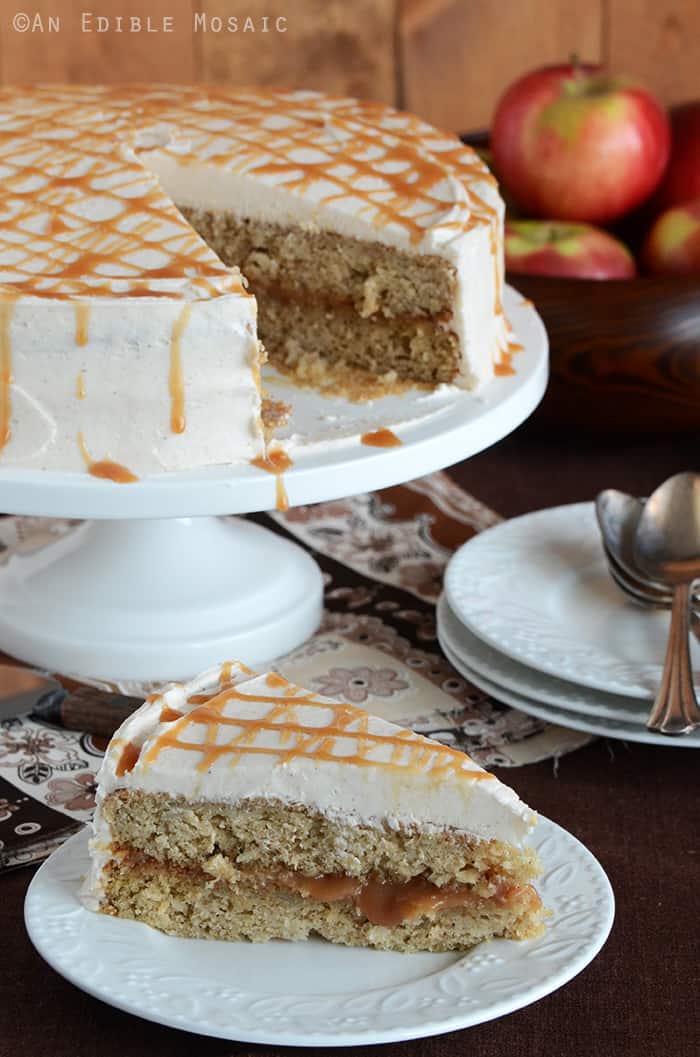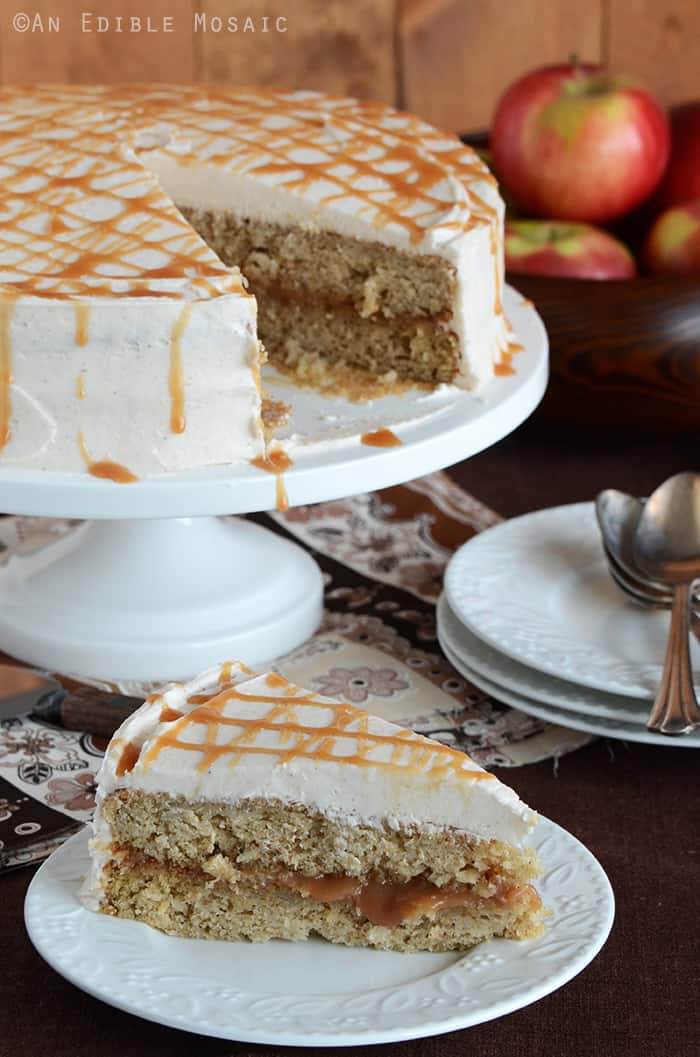 And I won't even talk about the surprise party my mom collaborated with my college roommates to throw for me on my 21st birthday. Suffice to say, I was more than surprised; shocked, actually. I recognize that they did an amazing thing for me, but surprises are not my strong point and I was not the happiest camper. (Don't worry, I got over it quickly. Chocolate cake and presents helped with that.)
Mike knows about my strange issues with surprises. And being the sweetheart that he is, he usually obliges my eccentricities. Except last week when he called me mid-morning one day, to say that his boss was coming for dinner that night and could I make something nice. It was a total surprise, but I was prepared without even knowing it.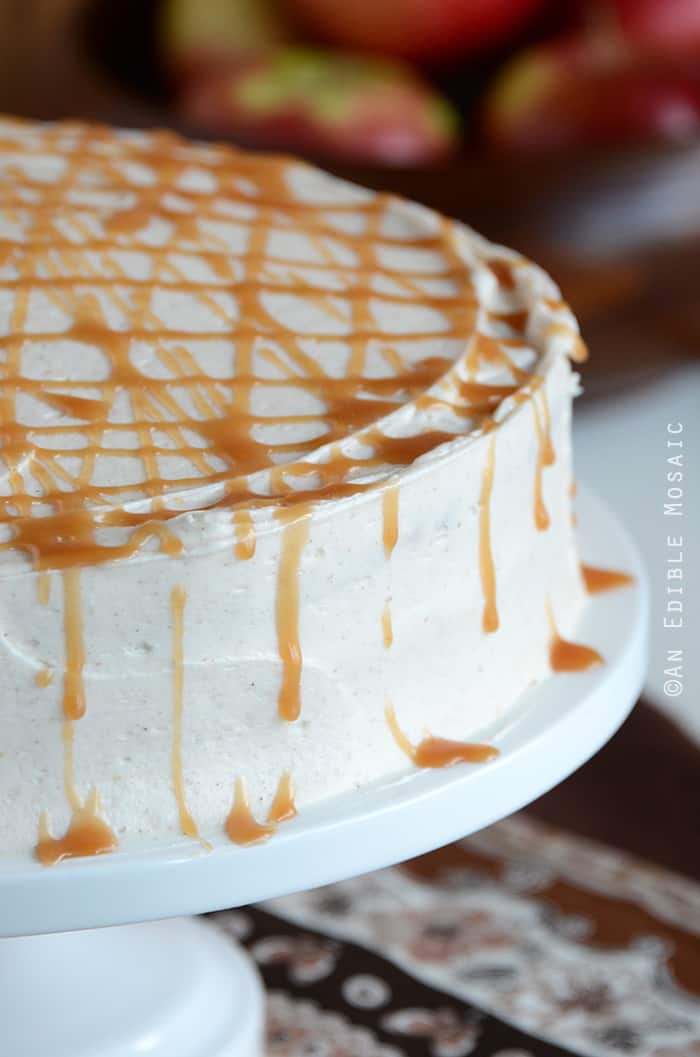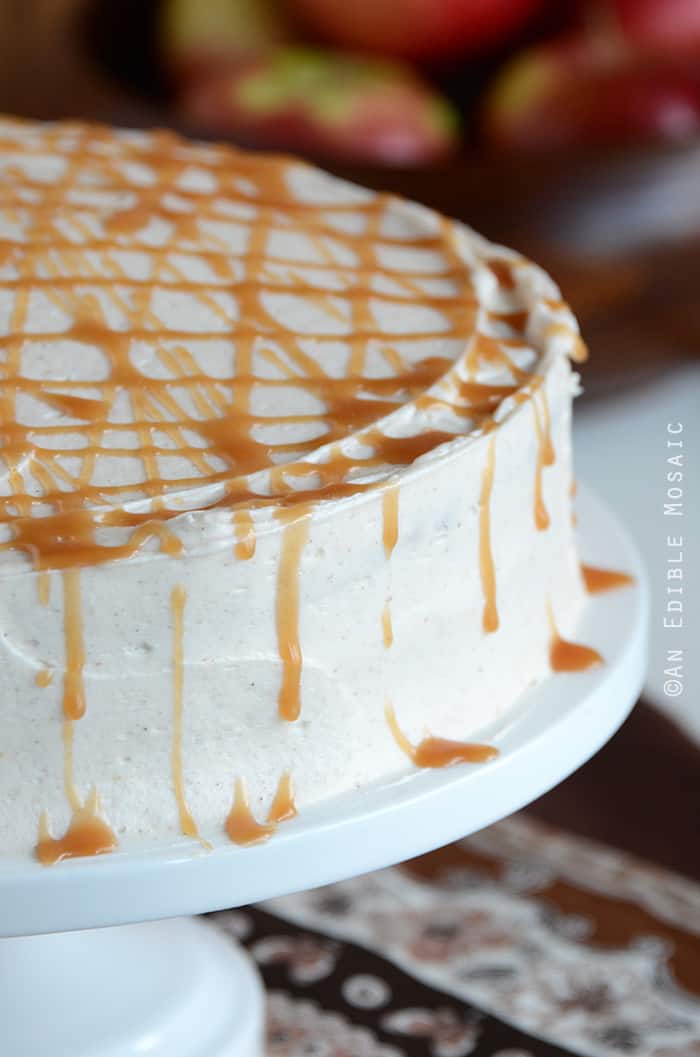 I always have an abundance of apples on hand, especially this time of year (I just recently went apple picking), and what goes better with apples than caramel? Ok, maybe peanut butter or cinnamon, but caramel is definitely another great pairing.
I had actually made caramel sauce the night before to drizzle over some apples, and I was in the process of dreaming up this cake when he called.
Timing is everything, is it not?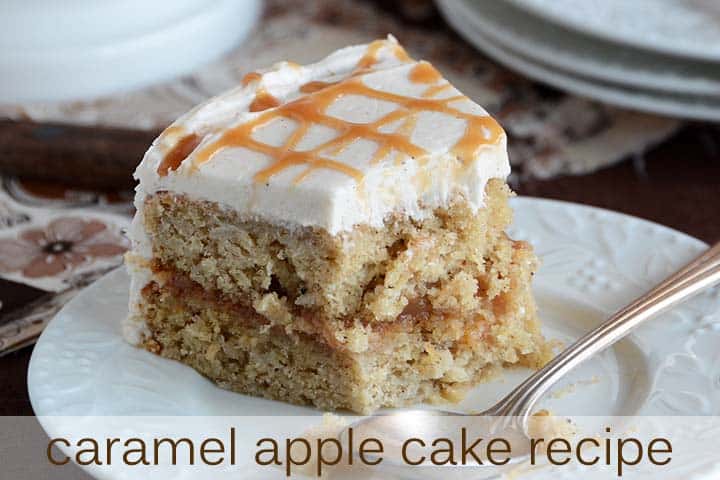 Homemade Caramel Apple Cake Recipe
This Caramel Apple Cake Recipe is moist with a tender crumb, aromatic with warm spices, and perfectly accentuated with an easy homemade salted vanilla caramel.
I made a quick and easy American buttercream flavored with vanilla and cinnamon, which goes really well with apple.
Can I Add Fresh Apple to Cake?
If you're looking for ways to use apple this fall, this cake is perfect. It uses a full pound of apples!
For this cake, the apple is shredded, so you don't get big chunks. The apple bakes into the cake and keeps it moist without the need for a ton of oil.
More Apple Recipes to Try: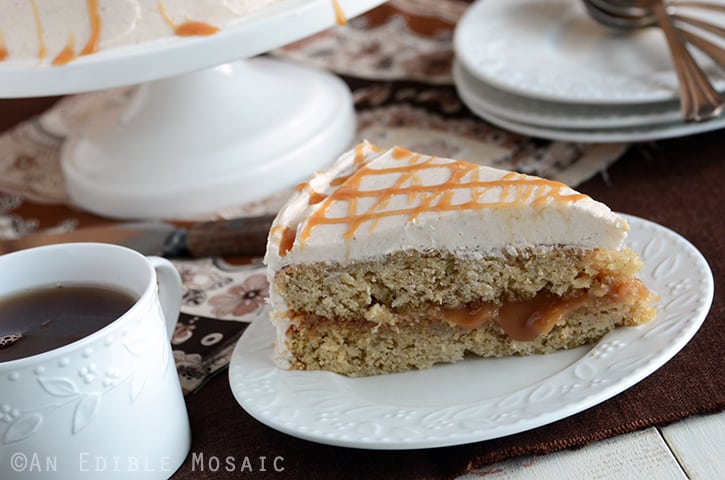 Did you make this recipe? Please rate it and leave a comment below because I love hearing from you! You can also tag @anediblemosaic on social media. To stay up-to-date FOLLOW ME on Instagram, Twitter, and Facebook. Xoxo, Faith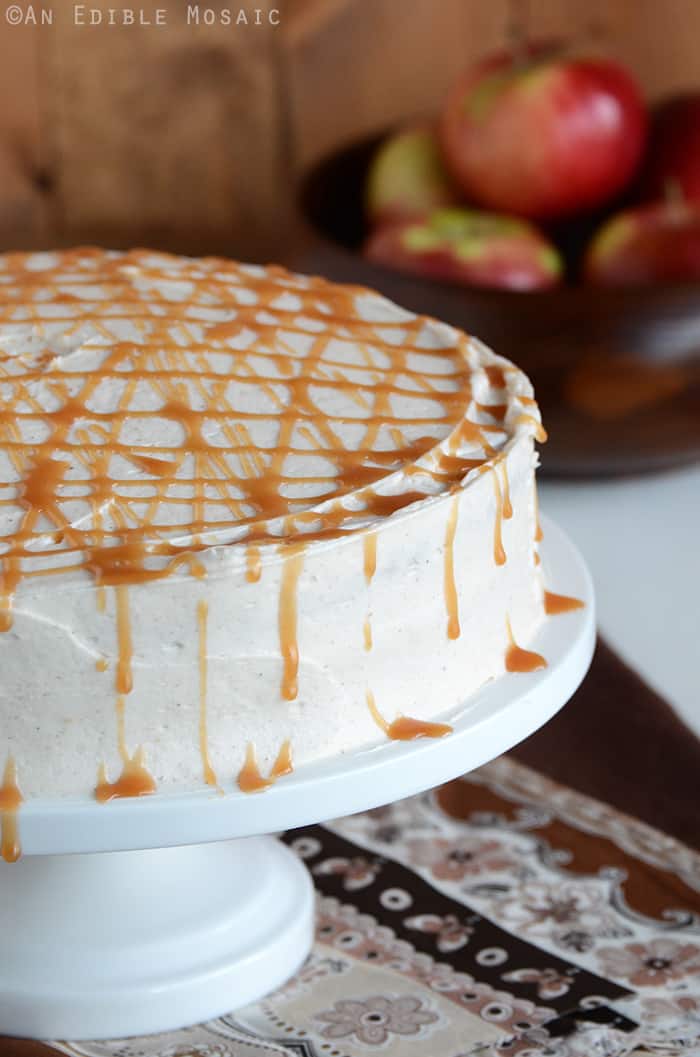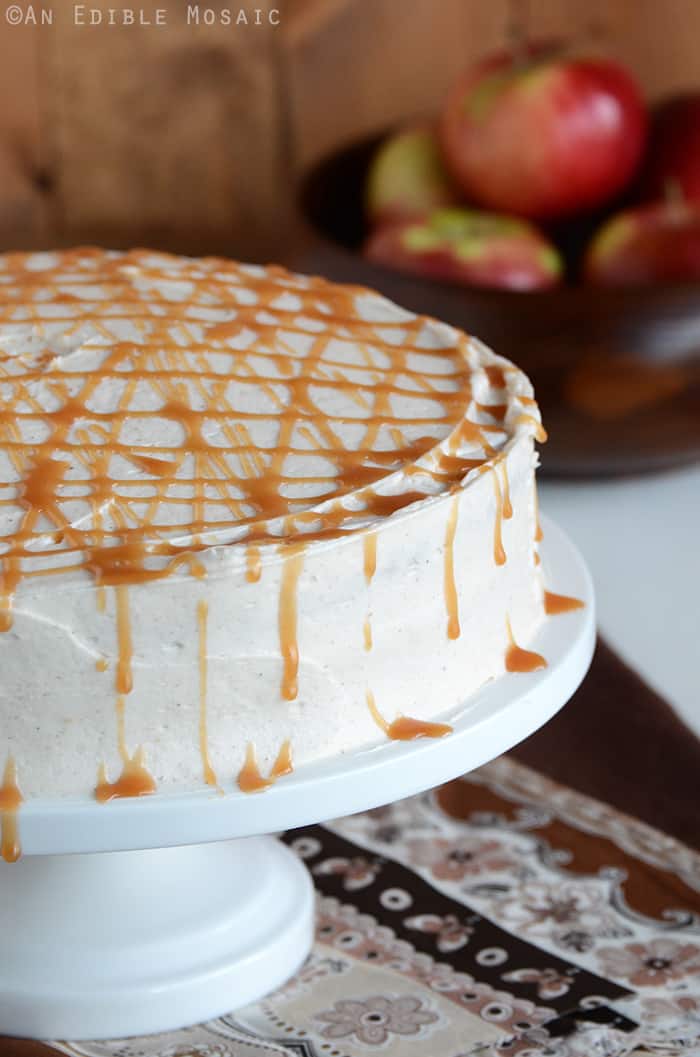 Caramel Apple Cake Recipe
This moist Caramel Apple Cake Recipe is warmly spiced, rich with caramel, and has a full pound of apples baked into the cake. And it's finished off with an easy-to-make vanilla cinnamon buttercream!
Ingredients
Vanilla Cinnamon Frosting:
Instructions
For the Cake:
Preheat oven to 350F; butter and flour 2 (9-inch) round baking pans.

In a medium bowl, whisk together the flour, baking powder, baking soda, salt, cinnamon, and nutmeg; set aside. In a large bowl, whisk together the sugar and eggs until light and fluffy, then whisk in the oil, milk, and vanilla. Gradually stir the dry ingredients into the wet, then fold in the shredded apple, being careful not to over-mix.

Divide the batter between the 2 prepared pans, and bake until golden on top and a toothpick inserted inside comes out clean or with just a couple crumbs, about 20 to 24 minutes. Cool completely before assembling.
For the Carmel:
In a small bowl, combine the cream and vanilla; set aside.

Add the sugar and water to a medium-sized thick-bottomed pot; turn the heat on medium-high and cook until sugar is caramelized and amber in color. You can give the pot a swirl to help the water and sugar dissolve, but do not stir until about ⅔ of the sugar is melted. From that point on, gently stir constantly with a wooden spoon.

Once the sugar turns amber-colored, carefully add the butter and salt, and stir to combine. Once the butter is melted, turn off the heat and carefully pour in the cream mixture, stirring until smooth.

Cool completely before using or storing.
For the Frosting:
Use a handheld electric beater to cream together the butter, vanilla, cinnamon, and salt.

Alternate between beating in the powdered sugar and milk until all the powdered sugar is added and the buttercream is smooth and creamy.
To Assemble the Cake:
Measure out 3 tablespoons from the ½ cup of caramel sauce; transfer to a small bowl and reserve for drizzling on top of the cake once it's frosted.

To assemble the cake, turn 1 cake out onto a cake stand. Spread on the remaining caramel sauce (other than the reserved 3 tablespoons), leaving a border of about ½-inch all around.

Refrigerate 1 hour or until fully chilled, then carefully place the other cake on top.

Frost the top and sides with Vanilla Cinnamon Frosting.

Chill 1 hour before cutting and serving; wrap any leftovers in plastic wrap and store in the fridge for up to 1 week.
Faith's Tips
This recipe makes 1 cake with 2 9-inch layers.
This cake recipe was adapted from my recipe for Apple Crumb Cake.
This caramel recipe was adapted from Simply Recipes' recipe for Caramel Sauce.
This caramel recipe makes about 1 ½ cups of caramel sauce, but you'll only need ½ cup for this recipe.
This caramel keeps well in the fridge for up to 2 weeks. Like any caramel sauce, it will harden after being refrigerated; to soften, you can gently warm it up in the microwave or on the stovetop.
Nutrition
Nutrition Facts
Caramel Apple Cake Recipe
Amount Per Serving
Calories 374
Calories from Fat 153
% Daily Value*
Fat 17g26%
Cholesterol 48mg16%
Sodium 149mg6%
Potassium 114mg3%
Carbohydrates 54g18%
Protein 2g4%
Vitamin A 404IU8%
Vitamin C 1mg1%
Calcium 48mg5%
Iron 1mg6%
* Percent Daily Values are based on a 2000 calorie diet.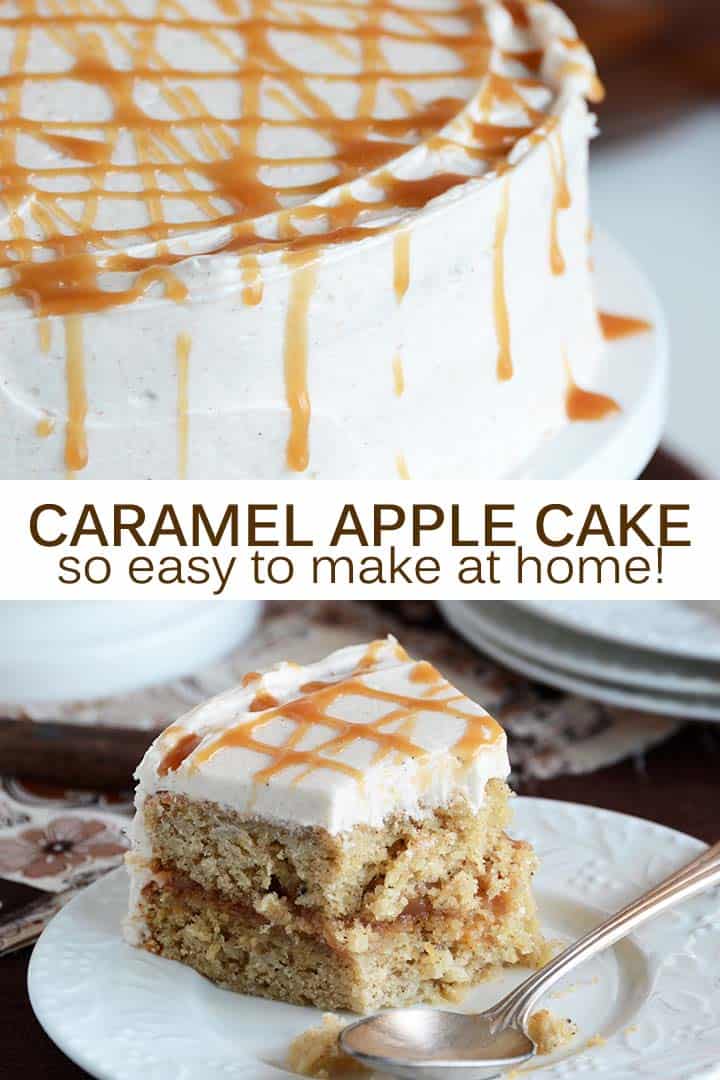 This post was first published on An Edible Mosaic on November 5, 2011. I updated it with more information on September 11, 2020.
Disclosure: This post contains Amazon affiliate links to products I believe in, which means that even though it doesn't cost you anything extra, I will receive a small amount of money from the sale of these items. Thank you for helping to support An Edible Mosaic!