Apple Slab Pie with Nutty Oat Crumble Topping has a sweet spiced apple filling with a hint of vanilla, an all-butter pastry crust, and a nutty oat crumble topping.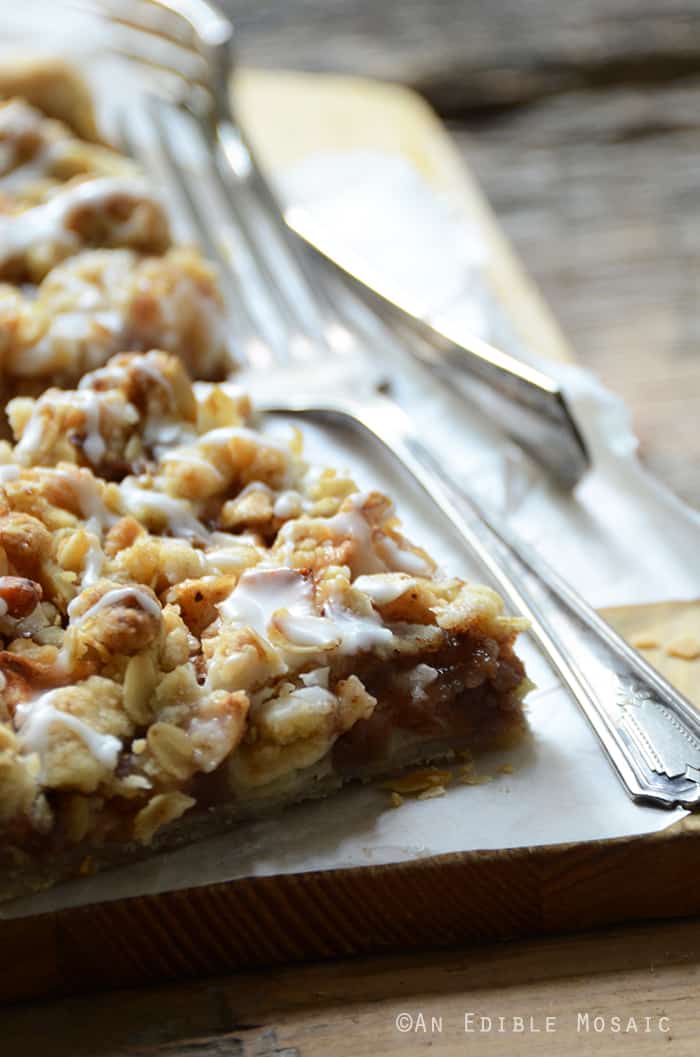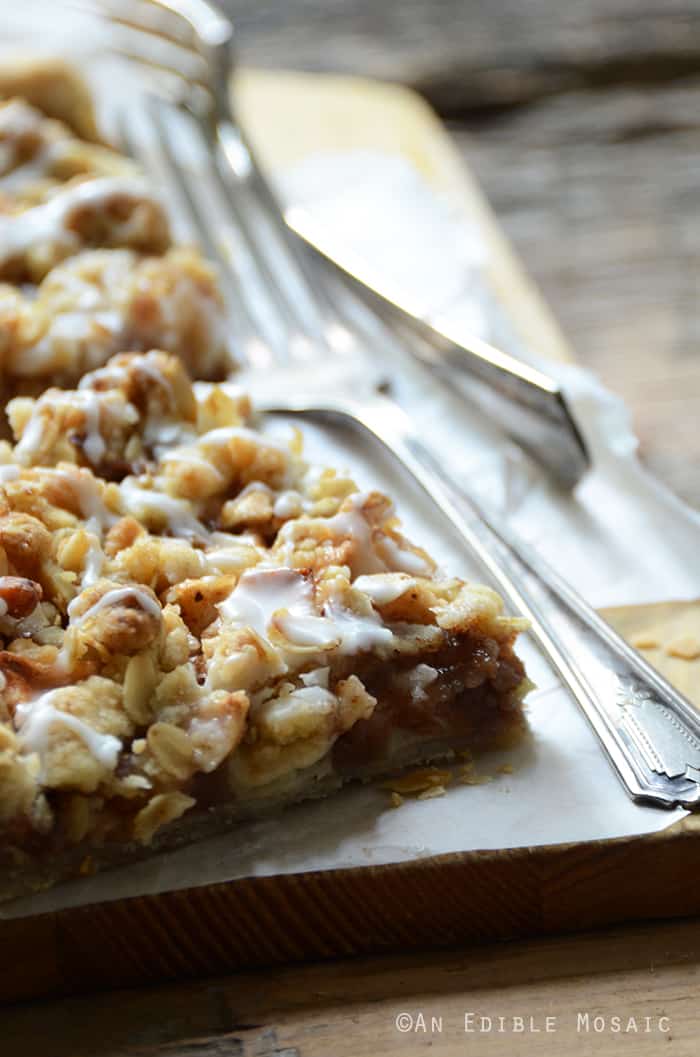 If you ever find yourself with a pie-loving mob at your door, this recipe will prove itself indispensable.
(Not that it's likely you'll find yourself in that scenario any time soon, but a pie-loving group of family members on Thanksgiving isn't necessarily all that different.)
The ingenious thing about a slab pie (which, let me make it clear, I did not invent) is that it makes enough to feed an army with basically the same amount of work it takes to make a regular-sized pie.
Now, we all know that the amount of work it takes to make a regular pie is nothing to sneeze at. But if you're going to take the time to make pie anyway, why not get the most bang from your buck?
Apple slab pie certainly delivers in that department.
It's a great fall treat to make, no matter what the occasion. And it will make your home smell like the most heavenly-scented bakery on the planet! But I think it would be an especially lovely addition to Thanksgiving dessert (or any holiday).
And although there's absolutely no need to do so (it would totally be gilding the lily!), a slice of this Apple Slab Pie with Nutty Oat Crumble Topping is extra especially amazing warmed and served with a scoop of vanilla bean ice cream on top.
Just make sure you save room for dessert.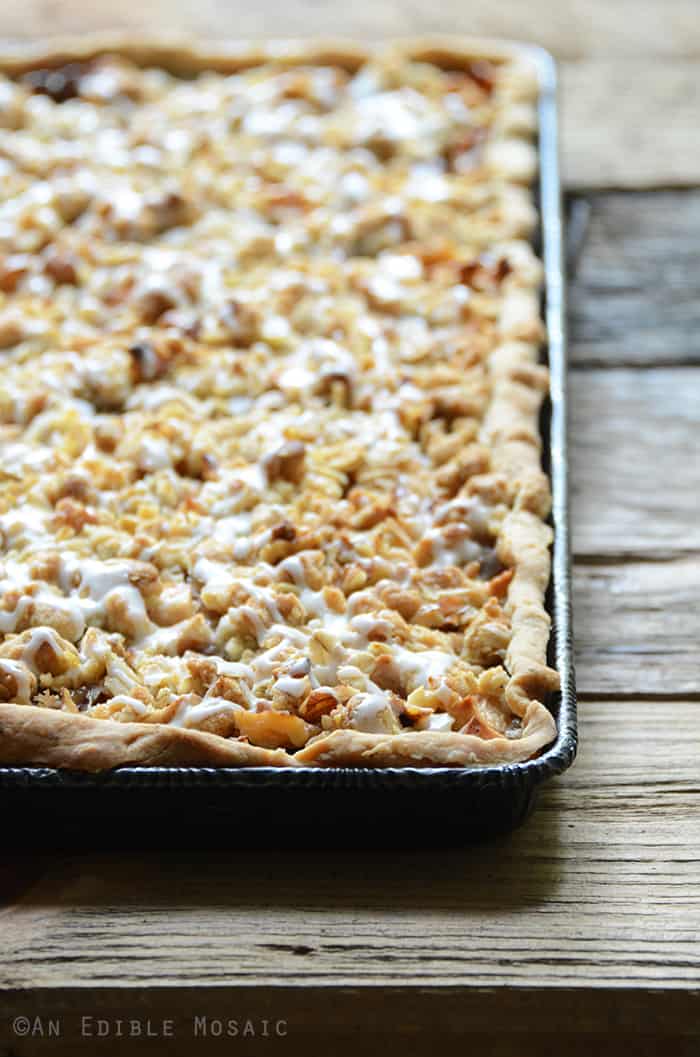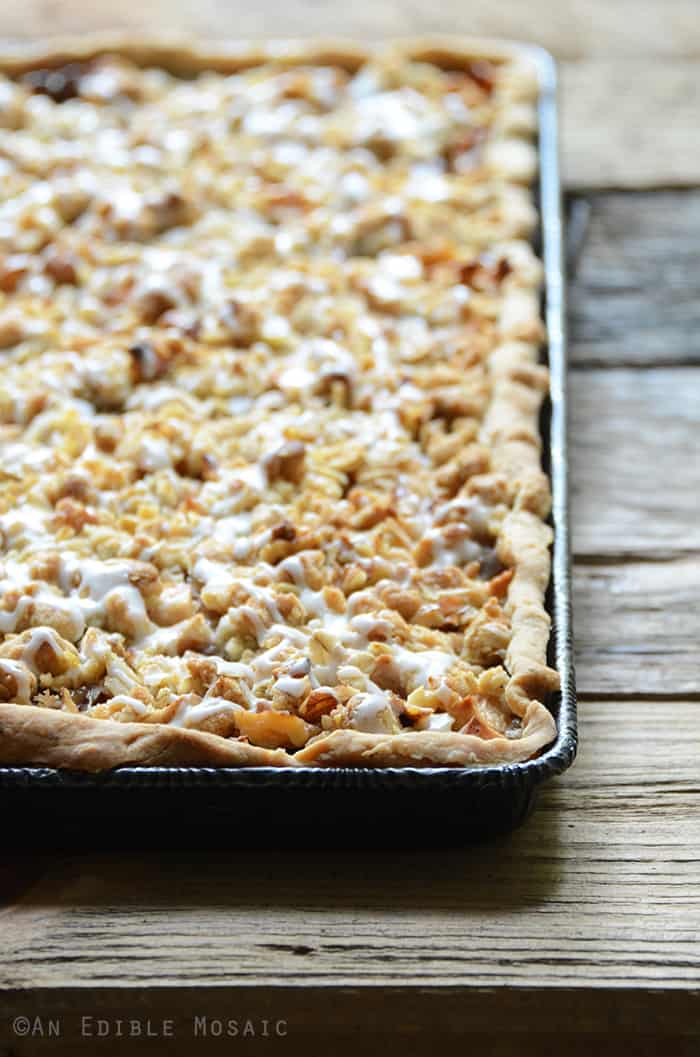 What is Slab Pie?
Slab pie is a rectangular, shallow pie that's baked in a rimmed baking tray (such as a 10 by 15-inch cookie sheet.
How Many People Does Apple Slab Pie Serve?
This Apple Slab Pie serves 24 people! It's perfect for a holiday dessert when you have a crowd to feed.
What Are the Best Apples for Apple Pie?
Depending on who you ask and where they're from, you're sure to get a different answer! But in general, pie apples should have a couple of characteristics: 1) they should hold their shape fairly well when baked instead of turning into mush, and 2) they shouldn't be overly sweet.
The best apples for apple pie are:
Granny Smith
Northern Spy
Jonagold
Braeburn
Honeycrisp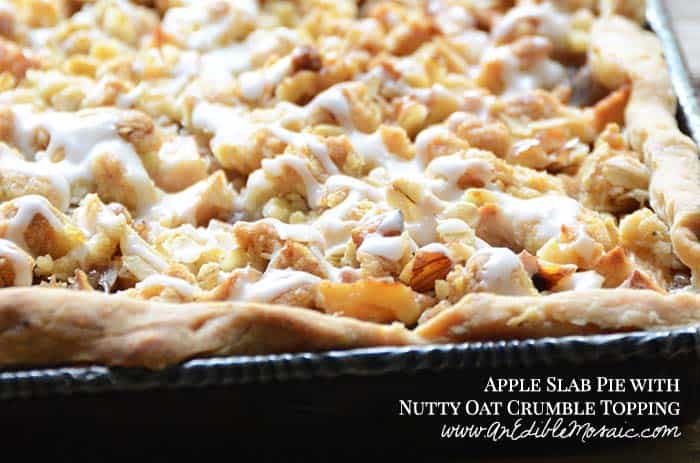 More Apple Dessert Recipes: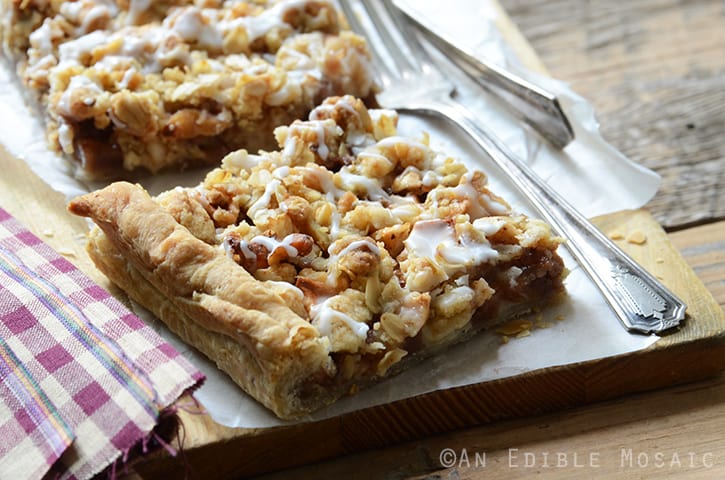 Did you make this recipe? Please rate it and leave a comment below because I love hearing from you! You can also tag @anediblemosaic on social media. To stay up-to-date FOLLOW ME on Instagram, Twitter, and Facebook. Xoxo, Faith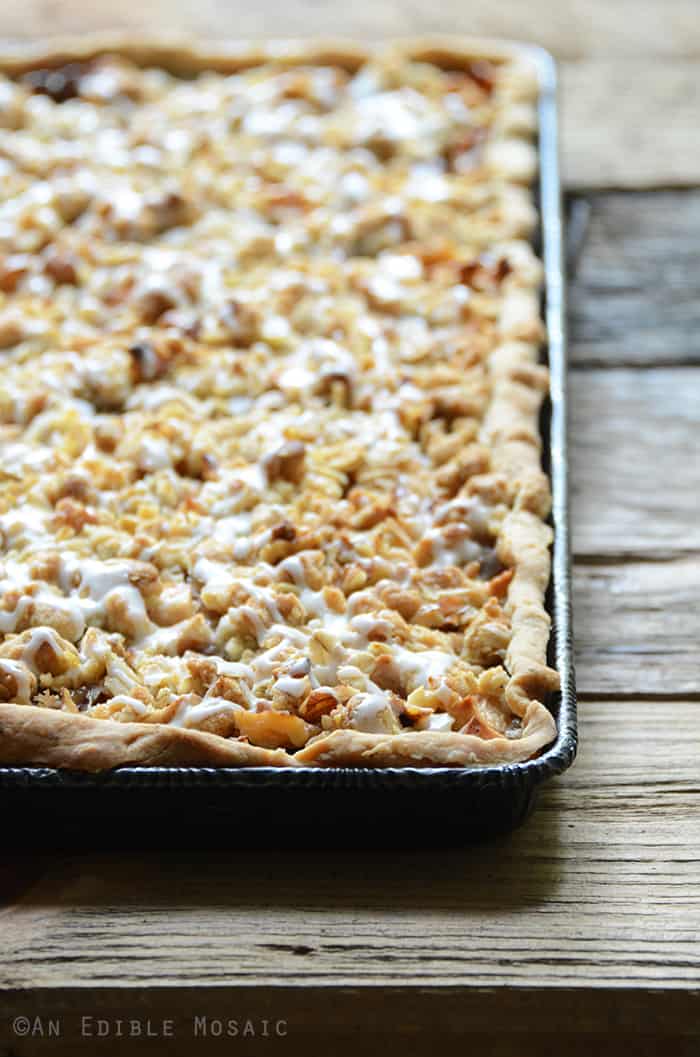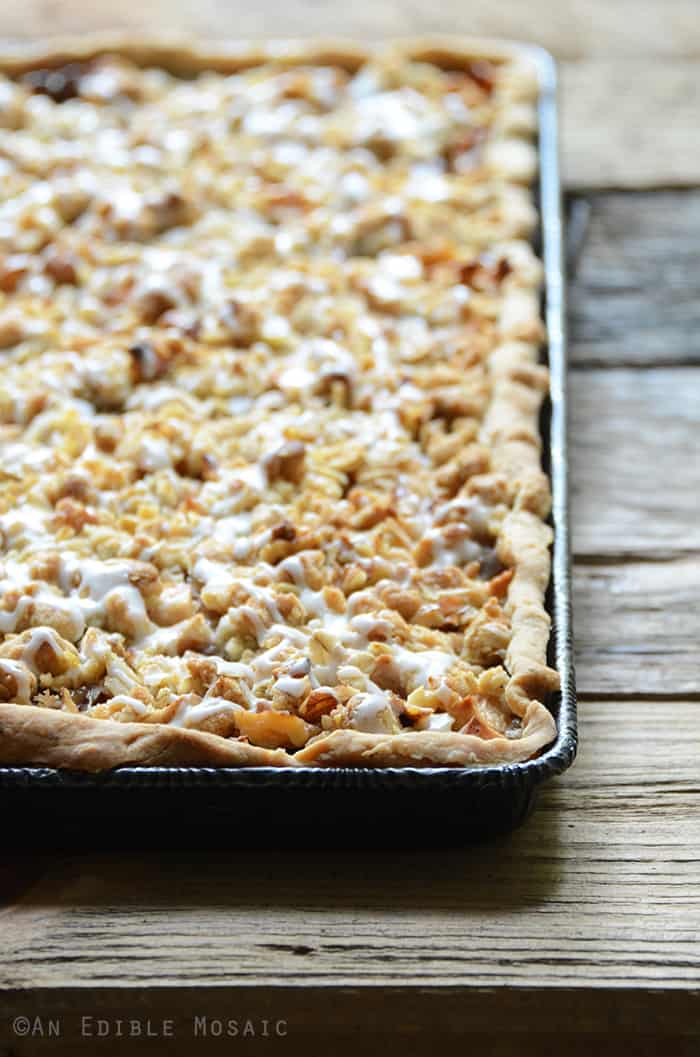 Apple Slab Pie with Nutty Oat Crumble Topping
Apple Slab Pie with Nutty Oat Crumble Topping has a sweet spiced apple filling with a hint of vanilla, an all-butter pastry crust, and a nutty oat crumble topping.
Ingredients
Instructions
For the Filling:
Toss together all ingredients in a large bowl until the apples are coated. Cover the bowl and let the mixture sit for 1 hour, stirring a couple times.
For the Crust:
Whisk together the flour, pulverized walnuts (if using), and salt in a large bowl and then cut in the butter with a pastry cutter or a fork until it looks like coarse meal. Add water 1 tablespoon at a time, working the dough together with your fingertips just until it comes together, and only adding enough water so the dough comes together when you squeeze it. Gather the dough together into a ball and then flatten it into a rectangle; wrap it in plastic wrap and refrigerate until chilled, about 30 minutes.
For the Crumble Topping:
Use a fork to mix the flour and brown sugar together in a large bowl. Cut in the butter, and then stir in the oats and walnuts.
To Assemble and Bake:
Preheat the oven to 375F; get out a 15 by 10 by 1-inch baking sheet. (I don't bother lining the baking sheet because there's enough butter in the crust to prevent it from sticking, but you can line the bottom with parchment paper if you want).

Roll out the dough to an 18 by 13-inch rectangle on a lightly floured surface. Drape it over the rolling pin to help you transfer the dough to the prepared baking sheet. If necessary, trim the dough to within ¾-inch of the edge of the pan, and then fold it over and flute it as desired. Use the tines of a fork to poke a few holes in the bottom of the crust.

Give the apple filling a good stir and spread it (along with any juices that have collected) into the prepared crust. Sprinkle on the crumble topping.

Bake the pie until the apples are tender and the crust is golden, about 40 to 45 minutes; cool on top of a wire rack.
For the Glaze:
Once the pie is cooled, whisk together all ingredients for the glaze and drizzle on top.

Let the glaze set before cutting and serving.
Faith's Tips
The best apples for this Apple Slab Pie are Granny Smith, Northern Spy, Jonagold, Braeburn, or Honeycrisp.
To store this after baking, cover it with plastic wrap and keep it at room temperature for up to 2 days. After that, store it covered in the fridge for up to 3 days more.
You can cut the pieces bigger or smaller depending on how many people you're serving!
Nutrition
Nutrition Facts
Apple Slab Pie with Nutty Oat Crumble Topping
Amount Per Serving
Calories 308
Calories from Fat 135
% Daily Value*
Fat 15g23%
Cholesterol 30mg10%
Sodium 78mg3%
Potassium 122mg3%
Carbohydrates 41g14%
Protein 3g6%
Vitamin A 384IU8%
Vitamin C 3mg4%
Calcium 24mg2%
Iron 1mg6%
* Percent Daily Values are based on a 2000 calorie diet.
This post was first published on An Edible Mosaic on November 10, 2014; it was updated with more information on November 27, 2019.
Disclosure: This post contains Amazon affiliate links to products I believe in, which means that even though it doesn't cost you anything extra, I will receive a small amount of money from the sale of these items. Thank you for helping to support An Edible Mosaic!