Perfect for breakfast, brunch, for breakfast-for-dinner, this Keto Low Carb Quiche Lorraine is rich and flavorful with bacon, cheese, and onion.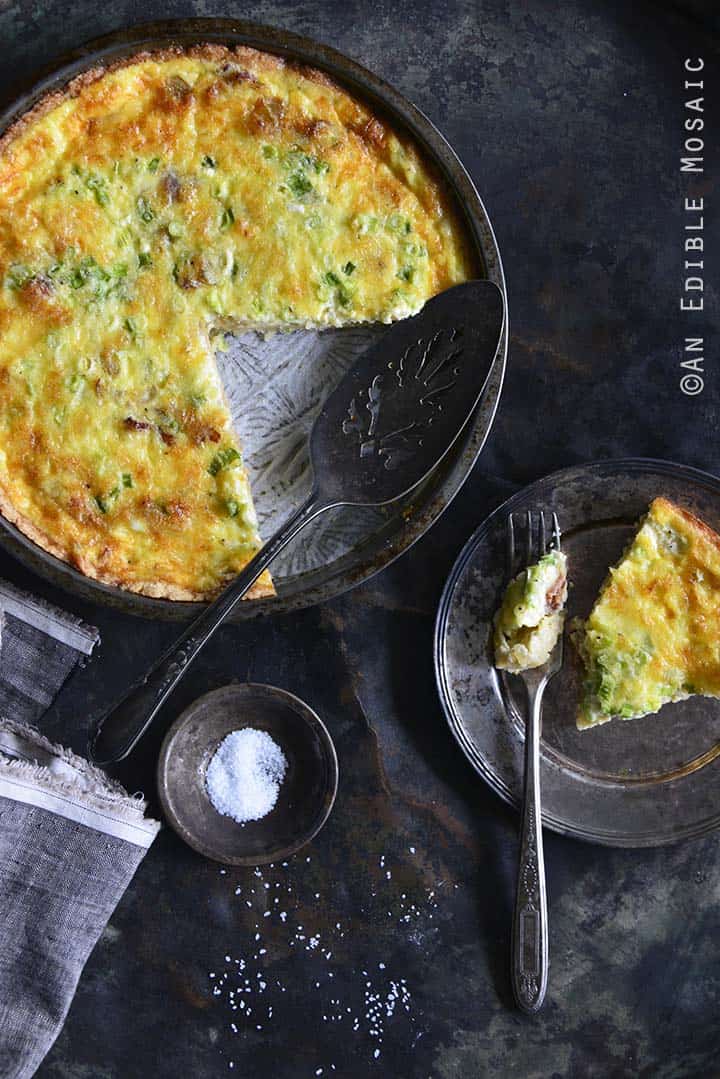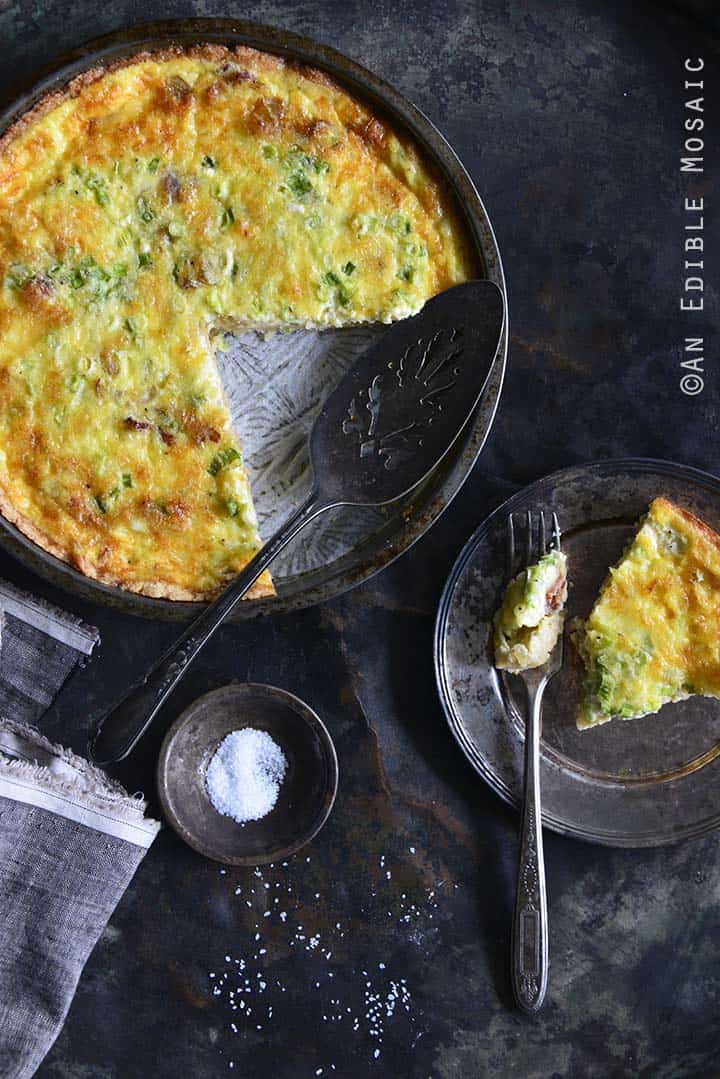 Quiche is often something that's thought of as a retro dish, but there's so much to love about it we should bring it back! Anyone who's a fan of eggs will enjoy how easy to make and versatile this Keto Low Carb Quiche Lorraine recipe is. It's a simple dish, but somehow seems to feel elegant.
What is Quiche: How to Make Quiche and the Main Ingredients of Quiche
Quiche is a savory custard-like mixture of eggs and milk or cream as a base, usually baked in a pastry crust in a pie plate or tart pan. It's a very easy dish to customize. Cheese is a common addition, and so is meat, such as cooked sausage or bacon. Quiche is also a great way to use up vegetables; a few of my favorites are steamed broccoli, roasted bell pepper, roasted asparagus, roasted zucchini, wilted spinach or Swiss chard, or sautéed mushrooms.
The Difference Between Quiche, Frittata, and Omelets
Quiche, frittata, and omelets are all egg-based dishes, but the main difference is in their preparation. Quiche is usually baked in the oven for the entire cooking process. Omelets are typically cooked on the stovetop. Frittata is similar to a crustless quiche with an egg base with any meats, cheeses, and vegetables you like added in, but the cooking process for frittata is what sets it apart. Frittatas start off being cooked in an oven-safe pan on the stovetop until the outside is set, and then they're transferred to the oven to finish cooking.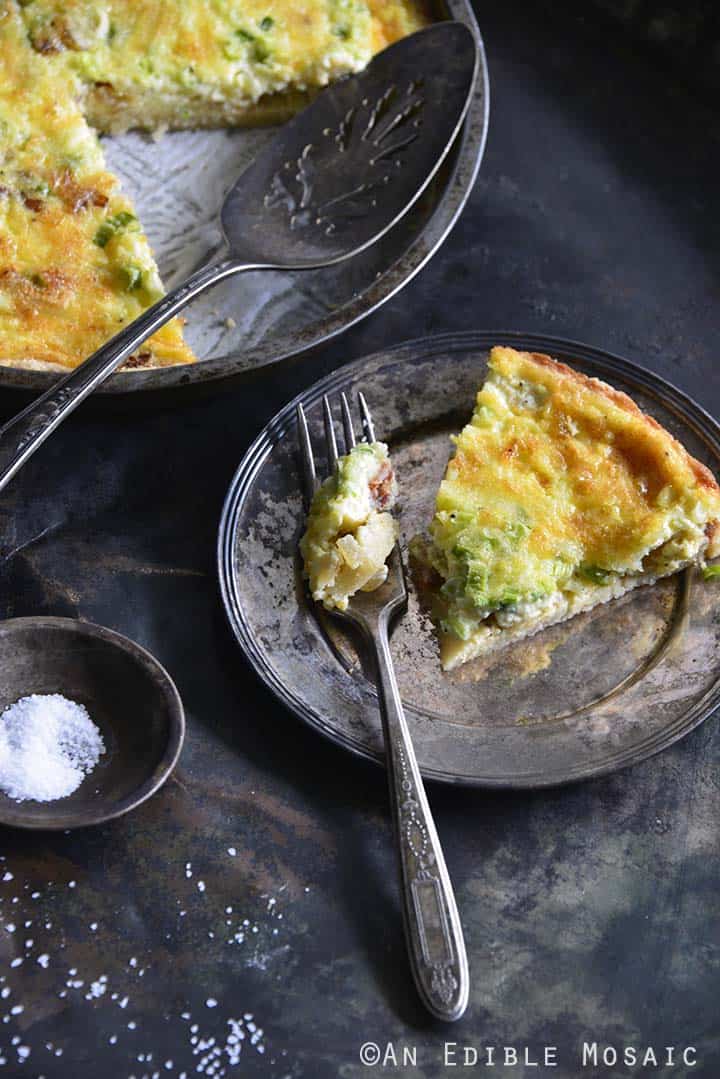 The Ingredients for This Low Carb Quiche Lorraine Recipe
Like any quiche, this Low Carb Quiche Lorraine starts with a base of eggs and milk or cream. Smoked bacon and Gruyère or Swiss cheese help create the unique flavor profile of this classic quiche; additionally, the Alsacienne version adds onion as well.
Where Quiche Lorraine Comes From
Quiche is usually thought of as a French dish, but according to Foodimentary, Quiche Lorraine actually originated from German cuisine in the medieval kingdom of Lothringen, which the French later renamed Lorraine. The word "quiche" comes from the German word "Kuchen", which means cake.
What Makes This Quiche Recipe Keto
For my recipe for Low Carb Quiche Lorraine, for the custard base I use a mix of eggs and heavy cream instead of milk, because cream is lower in carbs than milk. The main fillings in my Low Carb Quiche Lorraine (bacon and cheese) are both naturally low-carb high-fat foods. Lastly, instead of using a traditional shortcrust pastry (made with all-purpose flour), I made an almond flour-based pastry crust.
What to Serve with Quiche Lorraine
Quiche Lorraine is a rich, filling dish that packs quite a bit of protein and fat. I like to keep it simple and serve it along with a big green salad simply dressed with fresh lemon juice or vinegar, olive oil, and a pinch of salt and pepper.
Other Keto-Friendly Egg-Based Recipes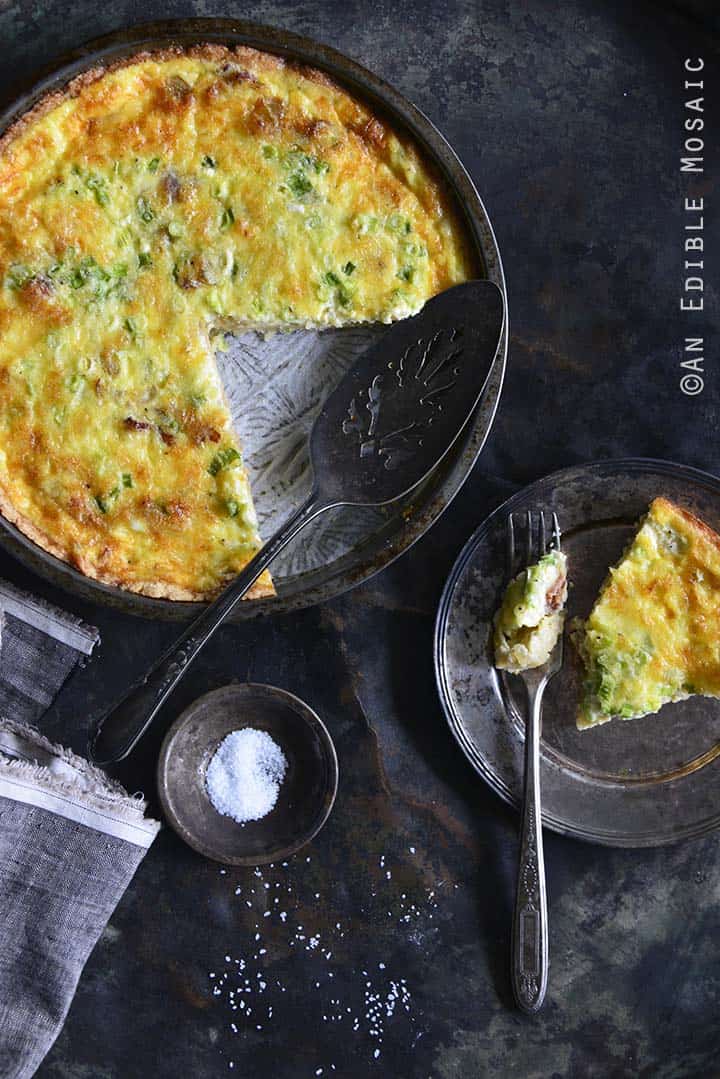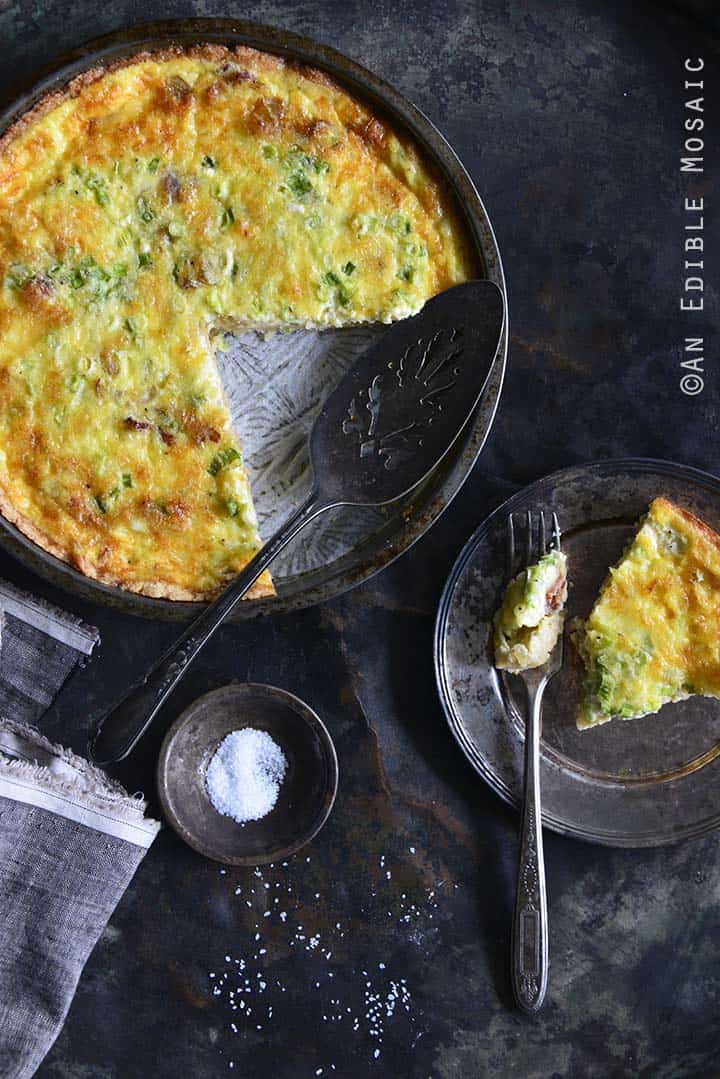 Keto Low Carb Quiche Lorraine
Perfect for breakfast, brunch, for breakfast-for-dinner, this Keto Low Carb Quiche Lorraine is rich and flavorful with bacon, cheese, and onion.
Ingredients
Filling:
2

slices

bacon

add 1 tablespoon avocado oil if using turkey bacon

1

medium onion

diced

2

oz

Gruyère cheese, shredded

¾

cup

heavy cream

1

large egg

1

large egg yolk

1

pinch

salt

1

pinch

black pepper

1

scallion
Crust:
1½

cups

almond flour

¼

teaspoon

salt

1½

tablespoons

unsalted butter

melted

1

large egg white
Instructions
Preheat the oven to 350F.

For the filling, crisp the bacon in a small skillet (add 1 tablespoon avocado oil if using turkey bacon), and then remove it, let the bacon cool, and then crumble.

In the same skillet that the bacon cooked in, cook the onion over medium heat until softened, but not browned, about 5 minutes, stirring occasionally. Cool.

Whisk together the cream, egg, egg yolk, salt, black pepper, and nutmeg in a medium bowl and set aside.

For the crust, stir together the almond flour and salt in a large bowl, and then cut in the butter with a fork. Mix in the egg white until it forms a dough. (The dough will be crumbly, but will hold together when squeezed.)

Press the dough into the bottom and about ½-inch up the sides of a 9-inch tart pan. Sprinkle the bacon in the bottom, and then the cheese. Pour the egg mixture on top, and sprinkle on the scallion.

Bake until the eggs are set and the crust is golden, about 35 to 45 minutes.

Cool 15 minutes before cutting and serving.
Faith's Tips
Net Carbs: 10g per serving (¼ of recipe) 
Nutrition
Nutrition Facts
Keto Low Carb Quiche Lorraine
Amount Per Serving
Calories 574
Calories from Fat 468
% Daily Value*
Fat 52g80%
Cholesterol 182mg61%
Sodium 304mg13%
Potassium 133mg4%
Carbohydrates 14g5%
Protein 18g36%
Vitamin A 1060IU21%
Vitamin C 2.9mg4%
Calcium 248mg25%
Iron 2mg11%
* Percent Daily Values are based on a 2000 calorie diet.

Disclosure: This post contains Amazon affiliate links to products I believe in, which means that even though it doesn't cost you anything extra, I will receive a small amount of money from the sale of these items, which helps me keep this site alive – thank you for helping to support An Edible Mosaic!