Growing up, the only thing worse than finding tunafish in my lunchbox was finding egg salad there. And the real problem was that I (and everyone else) knew it was there even before I opened my lunch. (Such is the problem of potent-smelling sandwiches when you're a kid!)
So believe me when I tell you that egg salad is a newly acquired taste for me.
But my version of egg salad is so different from what I grew up with, it's hard to even call it the same thing.
For starters, let's talk about texture. I know a lot of people who like their egg salad mashed into oblivion (my mom included). I prefer mine with some texture, so for the most part I just chop the hard-boiled eggs (maybe mashing up literally just a couple of pieces of yolk).
Now, as far as flavor goes, I like my egg salad with a super flavorful dressing (because let's face it, egg salad can sometimes be bland). Honey mustard and a few spices liven up my version, and so does the addition of turkey bacon for smokiness.
Of course egg salad is a classic sandwich filling, but I enjoy eating it open-faced on a slice of good bread, on a bed of lettuce, or even as-is from a bowl. (I guess maybe that means I've become a die-hard fan, right?)
How do you like your egg salad?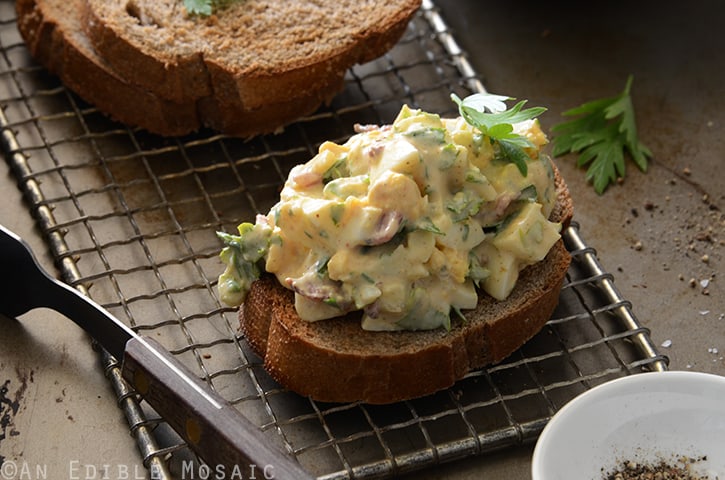 Egg Salad with Bacon and Creamy Honey Mustard Dressing
Prep time:
Cook time:
Total time:
Ingredients
3 tablespoons plain, low-fat yogurt
½ tablespoon olive oil
½ tablespoon honey mustard
¼ teaspoon Worcestershire sauce
⅛ teaspoon paprika (any kind you like; I used smoked)
⅛ teaspoon garlic powder
1 scallion, green and white parts, thinly sliced
2 tablespoons minced flat-leaf parsley, plus more for garnish if desired
1 slice turkey or beef bacon, cooked and crumbled
3 large eggs, hard-boiled and cooled, and then peeled and chopped
Salt and black pepper to taste
Instructions
Whisk together the yogurt, oil, honey mustard, Worcestershire, paprika, and garlic powder in a medium bowl until smooth.
Add the scallion, parsley, bacon, and egg and toss gently to combine. (You can mash up the egg a bit if you want.)
Taste and add salt and black pepper as desired.