Orange Chocolate Cupcakes have a soft, tender crumb and are aromatic with orange and rich with chocolate. A beautiful white chocolate drizzle on top means there's no need for frosting!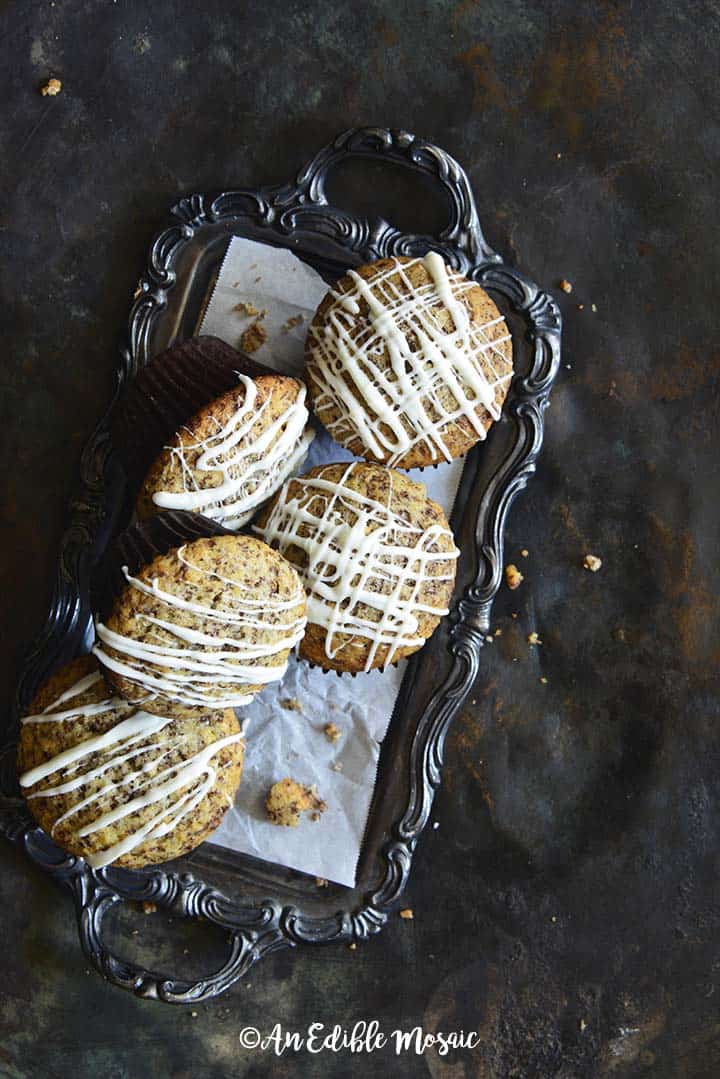 There's no reason cupcakes have to be complicated. And there's no need for them to have a mountain of frosting on top (although I admit, mmmm, frosting! But they can be just as good without it).
If you're looking for the perfect thing to whip up for a party or gathering, my Orange Chocolate Muffins are it. They're a wonderful addition to a dessert table (perfect for the holidays!), and if it's a special occasion, they're also good for brunch.
Orange Chocolate Flavor Combination
Most people either love or hate the orange chocolate flavor combination; there's no middle ground! But tastes can change; as a kid I hated it and as an adult I love it.
I find that the flavor of sweet aromatic orange is a lovely pairing for the complexity and richness of chocolate.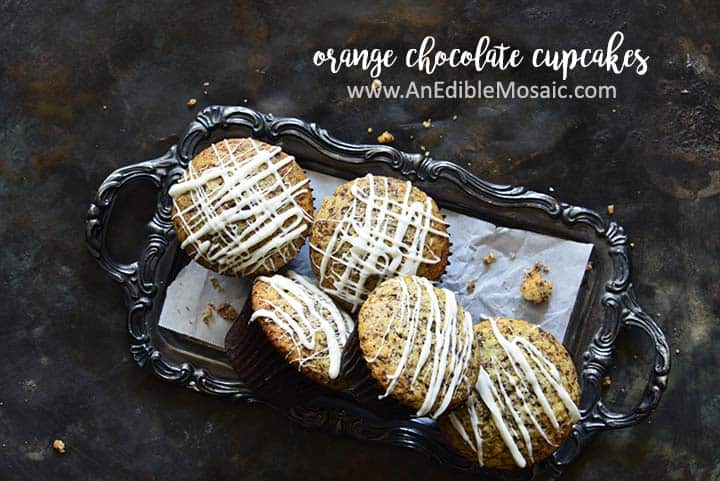 Chocolate Orange
As far as I know, a brand called Terry's made the chocolate orange famous! Terry's Orange Chocolate is a combination of chocolate and orange oil that's sold in an orange-shaped ball.
The ball should be tapped or whacked before unwrapping to break apart the segments inside, which are stuck together in the middle. It's not only delicious, but is quite fun to eat.
What Is The Difference Between Cupcakes and Muffins?
When we think of cupcakes vs muffins, an immediate giveaway is whether or not there's frosting or a chocolate drizzle or glaze on top! Frosting means it's a cupcake, right? A chocolate drizzle is also a bit more decadent, which means it might be a cupcake.
But cupcakes and muffins are actually made differently, and traditionally, they also have a different fat (e.g. butter, oil, etc.).
First things first, muffins are usually thought of as being healthier than cupcakes. Muffins may contain things like fruit, nuts, oats, whole wheat flour, etc.
The batter for cupcakes is typically beaten longer to evenly distribute air bubbles, while muffin batter is usually just stirred to combine (and a few lumps are fine!).
Cupcakes were traditionally made with butter creamed together with sugar. On the other hand, the fat in muffins was traditionally oil. As a result, muffins typically have a soft, tender, large, and usually moist crumb, while cupcakes have a smaller crumb and aren't as moist. However, now you'll notice that nowadays cupcakes and muffins are both made with either butter or oil!
Pro Tip: When baking, butter adds flavor but oil results in a tender, moist crumb. I like to use avocado oil in my Orange Chocolate Cupcakes recipe (and no, you can't taste it!).
Baking Muffins and Cupcakes
What Kind of Flour is Best for Muffins?
If you're just whipping up a regular batch of muffins, unbleached all-purpose white flour (made from wheat) works well. If you prefer to use whole wheat flour, look for a recipe that calls for that specifically, because it's not a 1:1 swap with regular all-purpose white flour. (This is because whole wheat flour absorbs more liquid, so a few other things in the recipe may also change.)
How to Make Moist Cupcakes
Here are a few tips to help you make a moist cupcakes and cake from scratch:
Look for a recipe that uses oil instead of butter (or a combination of oil and butter).
If a cupcake recipe calls for water, use whole milk instead.
Measure your flour carefully so you don't add too much. When baking, I like to use a kitchen scale to weigh my dry ingredients.
Be careful not to over-bake your cupcakes.
How to Make Easy Cupcakes
My Orange Chocolate Cupcakes are very easy to make! Here is the basic method:
Whisk or sift together the dry ingredients in a large bowl.
Whisk together the wet ingredients in a separate bowl.
Stir the wet ingredients into the dry, being careful not to over-mix.
Pour the batter into a muffin tray lined with paper liners.
Bake until a wooden toothpick inserted in the center comes out clean or with just a couple crumbs.
More Festive Cupcake and Muffin Recipes:

Did you make this recipe? Please rate it and leave a comment below because I love hearing from you! You can also tag @anediblemosaic on social media. To stay up-to-date FOLLOW ME on Instagram, Twitter, and Facebook. Xoxo, Faith
Orange Chocolate Cupcakes
Orange Chocolate Cupcakes have a soft, tender crumb, are aromatic with orange and chocolate, and topped with a beautiful white chocolate drizzle!
Instructions
Preheat oven to 400F; line a muffin tray with 12 paper liners.

Pour the milk into a small bowl and sprinkle the lemon juice on top; let it sit for 3 minutes without stirring.

Whisk together the flour, sugar, baking powder, salt, and baking soda in a large bowl.

Whisk together the milk, eggs, oil, and vanilla in a medium bowl.

Add the wet ingredients to the dry all at once and stir just until combined, being careful not to overmix. Gently fold in the candied orange peel and dark chocolate.

Pour the batter into the prepared muffin wells, and bake until a toothpick inserted inside comes out with just a couple crumbs, about 15 to 20 minutes, being careful not to overbake.

Cool completely, and then melt the white chocolate and drizzle it on top. Let the chocolate set before serving.
Faith's Tips
When baking, butter adds flavor but oil results in a tender, moist crumb.
Instead of using milk + fresh lemon juice, you can use ¾ cup buttermilk.
Nutrition
Nutrition Facts
Orange Chocolate Cupcakes
Amount Per Serving (1 cupcake)
Calories 302
Calories from Fat 126
% Daily Value*
Fat 14g22%
Cholesterol 30mg10%
Sodium 196mg9%
Potassium 162mg5%
Carbohydrates 42g14%
Protein 4g8%
Vitamin A 65IU1%
Vitamin C 0.2mg0%
Calcium 68mg7%
Iron 1.7mg9%
* Percent Daily Values are based on a 2000 calorie diet.
Disclosure: This post contains Amazon affiliate links to products I believe in, which means that even though it doesn't cost you anything extra, I will receive a small amount of money from the sale of these items. Thank you for helping to support An Edible Mosaic!