Paleo AIP Banana Flour Chocolate Chip Edible Cookie Dough has perfect cookie dough texture with just the slightest hint of banana flavor, and is full of nutrient-rich, nourishing ingredients like banana flour and coconut oil.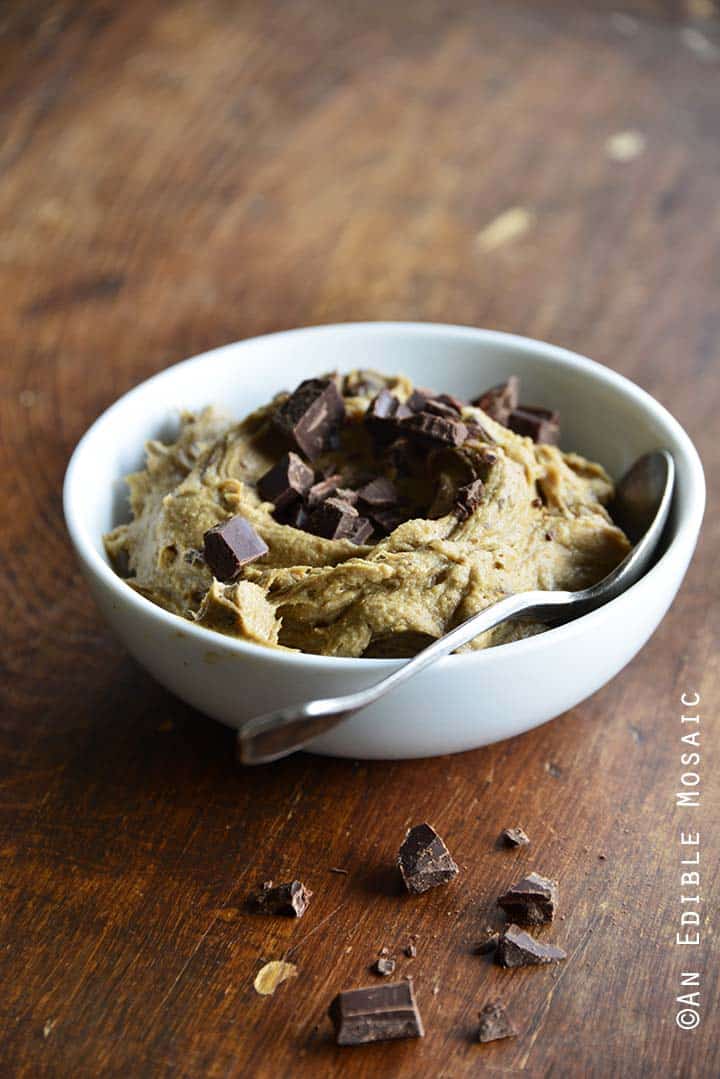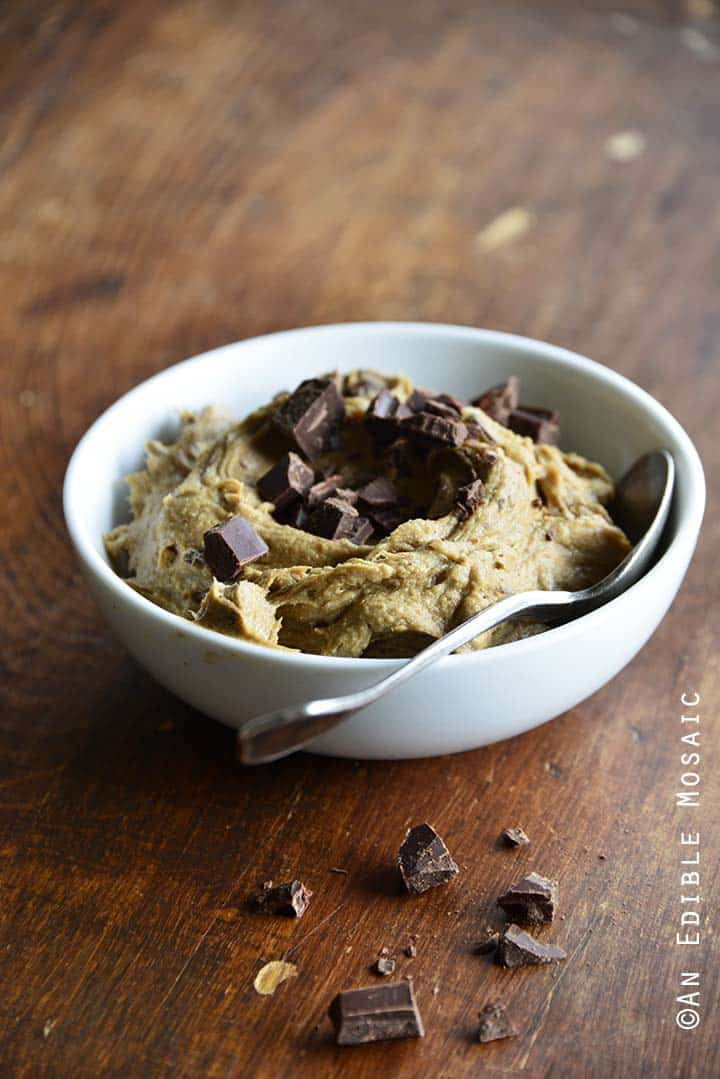 A couple weeks ago I got a frantic phone call from a friend. She was crying and after talking to her for about 30 seconds I totally understood why. Familiar foods are a source of comfort for us; they remind us of home and family, and are about so much more than just food. My friend was about three weeks into the elimination phase of an autoimmune protocol diet, and for her, it was a complete overhaul. She missed the familiarity of foods she loved. She mentioned chocolate chip cookie dough in particular, and it set my mind in motion.
I knew I could help. Although I wasn't very familiar with the AIP diet, I knew generally it was like a stricter version of paleo to help heal your body from the inside out. I did a little research to find out more about the diet, as well as allowed foods and why they're allowed). In case you or someone you know is starting AIP, I wanted to share some of that information here.
With any diet or way of eating, yes there are restrictions, but I find that the key is to focus on what you can have, rather than what you can't. Chocolate isn't allowed in the elimination phase of AIP, but carob is, so carob chunks make a beautiful stand-in for chocolate chips. The type of oil and flour used are also hugely important; I used coconut oil and banana flour, and I talk more about banana flour below, if you're not familiar with it.
And if you're wondering how this edible cookie dough turned out, it was delicious! Rich and flavorful, with perfect texture (I'm telling you, banana flour is magic). And most importantly, my friend loved it.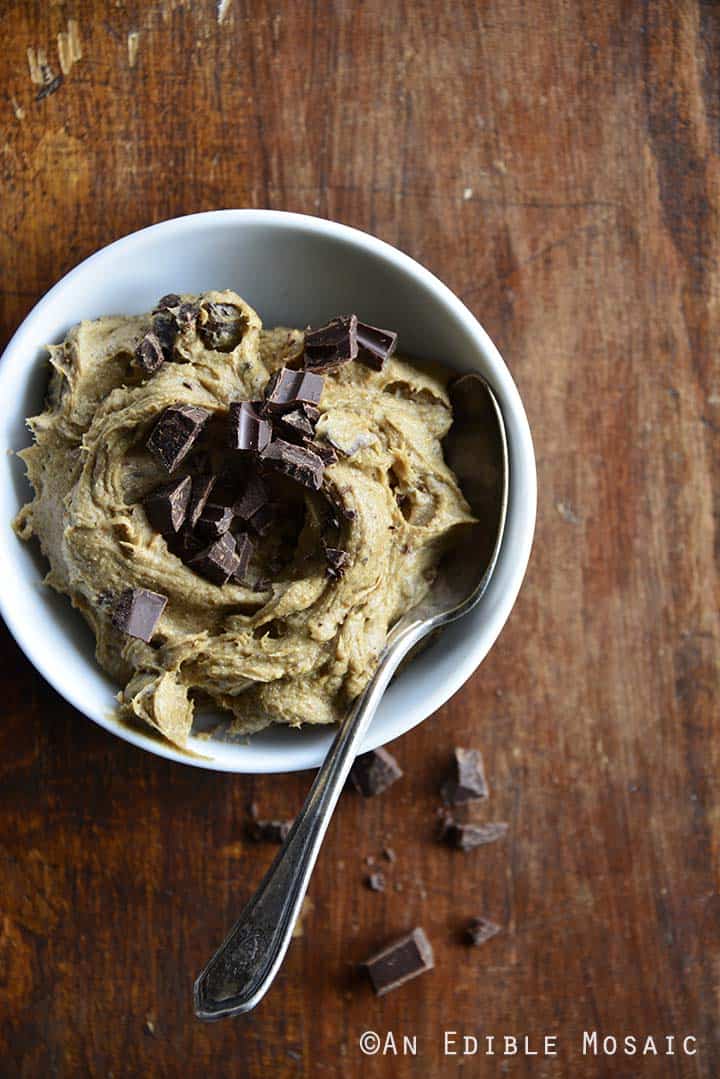 What is Autoimmune Disease and Why it Flares Up
According to Medical Daily, it's estimated that 50 million Americans suffer from some kind of autoimmune disease. Further, autoimmune diseases (such as Hashimoto's thyroiditis, rheumatoid arthritis, lupus, multiple sclerosis, psoriasis, etc.), emerge when the immune system mistakenly attacks healthy cells. This leads to chronic inflammation.
Dr. Sara Gottfried MD says that leaky guts (tiny holes in the gut wall) are believed to cause nearly all autoimmune diseases. Dr Gottfried explains it as follows: "...Tiny particles of food, bacteria and other gunk from inside of your intestines can escape through a leaky gut and trigger your immune system to produce inflammation. If the leaky gut never heals, the inflammation becomes 'chronic', and can eventually result in tissue damage, otherwise known as autoimmune disease."
Dr. Sarah Ballantyne, PhD (of The Paleo Mom), explains further that inflammation is greatly influenced by what we eat, how well we sleep, our stress level, and how active we are.
What is the Autoimmune Protocol (AIP) Diet
The AIP diet is an elimination strategy; it focuses on flooding the body with nutrient-dense foods, while simultaneously removing the foods that are gut irritants. AIP is similar to a paleo diet, but even more restrictive with things like coffee, eggs, and nuts being off-limits in the elimination phase.
The elimination phase lasts anywhere from three to four weeks to six to eight weeks, and then you can gradually start reintroducing foods one at a time back into your diet. (You can read about the reintroduction phase on AIP Lifestyle and The Paleo Mom.)
What Foods to Avoid on AIP
Everything that is avoided on the paleo diet (including grains, legumes, dairy, refined/processed sugar, refined/processed oil, and alcohol)
Eggs
Nuts
Seeds, including cocoa, coffee, and spices derived from seeds
Nightshades (more info on those below)
Sugar alcohols and non-nutritive sweeteners, including stevia (read more about this topic on The Paleo Mom)
NSAIDS (non-steroidal anti-inflammatory drugs)
Read more about which foods to eat and which foods to avoid on The Paleo Mom.
Nightshades
What are Nightshades?
Nightshades are plants belonging to the family Solanaceae. There are over 2,000 species in this plant family; many of them contain alkaloids and some are highly toxic (like belladonna or "deadly nightshade"), but several are widely consumed. Here are some of the most popular nightshades:
Eggplant
Gogi berries
Tomatoes
Tomatillos
Sweet and hot peppers (except black pepper)
Paprika, cayenne, chili powder, red pepper flakes
Potatoes (except sweet potato)
Read more about what nightshades are on Wikipedia and The Paleo Mom.
Why People with Autoimmune Disease Should Avoid Nightshades
Nightshades have a few different substances that can create sensitivity and can be problematic for people with autoimmune disease, including lectins, saponins, and alkaloids.
Alkaloids defend plants from pests and molds, basically acting as a natural "bug spray". These compounds are very highly concentrated in poisonous members of the nightshade family, but in edible nightshade plants, they're present in much smaller amounts and mostly found in the leaves and stems (which aren't eaten). Alkaloids aren't typically an issue for people with healthy guts, but for people with autoimmune disease they can be a problem. Additionally, alkaloids can irritate the gut (remember, their role in plants is to kill things), and when this happens it can contribute to leaky gut, which can trigger an autoimmune reaction.
I'm not going to get into lectins and saponins, but you can read about them and more about alkaloids on Paleoleap, Paleohacks, and The Paleo Mom.
Banana Flour
Banana flour is made from dried green bananas. Its color is somewhat gray/beige-ish, which results in darker baked goods when you bake with it (similar to a "whole wheat" look). To me, it has a very faint banana smell and flavor, and its flavor is lessened even more when cooked.
What to Use Banana Flour For (In Addition to Edible Cookie Dough!)
In my experience when I've played with banana flour in baked goods, it yields a surprisingly light and fluffy crumb. In addition to baking, it is also a thickener for smoothies, soups, etc. It's a very fine powder and mixes in or dissolves quite well, depending on what you're using it for.
Is Banana Flour Healthy?
Banana flour is naturally gluten-free, and is a good source of potassium and magnesium. Banana flour contains resistant starch, which literally resists digestion and doesn't cause a blood sugar spike. It also acts as a prebiotic, helping to feed your gut's healthy bacteria. Banana flour is paleo, and can be a good flour alternative when you're following the AIP diet. (Additionally, you can read more about the health benefits and nutrition of banana flour on Dr. Axe and Paleo Hacks.)
Other Paleo AIP Dessert Recipe Ideas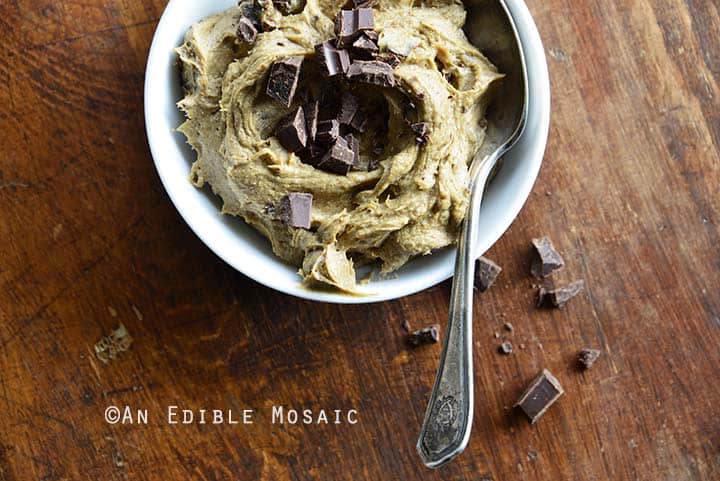 Paleo AIP Banana Flour Chocolate Chip Edible Cookie Dough
Paleo AIP Banana Flour Chocolate Chip Edible Cookie Dough has perfect cookie dough texture with just the slightest hint of banana flavor, and is full of nutrient-rich, nourishing ingredients like banana flour and coconut oil.
Ingredients
3 tablespoons banana flour (I use Pereg Natural Foods)
2 to 3 teaspoons organic coconut sugar (more or less to taste)
½ teaspoon beef gelatin (I use Vital Proteins)
1/16 teaspoon sea salt
1 small pinch baking soda (optional; for flavor only)
1½ tablespoons organic coconut oil, melted
¼ teaspoon blackstrap molasses
¼ teaspoon alcohol-free vanilla or ⅛ teaspoon vanilla bean powder (see Note)
2 tablespoons organic canned unsweetened full-fat coconut milk
2 tablespoons carob chips or chunks (such as these Homemade Carb Chips from Whole New Mom), or toasted coconut flakes
Instructions
Use a fork to mix together the banana flour, coconut sugar, gelatin, sea salt, and baking soda. Mix in the coconut oil until it forms wet crumbs, and then mix in the molasses, vanilla, and coconut milk. Stir in the carob chips or coconut flakes. Enjoy!
Notes
Vanilla: There's some debate as to whether vanilla is AIP-friendly. To stay AIP-compliant, check with your health care professional before you decide whether to use it or not.
Disclosure: This post contains Amazon affiliate links to products I believe in, which means that even though it doesn't cost you anything extra, I will receive a small amount of money from the sale of these items, which helps me keep this site alive – thank you for helping to support An Edible Mosaic!
Disclaimer: Please note that I'm not a nutritionist or medical professional. Information in this post is based on my own personal experience and research (with references cited), and it is intended solely for educational purposes. If you have any questions about the AIP diet, you should ask your doctor.