Apple season is in full swing. And I just can't seem to stop buying apples (but at $.29 a pound, I find a hundred reasons to justify my apple obsession!). Luckily apples are one of those magical ingredients that are just as good raw as cooked, make for the perfect healthy and satisfying sweet treat, and can be used in a multitude of sweet or savory dishes.
This particular sandwich reminds me of a sandwich my mom used to make when I was a kid. My mom would make jam and cheese toasted sandwiches, which incidentally I hated back then. I must have been crazy (or at least my taste buds were), because I also seriously disliked cheese Danish pastries (which these toasted apple-cheese sandwiches sort-of remind me of). Since then I've come around, and I now understand what all the fuss is about the tried and true sweet and savory flavor combination, especially when cheese is involved!
By the way, this fig spread is really phenomenal with the tang from the balsamic vinegar, the sweetness of the dates, and the freshness of the figs. I bet there are infinite uses for it, so you might want to make extra!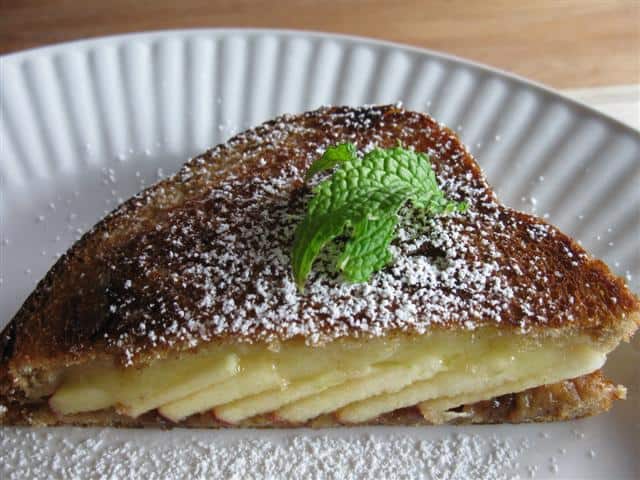 Toasted Apple-Cheese Sandwiches with Sweet and Savory Fig Spread
(Yield: 4 sandwiches)
Sandwiches:
8 slices cinnamon-raisin bread
Butter, softened
4 oz Havarti cheese, thinly sliced
2 small apples, thinly sliced
Fig spread (see below)
2 teaspoon powdered sugar (optional, for garnish)
Sprig of fresh mint (optional, for garnish)
Fig Spread:
2 fresh figs, diced
4 Medjool dates, pitted and diced
1 TB balsamic vinegar
⅛ teaspoon salt
⅛ teaspoon pepper
In a small pot combine the ingredients for the fig spread with ¼ c of water. Stirring frequently, heat on low for about 7 minutes until the spread has a consistency similar to peanut butter (the sauce will be lumpy though).
Preheat a griddle to medium-low heat. Butter one side of each slice of bread. On a cutting board, line up 4 slices of bread with the butter side down. Place 1 ounce of cheese on each slice of bread. On top of the cheese, fan out the slices of half an apple on each sandwich. Divide the fig spread into 4 equal portions and spread it on the plain side of the 4 remaining bread slices; place the bread (butter side facing out) on top of the apple slices.
Transfer the sandwiches to the preheated griddle and cook for about 3 minutes on the first side and 2 minutes on the second side (or until light golden brown on both sides). Remove the sandwiches from the griddle, cut each in half on the diagonal, and transfer them to serving plates. Using a small mesh sieve, lightly sprinkle each sandwich with powdered sugar. Place a spring of fresh mint on top of each sandwich for garnish.