A couple nights ago, I had half a block of tofu and some leftover veggies in the fridge…it was already 5:30 and I was aimlessly wondering what to make for dinner, when this week's BSI (peanut butter) jumped into my head, and dinner was born.
I'm going to send this recipe over to Kim at Ordinary Recipes Made Gourmet for this week's BSI…peanut butter!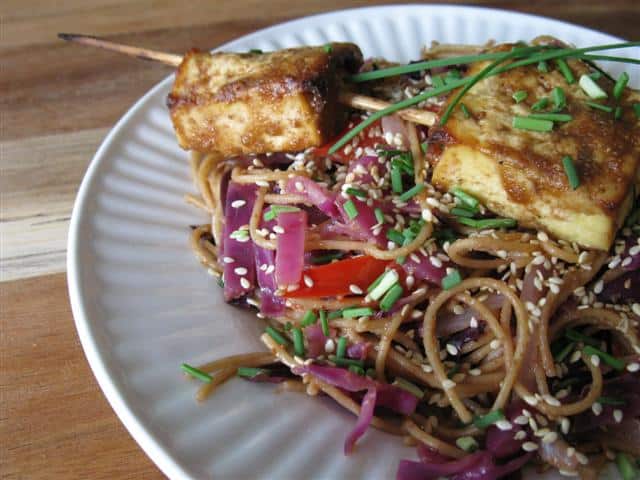 Baked Tofu Satay with Peanut-y Noodles
(Yield: 2 servings)
Peanut Sauce (see below)
½ block tofu (~7 oz), cut into 6 equal pieces
4 oz Barilla Whole Grain Thin Spaghetti or Soba noodles
½ TB canola oil
1 ½ c shredded red cabbage
½ red pepper, thinly sliced
½ small onion, thinly sliced
1 TB minced chives (garnish)
1 TB sesame seeds, toasted (garnish)
Peanut Sauce:
2 TB Smucker's Natural Peanut Butter (creamy)
2 TB canola oil
2 TB rice vinegar
1 TB low-sodium soy sauce
1 TB honey
1 clove garlic, crushed
1 teaspoon fresh grated ginger
¼ to ½ teaspoon crushed red pepper flakes (optional)
Dash ground pepper
2 bamboo skewers
9" pie plate
Preheat the oven to 375F. Combine (with a whisk or in a blender) all the ingredients for the peanut sauce. Layer the sliced tofu between paper towels and gently press down to extract the moisture. Combine the tofu with 3 TB of the peanut sauce and let it marinade for 15 minutes; set the rest of the peanut sauce aside for the noodles. Thread 3 pieces of tofu onto each bamboo skewer and place the skewers in a 9" pie plate so that the tofu is suspended and the ends of the skewers hang over both sides of the pie plate (see picture below). Bake the tofu for 45 minutes, or until it reaches your desired consistency.
Cook the noodles to al dente according to the package directions. In a medium pan, heat ½ TB canola oil over medium heat; add the cabbage and sauté for 3 minutes; add the red pepper and onion and sauté another 2 minutes; add the rest of the peanut sauce and cook for 30 seconds until the peanut sauce coats the veggies. Turn off the heat and toss in the noodles. Serve the noodles with the tofu satay on top, and garnish with the chives and sesame seeds.