This 20-Minute Thai-Inspired Summer Vegetable Curry with Seared Salmon makes the perfect weeknight summer meal.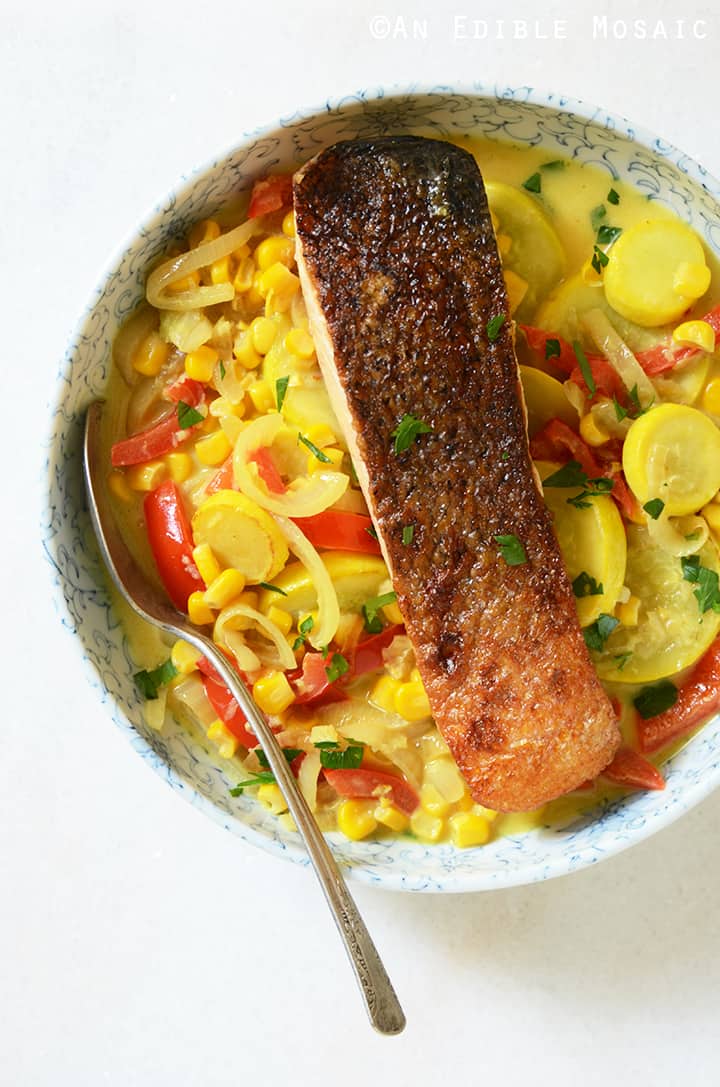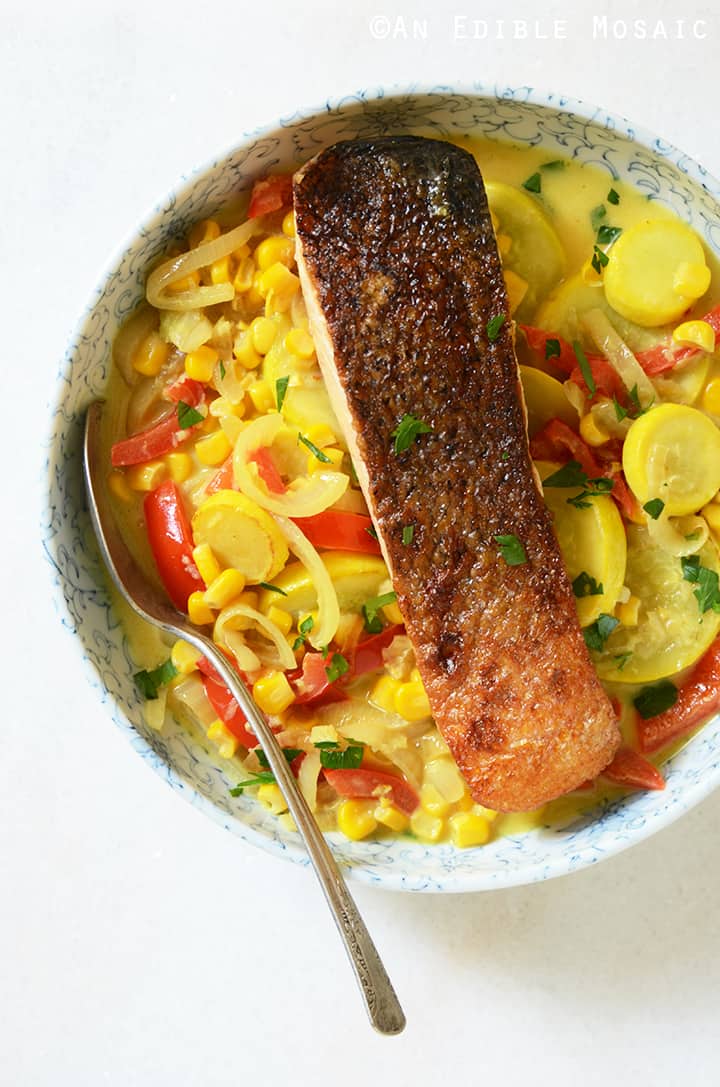 It's amazing how much technique effects the final outcome when you're cooking.
The mere thought of green beans made me gag as a kid until I had them for dinner at a friend's house and realized they aren't inherently mush. (Sorry, Mom…you were notorious for overcooking the beans!)
I disliked fried eggs until I learned how to cook them so that the whites are set and the yolks are runny. (The only thing worse than chalky overcooked egg yolk is icky undercooked egg white goop…ugh.)
And I thought I hated fish skin until I realized that it can be crisp and flavorful. (Hello wild-caught salmon and a short stint in a very hot pan.)
It's all in the technique, friends.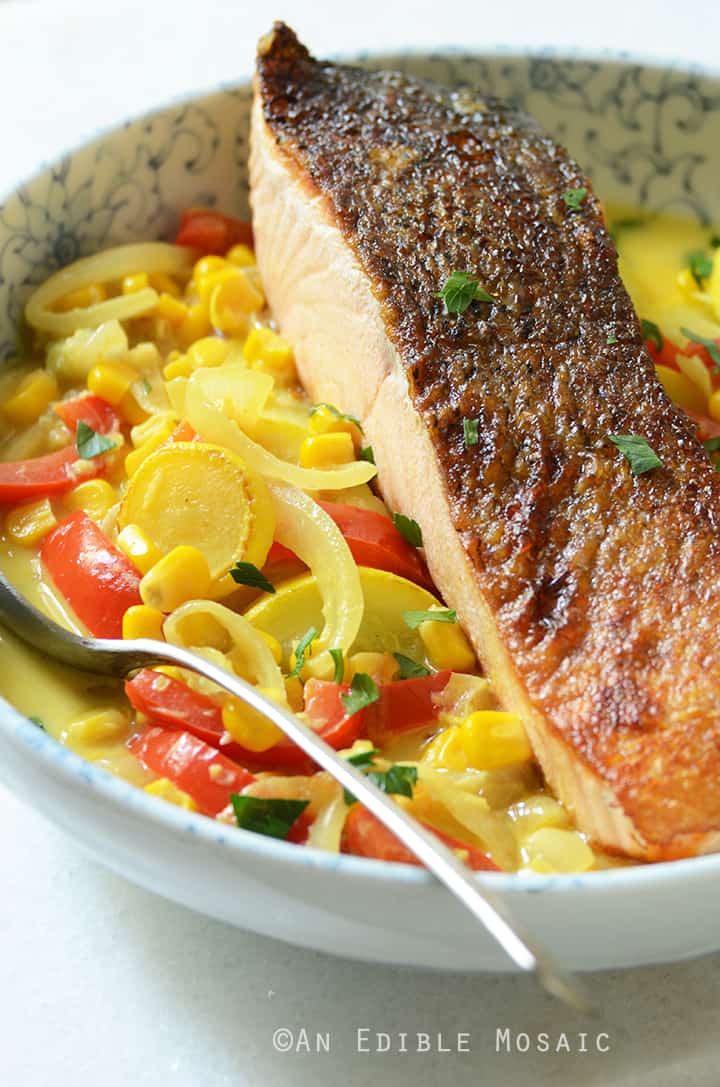 This quick-cooking curry was inspired by a dish I had in Thailand; fresh veggies quickly cooked and seasoned with a flavorful coconut-based curry sauce. Here the richness of salmon is accented nicely with a coconut milk curry, and fresh summer vegetables lighten it up. You can serve it on a bed of steamed jasmine rice or go with cauliflower rice to keep it low-carb.
Here are a few other Thai curries from around the internet that caught my eye…
Quick Red Thai Curry Noodle Soup from Amuse Your Bouche
Thai Curry with Squash and Avocado from Paleo Spirit
Thai Green Curry Burritos from Eats Well With Others
Thai Fish Curry from Spicie Foodie
Yellow Curry with Chicken and Potatoes from Rachel Cooks Thai
20-Minute Thai-Inspired Summer Vegetable Curry with Seared Salmon
Prep time:
Cook time:
Total time:
This quick-cooking Thai-inspired coconut-based curry features salmon and summer vegetables.
Ingredients
Summer Vegetable Curry:
2 tablespoons coconut oil
1 medium onion, halved and thinly sliced
1 medium or 2 small yellow summer squash, sliced into ¼-inch rounds
½ medium red bell pepper, thinly sliced
2 large cloves garlic, crushed or grated
½-inch piece fresh ginger, grated
¼ teaspoon salt
½ teaspoon crushed red pepper flakes (more or less to taste)
¼ teaspoon ground turmeric
1 cup steamed corn (canned corn or frozen corn that's been thawed will also work)
1 cup (240 ml) canned unsweetened full-fat coconut milk
1 teaspoon coconut aminos
1 teaspoon fish sauce (such as Red Boat, which is paleo-friendly)
1 teaspoon rice vinegar
Chopped fresh parsley, for garnish (optional)
Seared Salmon:
1½ to 2 lbs (680 to 900 g) salmon, cut into 4 fillets
Salt and black pepper
Coconut oil, for shallow frying
Instructions
For the curry, add the coconut oil to a large skillet over medium-high heat; once hot, add the onion, summer squash, and bell pepper. Cook until starting to soften and caramelize in spots, about 5 minutes, stirring occasionally. Stir in the garlic, ginger, salt, crushed red pepper flakes, and turmeric, and cook 30 seconds, stirring constantly. Stir in the corn, coconut milk, coconut aminos, fish, sauce, and rice vinegar and cook until warm throughout, stirring constantly.
For the salmon, heat a large nonstick skillet over medium-high heat; once hot, add enough oil to lightly coat the bottom. Let the oil heat up for a few seconds, and meanwhile, season the salmon on both sides with salt and black pepper. Place the salmon into the hot skillet and cover it (so the oil doesn't splatter everywhere), leaving the lid ajar. Cook 2 minutes on the first side, then flip the salmon and cook 2 minutes more. Turn the heat off, fully cover the skillet, and let the salmon sit for 2 minutes so the steam can finish cooking it through. (It should be opaque and flake easily with a fork when it's fully cooked.)
Serve the salmon on top of the curry with a sprinkle of parsley.
Notes
Paleo-Friendly: Omit the corn and add 1 medium zucchini along with the yellow summer squash.